<! MP3 10/07/08, 11/27/09, 05/10/12 > <! pix 11/27/09 > <! ALLBM 00/00/00 > <! icons 02/14/11 > <! UPDATES: 10/07/08 - 11/27/09, 12/22: new Tito Madi discography 05/10/12 - posted Filo Machado, Carlos Malta, Manduka pages; some adds - future: Celso Machado page? > <! ALIPIO MARTINS MATHUZALEM "O Operario Do Som" (Soma, '76) Fernando Masson Manhoso "O Peladao" (RCA-Camden, 1976) Martha Mendonca "Dentro Da Noite" (Odeon, 1971) MATI & MALU - "AMANDO A NATUREZA" (CBS/UIRAPURU, 1979) - Umbanda(?) - female Duo arranged by LUIZ ROBERTO of "OS CARIOCAS" Luiza Maura "Samba Pe No Chao" (Beverly, 1977) > <! Itajaiba Mattana "O Gauchao" (Musicolor) > <! SERGIO MORENO SERGINHO MERITI - Vida Tao Bela Menina" (Polyfar, 1982) > <! As Marcianas "As Marcianas" (Copacabana, 1986) > <! Martinha "Martinha" (3M) Sidney Marzulo E Seu Conjunto "Uma Noite No Vivara" (Nobel, 1970s??????) ORIG LP PRIVATE SAMBA SOUL FUNK > <! Les Masques Brasilian Sound" (CBS) >
---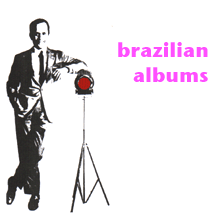 This is a listing of miscellaneous albums and artists under the letter "M".
If an artist or album you like is not reviewed here, please feel free
to contact me and make a suggestion.
---
A | B | C | D | E | F | G | H | I | J | K | L | M-1 / 2 / 3 / 4 / 5 / 6 / 7 | N | O | P | Q | R | S | T | U | V | W | X | Y | Z | Compilations
Brazilian Styles | 30 Recommended Records | Portuguese-language pop | Brazilian Links | Slipcue.Com
---
Jards Macale - see artist discography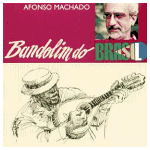 Afonso Machado "Bandolim Do Brasil" (Rob Digital, 2004)



Solo recordings by bandolim master Afonso Machado, of the choro group Galo Preto. It's a pretty sugary instrumental set... About what you'd expect: high technical expertise, with somewhat goopy arrangements. Mandolin and acoustic swing fans may want to check this out...
Celso Machado - see artist discography

Edison Machado "...E Samba Novo" (CBS, 1963)



As if often the case with these Brazilian jazz albums, there's not really much of a homegrown samba influence to be heard... Even though the songs covered are include bossa standards and several originals by saxophonist J.T. Mierelles, the feel is straight-up, swinging jazz. Still, as a jazz album, this is pretty creditable... Since bandleader Machado plays drums, there is an Art Blakey-like emphasis on the snares (though less of a "pure" hard jazz style). With him is an all-star cast: Mierelles and Paulo Maura on sax, Tenorio, Jr. on piano, and Moacir Santos writing and arranging the bulk of the album. If you're looking for noteworthy Brazilian jazz albums, this is one of the best.


<! CD reissue coordinated by Charles Gavin & Marcelo Froes - no info on original producer, though liner notes discuss how jazz musicians "arrange" their improvs >
Edison Machado "Obras" (Vivid Sound, 2002)


Edison Machado "Obras 2: O Pulo Do Gato" (Vivis Sound, 2004)

Filo Machado - see artist discography
Marina Machado & Flavio Henrique "Flavio Henrique & Marina Machado" (Tratore, 1997) <! date? >


Marina Machado & Regina Sposito "Desoriente Um Pais" (1998)

Marina Machado "Baile Das Pulgas" (1999) <! date? 2007? >

Marina Machado "6 Horas Da Tarde" (EMI, 2002) <! date? 2004? >

Marina Machado "Tempo Quente" (EMI, 2008)


(Produced by Milton Nascimento)

Regina Machado "Violao 7 & Bandolim" (2000)


Regina Machado "Sobre A Paixao" (Dabliu, 2000)



Another fascinating, atypical release on this challenging Brazilian indie label. Machado combines a bossa-informed acoustic style with lightly operatic vocals and chamber music orchestration -- the Brazilian equivalent, if you will, of Elvis Costello's Brodsky Quartet outings. For those less inclined towards art songs, her vocals may wear thin after a while, but overall this is a fascinating release, well worth checking out. (Also includes a pair of older German-language Heinrich Heine pieces, and a cover of Caetano Veloso's "Este Amor.")
Regina Machado "Pulsar" (Tratore, 2005)


Regina Machado "Agora O Ceu Vai Ficando Claro" (Tratore, 2010)


With Italo Peron and Norberto Vinhas...




Ed Maciel E Seus Cariocas Serenaders "Na Cadencia Do Samba" (Sinter, 1957)



<! Ed Maciel E Seus Cariocas Serenaders "Na Cadencia Do Samba" (Sinter, 1957) - SLP 1719 Primeiro disco do Edmundo Maciel (nčo confundir com seu irmčo Edson, também trombonista) com os seus Cariocas Serenaders. E quem sčo eles? Vamos lá: Julinho Barbosa no trompete; Bijou no sax-tenor; Paulo Moura no sax-alto e clarinete; Aderbal Moreira no sax-barítono; Chaim Lewak no piano; Paulinho Magalhčes na bateria; Malagutte no baixo e Elias no pandeiro. Timaćo! Edmundo Maciel, ou Ed Maciel, é um nome fácil de ser encontrado na internet (Google nele) mas devo dizer que foi um dos maiores e mais requesitados músicos brasileiros. Teve formaćčo erudita e foi trombonista da Orquestra Sinfônica do Teatro Municipal do Rio de Janeiro, tocou com praticamente todos os grandes nomes da MPB - impossível citar todos eles - de Ary Barroso a Marco Antonio Araújo, numa vertente mais progressista, nos dá uma boa noćčo de quem é Ed Maciel. Neste seu primeiro LP, que conta com arranjos de K-Ximbinho, Astor Silva, Maestro Pachequinho, Julinho Barbosa e Darcy Barbosa, Maciel deita e rola. Chamo atenćčo em especial para o lindo choro de Gaúcho (Um chorinho diferente) com uma sensacional performance de Paulo Moura no clarinete. É ouvir e gostar muito! > <! Na Onda Volume 3 (1967) Volume 5 (1968) >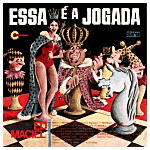 Ed Maciel "Essa E A Jogada" (Copacabana, 1973)
Wow! This later album from trombonist Ed Maciel has a genuinely funky soul-samba feel... Well, at least in parts. Some of it's crap, like his cover of America's "Ventura Highway," and the Doobie Brothers' "Listen To The Music." But, whatever. He makes up for it with the snazzy opening track, "Festa," a dynamic funk-pop instrumental that gives '70s fusioneers like Chick Corea and LA Express a run for their money. Also nice is the sambadelic "Canario Do Reino," and maybe less exciting are the various potpourri tracks sung with a perky female chorus. Still, Maciel's work is ripe for the picking: best-of collection, anyone?


<! 01 - Festa (D. D. Cruz) 02 - Sempre mesmo [Ventura Highway] (D. Bunnell: Vrs. Nazareno de Brito) 03 - Felicidade é isso aí (Jacobina - Nazareno de Brito) 04 - Cavalo de aćo (Guto Graća Melo - Nelson Motta) Ora acho que vou-me embora (Sidney Miller) Procurando ninho (Geraldo da Silva Barbosa - F. Terra) 05 - Minha casa [Casa Mia] (R. Soffici - L. Albertelli - Vrs. Nazareno de Brito) On ira tous au paradis (M. Polnareff) 06 - Eu quero é botar meu bloco na rua (Sergio Sampaio) Quando eu me chamar saudade (Nelson Cavaquinho - Guilherme de Brito) 07 - Il était une fois la révolution (E. Morricone) Hey girl (Philips - Duncan) You're a lady (Skellern) Listen to the music (T. Johnston) 08 - Belôh (D. D. Cruz) 09 - Partido alto (Chico Buarque) Tem capoera (Batista da Mangueira) Ninguém tasca [O Gavičo] (Mário Pereira - Jočo Quadrado) 10 - Canário do reino (Carvalho - Zapatta) 11 - Desir dance (A. Kings) 12 - Minhas razões (Antônio Carlos Pinto - Jocafi) A rosa (Lourival Faissal) Fio Maravilha (Jorge Ben "Jorge Benjor") >


Tito Madi - see artist discography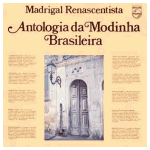 Madrigal Renascentista "Antologia Da Modinha Brasileira" (Philips, 1976)
An odd little album, with madrigal-style renditions of MPB standards (by Tom Jobim) and other material that's less familiar from composers such as Joubert de Carvalho, Jaime Ovalle, Hekel Tavares, and others. I suppose this is the Brazilian equivalent of the "chant" fad of many years ago... Doesn't do much for me, but it may have novelty value for some...
Madrigal Renascentista "Madrigal Renascentista" (Atracao, 2010)


I'm not sure if this is the same album as the one above. Could be. Anyone know for sure?
Mauricio Maestro/Nana Vasconcelos/Joyce "Visions Of Dawn" (Far Out, 1976/2009)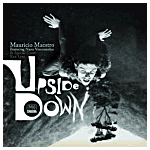 Mauricio Maestro/Nana Vasconcelos "Upside Down" (Far Out, 2011)



A new collaboration -- recorded in 2010 -- from two Brazilian experimental musicians whose partnership spans back to the early 1970s. Guitarist Mauricio Maestro and percussionist Nana Vasconcelos rekindle their creativity with this mellow, melodic set which is primarily instrumental music, punctuated by nonsensical vocalizations, simple chanted refrains, and on a few tunes, full lyrics. It's similar in style to the amorphous folk-jazz-MPB of Vasconcelos or Milton Nascimento, but Maestro -- who co-founded the 1980s pop group Boca Livre -- has a more pointedly "pop" approach, with light, lilting melodies and a joyful vibe filing the sound. It's a little Sufjan Stephens-y, and easy on the ears... Singer Kay Lyra sings on several tracks, reprising the role that Joyce played on the Maestro/Vasconcelos session, Visions Of Dawn in 1976. A little gooey, but pretty listenable overall... Definitely worth a whirl!
Sidney Magal - see artist discography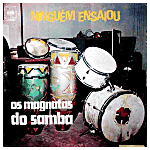 Os Magnatas Do Samba "Ninguem Ensaiou" (CBS, 1971)
Sort of a proto-disco/easy listening samba-pop fusion album, with breezy arrangements and a cheerful vocal chorus that stops just short of chirpy. Some of it's okay, but there's a Herb Alpert-ish, muzak-y tone that makes it slightly less groovy than the more rootsy pagode samba that was bubbling up at the time... Worth a spin, I suppose, but more as kitsch than as roots music.
Os Magnatas Do Samba "Volume 2" (CBS, 1971)

Tim Maia - see artist discography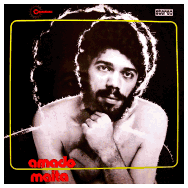 Amado Maita "Amado Maita" (Copacabana, 1972)
The lone album by singer/composer Amado Maita, who was known for his work with pianist Guilherme Vergueiro and songwriter José Wilson Lopes. It's an odd album: Maita has modest vocal talents, but could be roughly placed in the same continuum as the bossa crooners of the '60s, while the musical backing is by various jazz musicians, notably drummer Edison Machado and pianist Vergueiro, and the accompaniment is pretty challenging -- loungey, but with distinct avant leanings, colored at times with early '70s proto-disco touches. The jazz shadings become more and more pronounced and ultimately places this album in the jazz-vocals category... You can see why this might have had limited appeal, though it is a fascinating period piece. Maita married Myriam Taubkin, an arts activist who was part of the Taubkin family; their daughter, Luisa Maita became an MPB singer and solo artist.


<! Ion Muniz - saxophone, Silas - trombone, Guilherme Vergueiro - piano, Ricardo Pereira dos Santos - bass, Edison Machado - drums, Mozart Terra & Antonio Barbosa - arrangements, Antonio Ferreira da Anunciacao - percussion > <! 08/2013: no ASIN > <! Amado Maita/Guilherme Vergueiro "Naturalmente" Amado Maita "Amado Maita" >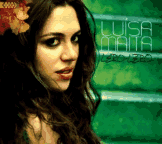 Luisa Maita "Lero Lero" (Cumbancha, 2010)



(Produced by Paulo Lepetit, Rodrigo Campos & Luisa Maita)
A lovely album of dreamy, femme-y vocals from Sao Paulo native Luisa Taubkin Maita (the niece of Brazilian jazz pianist Benjamin Taubkin, and daughter of MPB artist Amado Maita...) This bossa-esque set invites comparison to other modern, genre-hopping chanteuses such as Bebel Gilberto and CeU, but Maita has less invested in the club-scene electronica that defines their work. This is, at heart, a gentle, stripped down MPB set, reminiscent of Astrud Gilberto's classic early work, with a subtle jazz flavoring... Maita is lulling and sweet on the album's many slow and moderate-tempoed songs, but she also proves herself supple and adept at her phrasing on more uptempo material. Also worth noting is that most of the music on here was written or co-written by Maita, further marking her emergence as a noteworthy new performer o the Brazilian scene. If you are looking for something mellow yet substantive, this set of groovy Brazilian ballads may be just the thing for you. Recommended!
Luisa Maita "Remixed" (Cumbancha, 2010)



(Produced by Various Artists)


Celia Malheiros "Sempre Crescendo" (Sempre Crescendo, 2001)


A Brazilian expatriate living in California, Malheiros recorded this album in Rio, with a slew of top Brazilian jazz talent to back her up. Hermeto Pascoal, Wilson Das Neves and others contribute to this lush set of soft jazz tunes that recall the heyday of '70s MPB-era fusion by the likes of Flora Purim and Tania Maria; although Malheiros doesn't get as swoopy or wild as those foremothers, preferring to stay on the mellow side, she's still in the same ballpark. (Artist website: www.celiamalheiros.com)
Celia Malheiros "Cenario Brasileiro" (2006)


With a guest appearance by Joao Bosco...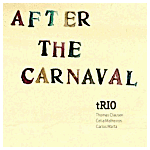 Celia Malheiros/Carlos Malta/Thomas Clausen "After The Carnaval" (Stunt Records, 2009)



A jazzy set by a threesome going by the name of tRIO: pianist Thomas Clausen, flautist Carlos Malta and singer/guitarist Celia Malheiros... Elegant and sugary, but not saccharine or false. Certainly worth a spin if you like the mellower stuff...
Sabrina Malheiros "Equilibria" (Far Out, 2005)


Sabrina Malheiros "Vibrasons" (Far Out, 2006)


Sabrina Malheiros & Alex Malheiros "The Wave" (Far Out, 2009)


Sabrina Malheiros "New Morning" (Far Out, 2009)


Sabrina Malheiros "Dreaming" (Far Out, 2011) <! 2006? >


Gui Mallon "Guitar" (1996)

Gui Mallon "Brazil, Brazil" (1997)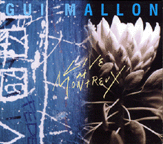 Gui Mallon "Live At Montreux" (Adventure Music, 2004)


Brazilian-born guitarist Gui Mallon is an expatriate living in Switzerland; here, he's assembled a top-flight European band for a smooth-jazz set glides nimbly over a solid foundation of Brazilian melody. Rhythmically, this is a very strong set, surprisingly so for a band that seems mostly made up of northern Europeans... It's more "Brazilian" at it's core than you'd imagine, although when the jazz elements kick in, you definitely know it. There's one thing that sinks it for me, though, and that's the prominence placed on the soprano saxophone, an instrument that I generally regard with pure loathing. Still, I was able to listen to this entire album without skipping tracks, etc., so these guys must have been doing something right! If you like smooth jazz that has a little bite to it, then this set is well worth checking out!
Carlos Malta - see artist discography
Horacio Malvicino "The Brazilian Touch Of Malvicino" (Decca/RCA-Microfon, 1967) (LP)


In addition to being a key collaborator of accordionist-composer Astor Piazolla, the architect of the nuevo tango, Argentinian guitarist Horacio Malvicino was a highly regarded jazz player on the international stage. Yhis included stints with Brazilian masters such as Antonio Carlos Jobim, Joao Gilberto, and on this album he delves into Brazilian currents, especially the then-current bossa nova. This album has version of several Jobim songs, such as "Corcovado," "So Danco Samba," and "One Note Samba," as well as Gilberto's "O Pato," and others.


<! DL-75083 >

Mamelo Sound System "Mamelo Sound System" (Ybrazil, 2000)



I haven't heard this one, but apparently it was a big deal, with guest appearances by manguebeat stars Nacao Zumbi and foundational rap legend Afrika Bambaataa; also, soul singer Paula Lima was in this edition of the band.

Mamelo Sound System "Urbalia" (Ybrazil, 2003)



Monotonous, paper-thin pop/rap/tronica, with a glimmer of crunchy, Linkin Park-ish "alt-rock" guitars thrown in from time to time. These Sao Paulo rappers sound like petulant teenagers, while the music mix is so weak and one-dimensional, it's difficult to care about what they are saying, or where the group belongs in the Brazilian musical landscape. It's a real snoozer-oo. Then again, I'm just a grumpy old man, so what do I know? Perhaps if you like lightweight pop-rap, this is simply brilliant. Da bomb, and all that.
Mamelo Sound System "Operacao: Parcel/Remixalia" (Tratore, 2005)


Mamelo Sound System "Velha Guarda 22" (Tratore, 2006)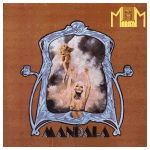 Mandala "Mandala" (Morisom, 1976)
A rarity of spacy Brazilian jazz, from keyboardist Luiz Roberto Oliveira, who also apparently became interested yoga and new age spirituality. Saxophonist Roberto Sion, Nelson Ayers, Zeca Assumpcao and other Brazilian jazz artists are part of the ensemble...


<! http://www.melomano.com.br/produto.php?cod=3180&tip=lp Zeca Assumpćčo, Roberto Sion, Nelson Ayres, Nestico, Nivaldo Ornelas. Esses músicos formavam um grupo que tocava num Camping Club, chamado "Caracol" ąs margens da represa de Guarapiranga, nos fins de semana. Isso foi por volta de 1967 e 1968. Algum tempo depois, Zeca, Sion e Nelson foram cursar a renomada "Berklee College of Music", em Boston (USA), de onde retornaram por volta de 1971. Luiz Roberto Oliveira, que também estava com eles nos Estados Unidos e voltou trazendo o primeiro sintetizador ARP de que se tem notícia, para o Brasil. Ao chegarem de volta, com várias idéias e composićões, formaram um novo grupo, "Mandala". Aquelas coisas indianas estavam na moda, Yoga, Macrobiótica, a escolha do nome teve um pouco a ver com isso. Experimentando algumas adaptaćões e arranjos que tivessem um colorido próprio, procurando fugir das influźncias mais óbvias, da bossa e do jazz tradicional, mas sem tolher a criatividade, e isso resultou em alguns shows e numa sessčo de estúdio, que anos mais tarde foi trilha de um filme e rendeu uma tiragem de LP's pelo selo Morrisom. >


Manduka - see artist discography





Abilio Manoel - see artist discography




---
Brazilian Music - More Letter "M"
---



Main Brazil Index
World Music Index

---