<! MP3 12/17/08, 11/06/09, 03/06/12, 04/13/14 > <! pix 11/06/09 > <! ALLBM 12/17/08 > <! icons 01/20/11 > <! UPDATES: 12/17/08 03/06/12 - added F. Abreu, Jerry Adriani pages, updated other artists 04/13/14 - ASINs, some pix - need to expand Mario Adnet, Nalva Aguiar, Cyro Aguiar -- Alemao disco should be under "Olmir Stocker" as well > <! 3 Do Rio "3 Do Rio" (RCA, 1975) (Produced by Osmar Zan & Alfredo Borba - SAMBA-JAZZ BOSSA GROOVE TRIO 1975 - the three are identified as: Clovis, Miguel and Sestini ACIDENTE "Guerra Civil" (Coomusa, xxxxxx) AdCanto "AdCanto" (RCA Victor, '82) (Produced by Mario Moura) > <! Odete Amaral "A Rainha Dos Disc-Jockeys (Master Disc, ???????) Angra - 80s(?) female singer on Copacabana Abaete - on samba comp Elbis Alen "Elbis Alen" (Selo Branco, 1981) rare Brazilian Altay "O Cantador" (RCA, '80) Produced by Jose Roberto Bertrami & Gabriel Passanna Alemao (aka guitarist Olmir Stocker) "Perto Do Coracao" (Som Da Gente, 1981) Alemao/Olmir Stocker "xxxxxxxxxxxxxxxxx" (xxxxxxxxxxxxxxxxx, xxxxxxx) Alemao/Olmir Stocker "Longe Dos Olhos" (xxxxxxxxxxxxxxxxx, xxxxxxx) B00KN2GHR0 Alemao & Zezo Ribeiro "Brasil Geral: Brazilian Guitar Music" (xxxxxxxxxxxxxxxxx, 1999?) B00000G9S6 Alemao/Olmir Stocker "So Sabor" (Visom, 2001) B001JTPTPC B00FM8KMWG Alemao/Olmir Stocker "Bem Brasileiro" (Happy Hour, 1989) B000BJUMK8 B00HRGAQJK ALOYSIO - ENCONTRO (Copacabana) Paulo Alencar "Romance Bossa Nova" (Odeon) Uruguay only? Reissue of Brazilian? Luiz Allan "Imperio Do Samba" (Mocambo) (MR-1037) Los Ases De La Samba "Despues Do 2003) (xxxxxxxxxx, 1978?) Venezuelan pressing - Brazilian band?? Lucas Arruda "xxxxxxxxxx" (Favorite Recordings, 2013) Cyro Aguiar - many albums - look up his discography > <! ditto with Nalva Aguiar >
---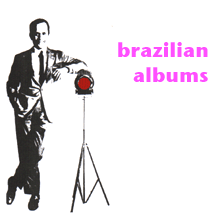 Welcome! This is the first page of an opinionated guide to various Brazilian artists and albums, including many different styles and eras. Due to the scarcity of Brazilian records in the States (and the scarcity of cash in my pockets) this is a limited sampling. Some day, I may whittle this down to just stuff that I recommend, but for now I'm also including records you should be wary of. I waste money and time so you don't have to.
---
A-1 / 2 / 3 / 4 | B | C | D | E | F | G | H | I | J | K | L | M | N | O | P | Q | R | S | T | U | V | W | X | Y | Z | Compilations
Brazilian Styles | 30 Recommended Records | Portuguese-language pop | Brazilian Links | Slipcue.Com
---
A Bolha - see The Bubbles
Fernanda Abreu - see artist discography

Vania Abreu "Vania Abreu" (Warner-Continental, 1995)


Daniela Mercury's kid sister Vania reveals a powerful voice on this otherwise lackluster pop outing. Some tunes are fine, wrapped around languid trip-hop dance beats, but while this has little of the cloying or overwrought characteristics drag down so many Brazilian pop albums, it also doesn't have much spark to it. Pretty-sounding, but not fabulous.


<! 111 x 108 >

Vania Abreu "Seio Da Bahia" (Velas, 2000)



(Produced by Paulo Dafilin & Vania Abreu)
I'll go out on a limb here, and say that Ms. Abreu is a better vocalist than her more musically outgoing and more famous big sister, axe star, Daniela Mercury. Her phrasing is more consistent, her voice is sweeter, and her persona less strained. And, of course, there's the music. This is an exceptionally solid, pleasantly mellow album which recalls the natural, relaxed warmth of the best of mid-'70s samba cancao artists such as Jair Rodrigues, as well as the jazz-inflected torch song phrasings of Maria Bethania and other MPB divas. Abreu's vocals, as well as her arrangements, connect emotionally and don't feel forced or desperate to fit into some sort of pop or rock crossover niche. Definitely one of the strongest new releases in the Velas label's North American catalog, and a striking step up from her earlier pop efforts.


<! 144 x 144 >

Vania Abreu "Eu Sou A Multidao" (BMG, 2003)



Sad to say, I found this album to be a disappointment... Abreu's vocals are pretty, but the music seems like standard-issue, sleek, classy-sounding MPB. To her credit, she avoids the bombastic, authoritative styles of, say, Maria Bethania or Nana Caymmi, and is closer in tone to a softer sounding diva, like Zizi Possi, perhaps. But nothing on here really captured my imagination, I'm afraid. I would have liked something more innovative, and more in the direction she was headed before. Still, folks who like the swanky MPB pop-vocals of the 1970s (Bethania, Costa, Creuza, et al.) may find this disc quite enjoyable.


<! 144 x 144 >

Vania Abreu & Marcelo Quintanilha "Pierrot & Colombina" (YB, 2006)


Vania Abreu "Misteriosa Dona Esperanca" (Tratore, 2007)







<! Tratore? >

Os Abutres "Os Abutres Atacam" (1968) <! Codil label? >
A totally enjoyable jovem guarda-era frat rock band, with some nice rave-ups and British Invasion-styled harmonies. Mostly, though, they have a peppy rockabilly-garage vibe that's in pleasant contrast to the swarms of jovem guarda pop stars who covered American rock, but never quite "got" it. These guys, however, definitely did "get" it. A fun record, with lots of twangy electric guitars. Very cute.


<! 145 x 144 >

Academicos Do Salgueiro "Ai Vem O Samba" (Super Sound System, 1957) (LP)



<! group recorded several albums > <! SIDE 1: 01 - Ensaio de Ritmo Nľ 1 02 - Assim Nčo É Amor (Eden Silva / Geraldo Jacques / Nilo Moreira) 03 - Falam de Mim (Eden Silva / Noel Rosa de Oliveira / Aníbal da Silva) 04 - Nčo Interessa (Eden Silva / Nilo Moreira / Aidno Sá) 05 - Esquentando a Cuíca 06 - Nčo Tenho Alegria (Eden Silva / Nilo Moreira / Waldemar da Silva) SIDE 2: 01 - Obra de Deus (Eden Silva / Aníbal da Silva / Oldemar Magalhčes) 02 - Felicidade É Uma Quimera (Eden Silva / Aníbal da Silva) 03 - Rosa Maria (Eden Silva / Aníbal da Silva) 04 - Ensaio de Ritmo Nľ 2 05 - Desperta Vila Isabel (Eden Silva / Aníbal da Silva) 06 - Sol da Liberdade (Eden Silva / Nilo Moreira / Emanoel Gitahy) >
Mario Adnet & Alberto Rosenbilt "Alberto Rosenbilt & Mario Adnet" (Meia Noite, 1979)



<! with Eveline Hecker > <! Mario Adnet "Planeta Azul" (1984) Mario Adnet "Pedra Bonita" (Leblon, 1994) B000A2WDK8 rereleased by Biscoito Fino in 2004 Mario Adnet "Para Gershwin e Jobim" (Indie Records, 1999) Mario Adnet "Villa-Lobos Coracao Popular" (Indie Records, 2000) B000058A5B Mario Adnet "Para Gershwin E Jobim: 2 Kites" (Indie Records, 2001) Mario Adnet "Rio Carioca" (MPB, 2002) B000065UIA >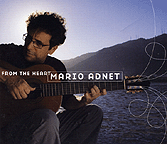 Mario Adnet "From The Heart" (Adventure Music, 2006)



Soft, delicate, Brazilian jazz, with an all-star slate of guest performers... Composer/guitarist Mario Adnet leads a compact ensemble that makes room for Joao Donato on a couple of tunes, and cellist Jaques Morelenbaum on several others. Monica Salmaso sings on "Paulistana" and "Paisagem Nordestina." Adnet composed almost all the songs, adding two little-known tunes from the 1940s and '50s... Overall, this straight jazz stuff isn't my cup of tea, even with the Brazilian-bossa twist, but for the genre, this is pretty strong stuff. If you like mellow modern jazz, you'll want to check this out.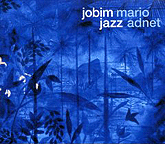 Mario Adnet "Jobim Jazz" (Adventure Music, 2007)



Brazilian guitarist Mario Adnet arranges a solid smooth-jazz tribute to bossa nova composer Tom Jobim, with help from folks the likes of Romero Lubambo, Ricardo Silveira and Vitor Santos... Braz-jazz elder Joyce sings on one track, "Paulo Voo Livre," fitting in nicely with the rich, mellow feel of the album. This is a little too smooth for my tastes, but strong for the genre: the songs are all played with feeling and conviction, and Adnet, writing new arrangements for brass, manages to twist some new interpretations out of these tried-and-true bossa oldies... For contemporary jazz fans, this is definitely worth checking out.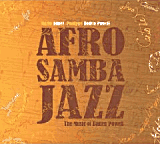 Mario Adnet & Philippe Baden Powell "Afrosambajazz: The Music Of Baden Powell" (Adventure Music, 2009)



(Produced by Mario & Mariza Adnet)
The classic Brazilian canon of bossa nova/samba composer-guitarist Baden Powell gets a rich modern jazz makeover courtesy of jazz guitarist Mario Adnet, with Baden Powell's son, Philippe, on piano and an impressive roster of contemporary jazz players also on board. Vocalists Maucha Adnet, Monica Salmaso and Carlos Negreiros light up several songs, breaking up the instrumental tone of the album. Adnet and Powell build upon the deceptively simplicity of the original songs, adding dense, elegant, concise jazz charts, with buoyant horn arrangements and sweet performances throughout. The overall effect is a collaborative, ensemble effort, with a formal feel, but also a great deal of the original harmonic warmth of old-school bossa nova. It's really nice, one of the most solid and accessible albums to come from this group of contemporary Brazilian jazz players. Recommended!
Mario Adnet "More Jobim Jazz" (Adventure Music, 2011)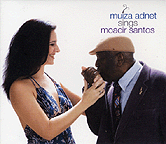 Muiza Adnet "...Sings Moacir Santos" (Adventure Music, 2007)



(Produced by Mario Adnet)
A mellow, majestic set honoring Brazilian composer and jazz legend Moacir Santos... As a tribute, this album is quite effective: it's packed with memorable, recognizable melodies from the many songs that Santos has composed, including collaborations with MPB luminaries such as Vinicius De Moraes and Gilberto Gil. It's also a good showcase for Ms. Adnet as a vocalist -- she's not dazzling or powerful, but she's fully inside of the songs she sings, performing them with conviction and care, and the emotional connection is nice to hear. Plus, she's got a bunch of heavyweight guests on here, including Milton Nascimento and Ivan Lins, saxophonist Dirceu Leitte, guitarist Ricardo Silveira and a host of other contemporary Brazilian jazz players... And, of course, there's Moacir Santos himself, singing on a couple of tunes. This is definitely on the softer, smooth jazz side of things, but it will also appeal to folks who don't like that style, and are more into straight bossa nova. Worth checking out!


<! B000UC2O6G -- MP3 ?? > <! 12/17/08: several other Adnet albums on Amazon >


Antonio Adolfo - see artist discography





Jerry Adriani - see artist discography




Affonsinho "Zum Zum" (Dubas Musica, 2000)



(Produced by Affonsinho)
A compelling debut from this unpretentious young guitarist/composer... In some regards you could consider some of these songs (and their soft-pop/MPB arrangements) as a bit mainstream or generic, but there is a sweetness to Affonsinho's style that draws you in... It also doesn't hurt that his voice sounds a whole lot like Caetano Veloso, in a way that is half-imitative, half-heavenly. Like all of Affonsinho's albums, this one will grow on you, and lives up to repeated auditions. Mostly voice with acoustic guitar, and some light pop accompaniment. Recommended!


<! Can√ß√Ķes despretensiosas, navegando entre os mares do pop e da bossa pontuam o disco do guitarrista e produtor Affonsinho. Acompanhado na maioria das faixas apenas pelo baixol√£o fretless de Ivan Correa e a percuss√£o de Bill Lucas, Affonsinho assina 12 das 14 composi√ß√Ķes deste que √© seu disco de estr√©ia de sua carreira solo. Duas das mais interessantes s√£o resultado da parceria com Chico Amaral (autor de diversas m√ļsicas do Skank, parceiro de Ed Motta, L√ī Borges): Frank, Tate e Eu e A √öltima Vez que Olhei o Rio. Relatos de mineiros observadores das estranhezas das maiores cidades do pa√≠s, Frank, Tate e Eu mostra, atrav√©s de um sambinha, tr√™s vis√Ķes diferentes mas igualmente at√īnitas de S√£o Paulo, enquanto A √öltima Vez que Olhei o Rio puxa uma bossa nova que tamb√©m traz a clara sensa√ß√£o de algu√©m que est√° apenas de passagem, e que conhece a cidade por meio de relatos de terceiros ("a √ļltima vez que olhei o Rio/ n√£o houve milagres nem assassinatos/ podia trazer unidas num fio/ poesia e a mais dura vers√£o dos fatos"). H√° ainda ecos de folk em A Felicidade Ali e pitadas de bom humor em algumas letras. Imposs√≠vel n√£o sorrir diante do apelo de Achar um Cora√ß√£o, "Preciso de um cora√ß√£o/ que seja bem grand√£o, n√£o como um gr√£o/ pra aliviar a solid√£o", cantado por cantores mirins, mas nem por isso menos compenetrados em sua interpreta√ß√£o. Rua Ramalhete, sucesso de Tavito no fim da d√©cada de 70, √© a √ļnica releitura. Nesta vers√£o voz-e-viol√£o, Affonsinho traz √† tona mais uma vez a mineirice expl√≠cita ("daquelas tarde/ no muro do Sacr√© Coeur/ de uniforme e olhar de rapina/ nossos bailes no clube da esquina"). A patofu Fernanda Takai comparece nos vocais em O Amor N√£o Acaba pra Quem √Č do Bem, balada otimista para relacionamentos desfeitos, e Jo√£o Gilberto √© a inspira√ß√£o confessa de Viol√£o e Eu, outra boa bossa de voz e viol√£o (viol√£o que ali√°s n√£o lembra muito Jo√£o Gilberto, mas sim Caetano Veloso tocando como Jo√£o Gilberto). Simples e bem feito, uma boa pedida. (Nana Vaz de Castro) >

Affonsinho "Esquina De Minas: O Som Do Barzinho" (Dubas Musica, 2002)



(Produced by Affonsinho & Gaughin)
A surprising gem...! This is a gentle, acoustic-based homage to the Mina Gerais-based "Clube Da Esquina" scene that included artists such as Milton Nascimento, Lo Borges, Fernardo Brant and Ronaldo Bastos, and which produced several highly regarded, spacy jazz-pop albums of the 1970s and '80s. Singer-guitarist Affonsinho gently runs through over a dozen of their classic songs, including Nascimento's "Cravo E Canela," and Lo Borges's "Para Lennon E McCartney," taking each tune at a relaxed clip, and introducing a stylistic constancy that was not always present in the exploratory efforts of the Clube in its heyday. It's really a rather lovely album -- I went into this album prepared to be dismissive, and wound up thoroughly enchanted, particularly because Affonsinho sounds so much like Caetano Veloso does in his softer acoustic moments. Quite lovely, and definitely worth checking out.


<! artistic direction Ronaldo Bastos >

Affonsinho "Esquina De Minas, v.2: Dois Lados Da Mesma Viagem" (Dubas Musica, 2003)



(Produced by Affonsinho & Gaughin)



<! artistic direction Ronaldo Bastos >

Affonsinho "Bele" (Dubas Musica, 2006)



(Produced by Affonsinho, Gaughin & Ronaldo Bastos)
Going from my favorite tracks on the delicate Esquina De Minas album to this disc, with its larger, more overtly "pop" arrangements, it took a while for the shock to wear off. But it did, after only a couple of listens. This is a very nice, very listenable record, every bit as delicate and delicious as his earlier albums. Ronaldo Bastos and Dudu Mello are among about a half-dozen co-producers.
Affonsinho "Tudo Certo" (2007)

Affonsinho "Meu Plano" (Universal-Dubas, 2009)


Affonsinho "Zague Zeia" (Quae Brazil, 2011)


Affonsinho "Tropico De Peixes" (Quae Brazil, 2013)


A Filial "Quem Menos Tem E Quem Mais Oferece" (Dubas, 2007)



A Filial "$1,99" (Verge, 2008)


(Produced by Edu Lopes)
A playful, high-energy set of modern Brazilian hip-hop and baile funk, with a healthy dose of the creative, eclectic chaos of the manguebit samba-rock scene in there as well. These guys are pretty fun, and pretty cheerful and upbeat as well... They can summon up big, funky beats along with little, lo-fi larks -- if you're looking for something different and new (even by Brazilian standards) this album is definitely worth checking out.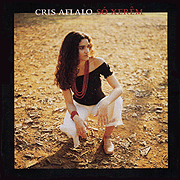 Cris Aflalo "So Xerem" (Tratore, 2004)



(Produced by Cris Aflalo & Luiz Waack)
A fine album, with one of Sao Paulo's rising young musicians paying tribute to her grandfather, a Northeastern musician whose recording career began in the 1930s, and spanned several decades, up through the early '70s. Though later outshadowed by forro pioneers such as Luiz Gonzaga and Humberto Texeira, Xerem was a relatively prolific artist, waxing several dozen 78s, and leaving behind a fine trove of original compositions. It's this legacy that Aflalo explores, recording thirteen songs written or cowritten by Xerem, infusing them with a playful modern feel, mixing MPB and jazz in with the catchy regional rhythms. To top it off, Aflalo has a lovely voice -- remarkably reminiscent of the young Gal Costa, with the same distinctive tone and fluid relationship to melody and meter. This is quite a nice record; it'll be interesting to see where she goes from here. Recommended.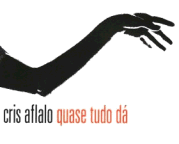 Cris Aflalo "Quase Tudo Da" (Tratore, 2008)



(Produced by Cris Aflalo & Luiz Waack)
The second album by independent Brazilian artist Cris Aflalo, one of many great new musicians in Sao Paulo's booming music scene. This time around, Aflalo departs somewhat from the Northeastern regional music that defined her first record and concentrates more on the mellow, eclectic style of mainstream Brazilian MPB-style pop. The arrangements are mildly more florid that I'd prefer -- but not much. And when she starts to sing, it all sounds quite lovely, and the sugary stylings fit perfectly. Aflalo's voice is appealing -- honeyed, but with a teensy bit of grit to it that keeps her connected to her roots. Indeed, her sweet, fluid voice reminds me quite a bit of Marisa Monte, and that's high praise indeed. MPB lovers, and Monte's fans in particular, will definitely want to track this down... For now, probably the best way to find it is through Aflalo's webpage: www.myspace.com/crisaflalo

Afro-Reggae "Nova Cara" (Universal-Mercury, 2001)


Despite the fairly innocuous band name, these fellows are actually full-fledged gangsta rappers, with lyrics about poverty, urban warfare and the like. Lots of vocal imitations of machine gun fire, if you catch my drift. Actually, this is less hip-hop than it is metal-rap, along the lines of old Red Hot Chili Peppers or (sigh) Rage Against The Machine... It's funny: I can't stand that stuff when I hear it in English (and really get how lame the lyrics are...) but here, it's kind of enjoyable. One cool thing is that this band seems to actually play its instruments live on this album, unlike their North American counterparts, who tinker with every little sound effect and production effect the studio can muster. There's a ragged, unpolished edge to these tracks that makes the music seem more chaotic and the band more authentically threatening. Hence, they still sound punk, even if the punk ancestry is pretty distant. If you go for this kind of stuff, and would like to hear it with a Brazilian twist, you might really like this record.
AfroReggae "Nenhum Motivo Explica A Guerra" (2006)


AfroReggae "Nenhum Motivo Explica A Guerra -- Ao Vivo" (2006)



A live, concert version of the Nenhum Motivo album...
AfroReggae "Favela Uprising" (Mr. Bongo, 2007)


Agepe - see artist discography
Agua De Moringa "Agua De Moringa" (Lagoo, 1995)


Agua De Moringa "Saracoteando" (Rob Digital, 1995)


(Produced by Agua De Moringa)
A sweet set of sleek, modern choro performances with traditional acoustic instruments -- guitars, mandolin, flute, light percussion -- and a real feel for the material. The tunes get a little sugary in places, but generally this is very true to the source material. If you like choro revvalists such as Joel Nascimento and Henrique Cazes (or American acoustic jazz artists such as David Grisman), you'll definitely want to check this out, too!


<! 144 x 144 >

Agua De Moringa "As Ineditas De Pixinguinha" (Sony, 2002)





<! choro >

Cyro Aguiar "Cyro Aguiar" (Som Livre, 1975) (LP)


(Produced by Otavio Augusto) <! artistic coordination >



<! 01. Crítica 02. Só Nčo Viu Quem Nčo Ficou 03. Fonte Da Bica 04. Dolores Duran 05. Foi Deus 06. Made In Brazil 07. Dias De Hoje 08. Neurose 09. Pensamento 10. Nčo Pise No Meu Calo 11. Mistificaćčo > <! Cyro Aguiar - many albums - look up his discography >

Nalva Aguiar "Nalva" (Beverley, 1971) <! B004ZQIVU6 (??) this ASIN listed as RGE >



<! backed by Os Carbonos > <! look up her discography too - sertanejo music > <! a bunch of albums >

Akundum "Akundum" (Polygram, 1996)


Akundum "Akundois" (MZA, 1997)



Afropop-reggae axe with a strong carribean-soca influence. Also, like so much Brazilian pop, a too-strong hangover from the '80s -- too slick, predictable and goofy, although certainly better than many similar albums.
Akundum "Nova Mania" (Polygram, 1998)


Akundum "Brazilian Collection" (Polygram, 1998)


A reissue of the first Akundum album (listed above). Includes the hits "Emaconhada" and "Bailarina."


<! 1. Emaconhada 2. Reggay Listen 3. Sol Na Casa 4. Akundum (Akundum) 5. Rosa De Hiroshima Listen 6. Me Leva 7. Eu Amo Voce 8. Essa Nao 9. Azul Da Cor Do Mar 10. Satoque Estrangerio/Charlie Brown 11. Obrigado 12. Bailarina >

---
Brazilian Music - More Letter "A"
---



Main Brazil Index
World Music Index

---