<! MP3 10/04/08, 10/27/12 > <! update 10/04/08 11/30/09 - need separate Violado discography> <! pix 11/30/09 > <! ALLBM 00/00/00 > <! icons 02/14/11 >
---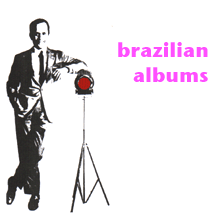 This is a listing of miscellaneous albums and artists under the letter "Q"
If an artist or album you like is not reviewed here, please feel free
to contact me and make a suggestion.
---
A | B | C | D | E | F | G | H | I | J | K | L | M | N | O | P | Q | R | S | T | U | V | W | X | Y | Z | Compilations
Brazilian Styles | 30 Recommended Records | Portuguese-language pop | Brazilian Links | Slipcue.Com
---

Qu4tro A Zero "Choro Eletrico" (Rob Digital/Zazumba, 2005)



A modernized, lightly electrified spin on the classic choro sound. The picking is fairly reserved, considering how fast and flashy choro playing can get; this probably was a good choice, since these plugged-in instruments might sound pretty tacky played at a breakneck pace. There are echoes of artists such as Les Paul and Bucky Pizzarelli here; it might not appeal to many choro purists, but if you wanted to hear these songs played on non-acoustic instruments. But even then, this may sound a little too delicate for listeners used to the more adventurous, dynamic playing of more traditional ensembles. Sounds a little more soft-jazz than choro, to me.
O Quarteto "O Quarteto" (RCA, 1968)



<! 1. Os Grilos (Marcos Valle / Paulo Sergio Valle) 2. Live For Life (Vivre Pour Vivre), F. Lai 3. O Velho (Chico Buarque) 4. Bonita (Tom Jobim / Vinicius de Moraes) 5. Rua Antiga (Roberto Menescal / R. Richter) 6. Who Needs Forever (Q. Jones / Greenfield) 7. Waves (Tom Jobim) 8. Maria Madrugada (Toninho Horta / Junia Horta) 9. Canta (Roberto Menescal / Ronaldo Bôscoli) 10. Here There And Everywhere (John Lennon / Paul McCartney) 11. Isso Nčo Se Faz (Pixinguinha / Hermínio Bello de Carvalho) 12. Tenderly (W. Gross / J. Lawrence) >
O Quarteto "O Quarteto" (Philips, 1977)
(Produced by Marcos Maynard)



<! Carlos Alberto De Lima Vianna Walter Gosso Paulino Palarico Correa Hermes Antonio Dos Reis >

Quarteto 004 "Retrato Em Branco E Preto" (Codil Ritmos, 1968)
Smooth group vocals, with a heavy bossa nova influence, particularly that of Antonio Carlos Jobim, who seems to have been the group's patron. The quartet is closer in style to old-timers such as Os Cariocas than to newer vocal bands such as Qurteto Em Cy: the arrangements are cool, not kooky; suave, not acrobatic. A few heavy-hitters provide musical backup, including keyboardist Eumir Deodato and Waltel Branco on guitar. Not really my cup of tea, but cool in a corny kinda way.


<! the first and only LP released by this truly amazing vocal group, strongly influenced by Antonio Carlos Jobim, in charge of arrangements on tracks 01, 02, 03 and 07, being also a performer on others. This update includes the back cover scans with liner notes written by Antonio Carlos Jobim that says he is the fifth element of the group, so strong he participates on this session. Retrato em Branco e preto also features Eumir Deodato, Ugo Marotta, Waltel Branco and Edino Krieger. >


Quarteto Em Cy - see artist discography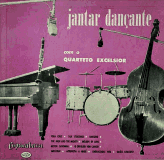 Quarteto Excelsior "Jantar Dancante" (RCA, 1955) <! date? >
A mellow set from a tight quartet featuring bandleader Zaccarias, pianist Fats Elpidio, and a compact bass-drums rhythm duo. This album isn't as sneaky or as inventive as some of their later stuff, but the samba songs that comprise Side One are nice... Side Two has three long medleys of North American standards ("Embraceable You," etc.) Overall, pleasant to hear, but not an earthshaking album. The highest nostalgia quotient comes with the Brazilian material, and those few songs are pretty sweet.

Quarteto Excelsior "Coquetel Dancante, v.1" (RCA, 1957) <! date? >
An enchanting nostalgic oldie, featuring bandleader Zaccarias, best known for his work with a large gafieira orchestra, works here in a small group setting, playing clarinet himself, with nimble backing by pianist Fats Elpidio. Fats comes up with some wildly inventive riffs, details that might not be apparent at first, but that become more impressive with repeat auditions. The sparse, halting arrangements and reserved vocal style give this a sort of a '50s glee-club sound, but a deep reservoir of jazzy savvy runs underneath it all, giving these stripped-down samba-cancao tunes a surprising little zing. This record is a lot of fun, once you give it a chance.


<! 01 - Baičo do Lavrador (Valdrido Silva / Zaccarias) 02 - Abre a Janela (Roberto Roberti / Arlindo Marques Júnior) 03 - Lá no Norte (Gilvan Chaves) 04 - Tiradentes (Estanislau Silva / Penteado / Décio Carlos) 05 - Pau-de-arara (Luis Gonzaga / Guio de Morais) 06 - Batuque no Morro (Russo do Pandeiro / Sá Róris) 07 - The Very Thought Of You (R. Noble) Love Me Tender (Elvis Presley / V. Matsen) Anastasia (Paul Francis Webster / A. Newman) 08 - Petticoats Of Portugal (Durso / Mitabel) Angustia (Orlando de Brito) Esperame En El Cielo (Francisco Lopez Vidal "Paquito") Que Murmuren (R. Fuentes / R. Cardenas) 09 - You're Sensational (Cole Porter) I Love You Samantha (Cole Porter) True Love (Cole Porter) >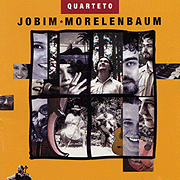 Quarteto Jobim-Morelenbaum "Quarteto Jobim-Morelenbaum" (Velas, 2000)



(Produced by Quarteto Jobim-Morelenbaum)
A sweet tribute to Antonio Carlos Jobim which features Jobim's son, grandson, and former cellist and bandleader Jacques Morelenbaum, as well as his wife Paula Morelenbaum, who serves as the group's chanteuse, trading vocal duties with the Jobim lads. Spanning the breadth of Jobim's career, these songs are standard bossa fare, but pleasantly and flawlessly rendered... Morelenbaum -- one of the most well-rounded musicians imaginable -- has written moodier, more mysterious arrangements, but I guess he didn't feel that was his job in this instance... I'm certainly not complaining... this is a beautiful, solid record, and will certainly grow on you with every listen. Highly recommended.

Quarteto Livre "Pra Que Mentir?" (Lumiar, 1997)


Drummer Tutty Moreno and pianist/composer Mozar Terra lead this compact quartet through a good-natured but glossy set of Brazilian jazz tunes. A refreshingly nonstandard repertoire, with only a couple of bossa/MPB oldies (a pair of lesser-known tunes by Jobim and Chico Buarque), as well as an old Noel Rosa song and one by Moreno's longtime partner, guitarist Joyce. This sort of slick, soft jazz isn't my cup of tea, but for the style this is pretty sweet.

Quarteto Negro "Quarteto Negro" (Kuarup, 1987)


(Produced by Janine Houard)
A jazzy summit meeting between Paulo Moura, Zeze Motta, bassist/guitarist Jorge Degas and drummer Djalma Correa, with hefty dips into Brazil's Afro-Yoruban spiritual tradition... In general, this album is too anchored in '80s production (the electric bass, mostly) for me, and Motta's ululatory scatting doesn't do much for me. Nice chance for Moura to shine, though, with some excellent clarinet improvisations, particularly on extended tracks such as "Festas Da Xica." Serious jazz buffs might want to check this out; others may find it too challenging... But it is certainly a deep exploration of the style.
Quarteto Nostalgia "Quarteto Nostalgia" (Beverly, 1977) (LP)


Soft, sometimes sluggish instrumental renditions of samba-cancao and bossa oldies, with pianist Chaim Lewak as bandleader. Pretty snoozy, overall. Classy, but dull.


<! 190 x 186 - loaded >

Quarteto Novo "Quarteto Novo" (EMI Odeon, 1967)


An impressive late-'60s Braz-Jazz album, featuring early work by percussionist Airto Moreira, multi-instrumental madman, Hermeto Pascoal, and the politically-inclined MPB songwriter Geraldo Vandre, along with guitarists Theo De Barros and Heraldo Do Monte. The album opens with "O Ovo," a brisk update of the turn-of-the-century choro sound popularized by Pixinguinha, Dunga and other Brazilian musical pioneers. The album gradually progresses into more modern, straightforward jazz material (which isn't as much fun) and even a Luiz Gonzaga forro tune. The playing throughout is very rich, well recorded, and vastly superior to many of their more jittery jazz contemporaries, even dipping into a mellow Vince Guaraldi-style vibe. This isn't just a cool footnote into the early careers of several of Brazil's most important musicians, it's also a very enjoyable, well-performed album. Recommended! (Note -- a reconstituted version of this ensemble backed Edu Lobo on his classic 1972 album, Cantigua De Longe)


<! no producer listed >

Quatro Grandes Do Samba "Quatro Grandes Do Samba" (RCA, 1977)



(Produced by Jorge Santos)
One of those dazzlingly great, understated acoustic samba albums that seem to slide under the radar as Brazilian fancies are turned elsewhere... This album originally came out at the height of the MPB years, although there was also a resurgent pagode samba revival going on, which this disc fits into quite nicely. At any rate, the four old-timers who made up this ensemble are all impressive figures on their own: Nelson Cavaquinho, Candeia, Guilherme de Brito and Elton Medieiros all back each other up as they trade off on vocals. It's a beautiful record, worth tracking down, especially if you enjoyed recent albums such as the Velha Guarda da Portela discs... Recommended!

Lula Queiroga & Lenine "Baque Solto" (WEA, 1983)


(Produced by Joao Marop Linhares & Joao Augusto)
The debut of Pernambuco's pop-rocker Lenine, who shows a strong early debt to classic, lavish MPB by the likes of Gilberto Gil and Ivan Lins. This is okay, although it's not as lively or innovative as his later work in the 1990s. The sometimes-syrupy, slightly sluggish soft-jazz trappings of the genre weigh this down, but if you don't mind the slick stuff, this is pretty good. Particularly recommended for fans of Milton Nascimento and middle-period Gilberto Gil.
Lula Queiroga "Azul Invisivel Vermelho Cruel" (Luni, 2005)

Lula Queiroga "Aboiando A Vaca Mecanica" (2007)

Lula Queiroga "Todo Dia E O Fim Do Mundo" (2009)





<! old CD asin - B007TZIG6Y >

Querosene Jacare "Fique Peixe" (Sony, 2002)


Generically produced, perfunctorily aggressive manguebeat, with note-heavy electric guitars and a monotonous funk-punk backbeat. You like the Red Hot Chili Peppers? Well, you might enjoy this, too. Or not. The opening numbers are the most repetitive; deeper into the album they loosen up a bit and get a little more "Brazilian," with a little Afro-Brazilian percussion (on "Sandalia De Dedo", etc.) and some old-fashioned funk-soul that's reminiscent of Tim Maia and that whole '70s crowd. I didn't care much for this disc, but I suppose it might have its attraction for a certain brand of rock fan. If I heard an English-language band playing like this, I'd think they were pretty lame.
Querosene Jacare "Voce Nao Sabe Da Missa Um Terco" (Sony, 2003)







Quincas & Os Copacabana "Fim De Semana" (Odeon, 1958)



<! O conjunto Os Copacabana se modificou em 1958. Do velho conjunto fundado em 1947 restaram o tenorista Quincas e o pianista Vadico. Jorginho, no sax-alto; Mozart, no trompete; Astor no trombone; Sebastičo Marinho no baixo; Julinho na bateria e Gilberto, no pandeiro, sčo os novos componentes. A voz em Falsa Baiana (Geraldo Pereira) e Ai que saudades da Amélia (Ataulfo Alves e Mário Lago) é do entčo iniciante cantor Pedrinho Rodrigues. Destaques para as sensacionais versões de Night and Day (Cole Porter), Cherokee (Noble), Só pode ser voce (Noel Rosa e Vadico) e a belissima Paisagem (Astor Silva), mas o disco é excelente e as outras faixas sčo: A mulher do Bode (Osvaldo de Meneses); Vamos fazer um samba? (Astor Silva); Feierabend (Rixner); Melancholy Rhapsody (Cahn); Singapura ( Quincas) e Atraente (Chiquinha Gonzaga). Discaćo com arranjos ą la Duke Ellington de Vadico, Astor e Quincas. Odeon MOFB 3024 - 1958 >

Quintaessencia "Quintaessencia" (1984)
An obscuro folk-prog band... Anyone have any solid info about these guys?




Quintal Brasileiro "Abstracoes" (Tratore, 2007)



Avantnik chamber music... with a Brazilian twist!

Quintal De Clorofila "O Misterio Dos Quintais" (1983)


Noodly, spacey improvisational folk-rock jams... Basically, some latter-day weirdo-hippie s**t, sort of a more-modern version of Satwa, with some vocal tunes and a bit of a Tom Ze-esque regional flair. This is probably one for the Devendra Banhart crowd; didn't do a lot for me, though. Sorry; I'm just not into it.
Marcelo Quintanilha "Metamorfosicamente" (Tratore, 1998)


Marcelo Quintanilha "Quinto" (Tratore, 2000) <! year? >


Marcelo Quintanilha "Mosaico" (Tratore, 2005)


Marcelo Quintanilha & Vania Abreu "Pierrot & Colombina" (YB, 2006)



Quinteto Armorial "Aralume" (EMI/Discos Marcos Pereira, 1975)


(Produced by Carolina Andrade)
An interesting, often exciting album from Pernambuco that mixes indigenous rhythm and melody with classical, folk and jazz influences, much like the better-known Quinteto Violado, or (going outside of Brazil) groups such as France's Malicorne and Les Menestrieres. The use of an acoustic slide guitar is noteworthy -- it's unusual for Brazilian music (of any genre) and stylistically links this album to the North American 1960's folk scene. Edilson Eulalio's fretwork is frenetic and uninhibited, but consistently engaging, in a propulsive fashion... The songs are all generally played at a fast clip, and pull listeners along in a whirl of energy and improvisation. Definitely worth chacking out, if you can track a copy down!

Quinteto Ternura "Quinteto Ternura" (RCA, 1974)



The vitality these ex-Jovem Guarda teens showed earlier in their career (as Trio Ternura) is sadly absent on this, their final album. Despite the Jackson Five-style outfits worn on the cover, this is calculatedly light, perky, breezy pop, following in the path of bands such as The Association or Terry Jacks, rather than the soul and psychedelic music they dabbled in earlier. The most striking track is the Joni Mitchell-styled "Consegui Concluir"; they also cover Caetano Veloso's "Baby," but in as bland a fashion as possible. Disappointing. (See also: Trio Ternura.)
Quinteto Villa-Lobos/Edu Lobo/Tamba Trio/Sylvia Telles "Reencontro" (Elenco, 1966)



Quinteto Villa-Lobos & Luiz Eca "Vanguarda" (Odeon, 1972)
Jazzman Luiz Eca teams up with the arty classical/avant ensemble, Quinteto Villa-Lobos, for a sort of a coy, deconstructionist tour of the then-current crop of MPB standards, songs such as Milton Nascimento's "Travessia," Chico Buarque's "Construcao," "Viola Enluarada" from Marcos Valles... stuff like that. The music is both innovative and precious, a mix of Miles Davis with Debussy and a faint whiff of Martin Denny. The album opens on a slightly too-manic note, with a kooky Raymond Scott-like flutter, and while later tracks gather more gravity, that jokey opener is hard to shake off. Still, there's some serious playing here as well -- their slinky version of "Reflexos" is cool; if you want a truly different take on both Brazilian pop and Brazilian jazz, this album is certainly worth checking out. It's different.
Quinteto Violado - see artist discography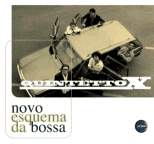 Quintetto X "Novo Esquema Da Bossa" (Schema, 1995)



(Produced by Nicola Conte)
An Italian bossa-jazz ensemble featuring Brazilian ex-pat vocalist Rosalia De Souza, who went on to record solo in the next decade...
---
Brazilian Music - Letter "R"
---



Main Brazil Index
World Music Index

---