<! MP3 10/10/08, 12/08/09, 03/30/12 > <! pix 11/17/09 > <! ALLBM 00/00/00 > <! icons 01/22/11 > <! UPDATES: 12/08/09 - need separate Hime, Rildo Hora pages? 03/29/12 - posted F. Hime page - maybe need Olivia Hime, Hyldon as well? 03/30/12 - posted Olivia Hime page > <! Paulo Hilario "Musicas De Paulo Hilario Com Coro E Orquestra" (Philips, 1986) (LP) B00535ZWOQ Junia Horta "Nao Me Lembre Demais, Nem Me Esqueca" (A'Gua, 1980) (LP) B0040ZHVJY >
---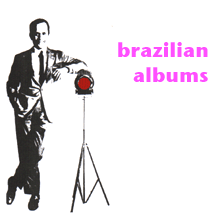 This is a listing of miscellaneous albums and artists under the letter "H"
If an artist or album you like is not reviewed here, please feel free
to contact me and make a suggestion.
---
A | B | C | D | E | F | G | H | I | J | K | L | M | N | O | P | Q | R | S | T | U | V | W | X | Y | Z | Compilations
Brazilian Styles | 30 Recommended Records | Portuguese-language pop | Brazilian Links | Slipcue.Com
---

Os Haxixins "Os Haxixins" (Get Hip, 2009)



Garage rock-retro from Sao Paulo, with crunchy, fuzzed-out guitars and plenty of Farfisa organ... For decades, Sao Paulo has had the reputation as the cradle of Brazil's hard rock scene, with louder guitars and harder rhythms than the more jazz-influenced band of the MPB movement. A modern band, Os Haxixins hearkens back to the half-hidden history of the '60s garage bands that sprang up in Sao Paulo and environs. The band's production is slicker and the delivery more confident than many of the original groups, but the snarly, wild vibe is right, and these guys seem to be having a lot of fun. The predominant sound is a driving, relentless Farfisa organ -- it frequently overwhelms the rest of the group (including the vocalist) but fans of 'Sixties garage rock (Brazilian or otherwise) will dig it. I particularly like that they (mostly) sing in Portuguese, always a plus, as far as I'm concerned.
Os Haxixins "Under The Stones/Debaixo Das Pedras" (Groovie Records) (LP)

Eveline Hecker "Ponte Aerea Ponte" (Biscoito Fino, 2004)





<! all songs written by Jose Miguel Wisnik >

Jon Hendricks "Salud! Joao Gilberto" (Reprise, 1961)



Amid the flood of American and European bossa nova bandwagon albums of the early 1960s, this disc by the baritone lead of Lambert, Hendricks and Ross is kind of a standout. Hendricks concocted his own versions of these bossa standards, working on the lyric translations with Laurindo Almeida, while commissioning new arrangements by some of the Reprise label faithful. This disc is notable for the restraint Hendricks shows while trying to recapture Joao Gilberto's super-cool softness; although he brings his scat singing hepness to bear, Hendricks doesn't indulge in any of the flashy vocal displays he helped pioneer. It's also interesting to note how this low-key approach, with Hendricks coming close to Al Hibbler's low, sedate rumbling, perfectly anticipates the same style that Frank Sinatra would use when he tackled the same material a few years later. Sometimes the English translations and Hendricks's delivery sound a bit tounge-tied and halting, although I suspect that this was in part intentional. Worth checking out -- definitely a cut above many of its jazz-bossa contemporaries.
Luiz Henrique - see artist discography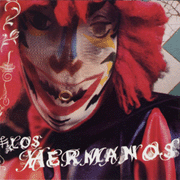 Los Hermanos "Los Hermanos" (Abril, 1999)


These Rio rockers started out with a harder edge, but eventually settled into a pleasantly softer mode which helps set them apart from many of their more aggressive BRock brethren... This is their first album, which came out a couple of years after the band first got together. It features their breakthrough hit, "Anna Julia," a fab power-pop tune written by the lead singer Marcelo Camelo, with jangly, insistent guitars and an irresistible chorus. The rest of the album features songs with nice guitars, but a driving, unvaried ska rhythm (showing the band's origins in the Brazilian punk scene). It's still interesting, particularly for folks looking for signs of life in Brazil's tiny indie scene, but the ska elements can be monotonous. Worth checking out, and "Anna Julia" is a real gem!

Los Hermanos "Bloco Do Eu Sozinho" (Abril, 2001)


I thought this was a fairly disappointing album... After hitting the pop charts with the perky, power-poppy "Anna Julia," Los Hermanos really played it safe with this generic alt-rock outing, full of crunchy, grungy, fuzzy electric guitar riffs, straight out of the Nirvana and Smashing Pumpkins playbooks. This isn't a bad record, really, but considering how much I like the two albums on either side of it, it does seeem a bit flat and unoriginal. If you liked the other records, by all means check this one out, too... but check the others out first if you really want to give these guys a fair shake.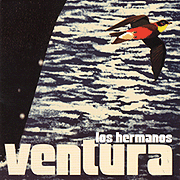 Los Hermanos "Ventura" (BMG-Brasil, 2003)


An exceptional indiepop album from Rio-based band, with gentle, consistently engaging guitars that frame the relaxed, velvet vocals of songwriter Marcelo Camelo. His laidback style has an air of Ron Sexsmith to it; the horns that drift in and out of various songs might bring to mind that whole Belle & Sebastian-inspired, twee-indie chamber music trend. Kassin (known as a bandmate of Moreno Veloso) produced this album, and it bears the subtle stamp of his rock-meets-electronica aesthetic. Although the record may be a little too long (fifteen songs, which by the end of the album start to sound a lot alike), it's still a lot of fun and very, very listenable. Here, at last, is a Brazilian indie band that can really hold its own next to any artist up in USA or the UK... Plus the lyrics are all in Portuguese... (yay!!) This disc is highly recommended, particularly for indiepop fans looking for an accessible entrypoint into modern Brazilian rock.
Los Hermanos "Quatro" (BMG-Brasil, 2005)

Los Hermanos "Perfil" (Som Livre, 2006)


A best-of set...


<! The Hi-Los "The Hi-Los Happen To Bossa Nova" (Reprise, 1963) (Produced and Arranged by Chuck Sagle) http://loronix.blogspot.com/2007_04_22_archive.html >


Francis Hime - see artist discography





Olivia Hime - see artist discography





Rildo Hora - see artist discography




Lu Horta "Lu Horta" (Lado Leste, 2004)



An ambitious, multilayered, modern elaboration on the syncretic rock experimentation of the tropicalia scene, and its various spiritual grandchildren. Sao Paulo's Lu Horta wrote about half the songs on htis solo debut; the other selections underline her connection to many of Brazil's most innovative rock-oriented musicians -- one song each by Arnaldo Antunes, Vincente Barreto, Chico Cesar, Pericles Cavalcanti and -- naturally -- Caetano Veloso. Antunes and Cesar even give her shout-outs in the liner notes. There may be a few too many tinny-sounding rock guitars warbling wildly throughout this disc to suit my tastes, but this is still pretty creative stuff, and Ms. Horta is definitely an artist to keep an eye on. (For more info, check out her website at www.luhorta.com.br )
Toninho Horta - see artist discography
Hyldon - see artist discography
---
Brazilian Music - Letter "I"
---



Main Brazil Index
World Music Index

---