<! MP3 11/24/09 > <! pix 11/24/09 > <! ALLBM 00/00/00 > <! icons 02/14/11 > <! UPDATES: 11/24/09 - research Taiguara > <! Tobias > <! Renato Terra "Renato Terra" (Polydor, 1978) http://www.dicionariompb.com.br/renato-terra > <! Tellah "Continente Perdido" (1980) prog > <! Luiz Tirelli "...E Banda Qualquer Coisa" (xxxxxxxx, ?????) "folk"? Titulares Do Ritmo "Samba Pra Todo Mundo" (Beverly, 1974) >
---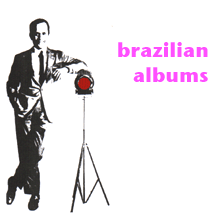 This is a listing of miscellaneous albums and artists under the letter "T"
If an artist or album you like is not reviewed here, please feel free
to contact me and make a suggestion.
---
A | B | C | D | E | F | G | H | I | J | K | L | M | N | O | P | Q | R | S | T-1 / 2 / 3 / U | V | W | X | Y | Z | Compilations
Brazilian Styles | 30 Recommended Records | Portuguese-language pop | Brazilian Links | Slipcue.Com
---
Marcia Taborda "Choros Da Paulinho Da Viola" (Acari, 2001)

Taiguara - see artist discography
Fernanda Takai "Onde Brilhem Os Olhos Seus" (Deckdisc, 2008)



A solo set by singer Fernanda Takai of the alt-rock band, Pato Fu...
Fernanda Takai "Luz Negra - Ao Vivo" (Deckdisc, 2009)


Fernanda Takai "Luz Negra - Ao Vivo" (Optical Media, 2009) (DVD)

Tamba Trio - see artist discography
Sebastiao Tapajos - see artist discography
Paulinho Tapajos - see artist discography

Os Tapes "Canto Da Gente" (Discos Marcos Pereira, 1975)
A musically sparse, somewhat spacey acoustic folk outing, with an Andean folkloric tint. A little too serious for me, and kind of static, musically. Not unlike various albums of traditional music from Peru, Chile, et. al., though with a sorrowful, solemn feel that makes it extra-special sluggish. The band was apparently named for the small coastal town of Tapes, near Porto Alegre.
Marcus Tardelli "Unha & Carne: Marcus Tardelli Interpreta Guinga" (Biscoito Fino, 2006)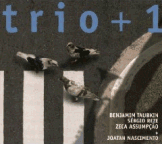 Benjamin Taubkin "Trio +1" (Adventure Music, 2009)


(Produced by Benjamin Taubkin)
Fairly straightforward jazz, led by Brazilian pianist Benjamin Taubkin, along with Zeca Assumpcao (bass), Sergio Reze (drums and gongs) and their "plus one," trumpet player Joatan Nascimento, who contributes one of the album's original compositions. There are Brazilian elements, in some songs more than others, but mostly I'd say this is a contemplative, mainstream jazz album, with a penchant for longer tracks (three that clock in at 6-plus minutes and two that are twice that length...) It's okay, not really my bag, but mellow and good for the genre, without getting saccharine or gooey. Worth a spin if you like serious contemporary jazz that's a little on the sweet side.
Benjamin Taubkin "MPBaby: Chico Buarque" (MCD, 2008)

Benjamin Taubkin "Piano Master Series, Volume One" (Adventure Music, 2010)


(Produced by Jim Luce & Richard Zirinsky, Jr.)
A nice, relaxed set of classically-tinged jazz piano solos... This was nice to hear, since I've mostly heard Taubkin record with accompaniment, and hearing his piano work without all the ornamentation of the modern soft-jazz scene is nice; it's just keyboards and no modern instruments or fusion-y flights to distract from the music. Worth checking out.
Daniel Taubkin "BRAzSIL" (Blue Jackel, 1998)


Daniel Taubkin & Uandi Uandi "A Picture Of Your Life" (Blue Jackel, 2002)


Daniel Taubkin "Uma Beleza Estranha" (Tratore, 2004)


Daniel Taubkin "Cinema Na Rua" (Tratore, 2005)


Daniel Taubkin "Sertao Negro" (Tratore, 2009)


---
Brazilian Music - More Letter "T"
---



Main Brazil Index
World Music Index

---