<! MP3 09/12/08, 01/30/11 > <! update 09/12/08 > <! pix 11/15/09 > <! icons 01/30/11 >

---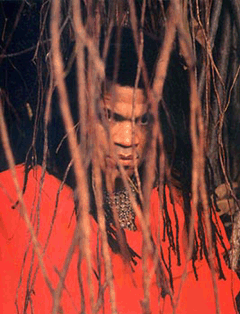 Percussionist Carlinhos Brown helped revolutionize modern Brazilian pop -- mixing afro-Brazilian percussion with USA-style funk, Brown helped carve out a wider niche for African-based drumming within the MPB continuum. Along with the Olodum collective, Brown's first band, Timbalada was one of the foremost bands in the booming bloco-afro scene. Like Olodum, Timbalada and Brown have moved far beyond the mainly-percussive roots of the style, deeper and deeper into mainstream pop style which many fans may find questionable. Originally a member of Caetano Veloso's band, Carlinhos Brown has made (and continues to make) many guest appearances on other MPB artists albums, adding a bit of percussive spice to many a Brazilian pop album.
---
Discography
---

Carlinhos Brown "Alfagamabetizado" (Metro Blue, 1996)


A surprisingly successful mix of styles, and the kind of cross-culturally pollinated work that's been getting Carlinhos Brown a lot of attention over the past few years. This was Brown's first solo album -- recorded after his work with Timbalada, with production by Wally Badarou and Arto Lindsay, and the usual requisite guest appearances by Caetano Veloso, Gal Costa, Gilberto Gil, Maria Bethania, and Marisa Monte... Brown works through a range of styles in this musical blend -- from modern funk grooves to string-laden ballads -- and the production by Lindsay and Badarou ties things nicely together. Titles include "Covered Saints," "Comunidade-Lobos," "O Bode," "Bog La Bag," "Angel's Robot List," and "Zanza."

Carlinhos Brown "Omelete Man" (Capitol/Metro Blue, 1998)


(Produced by Marisa Monte)
This pop album deemphasizes Brown's Afro-Brazilian percussion roots to an almost shocking degree. Instead, we are exposed to an eclectic, sleek mix which pays homage to Bob Marley, Brian Wilson, Paul McCartney and Stevie Wonder (or, perhaps more aptly, to Lenny Kravitz). How much of this stylistic sculpture is due to Brown, and how much to producer Marisa Monte, or to cellist/arranger Jacques Morelenbaum, is hard to tell. The results, however, are simultaneously irritating and enticing, revealing Brown's growing confidence as an experimental pop artist, even as they lay bare his limitations. The multi-layered exotica of "Hawaii e You," or the lavish (but restrained) orchestral bossa of "Musico" are world-class efforts, pushing the syncretic tendencies of mainstream Brazilian pop more effectively than anytime since the late '70s. However, many tracks have a tepid, almost gimmicky, "world beat" feel, such as the arrangements on "Water My Girl" or the dorky lyrical metaphor of the title track (an "Omelete Man" symbolizing someone who mixes up different influences, whipping them together like eggsÉsheesh!) At best, these stabs at sub-beer-commercial yuppification attain a level of mediocrity, which is unfortunate, considering the classiness and sophistication of the album's highlights. A mixed bag, but not the sort of thing you can write off altogether.

Carlinhos Brown "Bahia Do Mundo - Mito E Verdade" (EMI-Brasil, 2001)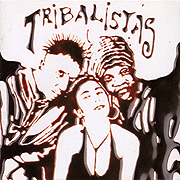 Carlinhos Brown/Marisa Monte/Arnaldo Antunes "Tribalistas" (Phonomotor/EMI, 2002) [Import]



Carlinhos Brown/Marisa Monte/Arnaldo Antunes "Tribalistas" (Capitol/Metro Blue, 2002)



A lovely, subtle and profoundly life-affirming album... one of my favorites of the year! The band's name and all-star cast are an apparent tribute to the Veloso-Gil-Bethania-Costa mid-1970s supergroup, Doce Barbaros (The Sweet Barbarians), but in this case the musicians, neo-tropicalistas Arnaldo Antunes, Carlinhos Brown and Marisa Monte, go for tender restraint, rather than wild excess. It's a remarkably gentle, dreamy set, with an alluring blend of voices and styles. Each of these musicians has been instrumental in deepening the stylistic vocabulary of modern Brazilian pop, and the three have worked together on various projects and albums over the years. This album, however, is a marvel of collaborative creativity, with label owner Monte the album's guiding force and charismatic center, poet Antunes offering cerebral and ironic counterpoint, and soul-samba percussionist Brown mediating between the two, bringing his pure musicality in to balance them both. The songs feature all three artists flowing effortlessly in overlapping parts, with an intuitive connection that is quite marvelous to hear. (You can see it, too: if you can track down the DVD that accompanies this album, their creative process will astound you...) Old-school axe star Margareth Menezes also guests on one song, the catchy and irresistible "Passe Em Casa," one of many beautiful tunes that will echo in your mind for days on end. All in all, this is a very beautiful, inventive and multi-textured record... HIGHLY recommended.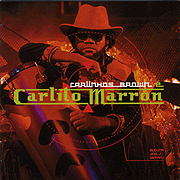 Carlinhos Brown "...E Carlito Marron" (BMG-Ariola, 2003)



"Carlito Marron" is Carlinhos Brown's riotous Cuban music alter ego, and on this disc he blends Afro-Cuban and Afro-Brazilian traditions with enchanting results. Brown revels in the explosiveness and joy of Cuban son, and takes chances with the genre that many native Cubans would not, adding the sort of layered, high-tech production and little sonic tweaks that he'd previously brought to Brazilian pop. This disc brings to mind similar off-center moderninzations of folks such as avant guitarist Marc Ribot and his band, Los Cubanos Postizos, though Brown is arguably more relaxed at at home with the son style, and a bit more subtle. Cuban tres guitarist Papi Oviedo adds some tasty licks on several tracks, while electro-bossa queen Bebel Gilberto adds her vocals on a soft, sweet version of the song, "Ifa De Copacabana," and Spanish pop-flamenco superstar Rosario Flores makes a striking appearance towards the album's end. As the album progresses, Brown drifts into material that's closer to the sleek, Brazilian-based world-pop fusion that he's been perfecting the last few years, but the opening tracks are a real change of pace on an album that is without question one of his strongest so far. Recommended!
Carlinhos Brown & DJ Dero "Candyall Beat - Electronica Artesenal" (Universal-Brasil, 2004)


Carlinhos Brown "Candombless" (Tratore, 2005)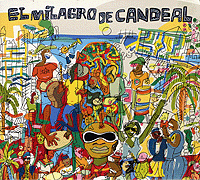 Carlinhos Brown & Various Artists "Milagro De Candeal" (BMG-Spain, 2005)


(Produced by Fernando Trueba)
Brazilian percussionist and axe pop star Carlinhos Brown plays host to Cuban pianist Bebo Valdes, and elder statesman of the jazz-tinged descarga scene, as Valdes journeys to Brazil to soak up some of Bahia's African traditions... This disc is tied in to a documentary film by director Fernando Trueba, who previously directed Calle 54, also about contemporary Cuban son. Valdes and Brown are joined by a slew of high-profile Brazilian talent, including Brown's old group, Banda Timbalada, as well as Marisa Monte, Caetano Veloso and several newer artists. The overall production tone is a bit mellow and overly-perfect, which doesn't really work with the more rhythmic, heavy numbers... The highlights here are some fo the softer ballads, particularly Veloso's track. Valdes' contributions seem largely buried int he too-slick mix, although his influence is felt here and on Brown's similarly themed (and much more arresting) solo album, Carlito Marron. Worth checking out, though it is a bit on the safe side.
Carlinhos Brown "A Gente Ainda Nao Sonhou" (BMG, 2006)



Although there are a variety of textures and tones here, the predominant feeling is one of somewhat overproduced, bland pop, with Brown stretching and straining to emote, but continually held back by the overly-perfect studio sound he's constructed. A few tunes come close to the uptempo propulsiveness of the Tribalistas album, but this disc lacks the chemistry between the artists that made that record (also lavishly produced) feel more authentically carefree and light. Another album that has nice elements, but feels a bit too sluggish and heavy.
Carlinhos Brown "Diminuto" (Sony-Brasil, 2010)


A mellow set from this neo-tropicalista percussionist/popstar...
---
Best-Ofs
---
Carlinhos Brown "Para Sempre" (EMI-Brasil, 2001)

Carlinhos Brown "Mil Veroes: Carlinhos Brown Greatest Hits" (Blue Note, 2004)


---
Related Records
---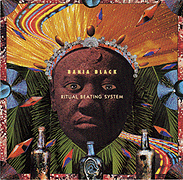 Bahia Black "Ritual Beating System" (Island/Axiom, 1992)


An ambitious and stunningly realized album, bringing together the percussive talents of Brown, the Olodum collective, and several North American jazz and funk artists such as Herbie Hancock, Bernie Worrell, Wayne Shorter, and Henry Threadgill. This marks one of the high points of Bill Laswell's career as a multi-directional producer, creating a blend of funk, jazz, avant-jazz, art-rock and Afro-Brazilian pop that is actually more successful than most Brazilian fusion projects. Challenging, but also highly listenable.

Carlinhos Brown/Various Artists "Z: 300 Anos De Zumbi" (Pau Brasil/Blue Jackel, 2002)



A relaxed set of incidental music taken from the stage production of a musical ballet honoring the legendary Brazilian slave rebel leader, Zumbi. Gilberto Gil, Carlinhos Brown, Marlui Miranda and producer Rodolfo Stroeter collaborate on this light mish-mash of Afro-Brazilian and world-pop styles. Typically this sort of production has at least one "real" pop song in it somewhere, but not so on this album. Didn't do much for me, but folks looking for something nonlinear and soundtrack-y might enjoy this.
Timbalada - see artist discography
---
Other Media
---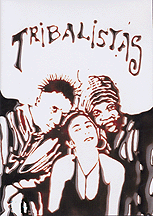 Carlinhos Brown/Marisa Monte/Arnaldo Antunes "Tribalistas" (DVD) (Phonomotor/EMI, 2002)


Wow... what a great video! An amazing portrait of these three super-hip, modern Brazilians working together on a truly beautiful project. This gorgeously shot, skillfully edited film documents the year-long process that led to the completion of the densely-layered, gently melodic, supremely life-affirming Tribalistas album, featuring in-studio performances of the taping of all the songs, each prefaced by a brief glimpse of the collaborative process that went into its conception and perfection. The friendly creative interplay and cheerfulness of the musicians comes through brilliantly -- I already was a fan all three artists before seeing this video, but now I feel immense affection for them, and a much greater appreciation for them and their muse. The delicate attention to detail and to the texture of their performances is impressive, as is the playful, positive message of their music. Optional English subtitles are a boon for all us dumb Yankees, and additional behind-the-scenes features amplify the insights into their creative bond. The album itself is great, but the DVD is indispensible for fans who want to get delve deeper into the mystique of these fab neo-tropicalistas. HIGHLY recommended!
---
Links
---
---



---