<! MP3 09/12/08, 12/03/09 > <! update 09/12/08 > <! pix 12/03/09 > <! icons 01/23/11 >

---
Olodum
---
Powerfully percussive pop which combines thunderous traditional African rhythms with intensely sensual samba melodies. Olodum is a weird phenomenon -- more a musical collective and Africanist social movement than simply "a band." Their first "samba-reggae" records in the mid-1980s helped reinvigorate Brazilian pop, and several Olodum songs are now standards. Beware of synthy, iffy production on later albums, though.
---
Discography
---
Olodum "Egito Madagascar" (Warner Brasil, 1987)
(Produced by Wilson Souto, Jr.)
Awesome, thunderously melodic percussion-and-chorus. This is the start of the whole samba-reggae sound, and it's an absolute classic. Reissued on a single CD, along with the equally great 10 Anos album.
Olodum "Nubia Axum Etiopia" (Continental, 1988)

Olodum "Do Deserto Do Saara Ao Nordeste Brasileiro" (Continental, 1989)
(Produced by Joao Jorge & Matheus Nazareth)

Olodum "Da Atlantida A Brasil... O Mar E A Caminho" (Continental, 1990)


A sharp, soulful album, with a very hypnotic, trancey vibe. Their pop-crossover pretentions are all held at bay, in favor of a swaying percussive sensuousness. Jamaican reggae legend Jimmy Cliff guests on a mellow black power anthem... Hey, if you gotta check these folks out, this is a damn fine album to start with.
Olodum "A Musica Do Olodum" (Continental, 1992)

Olodum "Revolution In Motion" (1992)


Olodum "O Movimento" (Warner, 1993)



Their patented thunderous percussion, toned down with poppier melodies and softer touches of electric guitars, synths and soprano sax solos. Just a wee tad bit of pop treacle sneaking in on this one.
Olodum "Mininho Dourado" (1994)

Olodum "Filhos Do Sol" (Warner, 1995)


Olodum "Sol E Mar - Olodum Ao Vivo Em Montreux" (Warner, 1995)


Olodum "Roma Negra" (Warner, 1996)


Olodum "Edicao Especial Da Natal" (1997)

Olodum "Libertade" (Warner, 1997)


Olodum "A Musica Do Olodum: 20 Anos" (Columbia, 1999)

Olodum "Pela Vida" (Cheiro, 2003)


(Produced by Windson Silva & Yacoce Simoes)
Nice, light, cheerful Afro-Brazilian pop... It's all very formulaic, but also easy on the ears, and endlessly upbeat. Pleasant and danceable, though definitely not very challenging. Pretty much a standard-issue, late-edition Olodum offering.
---
Best-Ofs
---
Olodum "Dose Dupla" (Warner, 1995)


Combines the Egito Madagascar and 10 Anos albums.
Olodum "Enciclopedia Musical Brasileira" (Warner, 2000)

---
Related Records
---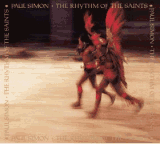 Paul Simon "Rhythm Of The Saints" (Warner, 1990)



A lot of folks -- humorless drudges, for the most part -- took great offense at Paul Simon "stealing" world music from various sources on this and the Graceland album. Me? I totally dug this album, particularly Olodum's monumental drumming on "The Obvious Child." Totally worth checking out!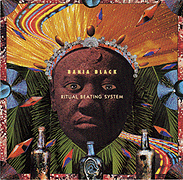 Bahia Black "Ritual Beating System" (Island/Axiom, 1992)


An ambitious and stunningly realized album, bringing together the percussive talents of the Olodum collective, Carlinhos Brown, and several North American jazz and funk artists such as Herbie Hancock, Bernie Worrell, Wayne Shorter, and Henry Threadgill. This marks one of the high points of Bill Laswell's career as a multi-directional producer, creating a blend of funk, jazz, avant-jazz, art-rock and Afro-Brazilian pop that is actually more successful than most Brazilian fusion projects. Challenging, but also highly listenable.


<! DVD B000BNKB2S "Festival de Verao de Salvador 25 Anos Live" (Som Livre, 2005) >

---
Links
---
The official Olodum website has their history, philosophy, international contact info... everything but a discography! Bilingual, interesting, and easy to navigate.
For a nice fan page, check out Attila Narin's site, which includes excellent essays, and a full discography.
---



---