<! cd = 01/30/10 > <! MP3 01/30/10, 03/09/12 > <! update 03/09/12 > <! pix 03/09/12 > <! ALLBM 00/00/00 > <! icons 02/01/11 >

---
<! Waltel Branco tocou com Dorival Caymmi, Nana Caymmi, Jočo Gilberto, fez arranjos para Roberto Carlos, Cazuza, Tim Maia, Djavan, Cartola, Gal Costa,Maria Creuza, Vanuza, Mercedes Sosa, Astor Piazzola, Zé Keti, Peri Ribeiro, Sérgio Ricardo, Tom Jobim, Tomaz Lima e muitos outros, chegando até a fazer um arranjo do Hino Nacional Brasileiro para a Orquestra de Viena executar. Seria difícil encontrar músico brasileiro (e mesmo estrangeiro) com quem Waltel nčo tenha trabalhado. Teve músicas gravadas por diversos artistas como Elis Regina no Brasil, e Eva Fampas na Grécia. Alguns dos seus discos de início de carreira sčo hoje considerados raríssimos e já ultapassam o valor de US$200,00 no mercado para colecionadores. >
Guitarist/arranger Waltel Branco was a prolific, ubiquitous session player in the 1960s and '70s, although his own work has remained largely out of print. One of Brazil's most serious jazz players of the 1950s, Branco went abroad and worked with luminaries such as Chico Hamilton, Nat King Cole and Henry Mancini, while in Brazil he recorded with countless artists, including bossa nova legends such as Tom Jobim, Joao Gilberto and Sergio Ricardo, and stylists such as Gal Costa, Maria Creuza and Djavan. Here's a quick look at Branco's own recorded output...
---
Discography
---



Waltel Branco "Recital Violao" (1960)





Waltel Branco "Guitarras Em Fogo" (1962)



<! same album as Guitarra Bossa Nova??? >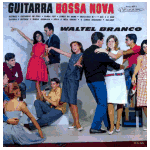 Waltel Branco "Guitarra Bossa Nova" (Musidisc, 1963)
A perky, dynamic, silly set of half-jazzy/half-kitschy guitar instrumentals, with a heavy dose of Les Paul in the mix (multiple guitars, including one that sounds sped-up and chirpy) and a generally giddy, goofy vibe. I'm not much of an easy listening aficianado, but I have to confess I was a little drawn in by this one... It's pretty funky and fun. It also sounds a lot more modern than '63... Go figure!


<! Waltel Branco is not well known in Brazil, even overseas. Friend of Joao Gilberto, Waltel took part on early Bossa Nova years being later on - after a short stay in Cuba - member of Dizzy Gillespie and Henry Mancini (collaborating with Pink Panther soundtrack). This is his 1963 Guitarra Bossa Nova - also known as Guitarras em Fogo. Believe me, Baden Powell is credit here on Guitarras em Fogo track. Another fantastic example of how cool, surprising and never ending music we can gather from the 60's. Waltel Branco, Neco, Geraldo Vespar (e-git) Baden Powell (git) >

Waltel Branco "Mancini Tambem E Samba" (Mocambo, 1966)

Waltel Branco "Meu Balanco" (1972)

Airto Fogo "Jungle Bird Black Soul" (1972)
This is Branco recording under a pseudonym...
Waltel Branco "Musicas Do Seculo XVI Ao Seculo XX" (Magic Music/Itamaraty, 1974)
This album includes baroque and classical composers such as Schumann, Brahms, Chopin, etc as well as Villa-Lobos and Branco's own work... Basically a showcase for his "serious" guitar chops.

Waltel Branco "Meu Balanco" (EMI, 1975)



Despite the cheerleading from the acid-jazz contingent, I found little on this all-instrumental album to get excited about. The opening tracks are kind of funky, in a '70s fusion kind of way, but then it starts to dip into the softer language of Philly soul and soundtrack music. There are some OK, mellow grooves, but way too heavy on the fusion/easy listening tip, and not that vigorous overall. I mean, I'd prefer a plain old LA Express album to most of this album... and that's not necessarily meant as a compliment to Tom Scott! Still, retroholics and slee-zee listening aficianados will find a lot to get excited about here...
Airto Fogo "Airto Fogo" (1975)

Waltel Branco "Recital (II)" (Som Livre, 1976)

Waltel Branco & Rosinha De Valenca "Violao Em Dois Estilos" (Som Livre, 1980)
A split LP with guitarist Rosinha De Valenca on Side One and Waltel Branco on Side Two...




Waltel Branco "Kabiesi" (1990)





Waltel Branco "Naipi" (1997)





Waltel Branco "Meu Novo Balanco" (2007)



<! [editar] Conjunto * 195… - RomČnticos de Cuba * 1958 - Os Cobras * 1960 - Conjuntos de José Marinho, Netinho, Waltel Branco e Jočo Donato (disco Dance Conosco) * 1961 - Rubens Bassini e os 11 Magníficos (guitarrista) * 1963 - Trio Surdina * 196… - Copa Cinco * 1964 - A Turma do Bom Balanćo * 1980 - Violčo em Dois Estilos Waltel Branco + Rosinha de Valenća * 19.. - Wilson Miranda: "A Outra Face de Wilson Miranda" (guitarrista) * 19.. - Orquestra Severino Araújo: "Um sax no Samba" (guitarrista) * 19.. - Djalma Ferreira e seus Milionários do Ritmo * 19.. - Lena Rios (violčo 7 cordas) * 19.. - Trindade: "Curto Caminho Longo" (trilha do documentário) * 19.. - Orlann Divo (LP "A Chave do Sucesso" como guitarrista) * 19.. - Violčo para quem nčo gosta de Violčo >

---
Links
---
---



---