<! MP3 10/10/08, 11/17/09, 03/06/12 > <! update 03/06/12 - reviewed Instituto, posted Ira! discography > <! pix 11/17/09 > <! ALLBM 00/00/00 > <! icons 01/20/11 >
---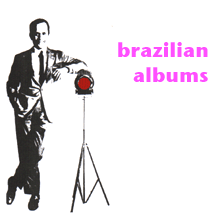 <! Ivers Brazilian Band "xxxxxxxxxx" (London Records) (LP) B004156Q2G - with Omar Izar - Imperiais Do Ritmo "Imperiais Do Ritmo" (Continental, 1976) - no ASIN (Produced by Humberto Garin) Israel Filho "Origens" (Copacabana, 1984) (LP) B00JFG8RKK Israel Filho "Gosto Bom" (Tropical, xxxxx) (LP) B0040FK0P6 Israel Filho "Sonho Vadio" (Copacabana, xxxxx) (LP) B0041EMXOW Iranfe & Cesar Augusto "Vento Na Vidraca" (Panoramico, 1978) (Produced by J. Cintra) >

This is a listing of miscellaneous albums and artists under the letter "I"
If an artist or album you like is not reviewed here, please feel free
to contact me and make a suggestion.






---
A | B | C | D | E | F | G | H | I | J | K | L | M | N | O | P | Q | R | S | T | U | V | W | X | Y | Z | Compilations
Brazilian Styles | 30 Recommended Records | Portuguese-language pop | Brazilian Links | Slipcue.Com
---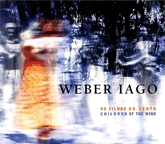 Weber Iago "Os Filhos Do Canto: Children Of The Wind" (Adventure Music, 2004)



Highbrow "smooth jazz," led by pianist/composer Weber Iago, played in small trio and quartet arrangements. The music is a mix of gypsy/Roma melancholy and more standard jazz themes, with a dash of Brazilianness in there as well... This album springs from work originally commissioned for flautist Keith Underwood, but Iago leads on several songs, and in general I prefer his solo passages. His piano work has a lush, classical-romantic core to it that adds resonance and depth... The flute work tends to meander and sound noodly (which may just be because I don't like the timbre of the instrument...) At any rate, while this isn't really my kind of music, I recognize that this disc is a cut above, and a bit weightier than the smooth jazz norm... Worth checking out, if you like the soft stuff...
Weber Iago & Ron Kaplan "Saloon: The Ron Kaplan/Weber Iago Album" (Kapland, 2005)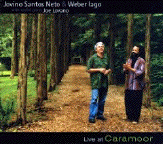 Weber Iago & Jovino Santos Neto "Live At Caramoor" (Adventure Music, 2008)


(Produced by Jim Luce & Richard Zirinsky, Jr)
Brazilian pianists Jovino Santos Neto and Weber Iago combine their talents for these crisp live recordings, both as solo performers and together, with accompaniment by saxophonist Joe Lovano. They cover the work of Braz-jazz touchstones such as Antonio Carlos Jobim, Hermeto Pascoal and Pixinguinha, as well as some of their own compositions.. What marks this disc, though, is its departure from the bedrock conventions of Brazilian bossa nova-ism; this is much more of a classical-meets-avant jazz recording, arch and erudite, with less appeal to the smooth-jazz set, and more to fans of Pascoal and the more challenging brand of Brazilian jazz. Worth checking out if you're into "serious" jazz.
Weber Iago & Hristo Vitchev "The Secrets Of An Angel" (2009)

Weber Iago & Colin Farish "Two Hearts/Four Hands" (Adventure Music, 2010)


Weber Iago "Nehmat" (Mogno Music, 2010)

Weber Iago & Hristo Vitchev "Heartmony" (First Orbit Sounds, 2012)



Ile Axe "Calypso Samb' - Percussions Bresiliennes" (Playa Sound, 1990)



This disc opens with a sizzling Afro-Brazilian percussion number, simply called "Batucada," then slides into an interesting mix of Brazilian and Caribbean music, including several tracks with steel pan drums and voudou-style chanting. Some songs, like their theme, "Ile Axe," featuring some saxophone and jazzy reed work that's downright freaky. This album's an interesting experiment, and even if sometimes I wish it were "more Brazilian," it's still pretty groovy.

Impacto Cinco "Lagrimas Azuis" (CBS, 1975)
Groovy, low-key psychedelic/sunshine pop and boogie-rock; some of it's clunky, some of it's sweet (like the perky, poppy "Viver Triste") and even instrumental fusion flights like "Lagrimas Azuis" are noteworthy. If this was an American band, it'd probably be no big whoop, but given the context of the mid-1970s Brazilian pop scene (which was dominated by the then-ascendant post-tropiclia MPB-ers and the drippy, post-jovem guarda "brega" pop artists), it's an interesting anomaly. This was apparently the band's last record; I don't have any info on their earlier work.
Os Incriveis - see artist discography
Inimigos Do Rei "Inimigos Do Rei" (Sony-Epic, 1989)

Inimigos Do Rei "Amanha Da Rainha" (Sony-CBS, 1990)

Inocentes - see artist discography
Jacy Inspiracao "Jacy Inspiracao" (Copacabana, 1974) (LP)


Instituto "Colecao Nacional" (YBrasil, 2002)



(Produced by Rica Amabis & Instituto)
A mellow, downtempo mix of electronica, rap and dub from a loose musical confederation led by Rica Amabis, with contributions by a horde of Brazilian hipsters, including Otto, Fred Zero Quatro and a slew of other, less well-known artists. The jungle/house beats don't do much for me, but I'm a grouchy old man. Worth checking out if you're in search of modern Brazilian stuff that's off the beaten track, pretty dynamic and stylistically diverse, even if it ain't quite my cup of tea.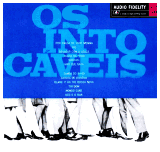 Os Intocaveis "Os Intocaveis" (Audio Fidelity, 1964)
Breezy, slightly ditzy, lightweight bossa nova instrumentals from an anonymous but rigorously competent studio ensemble. I suppose if you dig lounge music, this might be one to look for... A little too plinky-plinky and twee for me. (Note: the band's name means "The Untouchables," auf Portuguese...)


<! 01 - Por Causa de Vocź Menina (Jorge Ben "Jorge Benjor") 02 - Rio (Roberto Menescal / Ronaldo Bôscoli) 03 - Devagar Com a Louća (Haroldo Barbosa / Luis Reis) 04 - Bossa na Praia (Geraldo Cunha / Pery Ribeiro) 05 - Sukyiaki (R. Ei / H. Nakamura) 06 - Mas Que Nada (Jorge Ben "Jorge Benjor") 07 - Samba do Avičo (Tom Jobim) 08 - Garota de Ipanema (Tom Jobim / Vinicius de Moraes) 09 - Blame It On The Bossa Nova (Ensinando a Bossa Nova) (C. Weil / B. Mann) 10 - Tim Dom (Clodoaldo Brito / Jočo Mello) 11 - Mondo Cane (M. Ciorciolini / R. Ortolani / N. Oliviero) 12 - Nós e o Mar (Roberto Menescal / Ronaldo Bôscoli) B004YSD4GG (?) (Epic?) LP >

The Ipanema Pop Orchestra "Bossa Nova Meets USA" (London, 1965) (LP)


Pop-orchestral cover tunes by several veterans of the 1950's "para dancar" dance-band scene, a studio group including Cipo, K-Ximbinho, Mierelles and others, playing North American standards by Henry Mancini, Jimmy Van Heusen, Johnny Mercer, et. al.


<! Apparently also included Cipo and Mierelles(?) Charade 1:48 Mancini - Mercer Tonight 1:53 Leonald bernstein - Stephen Sondheim Witchcraft 2:06 Cy Coleman - Carolyn Leigh Tender is The Night 2:15 Sammy Fain - Paul Webster Call me Irresponsible 2:45 Sammy Cahn - James Van Heusen I Left my Heart in San Francisco 2:29 Douglass Cross - George Cory I Could Have Danced All Night 1:59 Frederick Loewe - Alan Jay Lerner Moon River 2:33 Mancini - Mercer All The Way 1:52 Sammy Cahn - James Van Heusen It Had Better be Tonight 2:41 Mancini - Mercer Days of Wine And Roses 2:32 Mancini - Mercer Hello, Dolly ! 2:24 Jerry Herman >

Os Ipanemas "Os Ipanemas" (CBS, 1975)


Another re-release from the UK "acid-jazz" scene -- this is a jazz band, sort of along the lines of Sergio Mendes' early bossa nova work, with Astor Silva on trombone, Wilson das Neves playing drums, along with Rubens Bassini on percussion, and others. I wasn't terribly taken with this disc, but it also isn't offensive in any way.


<! Astor Silva (trombone) Marinho (bass) Wilson das Neves (drums) Rubens Bassini (percussion) Neco (guitar) >

Os Ipanemas "Que Beleza" (Far Out, 2010)


Ira! - see artist discography
George Israel "4 Letras: 13 Parcerias Com Cazuza" (Universal, 2004)


The first solo album by George Israel of the pop band, Kid Abelha... This is a tribute to seminal '80s rocker Cazuza.


<! Antes de lanćar um novo disco com o Kid, George, em 2004, grava seu primeiro CD solo, "4 Letras", titulo de uma música sua com o parceiro Cazuza. Canćões inéditas, algumas com Israel como letrista, além de parcerias com Alvin L, Arnaldo Antunes e participaćões dos Paralamas, Lulu Santos e Sergio Dias estčo nesse trabalho produzido por Ramiro Musoto. A canćčo "Girassois Azuis" (de George Israel/Dulce Quental) foi inclusive tema da novela América, da rede Globo. >

George Israel "Distorcoes Do Meu Jardim" (Universal, 2009)








Ivan & Pricila "Hortela" (Cue, 1985)



<! CVE PRODUāÕES "folk" - is that CVE or "Cue" >

Ivinho "Ao Vivo: Montreux Jazz Festival" (Warner, 1978)



<! Nonesuch? 01 - Teimosia (Ivinho) 02 - Clarčo vermelho (Ivinho) 03 - Meditaćčo (Ivinho) 04 - Frevo único (Ivinho) 05 - Partida dos lobos (Ivinho) Ivinho - guitar Djalma Correa - percussion Vamos falar um pouco deste cidadčo Pernambucano, Ivson Wanderley gravou um LP-solo com o nome Ivinho Ao Vivo (Warner, 1979) e participou de Paebiru, álbum duplo de Lula Côrtes em dupla com Zé Ramalho, músico de primeira água participou da criaćčo do grupo Ave Sangria, solista de mčo cheia conhece como poucos um guitarra, bem como executa com prazer uma viola de 12 cordas nesse trabalho. > <! Omar Izar "Quem Tem Gaita Faz Sucesso" (RGE, 1960) MP3 - B00530JC56 only three songs? harmonica music >

---
Brazilian Music - Letter "J"
---



Main Brazil Index
World Music Index

---