<! MP3 10/03/08 > <! update 10/03/08 > <! pix 11/30/09 > <! ALLBM 00/00/00 > <! icons 02/16/11 > <! PANTANAL "ALERTA BRASIL" Reserva Nacional (1988) Palmeira E Bia "Baiao da Serra Grande" (Chantacler-Galinho, 1971) Palmeira E Bia "Luar Do Sertao" (RCA, 1997) B00006LWMN B002P2YQ7E Paulinho Do Pinho "Paulinho Do Pinho" (Tonodisc, 1972) - guitar music - three tracks credited to P. L. Coutinho - would that be Paulinho Do Pinho? Also covers of Toquinho, Luiz Bonfa, Ary Barroso, Dorival Caymmi, Roberto Menescal, and others - Uruguayan label - Pantanal "Pantanal" (Bloch, xxxxxx) Passoca "Que Moda!" (RCA, 1979) Lina Pesce "Concerto Em Ritmo" (Columbia, 1963) - featuring orchestra with direction by Maestro Lyrio Panicali. The second album recorded by Lina Pesce for Columbia, being the first dedicated to Lina Pesce compositions and Concerto em Ritmo, Lina Pesce renditions to classic music in Para Dancar style, both albums with orchestra directed by Lyrio Panicalli. 01 – Balada Nľ 2 (Franz Liszt) 02 – Panorama (De "A Bela Adormecida") (Tchaikovsky) 03 – Tema (De "Rapsódia Sobre Um Tema de Paganini") (Rachmaninoff) 04 – Tema do Concerto Em Mi Menor Op 11 (Frederic Chopin) 05 – Valsa (De "O Lago dos Cisnes") (Tchaikovsky) 06 – Tema de "Giselle" (Adam) 07 – Estudo Nľ 12 Em Dó Menor Op 10 Nľ 12 (Revolucionário) (Frederic Chopin) 08 – Valsa Nľ 2 Em Lá Bemol Maior Op 34 Nľ 1 (Frederic Chopin) 09 – Adágio (De "A Bela Adormecida") (Tchaikovsky) 10 – Tema de "Don Quixote" (Minkus) 11 – Estudo Em Mi Maior Op 10 Nľ 3 (Frederic Chopin) 12 – Valsa Nľ 10 Em Si Menor Op 69 Nľ 2 (Frederic Chopin) > <! PARADA 5 "5 Anos Depois" (CARAVELLE, ?????) - Parada 5 or just Parada? see gif CAR 502 Beat-Pop Sem Data (no date) > <! Perfume Azul Do Sol "Nascimento" (Chantecler, 1974) prog > <! Andre Penazzi "Maxixa, Meu Bem" (Continental) late 1950s? (LPP-3046) A informaćčo está no texto impresso na contracapa: "Maxixa, meu bem é uma selećčo de músicas danćantes, executadas ao órgčo elétrico, secundado por conjunto orquestral. Dentre os poucos executantes capazes de arcar com essa responsabilidade escolheu-se André Penazzi por ser reconhecidamente o melhor". Felizmente, pelo menos pra ele, o texto de Ivany Soares apresenta um resumo de sua biografia, já que a rede é escassa em informaćões, daí a importČncia de reproduzir dados sobre o músico. Ele nasceu em 9 de junho de 1914 em Rio Claro, interior de Sčo Paulo. André Penazzi Filho comećou a estudar piano aos 13 anos. Iniciou-se profissionalmente em 1932. Quatro anos depois era nomeado diretor artístico da Rádio Bandeirantes, ao tempo do saudoso Octavio Gabus Mendes. Transferiu-se em 1937 para a Rádio Tupi, deixando a emissora no ano seguinte para se dedicar ąs boates, onde teve marcante atuaćčo. Foi nesse período, mais precisamente em 1943 que viu e ouviu pela primeira vez o órgčo elétrico. Aprendeu a tocá-lo sozinho, sem professor. Pouco depois, transferiu-se para o Rio, onde trabalhou em boates do Copacabana Palace, retornando em 1947 para Sčo Paulo. Na capital, foi atraćčo na boate Oasis, e em 1949 voltou a atuar no meio rádio, desta vez na Gazeta, período em que se apresentava na boate ArpŹge. Em 1951, foi contratado pela Rádio Record, onde se encontrava até a data de lanćamento deste disco pela Continental, onde lanćou o primeiro, um 78 RPM com "Fiorin fiorelo" e "Stranger in paradise". O problema é saber o ano da produćčo deste "Maxixa, meu bem", mas tudo indica que é da primeira metade dos anos 1960. Confira: 01 – Mocinho bonito (Billy Blanco) 02 – Tristeza do Jeca (Angelino de Oliveira) 03 – Azulčo (Almirante – Jočo de Barro) 04 – Saxofone, porque choras? (Severino Rangel, o Ratinho) 05 – Piraporinha (Elizas Alasmar) 06 – Pemberź (Eduardo Souto) 07 – Maxixa, meu bem (Poly – Mário Vieira) 08 – A casinha da colina (Pedro Sá Pereira – Luiz Peixoto) 09 – Folha seca (André Penazzi) 10 – Gosto que me enrosco (Sinhô) 11 – Tristeza de caboclo (Marcelo Tupinambá – Arlindo Leal) 12 – The dreamer's bounce (B. Valdez - Sammy Lowe) > <! The Phantons "Ye Ye Ye After Midnight" (Presence, 1967) real release?? "Featuring Jorge Eduardo" > <! PINGO DE FORTALEZA "PINGO DE FORTALEZA" (Pro Audio, 1991) prog-folk > <! Luiz Aruda Paes "Brazil!" (Capitol) > <! Ernesto Pires > <! Andre Penazzi "Orgao, Penumbra E Amor Vol. 2" (Som Maior, 1969) <! Jack Parnell "Braziliana" (MFP, 1977) UK LP the sounds of Brazil played by the best UK session musicians including Ronnie Verrell, Barry Morgan and Chris Karan on drums with vocals by Madeline Bell and Simon Morton, arranged by David Lindup > <! Bill Perkins "Bossa Nova -- With Strings Attached" (Liberty, 1963) > <! A Patotinha - disco-era preteen girl group A Patotinha "Brincando De Roda Numa Discotheque" (1978) A Patotinha "Datas Festivas" (RCA, 1979) (LP) B004IHC608 A Patotinha "Mae, Maezinha Querida" (Compacto Simples, w/ Carlos Henrique) (RCA, 1980) A Patotinha "Energia A 1,000 Cilindradas" (1982) A Patotinha "As Patotinhas - Em Espanhol" (1982) A Patotinha "A Gente Tem Que Se Ligar" (1982) (LP) B004I5EL5I not in discography? A Patotinha "Os Grandes Sucessos" (RCA, 1982) B00004TALV B007ZVTDS2 > <! Os Pholhas - '70s spinoff David Maclean http://www.pholhas.com.br http://pt.wikipedia.org/wiki/Pholhas Os Pholhas "Dead Faces" (RCA Victor, 1972) B00006LWMB Os Pholhas "Forever" (RCA Victor, 1974) Os Pholhas "Hojas" (RCA Victor, 1975) Os Pholhas "Pholhas" (RCA Victor, 1975) Os Pholhas "Disco De Ouro" (1977) Os Pholhas "Pholhas" (1977) B00000G9AE B0084N185Q Os Pholhas "O Som Das Discoteques" (1978) Os Pholhas "Memories" (1980) Os Pholhas "Disco De Ouro, vol 2" (1981) Os Pholhas "Pholhas" (1982) Os Pholhas "Wings" (1985) Os Pholhas "The Night Before" (1987) Os Pholhas "Corte Sem Lei" (1988) Os Pholhas "Pholhas, 25 Anos" (1996) B00000G9AD B004YRGWBQ Os Pholhas "Pholhas Forever, 26 Anos" (1997) B000WMG9B0 Os Pholhas "Pholhas Ao Vivo No Brasil" (2000) Os Pholhas "70's Greatest Hits" (RCA, 2003) B00008O79S B007VOK7TW - covers Os Pholhas "Serie Maxximum" (Sony-BMG, 2005) B007WE5NS6 - MP3 >
---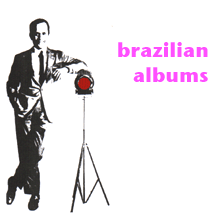 This is a listing of miscellaneous albums and artists under the letter "P"
If an artist or album you like is not reviewed here, please feel free
to contact me and make a suggestion.
---
A | B | C | D | E | F | G | H | I | J | K | L | M | N | O | P-1 / 2 / 3 / 4 | Q | R | S | T | U | V | W | X | Y | Z | Compilations
Brazilian Styles | 30 Recommended Records | Portuguese-language pop | Brazilian Links | Slipcue.Com
---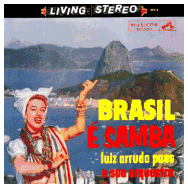 Luiz Arruda Paes "Brasil Noite E Dia" (Odeon, 1957) (LP) <! MOFB 3000 >


Kitschy, old-fashioned stuff from Sao Paulo-based bandleader Luiz Arruda Paes. Classy though often uptempo orchestrations full of gooey string sections, big brass, flowery harp plucking and lots of bouncy samba percussion, but all very '50s pop-orchestral. If you're looking for a good example of American-style post-big band instrumental pop, played in with a genuine Latin feel, this might be for you. And there may be enough genuine samba in here to satisfy folks into that style as well -- the repertoire includes lots of standards by Atualfo Alves, Ary Barroso, Billy Blanco, Tito Madi, Humberto Teixeira and others. I'm not sure who the musicians were in this ensemble: anyone out there know more?
Luiz Arruda Paes "Brasil Em Tempo De Danca" (Odeon, 1959) (LP)





<! With a vocal chorus Luiz Arruda Paes is still active. 01 – Mulher (Custódio Mesquita / Evaldo Ruy) 02 – O Apito no Samba (Luis Bandeira) 03 – Insônia (Mário Albanese / Heitor Carillo) 04 – Por Causa de Vocź (Tom Jobim / Dolores Duran) 05 – Nada Além (Custódio Mesquita / Mário Lago) 06 – Rio de Janeiro (Ary Barroso) 07 – Hô-bá-lá-lá (Jočo Gilberto) 08 – Eu Sei Que Vou Te Amar (Tom Jobim / Vinicius de Moraes) 09 – Adeus (Roberto Martins / Mário Rossi) 10 – Bahia Com H (Denis Brean) 11 – Mente (Fernando César) 12 – Nem Eu (Dorival Caymmi) >
Luiz Arruda Paes "Brasil E Samba" (RCA Victor, 1962) (LP)

Luiz Arruda Paes "Brasil Noite E Dia, v.2" (Odeon, 1966) (LP) <! MOFB 3480 >





<! Side 1: 1.A Banda 2:09 Chico Buarque 2.Vem Chegando a Madrugada 2:32 Adil Paula - Noel Rosa de Oliveira 3.Samba do Orfeu 2:31 Luiz Bonfa - Antonio Maria 4.Sonho de um Carnaval 2:28 Chico Buarque 5.Marina 2:23 Dorival Caymmi 6.Ole Ola 2:39 Chico Buarque Side 2: 1.Upa Negrinho 2:31 Edu Lobo - Gianfrancesco Guarnieri 2.Tristeza 2:17 Haroldo Lobo - Niltinho 3.Manha de Carnaval 2:47 Luiz Bonfa - Antonio Maria 4.Ai Que Saudade da Amelia 2:33 Ataulfo Alves - M?rio Lago 5.No Rancho Fundo 2:34 Ary Barroso - Lamartine Babo 6.O Trovador 2:24 Jair Amorim - Evaldo Gouveia >
Luiz Arruda Paes "Brasil Noite E Dia, v.3" (Odeon, 1969) (LP) <! MOFB 3608 >



<! last album? third in a series on Odeon >


Zeca Pagodinho - see artist discography




Lauro Paiva "O Ritmo E..." (Paladium) (LP)



<! 1960s - piano player? >

Roberto Paiva "Os Idolos Do Radio" (Collectors Editora) (LP)


Roberto Paiva & Francisco Egydio "Polemica Noel Rosa & Wilson Baptista" (Odeon, 1956)


A fun old 10" album with a cool back-story. Latter-day samba crooners Francisco Egydio and Roberto Paiva recreate the good-natured rivalry between samba-cancao songwriters Wilson Baptista and Noel Rosa, who once upon a time wrote a series of songs jabbing at each other in a public "polemica," a sort of duel of songs that lasted several years and produced several samba classics in the 1930s. These 1950s performances are a little bit on the stuffy side -- Brazilian music had formalized and slowed down a bit from the heyday of the samba-cancao scene, but it's still a classy set. A nice slice of old-school samba history.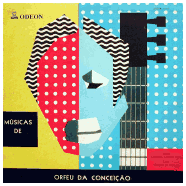 Roberto Paiva/Luiz Bonfa/Vinicius De Moraes "Musicas De Orfeu Da Conceicao" (Odeon, 1956)



A brief EP that documents the historic stage show of the fabled Orfeu play, which was a touchstone in the creation of bossa nova... It's a pretty rough mix of stagey orchestral themes, poet Vinicius De Moraes intoning sections of the libretto, and a somewhat shrill chorus singing a few songs... Some of the melodies will be familiar to fans of the Black Orpheus soundtrack, but these early versions are rather crude in comparison to the later studio recordings. It's also a very brief disc -- less than twenty minutes long. An important relic of the growth of bossa nova, but not a very satisfying or compelling record. Apparently guitarist Luiz Bonfa plays on this album -- and added material as a composer -- although his performances are obscured in the murky sound mix.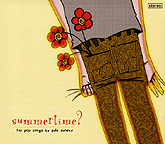 Pale Sunday "Summertime...?" (Matinee, 2005)



Dreamy, jangly indie-pop from this Sao Paulo-based band... Singing mostly in English (with the exception of one song, titled "1978"), these guys flawlessly emulate their models, namely the mopey, wistful '80s British twee-poppers of the Sarah label variety, and numerous lo-fi janglecore bands from the USA... They have the sound down to a "T", though if you know what to listen for, you can pick out their cute Brazilian accents and doubtless find it quite charming. Personally, I wish they'd sung more numbers in Portuguese, 'cuz I like that sort of thing from "foreign" bands, but it's still cool to find such a competent indie band coming out of Brazil... There are precious few, as far as I can tell... If you like cute, introspective guitar-pop bands with mopey, solipsistic lyrics -- indeed, any other bands on the Matinee label -- then check these guys out. They know what they're doing.
Pale Sunday "A Weekend With Jane" (EP) (Matinee, 2003)


Pale Sunday "Shooting Star" (EP) (Matinee, 2010)


Palmeira & Piraci "Caboclinho Apaixonado" (Revivendo, 2002)





<! baiao? >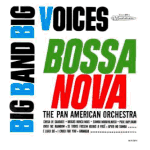 The Pan American Orchestra "Big Band Big Voices Bossa Nova" (Musidisc, 1963)
A lot of Jobim, some Ary Barosso, a couple of North American standards -- "Over The Rainbow" and "I Cried For You" -- and a sprinkle of pan-Americana (a tune by Augustin Lara, etc.) all played by an anonymous studio band... Anyone know more about these guys?
Lyrio Panicali - see artist discography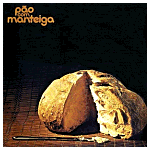 Pao Com Manteiga "Pao Com Manteiga" (Continental, 1976)
Downtempo '70s prog, with a wispy, cosmic, stargazing vibe. Lazy, chunky electric guitars, kooky, irritating vocals. Reminds me of Rita Lee's Tutti Frutti stuff, with less of a spasmodic, rock'n'roll drive... But the hippie harmonies are the same. I guess this is kind of interesting, though it's not really my scene. Authentic, yes... Captivating? Ummm... Guess it depends on your perspective.

Ione Papas "Noel Por Ione" (Dabliu, 2000)



A solid modern tribute to Noel Rosa, one of the great early songwriters of the classic samba cancao era of the Great Depression. Papas glides atop sleek, bright, catchy MPB arrangements, reminiscent (and on a par with) the best work by Gal Costa and Elis Regina. The cover art's a bit "blah," but the record's certainly worth checking out!
Ione Papas "Na Linha Do Samba" (Dabliu, 2008)


Papete - see artist discography
Joao Parahyba "The New Lambadas" (YB, 1992)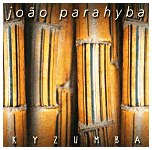 Joao Parahyba "Kyzumba" (YB, 1994)



World music-y jazz/instrumental music from percussionist Joao Parahyba, of the fabled Trio Mocoto. This isn't quite my cup of tea -- a little too gooey overall -- but there's some cool stuff here, drawing on many sources, not just Brazilian music, but also tango and a touch of electronic/ambient music as well. If you're on the more adventurous side of the "smooth jazz" style, you might want to check this out.


<! Joao Parahyba (Brazilian musician, percussionist, arranger, composer and leader of the legendary Trio Mocoto), announces that Joao Parahyba first solo album is available on his website. Worth checking out, Janja wrote a nice post with detailed information about Kyzumba, recorded in two years between 1993 and 1994. >


Os Paralamas Do Sucesso - see artist discography




Rosa Pardini "Rosa Pardini" (Polydor, 1956)





Rosa Pardini "Eu, O Luar E Voce" (RCA Victor, 1958)



<! Rosa Pardini faz parte deste time de artistas. Cantora nascida em Sčo Paulo em 1926. Teve a voz treinada nos ambientes da música clássica, mas era apaixonada pela música popular. Descoberta em 1943, pelo entčo diretor artístico da Rádio Sčo Paulo, Oduvaldo Vianna, Rosa Pardini foi durante as décadas de 40 e 50, destaque em emissoras da capital paulista. Gravou diversos 78 rpms e um LP em 10 polegadas com o grande maestro Enrico Simonetti. Apareceu também no cinema e foi apelidada pelo locutor Alberto Nagib de "Pássaro de Ouro", devido a sua voz cristalina. Este é seu terceiro disco. Sčo canćões, choros e valsas, algumas clássicas do cancioneiro brasileiro, que nas mčos do maestro Erlon Chaves, ganham roupagem ousada e moderna, mesmo respeitando a tradićčo brasileira das modinhas, valsas e serestas. O resultado é no mínimo fantástico. Há aqui gravaćões definitivas para grandes clássicos como "Tamba-Tajá" do cancioneiro amazônico de Waldemar Henrique e "Guacyra" de Hekel Tavares e Joraci Camargo. >


Hermeto Pascoal - see artist discography





Rosa Passos - see artist discography





Pato Fu - see artist discography




Argemiro Patrocinio "Argemiro Patrocinio" (EMI/Phonomotor, 2002)


Samba composer Argemiro Patrocinio, an elder member of the Portela samba school's velha guarda, is celebrated and spotlighted on this beautiful, reverential album, which features affectionate contributions by MPB and samba stars such as Zeca Pagodinho, Jaques Morelenbaum, and Moreno Veloso. Pop star Marisa Monte is the driving force behind this project, but while she bankrolled the record, Monte remains in the background, singing on only a couple of songs, content merely to document, not to dominate. All the songs were written or co-written by Argemiro over his decades-long career, and are performed with a delicious, delicate delivery, marked by lovely instrumental efforts which perfectly frame his gentle, soulful vocals. A lovely record; if you enjoyed the Velha Guarda da Portela album that came out a couple of years earlier, then you should definitely track this one down as well.


<! - how odd. Amazon has de-listed this item B00006LWMY 02/08 update - re-listed as of 07/12 >

Pau Brasil "Babel" (Blue Jackel, 1995)


An old-fashioned jazz-fusion group, featuring bassist Rodolfo Stroeder and vocalist Marlui Miranda. Sounds a LOT like old Chick Corea, Return To Forever, etc. Distinctively Brazilian elements include compositions based on indigenous tribal music -- a theme which is explored better on Miranda's solo albums. My aversion to the soprano saxophone is one of the reasons I found this record hard to get into.
Pau Brasil "2005: 25 Anos Do Melhor Jazz Brasileiro" (Pau Brasil, 2005)





<! celebrating the band's 25th year >

Pau Brasil "Pau Brasil" (2007)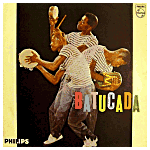 Paulinho & Pacifico Mascarenhas "Um Passeio Musical" (Guarani, 1958)





<! Discobertas reissue > <! DG: A really obscure little set from late 50s Brazil – and a record that's a key link between jazz and bossa nova! Singer Paulinho's got a style that's definitely rooted in jazz – as is the Pacifico Mascarenhas combo, which uses great piano lines to underscore the light rhythms on drums and percussion – but there's also an early bossa vibe going on here – one that borrows a bit from Latin piano combos from New York and Havana, but tunes them down and mellows them out – creating a sense of spaciousness that's perfect for the vocals. Paulinho's also got this light style that's more bossa than most Brazilian singers of the time – and titles include "Foi Assim", "Em Teus Bracos", "Vieram Me Contar", "Pam Pam Pam", "Por Favor Amor", and "Juras De Amor". >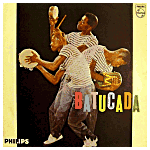 Paulinho E Sua Bateria "Paulinho Baterista - Batucada" (Philips, 1961) (LP)


Nice batucada percussion set from the old days... A surprisingly rootsy album for a major-label release, with stripped-down production framing surdo, agogo and other instruments typical from the street samba style... On various tracks they throw on a little echo and add some brass or flutes or guitar, but underneath it all this is the real deal. Neat stuff.


<! Now it is time to meet another artist and a LP with the same style, Paulinho Baterista - Batucada - Escola de Samba da Cidade e Paulinho e Sua Bateria (1961). Paulinho is much more "popular" than Luciano Perrone and this record gets very close to the way people use to make Batucada on the streets in the early 60's. One some tracks, guitar and brass instruments can be heard to support the batucadas and are very well placed. Tracks include: 01 - Estilo Clássico 02 - Sorongo 03 - Bossa Nova 04 - Cruzado e Bossa Nova 05 - Marcha e Frevo 06 - Samba de Morro 07 - Partido Alto 08 - Baičo Rojčo e Maracatu 09 - Samba de Rua 10 - Samba de Carnaval 11 - Teleco Teco 12 - Batuque Em 3 Andamentos > <! right GIF? >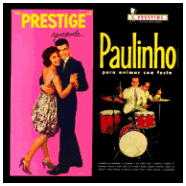 Paulinho & Seu Conjunto "Para Animar Sua Festa" (Prestige, 1959)
Brazilian drummer Paulo Fernando de Margalhes led a tight jazz combo as a hotel band in Mexico, and the (non-Brazilian) Latin-dance influence is pretty strong on this album, with Cuban-style dance music a predominant part of the mix. This album features four long medleys, and it isn't until the last three minutes of the last track that he breaks out into a straightforward samba rhythm. Nonetheless, this is a pretty strong set, one of the more solid Brazilian jazz albums you'll hear of this vintage. Definitely worth a spin. (Unfortunately there's no info on who was in his band... Anyone out there know more?)


<! Paulinho Magalhaes, who collaborated with Sergio Mendes, Bola Sete and many others. Personnel is not credited. >

Paulinho & Seu Conjunto "Para Animar Sua Festa, v.2" (Prestige, 1959)





Paulinho & Seu Conjunto "Para Animar Sua Festa, v.3" (Prestige, 1960)





Pedro Paulo "Apresenta Os Sucessos" (Columbia/OKeh, 1969)



Soft rocker Pedro Paulo kind of picked up where Roberto Carlos left off -- as Carlos drifted towards his iconic status as a Spanish-language crooner, Paulo kept singing old-fashioned teenybopper pop tunes. Considering when these albums actually came out, they were hopelessly out of fashion, but if you just take them for what they are and compare them to Carlos's rather similar releases from 1962-66, Paulo's work holds up pretty well. He was more consistently uptempo and "rocking" than Carlos, and recorded fewer American pop covers. On the second album, he gets a little more modern, opening the disc with "Maria Helena," a funky original by Brazilian soul singer, Hyldon Souza. Yeah, sure, it's mainly pretty wimpy stuff, but for the JG scene, this ain't bad. (Reissued along with Volume Two in 1999 as a 2-CD set.)
Pedro Paulo "Apresenta Os Sucessos, v.2" (Columbia/OKeh, 1970)


Pavilhao 9 - see artist discography
---
Brazilian Music >> More Letter "P"
---



Main Brazil Index
World Music Index

---