<! MP3 09/12/08, 01/29/11, 03/13/12 > <! update 09/12/08 > <! pix 11/15/09 > <! icons 01/29/11 >

---
---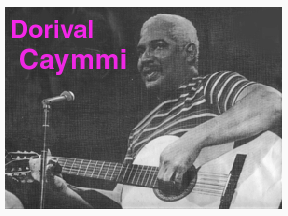 Dorival Caymmi (1914-2008) was one of samba's great early songwriters, along with Ary Barroso, Cartola, and Noel Rosa. He provided several of Carmen Miranda's best-known hits, and recorded quite a bit on his own. Although like many other artists, Caymmi's fame was eclipsed in the late 1950s by the birth of bossa nova, he continued to record and write popular music, and is still one of MPB's most revered artists. Several of his children are also popular artists, most notably singer Nana Caymmi and guitarist Dori.
---
Best-Ofs
---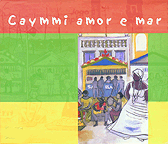 Dorival Caymmi "Caymmi - Amor E Mar" (EMI, 2001)


This is the Caymmi motherload! A sweeping 7-CD set that reissues twelve Caymmi albums in their entirety - dating back to the mid-'50s, and working up to his early '70s material with his children. An additional CD's worth of cover tunes is also included, with versions of Caymmi's best-known material recorded by artists such as Joao Donato, Dick Farney, Elza Soares, Orlando Silva, and Clara Nunes. All of the albums included in this box set are reviewed above. Just for reference, they are: Cancoes Praieras (1954), Sambas De Caymmi (1955), Eu Vou Pra Maracangalha (1957), Caymmi E O Mar (1957), Ari Caymmi E Dorival Barroso (1958), Caymmi E Seu Violao (1959), Eu Nao Tenho Onde Morar (1960), Caymmi (1965), Caymmi (1973), Caymmi Tambem E De Rancho (1973) -- a selection that omits his mid-'60s Elenco albums (which are now part of the PolyGram catalog) and late-'60s material on RCA, but skips over to include some of the early Famalia Caymmi efforts. It's a pretty awesome collection, full of bonus tracks as well as a fab booklet filled with great info and several cool archival photos. Recommended!
Dorival Caymmi "Minha Historia" (PolyGram, 1992)

Dorival Caymmi "Meus Momentos" (EMI, 1993)

Dorival Caymmi "Mestres Da MPB" (Warner/Continental, 1994)


Quick tip: I haven't heard this one yet, but if other discs in this series are any indication, this might be a good disc to look for... The Mestres albums frequently include live tracks and rarities in its retrospectives.
Dorival Caymmi "Personalidade" (Philips, 1995)

Dorival Caymmi & Nana Caymmi "Serie Aplauso" (BMG, 1995)

Dorival Caymmi "Historia De Pescadores" (EMI/Odeon, 1996)

Dorival Caymmi "Performance" (EMI, 1996)


A pretty strong set of material, stretching back as far as 1945 (only one track, unfortunately...) and on into modern recordings done with his family, in 1987. A good sampling of his career.

Dorival Caymmi "Serie Raizes Do Samba" (EMI/Copacabana, 1999)


An excellent collection, both in terms of song selection, programming and pacing. Most of the 20 tracks on here date from 1956-'57, while another third of the songs are from 1960, rounded out by a couple that are from the early '70s, and one early single from 1953. It's all very, very good. Fans of Carmen Miranda will recognize catchy tunes like "O Que E Que A Baiana Tem" and others, sang here in bouncy renditions that match the perkiness of Miranda's hit versions... All in all, a first-rate release, and certainly one of the best albums in the Raizes Do Samba series.
Dorival Caymmi "Millennium" (Universal, 2000)

Dorival Caymmi "Serie Sem Limite" (Universal, 2001)

Dorival Caymmi "Retratos" (EMI, 2004)

Dorival Caymmi "Eu Sou O Samba" (EMI, 2005)

Dorival Caymmi "Para Sempre" (EMI, 2006)


---
Discography - Albums
---

Dorival Caymmi "Cancoes Praieras" (Odeon, 1954)
One of the most popular samba songwriters of the 1930s and '40s, Caymmi is cast here as a stentorian, lusophone John Jacob Niles, or Paul Robeson, presenting the "real" folk music of Brazil. Accompanied only by acoustic guitar, his delivery is fairly gruff, but straightforward. Of course, the material is all great, and Carmen Miranda fans may be amused to hear Caymmi's gruff, macho versions of some of the bouncy sambas she performed with such sensuous playfulness and ease on her own vintage recordings. The CD reissue in the Caymmi box set (reviewed below) includes a handful of tunes from grainy, late 1930s '78s, each of which stand out like diamonds among the somewhat monotone solo performances.
Dorival Caymmi "Sambas De Caymmi" (Odeon, 1955)
The arrangements by Luis Arruda Paes are mostly pretty sappy and tame, although you could argue they lay the groundwork for the florid orchestral MPB of the 1970s and '80s. Still, Caymmi is a class act, and the gravity of his performances is readily apparent. The CD reissue has some nice bonus goodies, which stand out from the material on the original album.

Dorival Caymmi "Eu Vou Pra Maracangalha" (Odeon, 1957)
Delicious! This features some of Caymmi's perkiest, most enjoyable arrangements, courtesy of Radames Gnattali and Leo Peracchi, which --finally!-- show some of the samba bounce and lilt of the best Carmen Miranda versions. Many of these songs should be familiar from the better Caymmi best-ofs; they're even more fun to hear in their original, complete sequence. The CD reissue also features several gorgeous early recordings from the 1940s... a real treat!!

Dorival Caymmi "Caymmi E O Mar" (Odeon, 1957)
This album lays it on a bit too thick for my tastes... It's a concept album, where Caymmi identifies himself with the ocean and the noble fishermen who work it, which are certainly resonant concepts in Brazilian and Portuguese culture... But the music on here is fairly goofy and bombastic, including several opening tunes that wouldn't have sounded out of place in an animated Disney film of the time... Things loosen up a bit as the album goes on, but overall this is a little stagey and stiff, especially in comparison to the album that preceded it. Still, it's Caymmi. He's a class act. 'Fifties vocal stars Sylvia Telles and Lenita Bruno sing on several tracks.

Dorival Caymmi & Ary Barroso "Ary Caymmi E Dorival Barroso" (Odeon, 1958)
A delightful and joyous collaboration between two of the earliest (and best) samba cancao composers. Each covers the other's material -- Ary Barroso's piano playing is bouncy and playful; likewise, Caymmi seems envigorated by the project, and less stolid than usual. This is a standout effort for both artists and a real treat for listeners, since Barroso didn't perform that frequently on record, and Caymmi was often much more sedate than this when left to his own devices. This is one of those fortuitously magical albums where two master musicians spur one another on to even greater heights. Recommended!




Dorival Caymmi & Jorge Amado "Gabriela Cravo E Canela" (Festa, 1958)



<! Canto de amor ˆ Bahia e Quatro acalantos de "Gabriela Cravo e Canela" (1958) >

Dorival Caymmi "Caymmi E Seu Violao" (EMI Odeon, 1959)


Another solo acoustic album, again bringing Paul Robeson and the stilted folkies of the 'Fifties to mind. And again, the songwriting is all classic material. Quite nice!
Dorival Caymmi "Eu Nao Tenho Onde Morar" (EMI Odeon, 1961)
A pleasant, lilting album. Acoustically-oriented blend of samba, bossa and soft pop forro. Features several very lovely tracks, including a "remake" of his song "O Que E Que A Baiana Tem," which was one of Carmen Miranda's biggest hits. Reissued on CD along with "Caymmi E Seu Violao," as part of EMI's 2 em 1 series.

Dorival Caymmi "Caymmi Visita Tom" (Elenco, 1964)



Caymmi covers Jobim tunes, with accompaniment by his kids, including Nana, who sings several songs. Overall, this is a mixed album, equal parts sappiness and class. The best tracks are the ones Papa Caymmi sings on, the worst are the instrumentals, which showcase Dori and Danilo Caymmi on guitar and flute.
Dorival Caymmi "Caymmi (Kai-ee-me) And The Girls From Bahia" (Warner Brothers, 1965)
Dorival Caymmi "Caymmi" (EMI Odeon, 1967)
Apparently, these two titles are the same album, recorded in Hollywood, with arrangements by Bill Hitchcock, and originally released in the US. This disc features versions of several well-known songs such as "Berimbau" and "Saudade De Bahia". Although they are uncredited on the Brazilian LP, the backup vocals have got to be the Quarteto Em Cy, and this actually is one of the best uses of their talent I've heard. Caymmi is also in top form here, fronting lush, lilting string sections and a relatively sparse orchestra. All in all, a pretty swinging album!
Dorival Caymmi & Vinicius De Moraes "Caymmi No Zum Zum" (Elenco, 1967)



A collaboration with bossa nova poet Vinicius De Moraes, samba composer Dorival Caymmi, the Quarteto Em Cy vocal group and the Oscar Castro-Neves band.
Dorival Caymmi "Dorival Caymmi" (Imperial, 1969)

Dorival Caymmi "Encontro Com Dorival Caymmi" (RCA, 1969)


Dorival Caymmi "Caymmi" (Odeon, 1972)


An unusual album that is suffused with Afro-Cuban (or at least Yoruban) oba drumming... Caymmi pays tribute to the Bahian candomble traditions, which is an odd match for his folk-ish vocal style, but it's certainly interesting and challenging. If you enjoyed Virginia Rodrigues's incorporation of candomble rhythms in her albums of the 1990s, you may also want to hear this record, wherein Caymmi and Maestro Gaya tackle the same cross-cultural material, nearly three decades earlier. It's not a typically mellow Caymmi outing, but it's engaging.




Dorival Caymmi "Caymmi Tambem E De Rancho" (Odeon, 1973)
Caymmi and Gaya team up again, for this somewhat jarring, bizarrely modernist album... Super-artsy, modern classical-influenced horn arrangements offer a challenging counterpoint to Caymmi's gruff, barky vocals. Obviously, Caymmi was trying to do something "different," and this certainly is that. Again, I wouldn't recommend this as the kind of album you'd want to put on just to chill out to at home, but if you want to check out some of the different paths that were being explored in early '70s MPB, this is an unusual and interesting album that might be worth checking out.




Dorival Caymmi "O Mar (The Sea) Songs by Dorival Caymmi" (Hed-Arzi, 1974)



<! Dorival Caymmi "Caymmi" (1985) A back-to-basics 2-CD set, with Caymmi discussing his music and playing acoustic, sometimes in short snippets of song, and sometimes at greater length. There are also testimonials from various cultural luminaries -- Tom Jobim, Caetano Veloso, Jorge Amado -- talking about Caymmi's importance to the Brazilian musical scene. The second disc features Caymmi's songs with full orchestration... >

Dorival/Nana/Dori & Danilo Caymmi "Caymmi's Grandes Amigos" (EMI Odeon, 1986)
Notable for its relative restraint (as compared to the various solo albums by the Caymmi siblings...), this features Dorival on a couple of tracks, and although he is somewhat diminished by age, he still has tremendous presence. The album as a whole is pretty good, although predictably goopy.




Dorival, Nana, Dori & Danilo Caymmi "Dori, Nana, Danilo, Dorival Caymmi" (EMI Odeon, 1987)





---
Tributes
---

<! Kenia Paulo Moura >

Gal Costa "Gal Canta Caymmi" (Verve/PolyGram, 1976)


An okay tribute to one of Brazil's elder statesmen of song, Dorival Caymmi. Gal's voice is in fine form, but the music is marred by mid-70s disco/pop production of the stripe which made the Carpenters famous. Occasionally Costa's vocals get a bit noodly, and overall this has a fluffy, "quiet storm" feel to it.
Dorival Caymmi/Various Artists "DORIVAL CAYMMI SONGBOOK v. 1" (Lumiar)



Artists include Tom Jobim, Joao Bosco, Joao Nogueira, Sergio Riocardo, Roberto Menescal, Carlos Lyra, and Jane Duboc.
Dorival Caymmi/Various Artists "DORIVAL CAYMMI SONGBOOK v. 2" (Lumiar, 1993)



With Pery Ribeiro, Hermeto Pascoal, Beth Carvalho, Quarteto Em Cy, Sivuca, and Nana Caymmi... A bit on the drippy side, but folks who like their Brazilian pop on the "classy" side will enjoy this... As far as I can tell, these are all original recordings that were commissioned for this project.
Dorival Caymmi/Various Artists "DORIVAL CAYMMI SONGBOOK v. 3" (Lumiar)



Features Ivan Lins, Tom Jobim, Ney Matogrosso, Os Cariocas, MPB4, Tom Ze, Luiz Melodia, and Dori Caymmi.
Dorival Caymmi/Various Artists "DORIVAL CAYMMI SONGBOOK v. 4" (Lumiar)


Jussara Silveira "Cancoes De Caymmi" (Dubas, 1998)



I've been told this is a great record... When I track a copy down, I'll let you know...

Olivia Hime "Mar De Algodao: As Marinhas De Caymmi" (Biscoito Fino, 2002)


A tribute to the songwriting of Dorival Caymmi, whose attachment to and reverence for the sea was legendary. This album is conceived as a series of song-cycles: the sea in the morning, the sea by day, the sea at night. In some places the baroque arrangements are fairly unconventional; in others Hime displays a markedly formalist MPB approach -- very ornate, refined and sugary sweet. Her own, rather understated vocals are close in temprament to Caymmi's own plainspoken singing style. Rodolfo Stroeter produced and engineered the album; Olivia and Francis Hime wrote the arrangements, with Tutty Moreno, Sergio Santos and others performing throughout.
Paulo Moura & Ociladoce "Interpretam Dorival Caymmi" (Som Livre, 1991)



(Reissued on the Biscoito Fino label in 2007.)
Danilo, Dori & Nana Caymmi "Para Caymmi: 90 Anos -- Ao Vivo" (Warner, 2004)


Various Artists "CAYMMI: 90 ANOS -- MAR E TERRA" (BMG, 2004)


A pleasant, solid set of songs written by the great samba cancao composer, Dorival Caymmi. This 2-CD anthology is only partly a usual suspects gathering, with MPB heavyweights such as Maria Bethania and Gal Costa and samba revivalists such as Paulinho Da Viola and Ivone Lara; what makes this collection so valuable, though, is the inclusion of numerous tracks from the golden years of the samba cancao and the "radio singers" era, performances from the 1940s and '50s by Anjos De Inferno, Trio De Ouro, Francisco Carlos, Angela Maria and others, antique recordings (with great sound quality, coming straight from the original major label vaults), skillfully programmed alongside more modern recordings by the likes of Fafa De Belem, Elba Ramalho, Almir Sater, Jussara Silveira and Angela Ro-Ro. The selections are kind of capricious or unexpected -- there's even a track by Sarah Vaughan (and nothing by Caymmi himself, or any of his family) -- but what's most remarkable is the album's overall listenabilty... There are perhaps two or three tracks that I found icky and sachharine, whereas the rest of the record was quite nice... That's a pretty good batting average for an MPB set... Definitely worth picking up!
---
Links
---
---



---