<! MP3 09/12/08, 10/15/09, 03/15/12 > <! update 09/12/08 > <! pix 11/16/09 > <! icons 01/29/11 >

---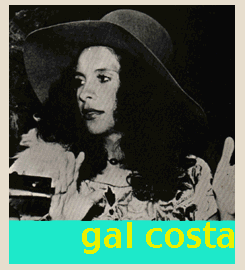 One of Brazil's most popular singers, Gal Costa came to prominence in the mid-1960s, alongside the other rebellious "tropicalistas" such as Caetano Veloso, Gilberto Gil and Jorge Ben. For several decades she has been a fixture in the superstar strata of Brazilian pop, and is one of Brazil's most important song stylists. Her earliest albums were some of the fieriest, wildest, most crazily experimental of the tropicalia records; they still are quite challenging and well worth tracking down. From the mid-70s onward, her material has been more staid and predictable, although she still pulls off a new trick now and then.
Costa is most easily compared to her contemporary, Maria Bethania: both women became superstars at the same time, and both of them have pursued parallel careers as glitzty pop singers and song stylists. Costa's voice is much lighter than Bethania's, though ultimately her choice of material may have been more varied and original.
---
Discography: 1965-1979 | 1980-Now
---
Maria De Graca "Eu Vim De Bahia/Sim Foi Voce" (7") (RCA, 1965)
Gal's first single, released under her real name, before the groovy new persona set in. The material is from (you guessed it!) her pals, Caetano Veloso and Gilberto Gil... The arrangements are late-period bossa nova, similar to other early material such as the Domingo album reviewed below. It's not a stunning beginning, but it is pretty. What's most notable is how much more silken and deep her voice was at this tender age. Both songs have been reissued on LP, and on the EU VIM DE BAHIA collection below, but they don't usually make it into the standard Gal Costa best-ofs, since she switched to the Philips label right after this came out.

Various Artists "EU VIM DE BAHIA" (RCA/BMG, 2002)


Each of the artists in the "group from Bahia" that Caetano Veloso and Gilberto Gil formed made their first recordings for the Brazilian wing of RCA (and each subsequently moved on to record for Philips). This CD collection, long overdue, gathers many of the early singles by Veloso, Gil, Gal Costa (then called Maria Gracia), Tom Ze and Veloso's sister, Maria Bethania. Of the group, Bethania and Gil were clearly the most confident -- he had several years of performing experience under his belt by the time of his 1965 recordings of "Roda" and "Procissao," and she was a rising star in the Brazilian theatre. Even so, Bethania's husky vocals, though powerful and distinctive, were slightly overwhelmed by the clattersome arrangements, particularly on her hit, "Cacara," and most of these tracks -- Gil's being the exception -- suffer from relatively poor engineering and musical accompaniment that was a hangover from the early '60s bossa-jazz scene. This 12-song collection is lamentably short, only covering their recordings from 1965, but it's an invaluable (and quite charming) glimpse at the earliest work from one of Brazil's most influential groups of musicians. If you see it anywhere, snap it up.

Gal Costa & Caetano Veloso "Domingo" (Polygram, 1967)


Her first album, as well as Caetano Veloso's. Beautiful bossa nova balladry, clearly under the spell of Joao Gilberto. The arrangements, with gentle percussion and lush strings and breezy flutes are standard late-model Philips-label bossa. Considering her later more brazen style, Costa's somewhat tame, blase Astrud Gilberto-ish vocals stand out as an anomaly, though they are completely enjoyable. For his part, Veloso sounds tentative and unsure, not yet possessed of the cool confidence which pervades his later work. His poetic lyrics are as enigmatic and beguiling as ever, though. A lovely glimpse at their early personas, and a very sweet record.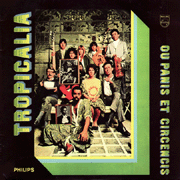 Various Artists "TROPICALIA: OU PANIS ET CIRCENSIS" (Polygram, 1968)


(Produced by Rogerio Duprat)
A psychedelic collaborative statement of purpose for the hippie-ish tropicalia movement, with contributions from Gal Costa, Gilberto Gil, Os Mutantes, Nara Leao, Caetano Veloso and Tom Ze. Gal sings on four of the twelve tracks, and her vocals are consistently pleasant, although this is really a songwriting and stylistic showcase album which overshadows vocalists. Overall, this record radiates youthfulness and a playful, experimental artistic zeal. Recommended!
Gal Costa "Gal Costa" (Philips, 1969)


A heavily rock-flavored, psychedelic album, with a hefty dose of Philly soul thrown in on top. Lots of Summer of Love-y San Fran-sound electric guitars and powerful percussion. Most of the songs are by Caetano Veloso, Jorge Ben and Gilberto Gil, and Gil and Veloso pitch in one one track. Sometimes Gal is wailing crazily, other times she's singing sweet as honey -- this is definitely one of her best, most experimental albums. Crazy, but lots of fun.


<! (NOTE: There was a late-1990s bootleg reissue of this album mastered off an LP that has some skips and pops on the audio; look for official Philips releases from Brazil or Japan instead.) >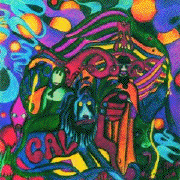 Gal Costa "Gal" (Philips, 1969)



(Produced by Manuel Barenbein; Arranged by Rogerio Duprat)
A heavily rock-flavored, psychedelic album, with a hefty dose of Philly soul thrown in on top. Lots of Summer of Love-y San Fran-sound electric guitars and powerful percussion. Sometimes Gal is wailing crazily, other times she's singing sweet as honey -- this is definitely one of her best, most experimental albums, and one of the most sizzling and crazed of the tropicalia-era psychedelic rock records. Gal Costa, best known as a swanky ballad singer, was a true wild child for a few years there when the whole tropicalia scene was new. This was her second album, with Gal belting out snarling vocals amid grinding, aggressive electric guitars and pounding, hard percussion. Her creative cohorts, Caetano Veloso and Gilberto Gil, chime in as songwriters and harmonists (appearing on a version of Jorge Ben's "Pais Tropical") while the tropicalia scene's celebrated avant arranger Rogerio Duprat puts his stamp on the album, particularly on the impressive proto-world music anthem, "Tuareg," which he amplifies with Arabic instruments and varied textures and sound dynamics. This is not the easiest or mellowest Gal Costa album to groove out on, but it is a striking historical document, and one of the more notable and coherent Brazilian psychedelic relics of the late-1960s/early '70s era. Worth checking out!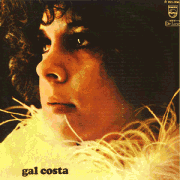 Gal Costa "Gal Costa" (Polygram, 1969)



The inside cover features Gal in a feather boa and tons of mascara... Again, this is very challenging, aggressively experimental pop. Manic electric guitars and Costa's swooping, yowling, vocals might be a bit offputting at times, but the album is balanced with several lovely tunes written by the usual suspects. Not for everyone, and not for every mood, but definitely recommended. (Note" this one starts with "Nao Identificado," "Sebastiana" and "Lost In The Paradise"...)

Gal Costa "Legal" (Philips, 1970)


Other than the acoustic/electric live album which followed it (A Todo Vapor, below) this is probably Costa's best tropicalia era album, running the gamut from jazzy space rock to sweet ballads and driving acid rock. The title is a slang word which means, roughly, "cool," which is appropriate to the groovy vibe within... Side One kicks off with a glitzy '50s rock rave-up that would have made Elvis' Vegas band proud, and slides right into "Lingua Do P," a canny funk-forro fusion that is one of her all-time best tracks. "Love, Try and Die" is a disturbing patch of folkie darkness worthy of Tom Rapp or Tim Buckley, and throughout Costa keeps the momentum going. This isn't as cacophanous or abrasive as her other, earlier rock albums, but it's still really trippy and psychedelic. Highly recommended!

Gal Costa "Gal A Todo Vapor" (Polygram, 1971)


This is probably my favorite Gal Costa album. A supple, gorgeous live album; one of the finest records of its era that I've heard. The first half features Costa's youthful, sparrowlike voice is at its softest and best, accompanied only by an acoustic guitar and the applause of her entranced audience. Midway through the album, a lively -- though slightly comedic -- Cream-like heavy rock/jazz accompaniment kicks in, while Costa keeps crooning. Features an excellent selection of early tropicalia and plaintive ballads -- altogether, a canny study in the stylistic range of MPB. Pretty cool.

Gal Costa "India" (Philips, 1973)


An intriguing, almost math-rocky mix of her crooning and crazy sides. This isn't as manic as the earlier, overtly psychedelic albums, but with arrangements by Gilberto Gil, and an elite crack team of Brazil's best chipping in on the backup, it's well worth checking out. Particularly noteworthy are the accordion riffs by Dominguinhos, which at times are restrained enough to sound almost like French musette. Other guests include tropicalia mastermind Rogerio Duprat, bossa nova architect Roberto Menescal, and jazzmen Tenorio, Jr. and Wagner Tiso. A lot of this album is off-kilter and hypnotic, particularly the loopy, loping beats on "Relance" (a Caetano Veloso song) and the halting rhythm on "Da Maior Importancia." It's a goody. Highly recommended.

Gal Costa/Gilberto Gil/Caetano Veloso "Temporada De Verao Ao Vivo Na Bahia" (Philips, 1974)


A servicable but unenthralling concert album with occasionally irritating middle-of-the-road '70s instrumentation. Each artist has their own band in tow. Of the three, Gil puts the most into his performance, scatting and improvising his vocals for four peppy tunes, which are enjoyable despite cheesy keyboards. On the flip side, Caetano seems a bit too cool and detached to be much fun, and Costa's two tracks are a bit too lounge lizard-y for my tastes. Not a bad album, though I didn't find it very engaging.

Gal Costa "Cantar" (Philips, 1974)


This is sweet, but slick. The production is immaculate and crystalline: Gal isn't leaving anything up to chance, and while this album is alive and breathing, it's almost severely precise, hinting at the later pop factory approach to come. Vocal phrasing is a big part of this one: she plays the lyrics off the arrangements, using some pretty tricky rhythmic counterpoints... so if you want to hear Costa showing off a little (but still with bearable music), then check this one out.


<! Gal Costa "Palco, Corpo E Alma" (triple album - 3 LPs) (Philips, 1976) not sure where this reference comes from - can't find it anywhere, though >

Gal Costa "Gal Canta Caymmi" (Verve/PolyGram, 1976)


A basically okay tribute to one of Brazil's elder statesmen of song, Dorival Caymmi. Gal's voice is in fine form, but the music is marred by mid-70s disco/pop production of the stripe which made the Carpenters famous. Occasionally Costa's vocals get a bit noodly, and overall this has a fluffy, "quiet storm" feel to it.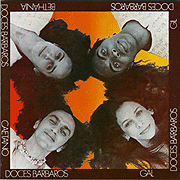 Maria Bethania/Gal Costa/Gilberto Gil/Caetano Veloso "Os Doces Barbaros (The Sweet Barbarians)" (Philips, 1976)



A live reunion of "the group from Bahia"... the leading lights of the tropicalia movement. This is an upbeat, though manic, performance, deeply influenced by contemporary jazz-funk fusion, but with a distinctive Brazilian flavor.. The vocals are charged with enthusiasm and joyfulness, but are still raggedy and at times a bit grating, particularly Costa and Bethania. Not surprisingly, the calmest, most compelling moments are Veloso and Gil's -- but everyone's so edgy you can't help but wonder if all four were on something that night. (Anything's possible, I suppose...) Underneath it, though, surges a powerful musical vigor -- the band is tight, the funky arrangements are sharp and inventive, and in many ways this can be seen as the last blast from the peak years of Tropicalia's immense impact on Brazilian culture. Definitely worth checking out, though a little hard to listen to recreationally.

Gal Costa "Caras E Bocas" (Philips, 1977)


A big yawn on the Costa-o-meter... Her first really dull, sluggish disco-pop-fusion-balladry fiasco. She sounds... the musicians sound... the album sounds... overpolished and uninspired. Includes several standards covers: "Crazy He Calls Me," Ellington's "Solitude," and a semi-noteworthy version of Dylan's "It's All Over Now Baby Blue"... Also, the track "Tigressa" was apparently a huge hit in Brazil. Still, this album doesn't ring my bell. Mitigating factors: there is one nice track at the very end (a live version of Lupicino Rodrigues' "Um Favor"...) and it's interesting to note a young Vinicius Cantuaria playing guitar and percussion on one track. Otherwise, yawn.

Gal Costa "Agua Viva" (Philips, 1978)


A usual-suspects, mid-'70s studio lineup, including Wagner Tiso, Toninho Horta, Sivuca, etc. And, yes, it's on the lighter side of the pop spectrum -- comparable to to contemporary disco-tinged North American AOR such as the Anne Murray, or the Carpenters. Costa was definitely playing it safe on this one. Features songs by Chico Buarque, Tom Jobim, Milton Nascimento, and several by Caetano Veloso -- but nothing is particularly compelling. Cool cover photo by Marina Lima, though!

Gal Costa "Gal Tropical" (Philips, 1979)



One of her most successful uses of disco-era pop production -- the potentially heinous instrumentation is miraculously restrained and frames her voice beautifully. This also highlights Costa at her peak as a vocalist -- focussed, confident, and quite pleasant. Recommended.
---
Gal Costs Discography - Part Two
---
Links
---
Well, for starters, here's Gal Costa's Home Page ...which is predictably glitzy... I found it a little hard to navigate, but you may have more luck...
---



---