<! MP3 09/12/08, 11/15/09, 11/08/12, 11/15/14 > <! pix 11/15/09, 11/08/12 - resized a few > <! icons 01/29/11 > <! UPDATES: 09/12/08, 11/08/12 11/15/14 >

---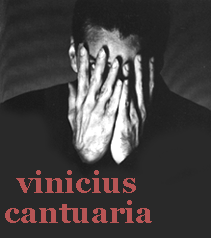 Singer-guitarist Vinicius Cantuaria is one of the more subtle, fertile creative forces on the Brazilian pop world... even if he's not exactly a household name, here or in Brazil. Originally from the Brazilian prog-rock band, O Terco, Cantuaria's early career also included a stint as a member of Caetano Veloso's late-'70s ensemble, Outra Banda da Terra. He later emigrated to New York, where he is a fixture on the City's avant-pop scene. His most recent records -- distinguished by their gracefulness and profound sense of melody, rhythm and restraint-- are among some of the more tasteful and inventive MPB albums of recent vintage. Here is a quick look at his work...
---
Discography
---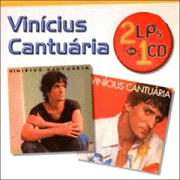 Vinicius Cantuaria "Vinicius Cantuaria" (BMG-Ariola, 1982)


A truly dreadful pop album recorded while Cantauria was still in Caetano Veloso's band... Giving the poor guy the benefit of the doubt, the tone of this album may be the result of some record exec's evil interference. The tacky, tinkly electronic keyboards and MOR soft-soul arrangements certainly have "commercial drek" written all over them... there's even quite a bit of Quarteto Em Cy-derived vocalizing going on, amid all the clutter. Cantuaria sounds as forlorn among these lifeless arrangements as he looks on the album art -- easy to imagine he wouldn't be too happy with the way this record came out. Caetano guests on one forro flavored song, "Chegou No Vento," and while that briefly lights things up, the rest of the record seems like a loss. The last track, "Saudades De Voce," is also decent, though not dazzling. (Reissued on CD along with the 1983 album reviewed below.)
Vinicius Cantuaria "Vinicius Cantuaria" (BMG-Ariola, 1983)


Sticking to my theory that the folks at BMG were mucking around with Cantuaria's music, this second album shows a few signs of greater originality and liveliness on Vinicius' part. There are still plenty of lamentable and irritating touches, such as an omnipresent, shimmering piano on every track, and the occasional soprano sax, etc. With the exception of a Toninho Horta song, these are all original compositions; his personality is much more present on this disc and you get the sense that if you could only strip away a few layers of cheesy production, several lovely songs would be there waiting for you... (Reissued on CD along with the 1982 album reviewed above.)

Vinicius Cantuaria "Sutis Diferencas" (EMI/Brazil, 1984)


(Produced by Jorge Davidson)
(Arrangements by Vinicius Cantuaria)
There are a couple of ways you can view this disc: either as a horrible, disco/synth-tinged skeleton hidden in the closet of a now-compelling artist... Or, alternately, you could be impressed that he was able to rise up from out of these drekky pop origins. At any rate, like his earlier albums, this is largely bland, overly perky pop, with dreadfully tacky arrangements. There is a pleasant softness and intimacy to Cantuaria's work, but it takes right until the last couple of songs on the album for it to fully emerge from the business and trendiness of the rest of the disc. Chico Buarque guests on one track, and co-wrote another. On the whole, though, this is another New Wave-y disaster.

Vinicius Cantuaria "Siga-me" (EMI/Brazil, 1985)


(Produced by Jorge Davidson)
(Arrangements by Vinicius Cantuaria)
A step backwards, into more rigidly bland, generic New Wave pop terrain. Cantuaria seems to have devoted himself entirely to the sort of uneventful Prince-meets-Wham MTV-isms that bands like Bis 14 were also exploring back in the early '80s. It may have unusual and risque in Brazil at the time, but for outsiders who had already had a bellyful of cheap synthesizers and rock percussion, this stuff is pretty old-hat, and sounds, sadly, like a second-rate imitation.

Vinicius Cantuaria "Nu Brazil" (EMI/Brazil, 1987)


(Produced by Celso Fonseca)
(Arrangements by Vinicius Cantuaria)
At last -- a crack in the mind-numbing repetitiveness of Cantuaria's long-running New Wave fixation... This album is the first to even hint at the stylistic breaktroughs that would characterize his later works like Sol Na Cara and Tucuma (reviewed below). The primary breakthrough comes through the popping, funky basslines played by Arthur Maia and Decio Crispim. Guitarist Celso Fonseca also plays on this album (and co-wrote a few tunes with Cantuaria)... other guests include veteran rocker Lulu Santos and saxophonist Leo Gandleman (who contributes some dreadful rock-flavored riffs on one solo...) On balance, this album is also pretty irritating, but at least it sounds somewhat different than the four that preceded it, and represents some sort of welcome transitional step...




Vinicius Cantuaria "Rio Negro" (Som Livre, 1992)
Boy, I'd love to hear this record... Anyone know where to track a copy down?


<! 1 Somos todos índios (Vinicius Cantuária, Evandro Mesquita) 2 Garotos (Vinicius Cantuária) 3 Meu destino (Vinicius Cantuária, Zé Nogueira) 4 Serei feliz? (Vinicius Cantuária, Marina Lima, Ronaldo Bastos) 5 Ludo real (Vinicius Cantuária, Chico Buarque) 6 Brinco (Vinicius Cantuária) 7 Rio Negro (Vinicius Cantuária, Caetano Veloso) 8 O grande lance é fazer romance (Vinicius Cantuária, Caetano Veloso) 9 Jóia (Caetano Veloso) >

Vinicius Cantuaria "Sol Na Cara" (Rykodisc, 1996)


A gentle, bossa nova-based album co-produced by Arto Lindsay, and featuring several songs by Caetano Veloso, as well as Cantuaria's original compositions. At times, the glitzy arrangements by Ryuichi Sakamoto are obtrusive, but only in mild ways, mainly little electronic filigrees reminiscent of the keyboard work on "Muskrat Love". A solid, multi-layered album, which will richly reward repeated listenings.
Vinicius Cantuaria "Amor Brasileira" (For Life, 1998)
A Japanese-only release, which I have not been able to hear yet. When I do, I'll letcha know...

Vinicius Cantuaria "Tucuma" (Verve, 1999)



An uncommonly graceful album, and certainly one of the best Brazilian pop records in the last twenty years. It's easy to imagine most of Cantuaria's songs being covered as anthemic pop or samba hits; in his hands, though, they are enthralling acoustic ballads, with complex, lush arrangements. A Brazilian expatriate, Cantuaria has gathered together some of the best and brightest of the New York art rock/jazz scene. Guests such as Joey Baron, Bill Frisell, Erik Friedlander, Laurie Anderson, Sean Lennon and Arto Lindsay chip in, and the results are impressive. It's rare that an album like this can skirt the edges of yuppified lite jazz overproduction and come out so tastefully. Cantuaria's stylistic debt to Caetano Veloso is made even more obvious by a cover of Veloso's "Joia," just one of many beautiful moments. Elaborately layered , with textured instrumentation and delicately processed vocals, Tucuma is the kind of record that sticks in your head long after repeated listenings. Highly recommended!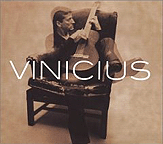 Vinicius Cantuaria "Vinicius" (Transparent Music, 2001)


At first blush, this gentle, quiet album may seem like a disappointment to those of us expecting an ornate followup to the lavish melodic intricacies of Cantuaria's last two albums. The spare accompaniment by Bill Frisell and fellow NY scenesters has a commercial jazz sheen that make be difficult to get past -- the guitar and bass tones in particular bring the Pat Metheney aesthetic to mind. But this is a subtle album which yields its charm slowly. As ever, Cantuaria is a superior songwriter, and once you get on his wavelength, the overly-familiar gloss of the production becomes less and less of a distraction. Caetano Veloso, David Byrne, Marc Ribot, Joey Baron, Peter Scherer, and others all chip in... it's a class act, and fans are urged to check it out.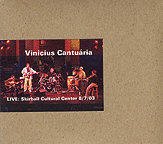 Vinicius Cantuaria "Live: Skirball Cultural Center 8/7/03" (Kufala, 2003)



A superb 2-CD set capturing Cantuaria at his adventurous best, in a live performance with percussionist Paulo Braga and others backing him up in a long, leisurely set. Cantuaria covers a wide range of material -- several Caetano Veloso tunes, a couple by Jobim, some Cantuaria originals (including one cowritten with David Byrne), and a spooky opening version of Gilberto Gil's "Procissao." The dynamic and stylistic range is impressive, and gives a good sense of what this guy is capable of... nice stuff! Like other Kufala releases, these are high-quality CDRs, but for Cantuaria fans, this'll be a must-have item. Recommended!

Vinicius Cantuaria "Horse And Fish" (Bar None, 2004)



Another low-key, jazz-tinged outing by this well-regarded Brazilian expatriate... Cantuaria has come a long way since his days as a percussionist in Caetano Veloso's late '70s band, and from his clunky early solo albums, where he tried to be a New Wave-y Brazilian answer to The Artist Formerly Known As Prince. Here he settles deep into a mellow world-jazz mode, as heavily influenced by his recent collaborations with guitarist Bill Frisell as by the hovering, angelic spectre of the late Miles Davis. Longtime collaborator Paulo Braga anchors the album's percussive end, with Mauro Refosco and other folks in the Rio-by-way-of-NYC axis. Most of the songs are Cantuaria originals, while some well-chosen cover tunes -- moody renditions of Roberto Menescal's "O Barquinho," Gilberto Gil's "Procissao," a couple by Jobim -- highlight Cantuaria's ability to reimagine and refashion the visions of other artists. This is an album that will grow on you: songs that at first may seem slick and overly informed by commercial jazz styling take on a subtle gravity, as his profoundly calm, quiet approach slowly asserts itself. Give this disc a couple of tries, and it will richly reward you.

Vinicius Cantuaria "Silva" (Hannibal, 2005)


Vinicius Cantuaria "Cymbals" (Naive, 2007)


Vinicius Cantuaria "Samba Carioca" (Naive, 2010)






<! 2010 release from the Jazz/Bossa Nova singer, guitarist, composer, drummer and percussionist. Cantuaria has been very successful as a composer, with `Lua e Estrela', `Coisa Linda', `SĘ VocŲ', and `Na Canŗao'. As a sideman, he played with Caetano Veloso and Chico Buarque among others. Samba Carioca, produced by Arto Lindsay, features performances by Joao Donato, Brad Mehldau, Bill Frisel and others. 02/12: B005P8HG72 - MP3 ASIN inactive >

Vinicius Cantuaria & Bill Frisell "Lagrimas Mexicanas" (E1, 2011)



(Produced by Lee Townsend)
A super-sweet, deliciously lush set featuring just two musicians: guitarist Bill Frisell and Brazilian singer/multi-instrumentalist Vinicius Cantuaria, paying homage to the little-known corners of Mexican folk and popular music. Branching out into Mexican melodies isn't that far a stretch for Cantuaria -- as a Brazilian, he's already open to multiple influences, including a stint as a '70s prog rocker, an '80s new wave star and an integral part of Caetano Veloso's dreamy band of the late 1970s. Here the two auteurs are in perfect synch, playing off one another with a surplus of beauty and emotion; it's also not your grandfather's "Mexican music," no shrill mariachi or mournful boleros here, but instead a hauntingly joyful collection of dreamy melodies and fresh themes. This is the kind of record I can listen to for weeks on end... Highly recommended!
Vinicius Cantuaria "Indio De Apartamento" (Naive, 2011)


---
Related Recordings
---
O Terco "Som Mais Puro" (Warner, 1983)
Cantuaria briefly put some time in as a latter-day member of this reconstituted '70s prog-rock band... He even co-wrote several of the songs on this album. I don't have high hopes for it... but who knows? If I ever track down a copy, I'll let you know how it is...
Arto Lindsay "O Corpo Sutil - The Subtle Body" (Bar/None, 1996)


A gorgeous excursion into his novo bossa nova turf, which builds on earlier work with the Ambitious Lovers, etc. In retrospect, it's interesting to see how much more rooted in "indie" rock this is than later releases -- fans of bands such as Cowboy Junkies, Red House Painters or American Music Club might enjoy this, too. But although not as sensual and comfortable as later releases, the Brazilian influence is profound, with a cover of Antonio Carlos Jobim's "Este Seu Olhar" and several songs co-written by Vinicius Cantuaria (who also plays guitar throughout). Other guest performers include Brian Eno, Nana Vasconcelos, Ryuichi Sakamoto, Bill Frisell, and Yuka Honda, of Cibo Mato fame. Recommended!

Jun Miyake "Innocent Bossa In The Mirror" (Tropical Music, 2002)



A sparse, entirely beautiful novo bossa nova album from an "outsider" with cross-cultural leanings. Japanese art-music multi-instrumentalist Jun Miyake had never tackled Brazilian music before this album, but with the help of modernists Arto Lindsay and Vinicius Cantuaria, Miyake casts a delicate spell that recalls the magical glory days of Joao Gilberto, Carlos Lyra and the other early greats. As on his own albums, Lindsay wrote and sings original Portuguese lyrics, while Cantuaria provides the gentlest, most compelling guitar accompaniment imaginable. Miyake's piano work recalls the haunting echo-iness of Erik Satie, and while each track tends towards a prolonged exploration of a single theme -- a song with odd percussion, another with flugelhorn as a bossa nova lead instrument -- the overall effect is magical and serene. Recommended!


<! 131 x 130 >

Mauro Refosco/Vinicius Cantuaria "Seven Waves" (M A Recordings, 1999)


Gentle Braz-jazz from the New York scene. Refosco has worked in David Byrne's band, as well as with John Lurie, who guests on the album along with Vinicius Canuaria and others; Cantuaria wrote or co-wrote about half the tracks on here. This is mainly instrumental, and a bit too noodly and low-key for my tastes -- seems like NYC's downtown scene has veered towards out-and-out mellowness in the last couple of years... who woulda thunk it? Still, this is a nice, delicate jazz album, and might be just the thing you're looking for...


<! 130 x 130 >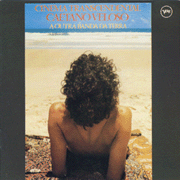 Caetano Veloso "Cinema Transcendental" (Philips, 1979)


A super-mellow set of dreamy ballads, with Cantuaria anchoring Veloso's band as percussionist. It's difficult to tell how formative his input is here, but the vibe of the album is very much in keeping with Vinicius's later work. Also he co-wrote a few of the songs with Veloso.

Various Artists "RED HOT + LISBON: ONDA SONORA" (Bar None, 1999)



Wow! Another winner in the "Red Hot" AIDS charity series. This follow-up to RED HOT AND RIO focuses on contemporary Portuguese pop, but the influences are overwhelmingly Brazilian. The highlight here is a bilingual duet between David Byrne and Caetano Veloso (who, as it turns out, have very similar voices...) Lisbon's sizable immigrant community is represented by several interesting traces of African traditional and pop music, including a collaboration between Angola's pop legend, Bonga, and Brazil's Marisa Monte and Carlinhos Brown. There are also heavy doses of club and ambient electronica. Some of these efforts are fluid and seductive; others are disappointing. In particular, the talents of DJ Spooky seem poorly utilized, and the lusophone rap of General D is predictably lackluster (he's no MC Solaar); probably the worst track on here is an insufferable fado by the ever-schmaltzy k.d. lang. Overall, though, this is an excellent album, well worth checking out. New to me: Smoke City, who are sort of a Portuguese Portsihead. Recommended!

Bill Frisell "Intercontinentals" (Nonesuch, 2003)



Cantuaria plays throughout this mellow, experimental album, based largely on the blues-ish style of Malian musicians such as Ali Farka Toure and Boubacar Traore. Haven't heard it yet, but if I get a chance, I'll give you the bird's-eye lowdown... whatever that means.
---
Links
---
---



---