<! MP3 09/12/08, 12/20/09, 05/04/12, 11/05/14 > <! pix 11/15/09 > <! icons 02/01/11 > <! UPDATES: 09/12/08, 05/04/12 11/05/14 - one add >

---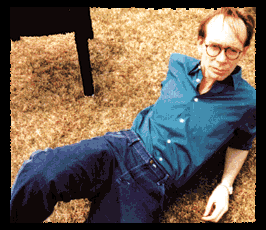 A North American musician who was raised in Brazil, Arto Lindsay later moved to New York, where he became part of the '80s art rock scene. Lindsay has produced, played on, (or translated lyrics for) many recent albums by folks such as Caetano Veloso, Marisa Monte, and Vinicius Cantuaria, helping add a dense, complex technological veneer to the multilayered Brazilian sound. Popularizing Brazilian music worldwide while radically modernizing and expanding its horizons, Lindsay is one of the major talents in contemporary MPB. All of his albums are excellent.
---
Discography - Albums
---
Arto Lindsay "Encyclopedia Of Arto" (Northern Spy Records, 2014)


---
Discography - Albums
---
Arto Lindsay/Ambitious Lovers "Envy" (Editions EG, 1984)


Ambitious Lovers "Greed" (Virgin, 1988)


All songs at least co-written by Arto. Musicians include Vernon Reid, Nana Vasconcelos, John Zorn, John Lurie, Bill Frisell and Joey Baron.

Arto Lindsay & Peter Scherer "Pretty Ugly" (Editions EG, 1990)


Ambitious Lovers "Lust" (Elektra, 1991)



Brazilwise, this includes a cover version of Jorge Ben's ever-popular "Umbabarauma" as well as a song co-written (and featuring) Caetano Veloso. Other artists on here include Nana Vasconcelos and guitarist Marc Ribot.

Arto Lindsay Trio "Aggregates 1-26" (Knitting Factory, 1995)



Lindsay at his artsiest, or something quite close to it... Wanky free-jazz electric guitar scrapings and disjointed poetry/lyrics, set to minimalist bass and percussion (Melvin Gibbs and Dougie Bowne, respectively). Plus a reproduction of a drawing of two elephants doing the nasty. It's artsy and difficult, and very downtown New York City. Not my bag, but it might be yours.
Arto Lindsay "O Corpo Sutil - The Subtle Body" (Bar/None, 1996)


A gorgeous excursion into his novo bossa nova turf, which builds on earlier work with the Ambitious Lovers, etc. In retrospect, it's interesting to see how much more rooted in "indie" rock this is than later releases -- fans of bands such as Cowboy Junkies, Red House Painters or American Music Club might enjoy this, too. Although not as sensual and lulling as later releases, the Brazilian influence is profound, with a cover of Antonio Carlos Jobim's "Este Seu Olhar" and several songs co-written by Vinicius Cantuaria (who also plays guitar throughout). Other guest performers include Brian Eno, Nana Vasconcelos, Cyro Baptista, Ryuichi Sakamoto, Bill Frisell, and Yuka Honda, of Cibo Mato fame. The results of their collaboriation are quite nice... Recommended!

Arto Lindsay "Mundo Civilizado" (Bar None, 1997)


Erotically charged ballads with a beautiful mix of bossa nova cool and postmodern darkness. Lindsay captures the reserved, relaxed calm of bossa nova, but adds a laconic, explicitly sexual, postmodern tilt to the proceedings. Densely layered, but immensely listenable, and highly recommended!
Arto Lindsay "Hyper Civilizado" (Bar None, 1997)


Electronica/dance remixes of tracks from the Mundo Civilizado album... some great sound textures and hypnogrooves.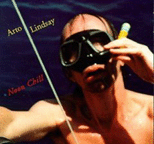 Arto Lindsay "Noon Chill" (Bar None, 1998)


Very similar to Mundo Civilizado, but even more accomplished, and perhaps a bit darker in tone. Another fabulous modernization of the old bossa sound... also highly recommended.

Arto Lindsay "Prize" (Righteous Babe, 1999)



Another super-groovy, super mellow, electronica/bossa melange, with subtle variations from earlier albums -- some mildly jagged touches, like the dreamy/noisy guitar fill on "Ex-Preguica," which sounds like something straight off a Roy Montgomery album. I still have no idea what his lyrics are about -- I'm always too lulled by the music, and too lazy to read the lyric sheet -- but it really doesn't matter. The music is delicious. Seems to be less overtly sexual than the last albums, but no less sensual. For me, the only sour note on here was on the art-rap on "Pode Ficar," which wasn't icky, just a bit boring. Otherwise, this album is ace bunny killer -- Highly recommended.
Arto Lindsay "Ecomixes" (Avex Trax-Japan, 2000)


Arto Lindsay "Invoke" (Righteous Babe, 2002)



Although at first blush this album may only seem like a retread of the last few records, it certainly has its unique allure. As the disc opens up, the second song, "Predigo," reveals itself as one of Lindsay's most creative arrangements to date. The third song, "Ultra Priveleged," has some easygoing wordplay that makes it readily accessible, although from then on out the album thickens up and becomes more impenetrable, albeit in a very listenable fashion. Fans of his last few albums won't be disappointed.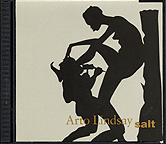 Arto Lindsay "Salt" (Righteous Babe, 2004)



Another fine album, steeped -- as ever -- in a sweaty, raunchy, erotic aura. This is one of his best and mostly brightly produced recent albums -- the smooth, chrome-y feel of the past few records has been replaced with a brighter, sharper production style which allows for more variation and range of textures. Some of the songs are simply gorgeous and many, like "Personagem," have wonderful, distinctive melodic hooks. A few songs sound kinda dorky, particularly those with soul-based riffs, but they're all fine examples of his dense, skillful production style, and even the songs that I found offputting at first have grown on me with subsequent listenings. Nice record -- definitely checking out! (Lyrics in English and Portuguese.)
Arto Lindsay/Various Artists "Anarchist Republic Of Bzzz" (Important Records, 2011)



Mike Ladd, Marc Ribot and others join Arto on this one...
---
Related Records
---

Vinicius Cantuaria "Sol Na Cara" (Rykodisc, 1996)


A gentle, bossa nova-based album co-produced by Arto, and featuring several songs by Caetano Veloso, as well as Cantuaria's original compositions. At times, the glitzy arrangements by Ryuichi Sakamoto are obtrusive, but only in mild ways, mainly little electronic filigrees reminiscent of the keyboard work on "Muskrat Love." A solid, multi-layered album, which may require repeated listenings.

Jun Miyake "Innocent Bossa In The Mirror" (Tropical Music, 2002)


A sparse, entirely beautiful novo bossa nova album from an "outsider" with cross-cultural leanings. Japanese art-music multi-instrumentalist Jun Miyake had never tackled Brazilian music before this album, but with the help of Lindsay and Vinicius Cantuaria, Miyake casts a delicate spell that recalls the magical glory days of Joao Gilberto, Carlos Lyra and the other early greats. As on his own albums, Lindsay wrote and sings original Portuguese lyrics, while Cantuaria provides the gentlest, most compelling guitar accompaniment imaginable. Miyake's piano work recalls the haunting echo-iness of Erik Satie, and while each track tends towards a prolonged exploration of a single theme -- a song with odd percussion, another with flugelhorn as a bossa nova lead instrument -- the overall effect is magical and serene. Recommended!

Marisa Monte "Rose And Charcoal" (Capitol/Metro Blue, 1994)


Monte is frequently cited as the hot young thing who represents the future of MPB -- this simple, graceful album will show you why. Although there are traces of slick pop overkill here, you have to be the mood to find them annoying; mostly what stands out is Monte's phenomenally sweet, gorgeous voice. The arrangements are lush, but relatively restrained, emphasizing beauty and melody over rock-pop bombast -- Monte probes deep into the fabric of ornate pop, but sidesteps the all-too-familiar Brazilian pitfalls of cramming too much in at once. Arto Lindsay produced the album, and fellow New Yorkers Laurie Anderson and Greg Cohen are along for the ride. Brazilian guests include Carlinhos Brown and Nana Vasconcelos on percussion, and Gilberto Gil and Paulinho da Viola on guitar. Gil plays on an excellent version of Jorge Ben's "Balanca Pema," which is also anthologized on Luaka Bop's BELEZA TROPICAL v.2 compilation. Recommended.

Caetano Veloso "Estrangeiro" (Nonesuch, 1989)


Lindsay performs on this elaborate, explosive techno-pop album, coproduced along with fellow Ambitious Lover, keyboardist Peter Scherer. The usual Big Apple crew is in tow: Lindsay, Scherer, guitarists Bill Frisell and Marc Ribot, as well as Brazzers such as Carlinhos Brown and Nana Vasconcelos. It's kind of cluttered, but kind of cool. Arto also provides English-language translations of the lyrics, which is a cool public service... (See my Caetano Veloso discography for more details).
Various Artists "HOJE E NATAL" (Mercury-Japan, 1999)


A spiffy but expensive set of classic '70s soul from Gershon King, Cassiano, Jorge Ben, and Caetano Veloso. Arto doesn't perform on it, he just helped to put it together. For more info, see my Brazilian soul page.
---
Links
---
ArtoLindsay.com sure sounds promising, doesn't it? A bio, discographies galore, press clippings and updates on his all-too-infrequent shows, plus a few thoughts about his style and philosophy. Check it out!
Concerted Efforts, Lindsay's booking agency, has a great biographical entry, as well as information on his elusive live performances.
Lindsay has also played with the Golden Palaminos, John Lurie's Lounge Lizards, and about a bazillion other cool artists... for a more complete discography, check out Patrice Roussel's Arto Lindsay page on Chicago station WNUR's website.
---



---