<! MP3 09/12/08, 12/30/12 > <! update 09/12/08 > <! pix 00/00/00 > <! icons 02/10/11 >


---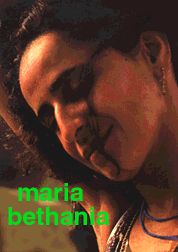 Maria Bethania is one of the titans of modern Brazilian pop, a powerful singer with a strong, declarative voice, ranging from a gorgeous, husky purr to a deep, brassy shout. Bethania came to prominence during the mid-1960s tropicalia movement, yet in many ways she stands stylistically at odds with the experimental leanings of her contemporaries, including her brother Caetano Veloso. Whereas the tropicalistas were forward-thinking, in certain ways Bethania harkened towards the past, identifying with and emulating classic torch singers and divas such as Edith Piaf, Billie Holiday and the great Portuguese fado singer, Amalia Rodrigues.
Bethania was a major participant in tropicalia's initial flourish of artistic experimentation of the late '60s, but by the mid-'70s she had settled into a set role as a song interpreter and torch-song diva-chanteuse. Her peak as an innovative pop stylist came in the late 1970's; afterwards her records seem increasingly formulaic and overly stylized. Yet she is also one of the more consistent of the MPB artists; her vocals seldom fall flat. If you like synthy soft-jazz balladry, Bethania's later work may appeal to you as well.
---
Discography
---

Various Artists: "EU VIM DE BAHIA" (RCA/BMG, 2002)


Each of the artists in the "group from Bahia" that Caetano Veloso and Gilberto Gil formed made their first recordings for the Brazilian wing of RCA (and each subsequently moved on to record for Philips). This CD collection, long overdue, gathers many of the early singles by Veloso, Gil, Gal Costa (then called Maria Gracia), Tom Ze and Veloso's sister, Maria Bethania. Of the group, Bethania and Gil were clearly the most confident -- he had several years of performing experience under his belt by the time of his 1965 recordings of "Roda" and "Procissao," and she was a rising star in the Brazilian theatre. Even so, Bethania's husky vocals, though powerful and distinctive, were slightly overwhelmed by the clattersome arrangements, particularly on her hit, "Cacara," and most of these tracks -- Gil's being the exception -- suffer from relatively poor engineering and musical accompaniment that was a hangover from the early '60s bossa-jazz scene. This 12-song collection is lamentably short, only covering their recordings from 1965, but it's an invaluable (and quite charming) glimpse at the earliest work from one of Brazil's most influential groups of musicians. If you see it anywhere, snap it up.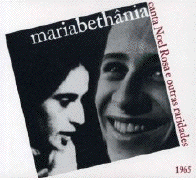 Maria Bethania "...Canta Noel Rosa E Outras Raridades: 1965" (Sony-BMG, 2007)


If you're digging into Bethania's roots, this reissue is manna from heaven: it features some of her earliest recordings, made when she was quite young and still a more reserved song stylist. This disc includes a sparsely arranged 6-song EP and a 45rpm single of a live concert, both recorded in 1965, when Bethania's career was starting to take off. The EP was a quiet, reflective tribute to 1930s samba-cancao composer Noel Rosa, an early indication of her classy, historical bent. It's just Bethania, confident but quiet, with a soft acoustic guitar behind her, playing in Spanish-classical style. It's quite delicate and charming, and an interesting stylistic contrast to her later, strong, declarative performance style, which is already starting to emerge on the "Viramundo/Eu Vivo Num Tempo De Guerra" single that followed. These rare offerings from her brief stint on the Brazilian RCA label are paired up with another Noel Rosa tribute disc, a 7-song EP recorded in 1980, with restrained, delicate arrangements by Jose Briamonte. Although this material was recorded fifteen years after the 'Sixties songs, it all fits together perfectly, making this not just a fascinating historical find, but a lovely album as well. Snap it up if you get a chance.

Maria Bethania "Maria Bethania" (RCA, 1965)


Maria Bethania & Edu Lobo "Edu & Bethania" (Elenco, 1967)



An absolutely gorgeous album, which pairs budding Carioca composer Edu Lobo with the young Maria Bethania, future diva supreme. Even in 1966, Bethania's voice was fully formed: husky, authoritative, and instantly recognizable. Lobo's later work would be more experimental, but this catches him early on, so his bossa nova compositions retain beautiful, crystalline simplicity. One of the jewels in the Elenco collection.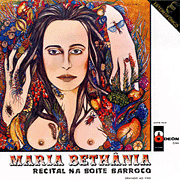 Maria Bethania "Recital Na Boite Barroco" (EMI/Odeon, 1968)


A concert album, with backing by Luiz Eca's jazz-bossa band, the Tamba Trio. Overall, a fairly sparse sound, particularly noticable when she does renditions of well-known MPB songs, such as the Caetano Veloso and Gilberto Gil covers. These generally pale in comparison to the original versions, which had the benefit of the lusher sounds available from the Philips studios. Adequate, but not earthshaking.

Maria Bethania "Maria Bethania" (EMI/Odeon, 1969)


The way is being paved for Bethania's trademark torch-standards sound, but at this point the formula's still a bit rough. The backup band is the Conjunto de Luiz Carlos Vinhas, and they were less than fab. You can sense Bethania struggling towards a fuller, richer sound, which she would certainly achieve in years to come. Here, however, her strident vocals fall victim to indifferent, lackluster orchestration. An interesting stepping stone in her early career, but also not an earthshaking album.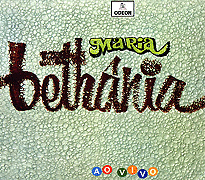 Maria Bethania "Ao Vivo" (EMI/Odeon, 1970)


An intimate live album recorded in a club setting which, predictably, leans heavily on the cabaret-ish tradition of Brazilian pop. Nonetheless it's a fine snapshot of Bethania's act during the peak years of the tropicalia scene. Some renditions, such as Caetano's "Irene," come off a little bit ragged, but that's part of the charm. Worth checking out!

Maria Bethania "Maria Bethania Viana Telles Veloso: A Tua Presenca" (Philips, 1971)



Highly recommended. Bethania tackles samba, acoustic ballads and rock-tinged tropicalia all with a stunning clarity and directness. Her voice is younger and comparatively thinner than it would become, and also more expressive of exhuberance and joy. The musicians behind her are likewise right on their mark; a duet with Jorge Ben is also quite tasty. Sounds like everybody had great fun making this record.

Maria Bethania/Vinicius De Moraes/Toquinho "La Fusa" (EMI, 1971)


A bossa nova lovefest, with all concerned at the height of their powers. It's mostly Vinicius' show: Bethania sings an only about half the tracks, which is a pity since she compliments his voice so well. I believe this album was an adaptation of a live show, originally staged with Maria Crueza as the female vocalist. Highly recommended, and now available on CD.


<! alternate version, MP3 edition B000QQXFMS >

Maria Bethania/Vinicius De Moraes/Toquinho "En Mar Del Plata" (EMI, 1971)


This is, I believe, pretty much the same record as La Fusa. Regardless, it's all simply gorgeous. A highpoint for all three artists.

Maria Bethania "Rosas Dos Ventos O Show Encantado" (Philips, 1971)



This early concert album captures Bethania coming into her own and helps explain her well-deserved reputation as a live performer. Captured at her peak, with spare accompaniment by Roberto Menescal and the Terra Trio, Bethania's vocals are evocative, hushed and confident, as she intersperses songs by Caetano Veloso, Vinicius, Chico Buarque and others with several short readings and asides. The sound is rough in parts (and the applause sounds fake) but the performance is illuminating. In particular, the humor and subtle tweakiness of the piano -- which at times strangely resembles the soundtrack to "Carnival of Darkness" -- hints at the broader creativity of the blossoming Tropicalia movement, although the album sticks closely to the mainstream cabaret style which Bethania favors. Of her many live albums, this is one of the strongest and most appealing.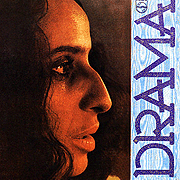 Maria Bethania "Drama - Anjo Exterminado" (Philips, 1972)


One of her best records, featuring some breezy, jazz-inflected arrangments which are mildly nutty and melodically charming. This album marks the return of her brother, Caetano, to the Brazilian pop scene, although it's also an early gathering of many of the key players in her commercial and artistic successes of the 1970s, particularly producer Roberto Menescal, and arranger Perinho de Albuquerque. Worth checking out. The songs are lavish without going completely over the top.

Maria Bethania/Chico Buarque/Nara Leao "Quando O Carnaval Chegar" (Phillips, 1972)


Maria Bethania "Drama - 3rd Ato" (Phillips, 1973)



Maria Bethania "A Cena Muda" (Phillips, 1974)


This live album typifies Bethania's sprawling eclecticism during the tropicalia years -- two long medleys of Brazilian MPB, folkloric material, American show tunes and standards, stylistically ranging from spacy rock fusion to her unique, declarative cabaret vocals. It's a fascinating document of its time, but like the similarly ambitious Rosa Dos Ventos album from 1971, it may be a bit much to take all at once. Yes, you can hear the inventive approach of her band, but you may also find your attention wandering after a while. Also, like Rosa Dos Ventos, the CD version replicates the original album-length cuts -- two long tracks, without digital markers to help break the performance down... hence, it's a bit difficult to navigate through the disc. They may want to re-think that approach for future reissues...

Maria Bethania & Chico Buarque "Chico Buarque & Maria Bethania Ao Vivo" (Philips, 1975)



A sexy live album, showcasing them both Bethania and Buarque at their best. Her vocals are smooth and soothing; his are super-suave. The live accompaniment is impressive: strings and brass section kick in with subtlety and surprising clarity, considering it's live. Best of all, they don't just trot their way through the hits or do truncated, interminable medleys... Each song is allowed to build and breathe in a sublimely sweet atmosphere. Nice stuff.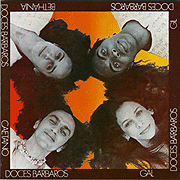 Maria Bethania/Gal Costa/Gilberto Gil/Caetano Veloso "Os Doces Barbaros (The Sweet Barbarians)" (Philips, 1976)



A live reunion of "the group from Bahia"... the leading lights of the tropicalia movement. This is an upbeat, though manic, performance, deeply influenced by contemporary jazz-funk fusion, but with a distinctive Brazilian flavor.. The vocals are charged with enthusiasm and joyfulness, but are still raggedy and at times a bit grating, particularly Costa and Bethania. Not surprisingly, the calmest, most compelling moments are Veloso and Gil's -- but everyone's so edgy you can't help but wonder if all four were on something that night. (Anything's possible, I suppose...) Underneath it, though, is a powerful musical vigor -- the band is tight, the funky arrangements are sharp and inventive, and in many ways this can be seen as the last blast from the peak years of Tropicalia's immense impact on Brazilian culture. Definitely worth checking out, though a little difficult to listen to recreationally.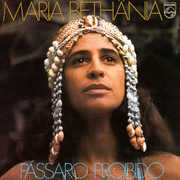 Maria Bethania "Passaro Prohibido" (Philips, 1976)



(Produced by Perinho Albuquerque & Caetano Veloso)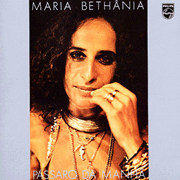 Maria Bethania "Passaro Do Amanha" (Philips, 1977)



Solidifying her torch-singer persona, Bethania has her ups and downs. Overall this album isn't bad, though there are some rough patches. In retrospect, it can be seen as a fairly neutral stepping stone into her two MPB masterpieces, Alibi and Mel. Includes plenty of material by the ususal suspects: Caetano Veloso, and Luiz Gonzaga, Jr., as well as a medley which includes an Ary Barroso tune.

Maria Bethania & Caetano Veloso "Ao Vivo" (Philips, 1978)



From the cover art -- brother and sister dressed in all-white "Saturday Night Fever" suits, showily throwing their heads back while busting a rhyme into the mic -- you might guess this record would be a lot cheesier than it actually is. Sure, it has its iffy moments, but in general it's a pretty strong concert album. The performances are particularly redemptive for Bethania, whose studio albums of the time lean heavily towards icky soft-soul-jazz arrangements. Working together, these siblings seems to egg each other into musical simplicity; the only real complaint is that some of the tracks are a bit too brief. Not bad.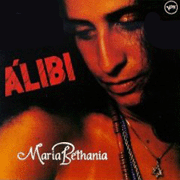 Maria Bethania "Alibi" (Verve, 1978)



(Produced by Roberto Menescal)
This is Bethania's great masterpiece, and the album that made her a superstar. One of her most successful releases -- both aesthetically and commercially. Produced by bossa legend Roberto Menescal, this features soft, romantic jazz-pop balladry with tasteful and effectively understated keyboard-and-string arrangements throughout -- it's slick, but in a very good way. This is as good as her torch song style gets, and the album still holds up very well. Features a haunting version of Chico Buarque's "Calice," as well as the transcendently sweet duet with Gal Costa, "Sonho Meu."

Maria Bethania "Mel" (Verve, 1979)



(Produced by Roberto Menescal)
Another great studio album, similar to 1978's Alibi. Very slick and technique-heavy, but pleasant and engaging. Some interesting choices for instrumentation, including pedal steel guitar. Admittedly, the popping, funk-ish bass and drifting keyboards come straight out of the '70s AOR handbook, but they are balanced by tasteful post-bossa woodwinds and an upbeat string section, none of which interferes with Bethania's lovely vocals. It sounds like she's smiling the whole time she's singing, a sensation which becomes infectious. (PS- for material culture freaks, the embossed cover art on the original vinyl LP is pretty cool...) This disc's a classic, and well worth tracking down.
---
Maria Bethania Discography - Part Two
---
Links
---
<! There's a http://www.geocities.com/Broadway/Stage/1843/bio.htm nice Maria Bethania site on Geo-Cities. In Portuguese only, it's a combination biography and discography, including information on her early stage work with Joao do Vale and others... Well worth checking out. >
All Brazilian Music has a typically nice profile and discography page. (In English and Portuguese.)
---



---