<! MP3 09/12/08, 12/05/09, 01/30/11, 05/26/12Π> <! pix 11/15/09 > <! icons 01/30/11 > <! update 09/12/08 >

---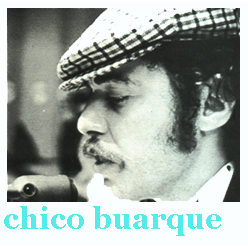 One of the preeminent Brazilian songwriters of the 1960s and '70s, Chico Buarque de Hollanda composed many of the catchiest (and most political) tunes MPB has to offer, songs such as "Pedro Pedriero" and "Ole Ola"... Because emphasis is most often placed on his status as a songwriting deity, Buarque's material can often appear in lamentably cheesy renditions, so beware. But when done right, it's exquisite. Buarque himself often tends towards a sexy, low-key approach, and his compositions are some of the most creative in Brazilian pop. Like Edu Lobo, his work is split between "pop" albums and soundtracks to the many films and plays he's written for. Buarque's early solo albums are well worth searching out, and most are available in CD format.
---
Discography
---

Chico Buarque "Chico Buarque De Hollanda" (RGE, 1966)


An elegant debut, including Buarque's early hit, "A Banda," and other well-known classics such as "Ole Ola," "Pedro Pedreiro" and "A Rita..." So many of these songs have become anthemic standards in the MPB canon that it's surprising to hear how gently they were originally presented. Many of his most enduring songs are on here, and the lesser-known tracks are equally delicious. Still, even while his strengths as a lyricist and composer are readily apparent, his skill as a melodist are obscured by the somewhat staid studio arrangements, which often harken back to the pre-bossa "radio singers" era, and the samba-cancao style of the 1930s... In part this may be due to Buarque's mastery of Brazilian pop, but it's also typical of the musical conservatism of the big record labels of the day... While Buarque clearly arrived as a major talent, his next few albums would show him straining to find his own style


<! B000WMFPAG >

Chico Buarque "Chico Buarque De Hollanda, v. 2" (RGE, 1967)


Lovely stuff. Poppy bossa nova with delectable arrangements and sweet vocals. On several tracks, he gets vocal assistance by a female vocal trio (Os 3 Morais), and turns the lead vocals over to one of their members -- identified only as "Jane" -- for the seminal version of "Com Acucar, Com Afeto," one of his best-known compositions. All the songs were written by Buarque, and all are great.


<! B000WMFPA6 >

Chico Buarque "Chico Buarque De Hollanda, v. 3" (RGE, 1968)


(Arrangements by Lindolfo Gaya)
This album is a little less distinctive, but still certainly worth checking out. What drags it down in places are the corny group vocals by the MPB-4, and some fluffy pop arrangements by Maestro Gaya... Still, with classics such as the original version of "Funeral De Um Lavrador," and "Carolina," this is an album to be recommended. Guitarist Toquinho also pitches in, a couple of years before he teamed up with the great bossa poet, Vinicius De Moraes, and Chico's sister, Cristina Buarque sings on one song, "Sem Fantasia."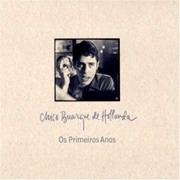 Chico Buarque "Os Primeiros Anos" (Som Livre, 2006)


This 3-CD set is a straight reissue of Buarque's first three albums, which are perennially out-of-print. Definitely worth tracking down!

Chico Buarque "Chico Buarque Na Italia" (RGE, 1969)


(Produced by Toquinho)
A surprisingly strong bid to build an international market for Brazilian MPB... Buarque spent part of his childhood growing up in Italy, and returned there briefly during the worst years of the military regime in Brazil. This album was produced by MPB guitarist Toquinho, who presumably was also living in Italy at the time. Other Brazilan artists have taken stabs at the Italian-speaking market (notably, Toquinho and Caetano Veloso), but few have done it with the panache and ease that Buarque shows on this album. The translations are great, the arrangements are fun, and come up to par with the Brazilian originals, and most importantly, he sounds completely at ease singing in Italian, and like he had a lot of fun making this record. I know I have a lot of fun listening to it, and imagine that you might, too. It's an odd disc, off the beaten track, but recently released on CD and well worth looking for.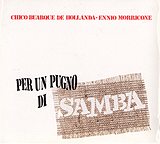 Chico Buarque & Ennio Morricone "Per Un Pugno Di Samba" (RCA-Italia, 1970)



(Produced by Sergio Bardotti)
For '60s loungecore fans, a more dramatic pairing could hardly be imagined: Brazilian MPB star Chico Buarque along with Italian bandleader-arranger Ennio Morricone, whose own star had risen throughout the '60s, as he scored innumerable Italian and internationally produced films, and became known for his multi-textured orchestral stylizations. The good news for the rest of us is that this album rises above mere 'Sixties kitsch, that Buarque's vocals are confident and engaging, his songs survive their translation and still have resonance in the lingua Romana, and that Morricone's arrangements are both playful and effective. Only occasionally do the new arrangements overshadow the original Brazilian samba/bossa forn, as on "Tu Sei Una Di Noi," which adds a bouncy sleighbell jingle to the original irresistible Carnaval beat, or "Nicanor," where a heavenly-choir drifts up from the background to "oooohh-ahhhhh" Buarque's lead vocals out into the margin. But these are playful touches, not stylistic disasters, and the album as a whole certainly stands up. (Note: producer Sergio Bardotti is given composer co-credits, rather than Morricone, so I'm not sure how much of this project should be credited to which participants; regardless, it's an interesting album, definitely worth tracking down.)

Chico Buarque "Chico Buarque De Hollanda, v.4" (Philips, 1970)


Good gosh! Is Chico actually cracking a smile on the cover of this album?? Shocking! In addition to loosening up in his photographs, Buarque was expanding his sound into a more modern style, still with ties to old-school samba and samba-cancao, but with a jazzier, more ornate feel on several tracks, creating the template for the 70s-style "MPB" genre of which he was a master. Not that he was a slouch before, but he's really coming into his own here... That being said, several tracks on here are a bit sleepy or overly sugary... Still, it's definitely worth checking out... the good stuff's really great.

Chico Buarque "Construcao" (Philips, 1971)


A dark, challenging album which marks an abrupt switch from his earlier, mellower, post-bossa balladry. The opening tracks have an eerie tension to them, embedded within compelling, expressive pop arrangements that fans of complicated film music may want to check out! Gradually the album eases up, and gallops to an all-too-quick finish. Intense and recommended -- an excellent example of the lavishly creative music being created in early-'70s Brazil. Many consider this disc, with its tightly interlocked lyrical and musical elements -- and pointed social critiques -- to be one of Buarque's major works.

Caetano Veloso & Chico Buarque "Caetano E Chico Juntos E Ao Vivo" (Philips, 1972)



A very good concert album, though most of the praise goes to Caetano on this one... Veloso had just returned to Brazil from his London exile, and the pairing of this upstart tropicalista with the once-reigning king of the late-'60s MPB scene was seen as an important merging of two artistic-social scenes that were once at odds, but were now united by the need to (subtly) stand up to the onerous military regime. Still, Buarque's performances seem a bit too declarative and stiff, while Caetano's soulful acoustic salvos on Side One, and his rendition of "Os Argonautas" at album's end, are all quite delectable. Can't say as I care for their duets much, though: there's sort of a square peg element at work there. Worth checking out, though, as it has several lovely tracks and a nice overall feel.


<! 130 x 130 >

Chico Buarque/Nara Leao/Maria Bethania "Quando O Carnaval Chegar" (Phillips, 1972)


Chico Buarque "Chico Canta" (Philips, 1973)


(Produced by Roberto Menescal)
A nice collaboration with Ruy Guerra, with assistance by producer Roberto Menescal and arrangements by Edu Lobo. Talk about an all-star cast! Includes several instrumentals, and some tracks with amusing early '70s-isms, such as fusion and blacksploitation riffs. But certainly one of his finest albums from the time.

Chico Buarque "Sinal Fechado" (Philips, 1974)



The story behind this album of cover tunes is that it was really a big raspberry aimed at the Brazilian dictatorship, or rather at their Censor's office. As a symbol of the liberal, smart-alecky artsy set, Buarque drew a lot of heat from the government, and most of his lyrics were banned from being recorded. So, for this album he recorded all cover tunes -- except for one he wrote under a fake pen name. Musically, it's a wonderful record, especially big on light, dreamy sambas. Recommended!

Chico Buarque & Maria Bethania "Ao Vivo" (Philips, 1975)



A superb live album, showcasing both Buarque and Bethania at their best. Her vocals are smooth and soothing; his are unceasingly sexy. The live accompaniment is impressive: strings and brass section kick in with subtlety and surprising clarity, considering it's live. Also, they don't just trot their way through the hits or do truncated medleys... the songs are allowed to build and breath in a sugary sweet atmosphere. Nice stuff - very satisfying.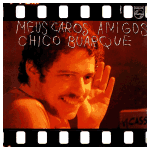 Chico Buarque "Meus Caros Amigos" (Philips, 1976)


About half-nice, half-syrupy, and rather listenable. The arrangements are placid and pleasant; Buarque's voice floats above a soft, rippling string section, and punchy horn arrangements. The first track, "O Que Sera," is a sublime duet with Milton Nascimento. A couple of tracks drift into questionable territory, but there's nothing glaringly yucky on here. Recommended.
Chico Buarque/Various Artists "Os Saltimbancos" (Phillips, 1977)


Chico wrote the music to this child-oriented show/play, and Nara Leao stars in the production. Other participants include members of MPB4, singer Miucha and her daughter, a rather young Bebel Gilberto (!).

Chico Buarque "Chico Buarque" (Philips, 1978)


A listenable, samba-oriented album, with a few tracks which had been previously released (the "Calice" duet with Milton Nascimento) or re-workings of older material. Guest vocalists include Zizi Possi and Elba Ramalho -- "Pedaco De Mim" was Possi's big breakthrough as a recording artist, and this is also very early in Ramalho's career. Buarque himself is in fine vocal form and the arrangements are quite good -- a couple of songs hint at the cheesy production which would later dominate his work, but on the whole this is a very nice record.
Chico Buarque/Various Artists "O Malandro" (Philips, 1979)


Compositions from a Portuguese-language version of the "Three Penny Opera." Buarque performs with other artists. This 2-LP set only has a few "poppy" songs scattered here and there... the rest of the tracks are sardonically playful adaptations of Brecht/Weill themes, including (yes!) a wacky Portugese version of "Mack The Knife."
Chico Buarque "Vida" (Philips, 1980)

Chico Buarque "Almanaque" (Philips, 1981)


Chico Buarque "Chico Buarque En Espanol" (Philips, 1982)


Chico revives some of his best material for ellos quien hablan espanol... Now, you might think that this Spanish-language album, filled with translations of some of his best songs, would be a flawed of iffy effort... Hardly! As with his Italian album (of 1968), the arrangements are quite good, and his delivery and the lyrics flow with the same grace as his Portuguese-language albums. are very nice. It's elegant and poetic, and the music is among the strongest efforts of his career. Particularly cool for Brazil-curious listeners who can't quite make the leap into Portuguese... The poetry of his lyrics comes through loud and clear and his diction is perfect. A little hard to find, but recommended.
Chico Buarque & Edu Lobo "O Grande Circe Mistico" (Som Livre, 1983)


A gentle set of soundtrack-ish incidental music, made, I think, for a theatre production of some sort... Mostly instrumental music, and a bit on the goopy side. Nothing "bad," but nothing that leapt out at me as particularly inspiring, either.
Chico Buarque "Chico Buarque" (PolyGram/Barclay, 1984)


A fairly solid, light-pop album, but with fairly restrained arrangements. Side Two gets a bit too goopy, but he certainly could have done worse. Collaborators include forro star Dominguinhos, fellow-MPB-er Joao Bosco, and Cuba's Pablo Milanes, with whom Buarque plays some straight-up salsa.
Chico Buarque/Various Artists "Opera Do Malandro" (Philips, 1985)


Chico Buarque/Caetano Veloso/Various Artists "Melhores Momentos De Chico E Caetano" (Sigla, 1986)


Various live performances taken from the popular TV show co-hosted by Buarque and Veloso. Althoughthey are on most of the tracks, there are also a bunch of guest performances, such Beth Carvalho, Argentina's tango master Astor Piazzola, the world beat funk of Jorge Ben, Rita Lee, and Tom Jobim. The most disappointing track is a bland techno-pop tune by the once-fab Elza Soares -- meanwhile, Caetano scores points for an affectionate version of "London, London," and a cutesy run-through of his "Billie Jean" cover. It's a nice snapshot of what Brazilian pop had to offer mid-decade... a bit stadium rock-y, but nothing too terrible.
Chico Buarque "Francisco" (BMG - Ariola, 1987)


Lamentably drekky arrangements consign this one to the back bin, as far as I'm concerned. I want to like it, but it doesn't do much for me, one way or another.
Chico Buarque "Chico Buarque" (1989)

Chico Buarque "Ao Vivo Paris -- Le Zenith" (BMG-Ariola, 1990)


A concert album with a cheesy back-up band. Doesn't drive you nuts right away, but bit by bit, the instrumentation gets really irritating. If I had a choice, I'd skip this one.
Chico Buarque & Quarteto Em Cy "Chico Em Cy" (Companhia Industrial De Discos, 1991)


Too much Quarteto Em Cy, too little Chico. Okay, so it's really just a tribute album... He sings on one track, Edu Lobo appears on another, and the ever-perky gals of the Quarteto fill the rest of the space on this disc. After a while their ultra-smooth, easy listening harmonies wear on the nerves.
Chico Buarque "Paratodos" (RCA, 1993)


Chico Buarque "Uma Palavra" (BMG-RCA, 1995)


A pleasantly understated album, with none of the glaringly overproduced touches that mar many recent albums. While this is slick and deeply layered, Buarque and the band play with great restraint, keeping the the action to a minimum. The ensemble includes several old bossa-jazz warhorses, including percussionists Chico Batera and Wilson das Neves. It's not an album that would keep me enraptured forever, but it's very pleasant and certainly worth checking out.
Chico Buarque & Edu Lobo "Album Do Teatro" (1997)

Chico Buarque "As Cidades" (BMG, 1998)


Another solid, mellow album, with no glaring or intrusive moments. The cover art -- with Buarque's features superimposed onto several different faces -- is a little disturbing, but the music is nice.
Chico Buarque & Escola De Samba Mangueira "Chico Buarque De Mangueira" (BMG, 1998)


Buarque plays carnaval sambas along with the escola that he is the celebrity member of. Guest musicians include Alcione and Joao Nogueira.
Chico Buarque "Carioca" (DRG, 2006)


Chico Buarque "Carioca_Ao Vivo" (Biscoito Fino, 2006)



A 2-CD live set.
Chico Buarque "Carioca_Ao Vivo" (DVD) (Biscoito Fino, 2007)

---
Recommended Best-Ofs
---

<! MP3 B0015PB4WW >

Chico Buarque "Construcao" (Box Set) (Universal, 2001)


Holy cow! A 22-CD collection of Buarque's best... I assume this covers pretty much everything, though I'm sure there must be at least something of Chico's that is not included on here. Still... twenty-two whole CDs... golly!
Chico Buarque "Francisco" (Box Set) (BMG, 2004)


Well, here's the follow-up... A 10-CD, 2-DVD box covering Buarque's RCA-BMG years. The albums include: Francisco, (1987), Chico Buarque (1989), Paris Le Zenith (1990), Paratodos (1993), Uma Palavra (1995), Album De Teatro (1996), Chico Buarque De Mangueira (1997), As Cidades (1998), Ao Vivo (1999), Cambio (2001), Duetos (2002), Per Un Pugno Di Samba (reissue of a 1968 album, reviewed above). Also includes the DVDs Chico E As Cidades (2002) and Chico Ou O Pais Da Delicadeza Perdida (2003). You gotta be into his later work for this set to be worth it, but, whoooo, if you are... It's tres cool!
Chico Buarque "Perfil" (Polygram-Brazil, 1993)


An ususually well-selected best-of which spans his work from the early '70s through the 1980s. Nothing abysmal on the entire disc (wahoo!) and several excellent tracks. Includes two of the handful of duets he did with Milton Nascimento in the mid-1970s; maybe someday someone will put them all on one disc together. For a rosy overview of Buarque's more heavily-produced material, this is the disc to check out.
Chico Buarque "Serie Grandes Nomes" (Polygram, 1994)


I have not actually heard this 4-CD retrospective, but based on the others collections in this series, I imagine it is quite nice.
Chico Buarque "Millennium" (Polygram, 1998)

Chico Buarque "Focus: O Essencial De Chico Buarque" (BMG, 1999)

Chico Buarque "Serie Sem Limite" (Polygram, 2001)

---
Tributes
---
Various Artists "CHICO BUARQUE SONGBOOK, v.1" (Lumiar, 2001)



Artists include Nana Caymmi, Edu Lobo, Joao Bosco, Elba Ramalho, Dori Caymmi and others.
Various Artists "CHICO BUARQUE SONGBOOK, v.2" (Lumiar, 2001)


Various Artists "CHICO BUARQUE SONGBOOK, v.3" (Lumiar, 2001)


Various Artists "CHICO BUARQUE SONGBOOK, v.4" (Lumiar, 2001)


Various Artists "CHICO BUARQUE SONGBOOK, v.5" (Lumiar, 2001)


Various Artists "CHICO BUARQUE SONGBOOK, v.6" (Lumiar, 1999)


Various Artists "CHICO BUARQUE SONGBOOK, v.7" (Lumiar, 1999)


Various Artists "CHICO BUARQUE SONGBOOK, v.8" (Lumiar, 1999)

---
Links
---
---



---