<! MP3 09/12/08, 02/15/10, 04/24/12 > <! pix 11/24/09, 02/15/10 > <! icons 01/24/11 > <! UPDATES: 09/12/08 04/24/12 - a couple of adds, updates, link to new Wanda Sa page >

---
---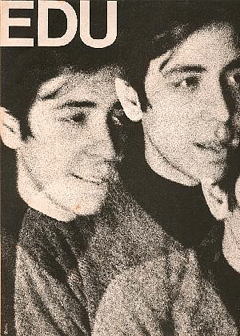 Carioca songwriter Edu Lobo is one of the major voices in growth of the post-bossa MPB sound, a smooth, sophisticated composer whose work has been widely recorded, and emulated by a wide range of artists. His own records have tended to be a bit spacy and experimental, and also hard to find, slipping in and out of print over the years... Here's a quick look at his career...
---

Edu Lobo "Edu Lobo Em Bossa Nova" (Copacabana, 1963)
This 4-song EP -- as yet not reissued anywhere that I know of -- showcases Lobo as a newcomer in the early bossa nova scene. The arrangements have nowhere the complexity or textural depth of his later work, but he is an appealing and youthful singer, and the songs are pleasant. One track -- "Balancinho," with a gimmicky flute laid atop a sparse backdrop -- is a little too precious, but the rest of it is quite nice. Good stuff, very much in keeping with the sound of the times.
Edu Lobo "Edu Lobo Por Edu Lobo" (Elenco, 1965)


Edu Lobo/Nara Leao/Tamba Trio "5 Na Bossa" (Philips, 1965)
Some of Lobo's earliest recorded work finds him teamed up on this concert performance album with bossa nova chantuese Nara Leao and the highly regarded bossa-jazz ensemble, the Tamba Trio. The two vocalists and instrumental trio take turns in the spotlight in Sao Paulo's Paramount Theatre, with Lobo and Leao singing duet on a couple of numbers. It's an interesting opportunity to hear Nara in a less controlled, live setting, as well as relegated to a support role rather than as a featured performer. She sounds fine, though perhaps less incandescent than usual, while Lobo is confident and compelling as well. Much as I hate to say it, though, the Tamba Trio fail to dazzle, as they often do on their "classic" '60s recordings. They are particularly forgetable on the faster jazz numbers, where they lack the subtlety and stylistic mastery of their North American idols, galloping to the finish line rather than finding a real cool groove. Still, this is an album worth searching for, since these are better live performances than many of similar vintage, and it's always nice to hear Nara croon.
Edu Lobo/Sylvia Telles/Salvador Trio "Folklore E Bossa Nova Do Brasil" (MPS, 1966)

Edu Lobo/Quinteto Villa-Lobos/Tamba Trio/Sylvia Telles "Reencontro" (Elenco, 1966)



Edu Lobo "Edu" (Philips, 1967)


Edu Lobo & Maria Bethania "Edu & Bethania" (Elenco, 1967)



An absolutely gorgeous album, which pairs budding carioca composer Edu Lobo with the young Maria Bethania, future diva supreme. Even in 1966, Bethania's voice was fully formed: husky, authoritative, and instantly recognizable. Lobo's later work would be more experimental, but this catches him early on, so his bossa nova compositions retain beautiful, crystalline simplicity. One of the jewels in the Elenco collection.
Edu Lobo "Edu Canta Zumbi" (Elenco, 1968)


Paul Desmond "From The Hot Afternoon" (Verve, 1969)



As an architect of the West Coast "cool" style, saxophonist Paul Desmond certainly could lay claim to a big piece of the Braz-jazz puzzle, and he certainly had an ear for new material. For example, this disc features some of the earliest jazz recordings of Milton Nascimento's work, while the rest of the record is devoted to songs composed by Edu Lobo (and also features contributions from singer/guitarist Wanda Sa, who married Lobo the same year this album was made...) This particular album didn't do much for me -- I find a lot of the orchestrations range from overly-baroque to flat out icky -- but many folks consider it a classic. You'll have to decide for yourself...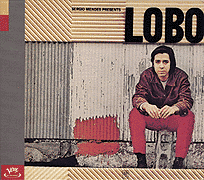 Edu Lobo "Sergio Mendes Presents Edu Lobo" (A&M, 1970)



(Produced by Sergio Mendes)
Recorded in LA, under the auspices of Sergio Mendes, this album wasn't quite the pop U.S. crossover they were looking for, but it is one of the stronger and more interesting Brazilians-in-Hollywood albums that came out in the years following the peak of the bossa-jazz craze. There are some goofy, hippie-ish moments, but overall the playing is pretty solid. Musicians include Mendes, Airto Moreira and pianist Hermeto Pascoal... Of note are the English translations of several Lobo songs perhaps better known from versions by Elis Regina.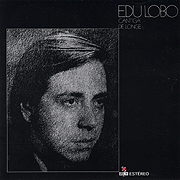 Edu Lobo "Cantigua De Longe" (Elenco/Polygram, 1970)



(Produced by Aloysio Oliveira)
Yow! This is cool. Creative, catchy post-bossa pop, with driving, baroquely-written instrumentation, subtle guitars and complex vocal arrangements. Hermeto Pascoal, Airto Moreira and a reconstituted edition of their famed Quarteo Novo back Lobo on this fine, classic album; Aloysio Oliveira produced it as one of his later releases on the Elenco label. Highly recommended.

Edu Lobo "Missa Breve" (EMI/Odeon, 1973)


Another ornate, complex, melodically rich album, which devolves towards the end into a wry take on Catholic tunes such as "Kyrie" and "Gloria." The more melodic material is striped with tasteful jazz fusion; among others, Lobo gets assists from fellow Brazilians Dori and Danilo Caymmi, and Paulo Moura. The Quarteto Em Cy also contribute their irritating vocal gymnastics on a shrill version of "Kyrie." Alternately challenging and lulling; worth checking out.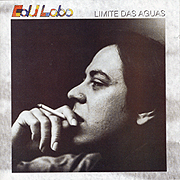 Edu Lobo "Limite Des Aguas" (Continental, 1976)



One of Lobo's best and most sought-after albums, with a few wild moments amidst a basically super-mellow, fusion-drenched swankly-arranged modernist MPB lovefest. Guest performers include vocalist Joyce, Toninho Horta on guitar, various Lobo family members, Danilo Caymmi, outstanding keyboards by Cristavao Bastos, and cellist Jacques Morelenbaum on one tune, "Segue O Corocao." A nice album, dense, challenging, and in certain ways elusive, but also very engaging and easy on the ears. Worth checking out!

Edu Lobo & Vinicius De Moraes "Deus Ihe Pague" (Soundtrack) (EMI-Odeon,1976) (LP)


An interesting collaboration in which poet De Moraes provides the libretto and MPB composer Lobo the music for this musical stage play. Lobo's score has plenty of punchy musical Broadway-isms, liberally laced with Brazilian samba rhythms; some of it's interesting and original, some of it feels old hat. The oddest thing about this recording is the exclusive use of the stage actors as vocalists and the absence of big-name MPB stars... Thus, folks like Neuza Borges, Margot Britto, Walmor Chagas, Nadinho Da Ilha, Sidney Marques, Marilia Pera and Ronaldo Reseda shoulder the singing chores, and their style is more typical of the show-tunes belters than the smooth bossa-jazz of Brazilian musical royalty. Not sure if it's "better," but it is a different sound... An unusual album, with some creative, inventive work from all involved.
Edu Lobo "Camaleao" (Philips, 1978)

Edu Lobo "Tempo Presente" (Philips, 1980) (LP)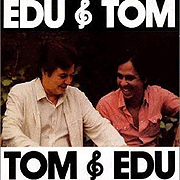 Edu Lobo & Tom Jobim "Tom & Edu" (Philips/Polygram, 1981)



A back-to-basics album along the same lines as Joao Gilberto's Brasil album of the same year. Lobo and Jobim are relaxed, the arrangements are sparse and center of simple, sweet piano lines. For me, one of Jobim's more accessible records.

Edu Lobo "Corrupiao" (Velas, 1993)



A sleek, ornate, well-produced set, very much rooted in modern jazz-pop-fusion. Mostly this is too flowery and overproduced for me, but if you like the "dinner jazz" style, this disc might really wow you.
Edu Lobo & Chico Buarque "O Grande Circe Mistico" (Som Livre, 1983)


A gentle set of soundtrack-ish incidental music, made, I think, for a theatre production of some sort... Mostly instrumental music, and a bit on the goopy side. Nothing "bad," but nothing that leapt out at me as particularly inspiring, either.
Edu Lobo "Meia-Noite" (Velas, 1995)


Edu Lobo & Chico Buarque "Album De Teatro" (BMG, 1997)

Edu Lobo & Chico Buarque "Cambaio" (Universal, 2001)

Edu Lobo "Vento Bravo" (DVD) (Biscoito Fino, 2003)





<! press release sent out in 2007 by BF? >

Edu Lobo "Tantas Mares" (Biscoito Fino, 2001)

---
Best-Ofs
---

Edu Lobo "Personalidade" (Verve/Polygram, 1987)


A woefully tepid, syrupy retrospective. A couple of tracks have spark to them: "Cheganca" and the irrepressibly catchy "Upa, Neguinho," but the rest of this disc was selected with an eye to a soft-jazz market, and omits countless tracks which would have been more engaging.

Edu Lobo "Minha Historia" (Philips, 1987)


A wonderful collection, concentrating heavily on his early work in the late '60s, especially on a series of 1967 recordings with the Tamba Trio, which are drawn from his album, Edu Lobo Por Edu Lobo. Three drekky songs from 1978 and 1980 stand out like sore thumbs, but this disc as a whole is well worth searching out!

Edu Lobo "Mestres Da MPB" (Warner, 1994)


As with the other dics in this series, this is a well-selected set, of semi-mysterious provenance. Features a lot of overly-ornate (but not off-putting) mid-Seventies material, some of it from the Limite Das Aguas album. (This may actaully be a straight reissue of that album, but since I'm not absolutely sure, I'll place it here for now...) Includes musical assist by Danilo Caymmi, Toninho Horta and "Jaquinho" (Jaques) Morelenbaum... as well as several vocal tracks with Joyce. A good look at where his experimental compositional style headed in the MPB years.
Edu Lobo "Millennium" (Universal, 2002)

Edu Lobo "Sem Limite" (Universal, 2002)

---
Tribute Albums
---
Various Artists "EDU LOBO SONGBOOK, v.1 and 2" (Lumiar, 1996)



A 2-CD set that includes Gal Costa, Tom Jobim, Caetano Veloso, Joao Bosco, Tim Maia, Milton Nascimento, Egberto Gismonti, Leny Andrade, and Hermeto Pascoal.
---
Links
---
All Brazilian Music, as usual, has a good biographical sketch and discography... Recommended website!
---



---