<! cd = 04/24/12 > <! MP3 04/24/12 > <! pix 04/24/12 > <! ALLBM 04/24/12 > <! icons 04/24/12 > <! UPDATES: 04/30/12 - posted >

---
Wanda Maria Ferreira de Sa, aka Wanda Sa (or, Wanda De Sah) is perhaps best known as one of the "girl singers" in Sergio Mendes' Brazil '65 band, but she's had a long and successful career as a bossa nova/MPB interpreter. Sa is undeniably a bossa nova original: she was one of Roberto Menescal's guitar students, and made her professional debut in 1962, working with Mendes and Antonio Carlos Jobim, and traveled to the United States with Mendes to record on his album, Brazil 65. In 1969 she married top-tier MPB composer Edu Lobo and put her career on hold for most of the 1970s, coming back to record many years later, and was hailed as one of the last of the early bossa nova musicians. Here's a look at her work.
---
Discography
---

Wanda Sa "Vagamente" (RGE/Som Livre, 1964)


(Produced by Roberto Menescal)
Producer Roberto Menescal was clearly looking for his own version of Astrud Gilberto -- an airy, whispery, bossa nova waif -- when he produced this album. Guitarist Wanda Sa had the advantage of being a serious musician herself although, honestly, as a vocalist she left a little to be desired. The cream of Brazil's bossa-jazz scene were assembled for this album, including Luiz Carlos Vinhas, Tenorio, Jr., Eumir Deodato and Dom Um Romao, but even with the sharp, modern arrangements, it's tough to mask how far out of tune she was on most of these songs. It wasn't an insurmountable problem: witness the production on later releases such as Sergio Mendes' Brasil '65 album, Sa's Softly, and even Paul Desmond's otherwise-lethargic From The Hot Afternoon, all of which she sang on later... Sa's vocals are framed more skillfully and sound more controlled than on this somewhat uneven debut. (Three English-language bonus tracks from each of those albums are added to this disc...) This album is okay, but seriously flawed... not that that should deter loungecore fans, in particular, from checking it out.


<! 130 x 130 >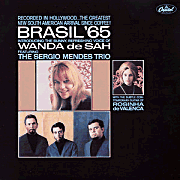 Sergio Mendes "Brasil '65" (Capitol, 1965)


"The Greatest New South American Arrival Since Coffee!" Were they talking about Sergio Mendes, Wanda De Sa, or guitarist Rosinha de Valenca? With a talent triple-threat like that, it's no surprise this album made such an impression. This was one of Mendes' big North American breakthroughs and, along with the fabled Getz/Gilberto album, one of the key records that brought bossa nova to the United States. Mendes relocated to the States to further his career, but Wanda Sa returned to Brazil and was later replaced (on the next album) by an American jazz singer, Lani Hall, who was the singer on the hit version of "Mais Que Nada." Mendes was also joined by a number of North American jazz and studio musicians, including saxophonist Bud Shank, who was a major interpreter of the bossa nova style. Commercially, this wasn't Mendes' biggest hit record, but it sure made an impression on his fans.


<! was Jorge Ben on this album?? >

Wanda De Sah "Softly" (Capitol, 1966)


A fairly solid Brazilian-artist-records-in-the-States album, with Wanda de Sah capitalizing on her exposure as a featured artist in Sergio Mendes' Brazil '65 ensemble. The material is all drawn from bossa nova biggies such as Tom Jobim, Vinicius and Carlos Lyra, and American bandleader Jack Marshall's arrangements are surprisingly sympathetic and effective. Worth checking out! (Note: After performing on North American jazzman Paul Desmond's From The Hot Afternoon album in 1969, Sa's career was put on hold in the 1970s as she devoted herself to her marriage with MPB composer Edu Lobo... Below are reviews of some of her later work, when she came out of retirement in the 1990s.)

Paul Desmond "From The Hot Afternoon" (Verve, 1969)



Wanda Sa contributed to this cool jazz/bossa crossover, which is considered a landmark album... As an architect of the West Coast "cool" style, saxophonist Paul Desmond certainly could lay claim to a big piece of the Braz-jazz puzzle, and he certainly had an ear for new material. Sadly, though, this album where he tries to do just that is not one of his career high points, with orchestrations that range from overly-baroque to flat out icky... Still, this disc features some of the earliest jazz recordings of Milton Nascimento's work, while the rest of the album is devoted to songs composed by Edu Lobo, who was Sa's husband at the time. This particular album didn't do much for me, but many folks consider it a classic.

Wanda Sa & Roberto Menescal "Eu E A Musica" (CID Luxo, 1995)



A schmaltzy, syrupy acoustic album by these two old-timers. Features plenty of classic Jobim songs, and other bossa nova standards. Ages ago, Sa was the featured guitarist and vocalist in Sergio Mendes' Brazil '65 group; Menescal was a bossa nova composer who went on to be one of Brazil's most active album arrangers. This, however, is a rather cloying version of a similar album he made in 1985 with vocalist Nara Leao. Personally, I think you'd be better off looking for that disc.

Wanda De Sa/Roberto Menescal/Miele "Uma Mistura Fina: Gravado Ao Vivo" (Paradoxx/Albatroz, 1996)


A good live set from some bossa nova/soft jazz warhorses... The material is almost exclusively drawn from Menescal's compositions, including a healthy dose of material cowritten with Ronaldo Boscoli. Both Menescal and Sa sound competent and smooth, though the winsome, loquatious Miele steals the limelight as the show's emcee, cracking jokes and settling into long, fulsome asides, connecting with the receptive, good-humored audience. Clearly everyone was on the same wavelength that night, and if you're looking to eavesdrop on a nostalgia-heavy bossa lovefest, this disc radiates warmth and good cheer. However, the music is constantly sidelined by the gabbing, and the insider-y feel of the event may leave more casual listeners feeling out of the loop. All in all, it ain't bad, but you might find yourself wishing they'd play a little more music sometimes.
Wanda Sa & Roberto Menescal "Estrada Tokyo-Rio" (Albatroz, 1998)

Wanda Sa & Bossa Tres "Wanda Sa E Bossa Tres" (Deckdisk, 2000)


Wanda Sa/Roberto Menescal/Marcos Valle "Bossa Entre Amigos" (Albatroz, 2001)


Wanda Sa "Domingo Azul Do Mar" (Deckdisk, 2002)


Wanda Sa & Joao Donato "Wanda Sa Com Joao Donato" (Deckdisk, 2003) <! 2005? >


Wanda Sa & Roberto Menescal "Swingueira" (Albatroz, 2006)


Wanda Sa "Bossa Do Leblon" (Deckdisc, 2006)






<! * 1964 - Wanda Vagamente - RGE * 1965 - Brasilę65 - Wanda Sah featuring The Sérgio Mendes Trio - Capitol * 1965 - Softly - Capitol * 1992 - Brasil Bossa Nova - Pery Ribeiro, Wanda Sá e Osmar Milito * 1994 - Brasileiras - Wanda Sá e Célia Vaz - CID * 1995 - Eu e a música - Wanda Sá e Roberto Menescal - CID * 1997 - Uma mistura fina - Roberto Menescal, Wanda Sá e Luís Carlos Miele - Albatroz * 1998 - Estrada Tokyo-Rio - Roberto Menescal e Wanda Sá * 2000 - Wanda Sá & Bossa Trźs - Abril Music * 2001 - Relanćamento Wanda Vagamente - Dubas Musical/Universal Music * 2001 - Bossa entre Amigos - Roberto Menescal - Marcos Valle * 2002 - Domingo azul do mar - DeckDisc * 2003 - Wanda Sá com Jočo Donato - DeckDisc * 2004 - Jesusmania * 2005 - Swingueira - Sony e BMG DVD) * 2006 - Bossa do Leblon - DeckDisc * 2007 - Disney Adventures in Bossanova - Es Tu Meu Príncipe Azul (A Bela Adormecida) >

---
Links
---
---



---