<! MP3 09/12/08 > <! pix 12/01/09 > <! icons 01/23/11 > <! UPDATES: 09/12/08 04/24/12 - some updates, link to new Wanda Sa page >

---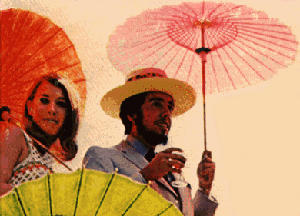 Pianist and band leader Sergio Mendes hit it big in the mid-1960s when Herb Alpert's A&M label made him and his Brazil '66 a household name, through a series of hip, poppy easy listening albums which included goofy Beatles covers and more creditable efforts such as a perky version of Jorge Ben's "Mas Que Nada". Before that he had been a figure in the early bossa nova scene, though admittedly he was already on the breezy, lightweight side of the street. I would be the first to admit that I'm perhaps not the right source to consult if you want an upbeat, positive view of his EZ material... It's really not my bag, although (at the bottom of this page) I do link to some excellent websites that are more appreciative...
Also worth noting is that the vast majority of Mendes' work seem to be perpetually out-of-print, even those albums re-released on CD by various collector labels. Very mysterious for such a beloved pop culture favorite! Still, I guess that makes him a vinyl-hunter's dream artist!
---
Discography
---
Sergio Mendes "Dance Moderno" (Philips, 1961)


Sergio Mendes Trio "Bossa Nova York" (Elenco)

Sergio Mendes & Bossa Rio Sextet "Girl From Ipanema" (Philips)

Sergio Mendes & Cannonball Adderly "Quiet Nights" (Capitol, 1963)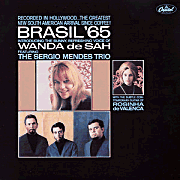 Sergio Mendes "Brasil '65" (Capitol, 1965)


"The Greatest New South American Arrival Since Coffee!" Were they talking about Sergio Mendes, singer a href= "sa_wanda_01.html">Wanda De Sa, or guitarist Rosinha de Valenca? With a talent triple-threat like that, it's no surprise this album made such an impression. This was one of Mendes' big North American breakthroughs and, along with the fabled Getz/Gilberto album, one of the key records that brought bossa nova to the United States. Mendes relocated to the States to further his career, but Wanda Sa returned to Brazil and was later replaced (on the next album) by an American jazz singer, Lani Hall, who was the singer on the hit version of "Mais Que Nada." Mendes was also joined by a number of North American jazz and studio musicians, including saxophonist Bud Shank, who was a major interpreter of the bossa nova style. Commercially, this wasn't Mendes' biggest hit record, but it sure made an impression on his fans.


<! was Jorge Ben on this album?? >

Sergio Mendes "The Swinger From Rio" (Atlantic, 1965)



Mendes and Antonio Carlos Jobim breeze through this light jazz/bossa outing. Jobim plays guitar throughout -- they are joined by two members of Mendes' ensemble, and a slew of North American jazz cats -- Art Farmer, Phil Woods and Hubert Laws all pipe in on various tracks. This isn't dazzling, but it's substantive, and far less fluffy than a lot of the output of contemporary Braz-jazz outfits such as the Tamba Trio, etc.
Sergio Mendes & Brazil '65 "... In Person At El Matador!" (Atlantic, 1966)



A pretty nice, stripped-down live set, where Mendes credibly comes off as both a mellow jazzman and a bossa prophet. Some nice subtle moments; easy on the ears in the best kinda way.
Sergio Mendes "Herb Alpert Presents Brasil '66" (A&M, 1966)



This is the big, famous album with the hit version of Jorge Ben's "Mais Que Nada." It also sets the tone for Mendes' career as a North American easy listening/loungecore icon... so it's a mixed bag.
Sergio Mendes "Equinox" (A&M, 1967)



In the easy listening canon, these early A&M albums hold sacred places... but they don't do much for me. Features English-language translations of Brazilian songs such as Jorge Ben's "Chove Chuva" and Joao Gilberto's "Bim Bom", Marcos Valle's "Gente," etc... as well as plenty of goopy up-North soft pop. The introduction of Brazilian rhythms into Stateside pop may have been novel to AM radio fans in the U.S., but when you reverse the equation, this stuff seems pretty ridiculous. Still, I suppose if you have to have something to rollerskate to, you could do worse than this.
Sergio Mendes "The Great Arrival" (Atlantic, 1967)



A really godawful album, his first that was recorded in the States, with dreadful string-laden arrangements. It's a shame that Brazilophile jazzman Claire Fischer was involved in this wretched project... His own records of the time are much better. This may be "easy" listening for some -- for me it was sheer torture! (Re-released on CD along with an album by the otherwise-unknown Quartette Tres Bien....)
Sergio Mendes "The Beat Of Brazil" (Atlantic, 1967)



Standard-issue lite jazz versions of bossa nova standard ("Desafinado," "Girl From Ipanema")... The all-Brazilian band swings a little bit, but this isn't much to get worked up about, pro or con... With arrangements by Antonio Carlos Jobim. (Re-released on CD along with The Swinger From Rio.)
Sergio Mendes "Look Around" (A&M, 1967)



Hard-core easy listening pop/vocals. But for the genre (and for Mendes) this is pretty solid. Very much a pop album, with only a few flourishes of overt Brazilianosity... but worth checking out.
Sergio Mendes "Fool On The Hill" (A&M, 1968)


Sergio Mendes "Sergio Mendes' Favorite Things" (Atlantic, 1968)


Sergio Mendes "Ye-Me-Le" (A&M, 1969)


Sergio Mendes "Crystal Illusions" (A&M, 1969)


Sergio Mendes "Stillness" (A&M, 1970)


Yeesh. Heavy folkie influence as the lads and lasses tackle material by Joni Mitchell and several drekky tunes by Paula Stone. A cover version of Buffalo Springfield's "For What It's Worth" is completely ludicrous (though I'm sure, considered a "classic" by true fans of cheese...) On the flipside, there's a passable cover of Gilberto Gil's "Viramundo," and their version of Caetano Veloso's already-in-English "Lost In The World" is so close to the original, there isn't really much to gripe about. The "girl" singer this time 'round is someone named Gracinha. Again, the rhythm section lets you know they could be kicking booty, if they wanted to.
Sergio Mendes "Live At The Expo '70" (A&M Japan, 1970)

Sergio Mendes "Pais Tropical" (A&M, 1971)


Sergio Mendes & Brasil '77 "Primal Roots" (A&M/Odeon, 1972)


This is Mendes' big "I can, too, play traditional" album... and, boy, could he! A thunderous, kaleidoscopically produced sound with some truly killer Afro-Brazilian percussion. If you don't want to fool around with all his lite pop stuff, but are still wondering what all the fuss was about, then try this one out... it's a real doozy. (Issued as Raizes in Brazil.)
Sergio Mendes & Brasil '77 "In Concert" (A&M-UK, 1973)

Sergio Mendes & Brasil '77 "Love Music" (Bell, 1973)

Sergio Mendes & Brasil '77 "I Believe"

Sergio Mendes & Brasil '77 "Vintage '74" (Bell, 1974)


Mostly, this is pretty awful, though it certainly could be worse. As ever, EZ fans should get into it, but the rest of us might find the chirpy pop mix a bit bland and uninventive. Special attention is paid to vocalist Gracinha Leporace, who is showcased throughout and who sounds like a toned-down version of Dionne Warwick (when singing in English) or Maria Creuza (when singing in Portuguese). Three Stevie Wonder covers ("Don't You Worry About A Thing", "Superstition", and "If You Really Love Me") are all complete flops, although the funk-soaked rendition of "Marineiro So" is a definite highlight.
Sergio Mendes "Sergio Mendes" (Elektra, 1975)


Sergio Mendes "Homecooking" (Elektra, 1976)

Sergio Mendes & Brasil '77 "Night And Day" (A&M)

Sergio Mendes & Brasil '77 "Sergio Mendes & The New Brasil '77" (Elektra, 1977)



Sergio Mendes "Pele" (Soundtrack) (Atlantic, 1977)



Sergio teams up with Brazil's greatest soccer player, the legendary Pele, who apparently composed (and performs on!) the main theme... This album was also released on a 2-CD set along with a couple of other Mendes albums (see below).
Sergio Mendes "Brasil '88" (Elektra, 1978)


Sergio Mendes "Horizonte Aberto" (Som Livre, 1979)

Sergio Mendes "Alegria" (WEA, 1980)

Sergio Mendes "Magic Lady" (1980)


Sergio Mendes "Picardia" (A&M, 1983)

Sergio Mendes "Confetti" (A&M, 1984)

Sergio Mendes "Brasil '86" (A&M, 1986)

Sergio Mendes & Brasil '88 "Summer Champion" (A&M Japan)

Sergio Mendes "Arara" (A&M, 1989)


Sergio Mendes "Brasileiro" (Elektra, 1992)



This disc kicks off with several gritty percussive numbers written by Bahian funkster Carlinhos Brown, reflecting the growing presence of Olodum-style batucada percussion in '90s Brazilian pop... The powerful drumming continues throughout, although Mendes' cheesier pop instincts slowly take over the rest of the record. Still, this is a pretty sharp release, all things considered. I believe this album won Mendes a Grammy in '93.
Sergio Mendes "Oceano" (Verve, 1996)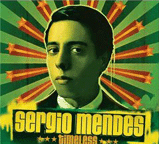 Sergio Mendes/Various Artists "Timeless" (Concord, 2006)



Brazilian loungecore icon/bossa nova pioneer Sergio Mendes is back with an album that is either surprisingly vital or remarkably static, depending on your attitude towards hip-hop, neo-soul and club music in general. Guest producer Will.I.Am, of the Black Eyed Peas brings along an all-star lineup of urban music stars, many of whom have a strong affinity for Brazilian music, albeit of the mainstream "smooth jazz" variety. Various members of the Peas perform, as well as folks from The Roots and Juraissic 5, along with guests of a calibre such as Erykah Badu, india.arie, Stevie Wonder, Justin Timberlake and John Legend (from the North American side) and from Brazil, old-schoolers such as Guinga and Gracinha Leporace, and neosoulster Marcelo D2, whose free-flowing Portuguese-language vocal work on "Samba Da Benacao" is a clear album highlight. The song selection includes slicked-up, souled-out versions of bossa classics by the likes of Vinicius De Moraes, Joao Donato, Tom Jobim and, of course, Jorge Ben's "Mais Que Nada," which was a huge early hit for Mendes back in the 1960s. There are also several newly-minted soul numbers written by some of the guest artists, including a couple of tunes that Mendes collaborated on. It's hard for me to say "yea" or "nay" on this one, since contemporary soul music really isn't my bag... But this sounds pretty well-produced for those of y'all out there who go for the mellow modern R&B sound. I would say, though, that the Brazilian side of the equation seems largely shortchanged -- many of these classic melodies seem pretty well obscured by the soft beats and verbal play... Still, it's definitely worth checking out if you are a fan of any of the artists mentioned above.
Sergio Mendes "Encanto" (Concord, 2008)


---
Best-Ofs
---
Sergio Mendes "Best Of Sergio Mendes & Brasil 65" (Capitol)

Sergio Mendes & Brasil '66 "Greatest Hits" (A&M, 1970)


Sergio Mendes & Brasil '66 "Foursider" (A&M, 1972)


Sergio Mendes & Brasil '66 "Easy Loungin' " (Polydor-Germany,1995)

Sergio Mendes & Brasil '66 "Masquerade" (Pickwick, 1973)

Sergio Mendes & Brasil '66 -'86 "A&M 25th Anniv. Classics Vol. 18" (A&M, 1987)

Sergio Mendes "A Arte De Sergio Mendes" (A&M-Brazil, 2LP)

Sergio Mendes "In Person At El Matador/Pele/Favorite Things" (Collectables, 2001)


A 2-CD set which collects together, seemingly at random, three albums from very different points in Mendes' career, all recorded for the Atlantic label.
Sergio Mendes & Brasil '66 "Millennium Collection" (A&M, 2007)


---
Links
---
Brazil66.com concentrates its fire on Mendes' most commercially successful period, the easy listening heyday, when he was one of A&M's big ticket artists. Not a complete discography, but an affectionate one.
Space Age Pop is a hipsterrific loungecore site that also has a nice Sergio Mendes page. Worth checking out!
All Brazilian Music, as usual, has a good biographical sketch and discography... Recommended website!
---



---