<! MP3 09/12/08, 11/24/09 > <! update 09/12/08 > <! pix 11/24/09 > <! icons 01/24/11 >

---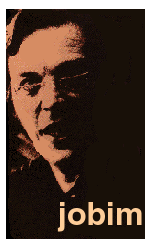 Antonio Carlos ("Tom") Jobim (1925-1994) was undeniably one of the great Brazilian composers, a globally known songwriter who shares equal rank with the Gershwins, Cole Porter and The Beatles. His arrangements combined modernist classical touches with a suave swing similar to North American "cool" jazz, rendering individual musical parts with such deceptive simplicity that it masks the gorgeous harmonic structures, while captivating listeners and musicians alike. These twin elements combine to make his songs universal classics. Jobim pioneered bossa nova, and wrote many of its greatest hits, notably "The Girl From Ipanema" and "Desafinado." He also helped get the other great bossa nova legend, Joao Gilberto, his first solo recording contract, and helped popularize the new musical style worldwide in the early 1960s.
As a recording artist, however, Jobim can be troublesome. His work with Frank Sinatra and Nelson Riddle is indicative of his crossover ambitions, but it is his endless series of collaborations with jazz-pop arranger Claus Ogerman which define his recording career. Unfortunately, these usually emphasized instrumental work, rather than vocals -- while musically complex, many of these tracks were also abjectly cheesy, if a bit overwrought. still, as more of his concert performances (as opposed to studio albums) come to light, I've come to modify my harsh opinion of Jobim as a performer. Here's a quick look at what's out there...
---
Discography: Albums | Best-Ofs
---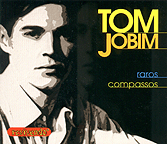 Various Artists "TOM JOBIM: RAROS COMPASSOS" (Revivendo, 2000)


Let's start at the beginning. To really get a feel for how revolutionary Jobim's compositions were, we should look at what a tough time his contemporaries had when they tried to take on the new style Jobim pioneered. This phenomenal 3-CD set collects dozens of rarities from the mid-1950s and early '60s (along with a handful of later recordings) and lays bare the stylistic limitations of the Brazilian pop establishment at the time when bossa nova became king. This collection includes many songs written well before the "official" start of the bossa nova, with performances by artists as diverse as Vicente Celestino, Albertinho Fortuna, Isaura Garcia, Sylvia Telles, Dick Farney, Claudete Soares, and others - some who have faded from history's glance, and others who are still well-known. By now, these melodies are etched in our minds, mainly through the effortless style of performers such as Joao and Astrud Gilberto, and the suave bossa performers that came in their wake. It's instructive, then, to hear the relatively awkward fashion with which the pre-bossa crowd tackled this material, and the surprising stiffness of their performances. Hammy baritones, barbershop-ish vocal groups, chirpy, operatic European-styled female singers populated the landscape, and while they were drawn to the new music, they could not summon the graceful elan that the bossa crowd possessed. Jobim, along with contemporaries such as Carlos Lyra and Vinicius de Moraes, liberated Brazil from the bland anglophilia that had taken root in the postwar era, eradicating the attraction of tepid, safe Edmundo Ros-style pop with one gentle, samba-tinged sweep of bossa's magic wand. Anyone seeking to understand the history of Brazilian pop in general and bossa nova in particular should seek this collection out. The Revivendo label also has an amazing assortment of historical, pre-bossa samba recordings, well worth checking out.

Antonio Carlos Jobim "Meus Primeiros Passos E Compassos" (Revivendo, 1997)


More of Jobim's earliest work, including the extravagant "Sinfonia de Rio De Janeiro" and "Teresa Da Praia" by Dick Farney and Lucio Alves, one of Jobim's earliest commercial successes. The pop style of the times -- post samba, pre-bossa -- is a little grating at times, but this is, indisputably, where it all began. For an intimate look at the transition into the new Brazilian music, these rare recordings are invaluable.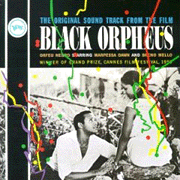 Various Artists "BLACK ORPHEUS" (Soundtrack) (Fontana, 1959)



The first major incursion of bossa nova into the minds and hearts of North America and Europe. The soundtrack to the winner of the 1959 Cannes Festival, this record also put Jobim in the global spotlight. Although the album is largely made up of samba de enredo percussive tracks, Jobim's non-Joao Gilberto bossa and Luiz Bonfa's acoustic guitar work made quite a splash. Internationally, Bonfa's "Manha de Carnaval" was an big hit, and although the bossa nova sound is still a little unformed here, it makes for lovely listening.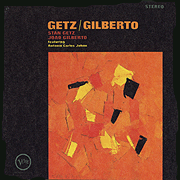 Stan Getz/Joao Gilberto/Astrud Gilberto "Getz/Gilberto" (Verve, 1963)



THE classic jazz-bossa nova crossover album, against which all others are measured. Almost shockingly intimate, with every tremble of the saxophone reed intact, this 1963 collaboration with Stan Getz and Joao Gilberto contains the #1 hit version of "The Girl from Ipanema" which is the one most folks in the States are familiar with, and which helped make Astrud Gilberto a household name in America. Her hubby Joao's guitar work and whispery vocals are the ultimate in melodic cool. Tom Jobim plays piano, in one of his sweetest performances, and percussion by Milton Banana is a study in economy. A wonderful album.

Antonio Carlos Jobim "The Composer of 'Desafinado' Plays" (Verve, 1963)



Instrumental versions of Jobim's well-known classics, such as "Girl From Ipanema," "One Note Samba," "Chega de Saudade" and others, performed by Jobim and a host of American jazz musicians. Features relatively tame arrangements by Claus Ogerman, who would continue to collaborate with Jobim for decades. Jobim's offhanded, uber-cool piano playing is nice, but the rest of the instrumentation is just, in essence, elevator music. Of Jobim's early albums, this is one of the better ones to aim for, but it's still pretty bland.

Antonio Carlos Jobim "The Wonderful World Of Antonio Carlos Jobim" (Discovery, 1964)



Much to his credit, U.S. arranger Nelson Riddle frames Jobim's vocals rather well here. The production is solid and familiar; kinda like a Sinatra album (... surprise!) A couple of instrumental tracks are negligible, but on the whole, this record works. This is certainly the best of Jobim's early albums.

Sergio Mendes "The Swinger From Rio" (Atlantic, 1965)



Jobim and Mendes breeze through this light jazz/bossa outing. Jobim plays guitar throughout -- they are joined by two members of Mendes' ensemble, and a slew of North American jazz cats -- Art Farmer, Phil Woods and Hubert Laws all pipe in on various tracks. This isn't dazzling, but it's substantive, and less fluffy than a lot of the output of contemporary Braz-jazz outfits such as the Tamba Trio, et. al.

Antonio Carlos Jobim "Love, Strings And Jobim" (Warner, 1966)



Goopy.

Antonio Carlos Jobim "A Certain Mr. Jobim" (Discovery, 1967)



An English language re-tread of the Wonderful World formula. Claus Ogerman's arrangements are no match for Nelson Riddle's, and Jobim's Sinatra-esque vocals are kind of on the stiff side. He just doesn't sound comfortable singing in English, and the music is either kind of flat or roller-rink-y. Not terrible, but doesn't quite hit the target.

Antonio Carlos Jobim & Frank Sinatra "Albert Francis Sinatra & Antonio Carlos Jobim" (Reprise, 1967)



I hate to admit it, but these two were a really great match. Sinatra's well-studied cool-guy persona is completely suited to the bossa nova aesthetic, and he understands how to sing on top of pop string arrangements (Claus Ogerman, again...). Some of Jobim and Sinatra harmonizations are particularly nice. Apparently, a later Brazilian edition of this album came out in the late '70s (on Warner) which contains the entire recording session, including two songs which still have not been reissued elsewhere.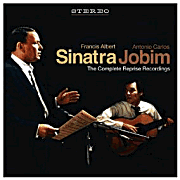 Antonio Carlos Jobim & Frank Sinatra "The Complete Reprise Recordings" (Concord, 1967/2010)



The 1967 collaboration between legendary Brazilian composer Antonio Carlos Jobim and pop-vocals demigod Frank Sinatra was one of those amazing, magical crossover miracles, a meeting of great talents that transcended both artists and brought out a remarkable new synthesis that put each of their careers in a new light. For me, personally, this was all the more remarkable, since I am an avowed Sinatra hater (admittedly, a black mark on my name, but I can't help how I feel...) and yet this album has always wowed me. Anyhoo, the big "wow factor" to this 2010 release is that now, for the first time, the session's "missing tracks" -- previously unreleased in the US -- are finally available and now we can hear all the songs Sinatra and Jobim recorded together... That's the good news. The maybe-bad news is that this edition also features a different sound mix than the original album, a mix that apparently has some fans a bit steamed. Still... nice to be able to hear that handful of songs that were previously only available on a hard-to-find Brazilian LP... Thanks, Concord!

Antonio Carlos Jobim "Wave" (CTI/A&M, 1967)



Easy listening instrumentals with accompaniment from North American jazz cats like Ron Carter, Urbie Green and James Cleveland, as well as Claus Ogerman's sizable string section. Jobim's work for the semi-indie CTI label has tremendous cachet with the acid jazz crowd, but others may find it a bit underwhelming, and awfully sappy. The title track is one of his best melodies, though.

Antonio Carlos Jobim "Tide" (CTI/A&M, 1970)



Similar terrain to Wave, though possibly more substantial, or at least with brighter production. Awfully syrupy, though: I would be embarrassed to be caught listening to this at home.

Antonio Carlos Jobim "Stone Flower" (CTI/A&M, 1972)



This one I like -- certainly it's the best of his three CTI-A&M easy listening albums. Jobim's still hanging out with the in-studio jazz crowd -- bassist Ron Carter, trombonist Urbie Green, Hubert Laws and others. Perhaps it's the fusion scene input of fellow Brazilian, Airto Moriera that peps this one up? This breezy, subtle album may be too lightweight for folks in both the jazz and bossa nova camps, but I think it's quite listenable.
Antonio Carlos Jobim "Matita Pere" (Philips, 1973/MCA, 1973)



Jazz arranger Claus Ogerman brings an impressive modernism to bear on this album, with some truly tweaky, challenging string arrangements. At times brooding, jagged and even a bit foreboding, Ogerman's contributions seem strongly influenced by 20th Century avant-classical music. The second half of this album devolves into syrupy mush, though, so tread lightly. Issued in the U.S. under the title Tom Jobim, this is one of his most striking and powerful albums.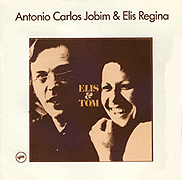 Antonio Carlos Jobim & Elis Regina "Elis E Tom" (Philips/Verve, 1974)



A stunning collaboration with vocalist Elis Regina; without question one of the finest, most super-swanky MPB albums ever recorded. Features the definitive version of Jobim's "Aguas de Marco," and some of the nicest, most tasteful music of his -- or her -- career. One of those sublime, perfect, magical albums that has a life of its own. All the songs are Jobim originals, and Elis proves herself one of his finest interpretors. Cesar Camargo Mariano doubles Jobim's keyboards, and the two create some gorgeous sonic textures and alluring, unusual arrangements. Paulo Braga, Helio Delmiro, Oscar Castro-Neves and bassist Luizao Maia round out this ensemble... and boy, do they make some sweet music together! Highly recommended -- essential listening for any serious exploration of Brazilian music.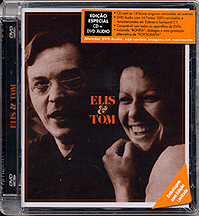 Antonio Carlos Jobim & Elis Regina "Elis E Tom" (Philips/Trama, 1974/2004)


This deluxe, 2-disc, 30th anniversary edition reissue features two new bonus tracks (an alternate version of "Fotografia" and an outtake of "Bonita"). The bonus tracks are contained on the second disc, which is an audio DVD that also contains all the songs on the original album, each with a title card that includes information about the recording sessions and optional subtitles with the lyrics (in Portuguese only). The DVD doesn't include video of the sessions (alas!) but it does have beautiful sound quality, as does the regular audio CD that comes with it. Highly recommended.

Antonio Carlos Jobim "Urubu" (Warner, 1976)



Similar territory to the 1973 Matita Pere album, though a little less sombre, and way more cheesy. Claus Ogerman's string arrangements are slushy and florid; the last half of the record sounds more like a John Williams score than a bossa-pop album. Jazz bassist Ron Carter adds both class and fusion-y cheese to the proceedings. But again, not my cup of tea. This disc is noteworthy for the song "Boto," which was the first recorded collaboration between Jobim and the MPB singer Miucha, and led to several other records (listed below).
Antonio Carlos Jobim & Miucha "Miucha & Antonio Carlos Jobim" (RCA, 1977)


Swanky MPB material... much of the material off this album is collected on various best-of CDs.

Vinicius De Moraes/Toquinho/Miucha/Tom Jobim "Gravado Ao Vivo No Canecao" (Som Livre, 1977)


(Produced by Aloysio de Oliveira)
Cool concert album, conducted by legendary producer Aloysio de Oliveira. Lively but also a bit shrill, this gives a nice glimpse at some of Brazil's most charismatic performers... and for Jobim it's a nice look behind the veil of his uber-artsy persona. Singer Miucha, who was Joao Gilberto's second wife, went on to record several albums with Jobim, and they are all quite nice.
Antonio Carlos Jobim & Miucha "Miucha & Tom Jobim " (RCA, 1979)

Antonio Carlos Jobim & Frank Sinatra "Sinatra-Jobim Sessions" (WEA, 1979)
This Brazilian double LP set apparently contains the complete late-'60s recording sessions done for Sinatra's Reprise label, including two tracks which are still unavailable elsewhere. Whoo-hoo! It's a collector's item!

Antonio Carlos Jobim "Terra Brasilis" (Warner, 1980)


One of Jobim's most engaging albums. This diverse, elegant 2-LP set reprises many of his old hits, along with several new tunes. About half the songs are sung in English, and Jobim makes the most of the opportunity to make the irony of songs such as "Desafinato (Out Of Tune)" plain to the English-speaking audience. Although this collection has many of the same musical trappings as earlier albums arranged by Claus Ogerman, Terra Brasilis is much more restrained and less brazenly cheesy. Perhaps we can thank the positive influence of veteran bossa nova producer Aloysio de Oliveira? Could be. Anyway, I'd recommend this as one of Jobim's more listenable albums, even if it is a bit cheesy overall.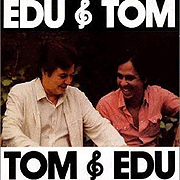 Tom Jobim & Edu Lobo "Tom & Edu" (Philips/Polygram, 1981)



A back-to-basics album along the same lines as Joao Gilberto's Brasil album of the same year. Lobo and Jobim are relaxed, the arrangements are sparse and center on simple, sweet piano lines. For me, one of Jobim's more accessible records.
Tom Jobim & Gal Costa "Gabriela" (RCA, 1983)


The soundtrack to a fun, steamy Sonia Braga/Marcello Mastroianni film, written by Jobim and conducted by Oscar Castro Neves. The three Jobim/Costa duets are pleasant enough, but on the whole this is a fairly unremarkable album. The highlight is, I suppose, Jobim's solo vocal number, "Walking Through The Forest," though all the instrumentals, with their dated disco-ish filagrees and oceanic, predictable string arrangements barely qualify as aural wallpaper. Maybe I'll have to go back and watch the film again, to see how well the music works within its original context.

Antonio Carlos Jobim "Passarim" (Polygram, 1987)



Oy, vey. A VERY cheesy album, full of soft pop arrangements and cotton candy musical back-up courtesy of Jobim's progeny, as well as a couple of Dorival Caymmi's kids, and cellist/bandleader Jacques Morelenbaum, who would later take up the Jobim mantle with the more restrained, elegant Quarteto Jobim-Morelenbaum. I wouldn't recommend this album, but maybe I'm just being too uptight.

Antonio Carlos Jobim & Gal Costa "Rio Revisited" (Verve, 1987)



A nice live album featuring Gal Costa on a couple of tracks, and some breezy but appealling arrangements courtesy of Jobim and cellist Jaques Morelenbaum, who later went on to form the Quarteto Jobim-Morelenbaum (see below). Recorded in LA's Wiltern Theatre, this concert is dominated by a perky female vocal ensemble ala the Quarteto Em Cy... But these gals are far less slick than Em Cy, and less bland and technique-obsessed. Engaging, understated performances, with several tunes sung in English... Despite the lackluster artwork, this is one of Jobim's better albums... recommended!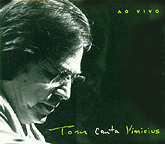 Antonio Carlos Jobim "Tom Canta Vinicius -- Ao Vivo" (Universal, 1990/2001)



A beautiful live tribute to poet/composer Vinicius de Moraes, with Danilo Caymmi on flute, Jaques Morelenbaum on cello, and Paula Morelenbaum on vocals, and Jobim on piano and some vocals, and his son Paulo Jobim on guitar. This is a remarkable about-face for Jobim, almost entirely shedding the sugary overproduction of his later years, in favor of an understated, reverent and leisurely approach to these fab bossa oldies. The Morelenbaums are largely to thank -- Paula has the perfect voice and manner for bossa nova classicism, and as one of Brazil's best modern bandleaders, Jaques Morelenbaum can do no wrong. These musicians later went on to form the equally-impressive Quarteto Jobim-Morelenbaum, whose album on the Velas label is reviewed below. This is a beautiful album in and of itself -- well worth checking out!
Antonio Carlos Jobim "Tom Jobim" (CBPO, 1987/Sony, 1995)

Antonio Carlos Jobim "Antonio Brasileiro" (Som Livre, 1994)

Antonio Carlos Jobim "...And Friends - Live" (Verve, 1996)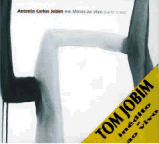 Antonio Carlos Jobim "Em Minas Ao Vivo Piano E Voz" (Biscoito Fino/DRG, 2006)



(Produced by Paulo Jobim)
A warm, intimate set, recorded live in 1981, at Palais des Arts in Belo Horizonte, Brazil. Jobim is in fine form -- suave, relaxed, conversational, in command of an appreciative audience. Just him and his piano in an unhurried, informal setting. Very lovely. A fine testament to his power as a performer.


<! 12/09: fuzzy image >

Antonio Carlos Jobim "Ao Vivo Em Montreal" (Biscoito Fino, 2007)


Antonio Carlos Jobim "Inedito" (Biscoito Fino, 2007)


---
>>Best-Ofs, Tributes & Links
---



---