<! cd=11/30/04 > <! MP3 09/12/08 > <! update 09/12/08 > <! pix 12/02/09 > <! icons 01/23/11 >

---
Jacques Morelenbaum Discography
---
I first became aware of the extraordinary Brazlian cellist and arranger Jacques Morelenbaum through his work with MBP superstar Caetano Veloso, particularly on a series of exceptional albums recorded in the late 1990s. Seeing Morelenbaum conduct Veloso's Afro-Brazilian/cool jazz/rock band on the Livro tour was one of the most astounding concertgoing experiences I've ever had. Later I saw the classically-trained Morelenbaum perform with his elegant bossa nova revival act, the Quarteto Jobim-Morelenbaum, and my fascination with his work was cemented. Below is a discography of many of the albums that Morelenbaum has made major contributions to -- he is a prolific performer and arranger, so this list only skims the surface. Sadly, looking back at this list and my comments on many of the albums I had already reviewed before I knew Morelenbaum played on them, I find that a lot of the music he does turns me off... But the stuff I like, I like a lot. (Thanks, by the way, to Brazzil magazine for providing the extra details for this discography... A link to their website is below.)
---
Recommended Records
---

A Barca Do Sol "A Barca Do Sol" (Continental, 1974)


A Barca Do Sol "Durante O Verao" (Continental, 1976)


A pioneering folk-jazz-classical fusion band, featuring the immensely talented cellist/arranger Jacques Morelenbaum near the start of his pop music career. The first album (re-released on a single CD along with the second) opens with a trio of stunning numbers, which blend flamenco guitar and NY-style salsa rhythms in with a heady mix of traditional Brazilian melodies and jazzy instrumental flourishes; the group sounds like a cross between the acoustically-based Quinteto Violado and wilder, more rock-oriented groups such as Novos Baianos. Sadly, the formula wears thin and by the second album, where they try on an even more experimental tone, becomes fairly irritating. These albums have a fascinating feel, but may ultimately be best seen as Morelenbaum's most energetic juvenelia. Still, since Morelenbaum later became one of Caetano Veloso's key collaborators and a major modern interpreter of Antonio Carlos Jobim, this disc may be worth checking out for any serious student of Brazilian avant-pop.

Fagner "Oros" (CBS, 1977) (LP)


Morelenbaum composed, arranged, sang and performed on this album... It's a willfully weird record. Raimundo Fagner is still trippy, still artistically vital, still off-center, with a mix of folk-rock and lavishly orchestrated MPB-pop, with impassioned, rugged vocals throughout. Hermeto Pascoal is part of the free jazz/samba crew, while accordionist Dominguinhos adds regional flavor. Some of the kookier songs seem a bit forced (on "Epigrama" and "Romanza," for example) but this disc is still certainly worth checking out for its determination to keep the experimental side of '70s MPB alive. Unusual, to say the least. Difficult, too.


<! **IS** M. on this record??? >

Olivia Byington "Corra A Risco" (Continental, 1978)


The debut album by classically-trained, avant-leaning vocalist Olivia Byington... She is backed here by Morelenbaum and the O Barca Do Sol band. The album is experimental and challenging, full of wild musical flourishes and ornate vocal trills, a mix of influences and styles, and a restless creativity. Notable for a Brazilian record is a strong strain of non-Brazilian Latin-American music, hints of salsa, flamenco and a tango from the great Astor Piazzolla. There's also a mix of MPB and regional styles, melded to jazz/rock fusion, with delicate acoustic arrangements next to electronic keyboards and thudding rhythmic moves. Personally, I find it a little too challenging for the most part -- cool in concept, but not something I'd want to listen to recreationally. Certainly worth checking out if you're delving into Brazilian prog music... Even though the album is credited to Olivia, it is often also considered a Barca Do Sol record.


<! B00006LW3G ? > <! 01 - Fantasma da Opera (Mur' Costa / Geraldo Carneiro) 02 - Lady Jane (Nando Carneiro / Geraldo Carneiro) 03 - Corra o Risco (Olivia Byington / Geraldo Carneiro) 04 - Jardim de Inf‰ncia (Beto Resende / Nando Carneiro / Geraldo Carneiro) 05 - Banda dos Cora¨›es Solit‡rios (Nando Carneiro / Geraldo Carneiro) 06 - Cavalo Marinho (Nando Carneiro / Cacaso) 07 - Lobo do Mar (Jacques Morelenbaum / Jo‹o Carlos P‡dua) 08 - ēgua e Vinho (Egberto Gismonti / Geraldo Carneiro) 09 - Brilho da Noite (Nando Carneiro / Geraldo Carneiro) 10 - Minha Pena Minha Dor (John Neschling / Geraldo Carneiro) 11 - Luz do Tango (Astor Piazzolla / Geraldo Carneiro) >

Chico Buarque/Edu Lobo "O Grande Circo Mistico" (Som Livre, 1983)


Morelenbaum arranged and performed on this album.
Egberto Gismonti "Trem Caipira" (EMI, 1985)



Cellist/arranger Jacques Morelenbaum helped sculpt the sound of this album...
Milton Nascimento "Encontros E Despedidas" (Polydor, 1985)


More scary pop with the usual pals helping out -- Pat Metheny, etc. Don't ask, don't tell. Cellist/Arranger Jacques Morelenbaum helped sculpt the sound.
Antonio Carlos Jobim "Passarim" (Polygram, 1987)


Oy, vey. A VERY cheesy album, full of soft pop arrangements and cotton candy musical back-up courtesy of Jobim's progeny, as well as a couple of Dorival Caymmi's kids, and cellist/bandleader Jacques Morelenbaum, who would later take up the Jobim mantle with the more restrained, elegant Quarteto Jobim-Morelenbaum. I wouldn't recommend this album, but perhaps I'm just being short-sighted.
Joao Carlos Assis Brasil/Wagner Tiso "A Floresta Do Amazonas" (Kuarup, 1987)



Morelenbaum is all over this soft-jazz outing -- a tribute to composer Heitor Villa-Lobos.
Maria Bethania "Memoria Da Pele" (Polygram Brasil, 1989/Verve, 1990)


Bethania's strong, forthright vocals are generally at odds with the cloying, muzak-y arrangements, much of which come, sadly, courtesy of cellist/arranger Morelenbaum. A wide range of composers suffer under the breezy, tinkly production, though a couple of tracks rise up from the fluff, including the Jose Galhardo tango, "Confesso," and Chico Buarque's "A Mais Bonito." Not my cup of tea -- almost, but not quite.
Elomar "Elomar Em Concerto" (Kuarup, 1990)

Zizi Possi "Estrebucha Baby" (Polygram, 1990)


Johnny Alf "Olhos Negros" (BMG, 1990)

Rafael Rabello "Todos Os Tons" (BMG, 1991)


I haven't heard this collaboration with choro guitarist Rabello, but I hope to soon... Rabello's work, what little of it I've been able to hear, has consistently floored me.
Galo Preto "Bem-Te-Vi" (Leblon, 1992)

Renata Arruda "Renata Arruda" (MZP/Warner, 1993)

Ryuichi Sakamoto "Little Buddha" (Life, 1993)


Joyce "Delirios De Orfeu" (NEC, 1994)


Cellist/arranger Jacques Morelenbaum makes major contributions on this album...
Caetano Veloso "Fina Estampa" (Polygram Latino, 1994)



A Spanish-language songbook in which Veloso pays homage to many great Latin American songwriters such as Cuba's Armando Orifiche and Ernesto Lecuona, Mexico's Agustin Lara, Rafael Hernandez of Puerto Rico, Astor Piazzola, and so on. Slushy and romantic (as might be expected) and not entirely my cup of tea. Mostly it's the mildly synth-poppy arrangements, sculpted in part by Morelenbaum, which I find off-putting. One of Caetano's biggest commercial successes in the 1990s, but still kinda blechhy.
Caetano Veloso "Fina Estampa - En Vivo" (Polygram Latino, 1995)


The live version of the studio album.
Fernanda Abreu "Da Lata" (EMI, 1995)

Gal Costa "Mina D'Agua Do Meu Canto" (RCA-BMG, 1995)


Can't say that I would recommend this one... Although Costa's sugary voice creates a few moments of grace, for the most part this Caetano Veloso/Chico Buarque songbook is pretty wretched. Who really listens anymore to the kind of Barry Manilow-ish disco arrangements that clutter the corners of this disc? The slower tracks have their moments (for example, it's hard to screw up songs like "Quem Te Viu, Quem Te Ve"...) but you'd probably have more luck listening to something better... or older. Cellist/arranger Jacques Morelenbaum contributes throughout...
Luiz Melodia "Reliquias" (EMI, 1995)



Caetano Veloso & Gal Costa "Tieta Do Agreste" (Soundtrack) (Natasha/Blue Jackel, 1996)


Smooth MPB ballads and incidental music from a film by director Carlos Diegues. Both Costa and Veloso are in fine form, although overall this album may be too mellow for some. Morelenbaum's arrangements have an Italianate feel to them, like something from Fellini's Amarcord. But there's nothing overtly drekky here, just a few old pros knocking out another solid album.
Caetano Veloso & Jacques Morelenbaum "O Quatrilho" (Soundtrack) (Natasha/Blue Jackel, 1996)

Joyce "Ilha Brasil" (Blue Note/World Pacific, 1996)


Another collaboration with jazz/MPB guitarist and vocalist Joyce...
Gideon Kremer "Astor Piazzolla - El Tango" (Nonesuch, 1997)

Titas "Titas Acustico" (WEA, 1997)

Farofa Carioca "Moro No Brasil" (PolyGram, 1998)



Guinga "Suite Leopoldina" (Velas, 1998)



This florid orchestral samba album is a mixed bag, ranging from over-sugary contributions by the likes of Toots Thielemans to solid, soulful old-time baiaos and choros approached with the same deft classicism as heard on Paulo Moura's tribute to Pixinguinha... This tribute to the traditions of Rio also includes contributions from Chico Buarque, Ivan Lins and novo-rocker Lenine... and of course, Mr. Morelenbaum, who arranged, conducted and played throughout the entire album. Some songs I had to skip past -- such as soul singer Ed Motta's unbearable scatting on "Par Constante" -- but other tracks were quite lovely. Definitely worth checking out.
Morelenbaum/Pinto "Central Do Brasil" (Milan, 1998)

Jota Quest "De Volta Ao Planeta" (Chaos, 1998)


A soundtrack album featuring major contributions by Morelenbaum, as arranger, producer and conductor (although not as a performer).

Carlinhos Brown "Omelete Man" (Capitol/Metro Blue, 1998)


This pop album deemphasizes Brown's Afro-Brazilian percussion roots to an almost shocking degree. Instead, we are exposed to an eclectic, sleek mix which pays homage to Bob Marley, Brian Wilson, Paul McCartney and Stevie Wonder (or, perhaps more aptly, to Lenny Kravitz). How much of this stylistic sculpture is due to Brown, and how much to producer Marisa Monte, or to cellist/arranger Jacques Morelenbaum, is hard to tell. The results, however, are frequently remarkable and several songs enticingly reveal Brown's growing confidence as an experimental pop artist. The multi-layered exotica of "Hawaii e You," or the lavish (but restrained) orchestral bossa of "Musico" are world-class efforts, pushing the syncretic tendencies of mainstream Brazilian pop more effectively than anytime since the late '70s. However, many tracks have a tepid, almost gimmicky, "world beat" feel, such as the arrangements on "Water My Girl" or the dorky lyrical metaphor of the title track (an "Omelete Man" symbolizing someone who mixes up different influences, whipping them together like eggsÉsheesh!) A mixed bag, but not the sort of thing you can write off altogether.

Marisa Monte "Memories, Chronicles And Declarations Of Love" (Phonomotor/Capitol Metro Blue, 1999/2000)



I guess I'd have to class this one as a guilty pleasure... Brazilian modernist Marisa Monte and her New Yorker compatriot, Arto Lindsay, have honed their sleek soul-and-funk drenched sound to studio-polished perfection, and while this album is a little too slick, it's still pretty engrossing. Less adventuresome and varied than their last few outings, this is a high-gloss audiophile album, densely layered and languidly divulged, with contributions from the regular crowd of Brazilian and New York City cohorts. Includes several collaborations with Carlinhos Brown and Arnaldo Antunes, as well as a nice tunes by Jorge Ben and Caetano Veloso. Morelenbaum also helped craft the album's sound, providing arrangements and playing on several songs. Sure, Monte and Lindsay are playing it safe here, but there are few folks out there who could match them when it comes to this sort of deft technical complexity. Recommended, though with some reservations.
Ryuichi Sakamoto "Life" (WEA/Japan, 1999)
Morelenbaum arranged, conducted and performed on this album, an operatic song-cycle written with Sakmoto. (There appear to be various versions of this piece, all available only as Japanese imports...)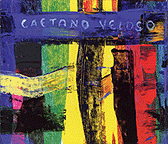 Caetano Veloso "Livro" (Philips, 1998)


Awesome. One of Veloso's best albums -- similar in style and production to 1989's technopop extravaganza, Estrangiero, though much smoother and with a stronger connection to older Brazilian styles. Morelenbaum anchors the band, facilitating complex fusions of Brazilan rock and Afro-Brazilian percussion with suave jazz undertones. This album's samba flavor is particularly noticable, and is a nice change of pace for Veloso, who tends to favor bossa and acoustic balladry. Rock and pop motifs are skillfully woven throughout, making for one of the most skillful syntheses of Caetano's career. Some folks find this album too cluttered, but I think it's very listenable and highly recommended. You have to stick with it, and then its secrets will unfold.

Caetano Veloso "Prenda Minha" (Mercury-Brasil, 1999)



A lovely live album, which blends Afro-Brasilian percussion, bossa, and Gil Evans-y jazz... much like Livro, which it heavily draws from... This is a calm, beautiful abum which only briefly dips into questionable territory. The tropicalia oldies are set aside in favor of more reflective material, such as a long, languid version of his 1978 song. "Terra," and other songs in a similar acoustic-based vein. Downturns include a jarring rock version of "Eclipse Oculto" which harkens back to his mid-'80s new wave phase, and a brace of double-time marchas which close out the performance. For the most part, though, this is beautiful, and well worth checking out.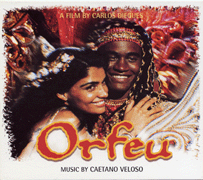 Caetano Veloso/Various Artists "Orfeu" (Natasha/Nonesuch, 1999)



The soundtrack to Carlos Diegues' newly-retold Brazilian version of the film Black Orpheus, which in 1959 helped introduce the sounds of bossa nova to the world. Veloso's contributions here are limited to three vocal tracks, and about half of the incidental music, recorded with Morelenbaum as his bandleader. Although the instrumentals are a let-down (the last half of this album is dreadfully repetitive...), it kicks off with some wonderfully dynamic, vital new music. Caetano's duet with Braz-rapper Gabriel O Pensador ("Reza") is way better than you might think, and on the softer ballads he lends his usual air of class. One of the albums's highlights is a bit of a novelty number: Maria Luiza Jobim (presumedly the granddaughter of the bossa nova legend) sings a simple, stripped down, little-girl-voice version of Jobim's early classic, "A Felicidade"... one of the calmest, most arresting moments on the album.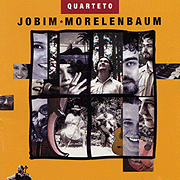 Quarteto Jobim-Morelenbaum "Quarteto Jobim-Morelenbaum" (Velas, 2000)



A sweet tribute to Antonio Carlos Jobim which features his son, grandson, and former cellist and bandleader Jaqcues Morelenbaum, as well as Paula Morelenbaum, who serves as the group's chanteuse, trading vocal duties with the Jobim lads. Spanning the breadth of Jobim's career, these songs are standard bossa fare, but pleasantly and flawlessly rendered... Morelenbaum -- one of the most well-rounded musicians imaginable -- has written moodier, more mysterious arrangements, but I guess he didn't feel that was his job in this instance... I'm certainly not complaining... this is a beautiful, solid record, and will certainly grow on you with every listen. Highly recommended.
Joao Bosco "Joao Bosco Na Esquina" (Sony/Epic, 2000)


This soundtrack album features arrangements and production by cellist Jacques Morelenbaum.

Morelenbaum2/Sakamoto "Casa" (Sony Classical, 2002)



Morelenbaum's latest collaboration with Ryiuchi Sakamoto builds on the sleek, elegant sound of the Quarteto Jobim-Morelenbaum album (reviewed above). This album also features the stately, stylish contributions of Paulo and Daniel Jobim, the son and grandson of the legendary bossa nova composer Antonio Carlos Jobim, and the sleek vocals of Morelenbaum's wife, Paula. A classy album all the way through -- elegant, unhurried, melodically and harmonically rich. Fans of the classic bossa sound will love this disc. Recommended!
Morelenbaum2/Sakamoto "A Day In New York" (Sony Classical, 2003)


Paula Morelenbaum "Berimbaum" (Universal, 2004)


Paula Morelenbaum & Joao Donato "Agua" (Biscoito Fino, 2011)


---
Related Records
---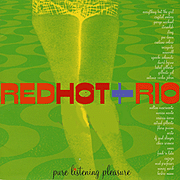 Various Artists "RED HOT AND RIO" (Verve Antilles, 1996)


An ambitious, often lovely mix of Jobim standards with modern production and styles. Heavyweights such as Caetano Veloso, Gilberto Gil, etc. team up with various U.S. hipsters, soul singers and rappers, to varying degrees of success. Morelenbaum contributes throughout. Highlights include Everything But The Girl's version of "Corcovado," David Byrne's duet with Marisa Monte and Stereolab teaming up with US jazz flautist Herbie Mann. The efforts of "quiet storm" soul singers such as Maxwell and Incognito are less satisfying, though I'm sure their fans will appreciate them. Overall, this is a nice, far-reaching effort, very much in the spirit of experimentation and inclusion which makes MPB so exciting to begin with. PS - this disc is a benefit for AIDS research, for the Red Hot foundation. Recommended!
---
Links
---
Brazzil Magazine has an excellent article outlining Morelenbaums long, unique career. The site includes a comprehensive discography which includes many appearances and albums not included here.
---



---