<! MP3 09/12/08, 06/30/09, 12/21/09, 01/27/11, 09/08/14 - several adds > <! pix 11/15/09, 12/16/12 > <! icons 01/27/11 > <! UPDATES: 09/12/08 - MP3 icons 12/29/09 - producer info added 01/27/11 - added LP ASINs 12/16/12 - some pix, purchased '84 album >

---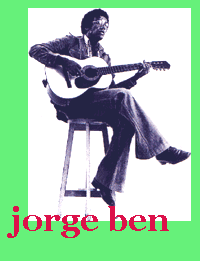 Jorge Ben (now known as Jorge Ben Jor) pioneered the funky samba-rock (or samba-soul) style, and represented the Rio wing of Brazil's tropicalia movement. Born to an African mother, Ben embraced African and African-American music -- especially funk and soul -- far more successfully than other tropicalia stars. This, along with the insistent presence of his melodic guitar lines, make his music readily accessible to U.S. listeners.
In the early 1960s, Ben recorded as a samba artist, gaining international reknown as a songwriter when Sergio Mendes covered his song, "Mas Que Nada." Later, along with contemporaries such as Caetano Veloso, Gilberto Gil and Gal Costa, he pioneered the revolutionary "tropicalia" movement, which blended American blues, rock and roll and pop kitsch into the already potent musical stew of Brazilian pop. Later still, Ben became known as the driving force behind Brazil's homegrown funk/soul scene, and was an inspiration for the Black Rio soul scene. Ben's intimate, playful vocals and alluring acoustic guitar give him a unique, seductive sound. Like many other Brazilian MPB artists, his best recordings were made before the late 1970s, although his later commercial pop-rock recordings (and live shows) still have a have that deep, funky groove that can get a party started. Here's a quick look at his work...
---
Discography
---

Ze Maria "Tudo Azul - Bossa Nova E Balanco" (Continental, 1963)
Here's a real find! Jorge Ben performing with organist Ze Maria (a sort of a Walter Wanderley wannabee), singing on a couple of his tunes ("Mais Que Nada" and "Por Causa De Voce Menina"), presumably before his contract with Philips Records kicked in. The roller-rinky accompaniment was nowhere near as funky or soulful as Ben's own solo work would be, but is sure is a kick to hear his youthful voice piping up amid the dit-dit-dit perkiness of Maria's brisk little ensemble. Other artists whose work is covered -- mostly in instrumental versions -- include Carlos Lyra, Joao Mello, Jobim (of course) and several songs by Orlandivo, as well as one oldie by samba composer Joao De Barro. Kitschy and cute, and an interesting early step in the career of one of Brazil's greatest pop stars. (Reissued on CD in 2003.)

Jorge Ben "Samba Esquema Novo" (Philips, 1963)



(Produced by Armando Pittigliani)
Marvellous. A dazzling debut album that helped revitalize Brazilian pop at a time when the bossa nova craze had largely played itself out... This record opens with his version of "Mas, Que Nada," the hit song that made Jorge Ben and internationally known songwriter. Here Ben works with several of the best samba-jazz and pop bandleaders of the bossa era, including Maestro Gaya, Meirelles, and Luiz Carlos Vinha... Combined with Ben's sleek vocals, each arranger spins magic. Some of the best songs on here, such as "Vem, Morena, Vem," have been neglected over the years, while others such as "Chove Chuva" are perennial favorites. Listening to the album in its entirety is the way to go -- it not only captures a bright new voice coming through at a special moment in time, it also just sounds great as a cohesive piece of work. Highly recommended.

Jorge Ben "Sacundin Ben Samba" (Philips, 1964)


(Produced by Armando Pittigliani)
Early on, Ben's work took a jazzy turn, with a crossover into Brazil's cabaret-style pop. Some of these tracks have a straight jazz character, particularly with the piano and horn combos (and assist by Meirelles and Luiz Carlos Vinhas...) Interestingly enough, although he didn't stick with style long, his version of jazzy presentation swung heavier than most of the proper "jazz" records of the time, by folks such as the Tambo Trio, etc. Very cool early album.

Jorge Ben "Ben E Samba Bom" (Philips, 1964)



(Produced by Armando Pittigliani)
More classic early work, with more peppy '60s samba tracks and Ben's trademark vocal style: strong, joyful and instantly appealing. He tips his hat towards the bossa scene, too, with a swinging version of Joao Gilberto's "Oba La La" as well as a cover of fellow groover Orlandivo's "Onde Ande O Meu Amor." The arrangements on here are still rooted in the bossa-trio sound of his first two records, but there are some interesting twists, innovative approaches to the style hinting at the radical stylistic changes to come. There's a more diverse feel to this than his previous two albums, but he's soulful as ever on them all. Recommended.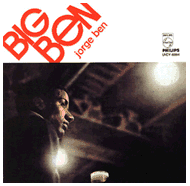 Jorge Ben "Big Ben" (Philips, 1965)


(Produced by Armando Pittigliani)
The last record he recorded before be left the Philips label for several years, this album was mysteriously long-out-of-print... It's of a piece with his earlier discs, swinging, rock-tinged samba as performed backed by a Brazilian jazz ensemble, with groovy riffs and rhythms obscured by the clattersome, full-speed-ahead approach taken by the Braz-jazzers of the era. (The liner notes don't say who the backing musicians were; he had been working with Copa Cinco before, although I suspect pianist Dom Salvador or some of Wilson Simonal's crew were involved...) Nevertheless, you can hear Ben reaching for a new sound, and for more control over his own music -- his super-groovy acoustic guitar is mixed more prominently, and fuller, more rounded melodies emerge on the tracks where the grinding piano is less dominant. There are several tracks on here that do jump out at you, particularly "Patapatapata," a catchy, innovative tune that is oddly absent on most Jorge Ben retrospectives. Another interesting track is "Jorge Well," which seems like a dry run for the bilingual "Take It Easy My Brother Charles," recorded several years later. A solid album, with some of the same flaws as other Jorge Ben albums, as well as the same delights.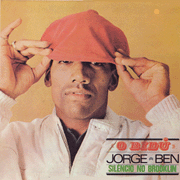 Jorge Ben "O Bidu: Silencio No Brooklyn" (Artistas Unidos, 1967)



(Produced by Jorge Ben)
Wow! What a gorgeous record! Layered, lavish production, mixing '60s psych, blues and Herb Alpert-style pop with killer African percussion and slinky samba rhythms. One of his best, most creative and catchy albums, and worth looking hard for. Apparently, the backing band on this album is the rock-pop outfit, Os Fevers... at least that's the rumor, although this disc sounds much wilder and imaginative than anything I've heard them do elsewhere. In his autobiography, Tropical Truth, Caetano Veloso talks at great length about this album, how it anticipated many of the genre-crossing feats that the tropicalia crowd wanted to try, and how greatly he and Gilberto Gil admired Ben's amazing musical vision. (Unfortunately, the mastering on both the 1992 Movietone CD and the 2010 MP3 reissue is a bit iffy -- thin in one case, murky in the other. Still, this is worth picking up... Even with the crappy sound quality, this album is an absolute must-hear.)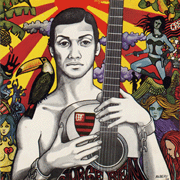 Jorge Ben "Jorge Ben" (Philips, 1969)


(Produced by Manoel Barenbein)
(Arranged by Jose Briamonte & Rogerio Duprat)
An excellent album, with some of his catchiest songs, many of which often make it onto best-of compilations. Wildly inventive, syncretic, experimental pop music, ranging from San Francisco-sound psychedelia to spaghetti western schmaltz, and deep, heavy samba-soul. The album is both soulful and playful, as when he sings the last half of "Pais Tropical" in a nasal voice, with his nose pinched shut, or when the string section veers into bent-note atonality. (The album is also one of the best-realized efforts of tropicalia arranger Rogerio Duprat, whose influence here includes both compositional elements and fascinating experimental production techniques, such as isolating unexpected elements in the sound mix -- bringing percussion to the fore, while burying the guitars. In general, this is a lushly multi-layered, challenging and delightful record, one which has a deserved and enduring appeal, generations after it was made.) The album art shows Ben with the emblem of the Flamengo futbol team on his guitar, and broken manacles on his wrists -- the latter presumably a statement both about the history of slavery in Brazil, and about the military dictatorship which was running the country at the time, and actively trying to repress the tropicalia movement. One of his best records... definitely worth tracking down!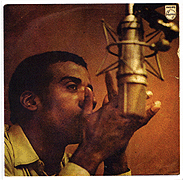 Jorge Ben "Forca Bruta" (Philips, 1970)



(Produced by Manoel Barenbein)
A dreamy, relaxed record -- one of Brazilian funk pioneer Jorge Ben's finest albums. Mysteriously out of print for decades, Forca Bruta is a delightfully laid-back, silky set, featuring backing by the soul-oriented Trio Mocoto, who helped define Ben's sound in the early 1970s. Although this isn't quite the samba-soul funkfest that some collectors have billed it as (I'd say it's more of a stripped-back acoustic samba-pop session...) this is nonetheless a delicious, seductive album, and a couple of the songs on here are regularly included on best-of anthologies ("O Telefone Tocou Novamente," "Charles, Jr.") The rest of the record is quite nice as well, mellow and easy on the ears, but also a labor of love. Recommended!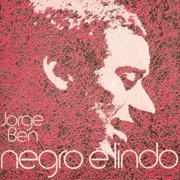 Jorge Ben "Negro E Lindo" (Philips, 1971)


Another beautiful album, recorded during his artistic peak. Mysteriously, this record has remained out of print for years on end, which is weird since it's so damn good. Then again, a couple of songs, such as "Rita Jeep" and "Comanche" are regularly featured on best-of collections, so perhaps the labels feel they have this stuff covered. However, the other tracks, which are never anthologized, are of at least equal calibre -- this is a dynamic, fully-packed album, a classic record where every song is a gem. If you see it, snap it up.
Jorge Ben "Ben" (Philips, 1972)


(Produced by Paulinho Tapajos; arrangements by Osmar Milito)
A lovely, lulling acoustic samba album, with a tasteful brass section, funky bass, and cheerful backup chorus. Features "Taj Mahal," the song which has the original melody to Rod Stewart's plagiaristic "Do Ya Think I'm Sexy?" Stewart got sued for stealing the melody and settled with Ben for an undisclosed large amount of cash. Great record, with a weird, wild, hypnotic mix of acoustic guitar and freaky psychedelic funk noodlings. Challenging, rewarding and fun.


<! 1 Morre o burro fica o homem 2 O circo chegou 3 Paz e arroz 4 Mo¨a 5 Domingo 23 6 Fio Maravilha 7 Quem cochicha o rabo espicha 8 Caramba 9 Que nega ˇ essa 10 As rosas eram todas amarelas 11 Taj Mahal 1993 CD edition: B001FQDKWS B00ZB7QAOM is Dusty Groove limited edition >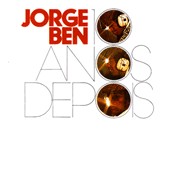 Jorge Ben "Dez Anos Depois" (Phillips, 1973)



(Produced by Paulinho Tapajos)
Sort of a back-handed best-of, this disc features several "popourri" medleys of Ben's greatest hits. Even though his band is very tight, for the most part these tracks lack the rhythmic grace and general ooomph of his best work from the same period. Seems like sort of a contractual obligation/general holding pattern kind of album.

Jorge Ben "A Tabua De Esmeralda" (Philips, 1974)



(Produced by Paulinho Tapajos; arrangements by Osmar Milito)
Another gorgeous, multilayered album, defined by Ben's ever-present acoustic guitar, and urgent yet intimate vocals. The tracks all sound similar, though little production touches -- a violin here, a chorus there -- help keep the album fresh. The Christian proselytization of "Brother" is the only real weak point on here. Otherwise, this is a stunning record, a classic that has several of his best-known songs from the '70s on it. Highly recommended!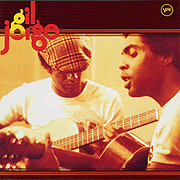 Jorge Ben & Gilberto Gil "Gil E Jorge (Ogum Xango)" (Verve/Polygram, 1975)



(Produced by Paulinho Tapajos & Perinho Albuquerque)
An extended acoustic jam session between Jorge Ben and Gilberto Gil, who apparently just sat down together and cranked it out. It sounds like it, too... full of bouyant, energetic improvisations and vocalizations, but it also seems a bit too loose and formless. It doesn't have enough of a musical core or a relaxed, persistent groove to really slip into it fully. Lots of folks absolutely love this album, though, so you might want to check it out for yourself, but I have to confess it's not my favorite record by either of these artists... Apparently the original Brazilian issue was a double LP set; I'm not sure if there were more tracks on that edition.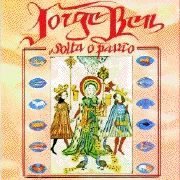 Jorge Ben "Solta O Pavao" (Philips, 1975)



It's come to my attention that one of Jorge Ben's finest albums, a beautiful, mystical, labyrinthine samba-funk-folk masterpiece that's long been out of print, is finally back... albeit, only in pure digital form. Being a old-school techno-saurus, I can rarely bring myself to buy a download album, but in this case it's worth it: this is some of the prettiest Brazilian music you're ever likely to hear, incredible stuff from Ben's absolute peak. Mainly it's full of relaxed, summery tropical acoustic vibes, but there's also a bit of chunky, groovalicious samba-funk in there as well, the kind of stuff that Ben created, perfected, and made his own. Don't take my word for it, though -- check it out for yourself! If you're a longtime Jorge Ben fan, or if you've never heard of the guy before, this record should blow your mind, either way.

Jorge Ben "Jorge Ben A L'Olympia" (Phonogram, 1975) (LP)


Jorge Ben "Samba Nova" (Island Antilles, 1975) (LP)


(Produced by Paulinho Tapajos)
A very lovely acoustic samba collection, culled from his Philips catalog. Gentle and compelling -- a nice, sweet set.


<! A1 Oba, L‡ Vem Ela A2 Zˇ Cangica A3 Apareceu Aparecida A4 Caramba! ... Galileu Da Galilˇia A5 Morre O Burro, Fica O Homen A6 Vendedor De Bananas Cosa Nostra - Bicho Do Mato B1 Paz E Arroz B2 O Circo Chegoo B3 O Namorado Da Viuva B4 Eu Vou Torcer B5 Hermes Trimegistro E Sua B6 Errare Humanum Est > <! 12/09: iffy JPEG quality; only image available >

Jorge Ben "Tropical" (Island Antilles, 1976)


Recorded in the UK, and released outside of Brazil, this disc (and it's sister album, Samba Nova) were relatively common in the USA during '70s and '80s, the Jorge Ben records that most American jazz and world music fans were familiar with. This is a fascinating, transitional release, one that shows more clearly than most the evolutionary nature of his work: here, Ben re-records some of his best songs -- "Pais Tropical," "Os Alquimistas Estao Chegando Os Alquimistas," et. al. -- but in forceful, dynamically muscular versions that echo the masterful funk of the Africa Brasil while also pointing towards the more formulaic world-dance pop of the 1980s and beyond. Some of these tracks are more aggressively performed than on his earlier albums; in part this may be because he was working with a number of non-Brazilian performers (the wicked snare drums and percussion on "Taj Mahal" are intriguing, a blast of salsa-style Afro-Cuban percussion that's a real eye-opener for longtime fans...) There's also plenty of sexy, funky slinkiness: this is Jorge Ben, after all. All in all, a fine album, definitely worth tracking down a copy so you can fill in your knowledge of Ben's best years.


<! recorded in 1976 in UK for Island Records. Perhaps the only Jorge Ben album recorded outside Brazil, featuring new versions of Jorge Ben older songs, done with Brazilian and international musicians. "Tropical" never had a CD reissue in Brazil, and until last week, was completely unknown to me. Jorge Ben fans go to the last consequences when hunting albums. I received several requests of impossible to find records, but no one ever asked or talked about this one, which is a Jorge Ben LP, always worth a lot to give a try. >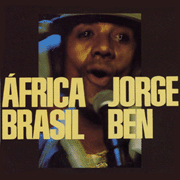 Jorge Ben "Africa Brasil" (Philips, 1976)


Jorge Ben "Africa Brasil" (Philips-Japan, 1998)


(Produced by Mazola)
(Arrangements by Jorge Ben, Jose Roberto Bertrami & Mazola)
In a word -- WOW. Probably the best funk album ever recorded in Brazil, and certainly a high point in Ben's career. Features the often-anthologized "Umbabarauma" and the super-funky "Xica da Silva," along with a whole slew of other great tracks, such as the James Brown/Sly Stone inspired "Hermes Trismegisto Escriveu" and other groove-heavy wonders. A couple of songs are too shrill -- less disco flirtations than just plain old pop-funk gone jittery. One such track is an unfortunate remake of "Taj Mahal," the song from which Rod Stewart swiped the melody to "If You Think I'm Sexy"... Nevertheless, this is a masterpiece, one of the best Brazilian albums of the '70s, with plenty of heavyweight players on it: Jose Roberto Bertrami on keyboards, Wilson Das Neves and Joaozinho on drums, etc.. Absolutely essential, required listening.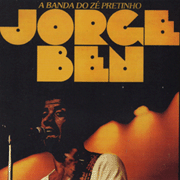 Jorge Ben "A Banda Do Ze Pretinho" (Som Livre, 1978) (LP/CD)



(Produced by Paulinho Tapajos)
Starts off straight disco-samba (though still a notch above many lesser efforts in the same direction...) but swiftly settles into a funky, melodic groove, with a Sly Stone-ish foundation. This may wear down your aversions to the style... more beautiful stuff! (Also issued in Europe under the name Berenice.)
Jorge Ben "Salve Simpatia" (Globo-SIGLA, 1979) B005I03M8O/slipcuecom-20">

Jorge Ben "Salve Simpatia" (Globo-SIGLA, 1979) B005I03M8O/slipcuecom-20">



(Produced by Guto Graca Mello)
A great, groove-infused album, following in the trail of Africa Brasil and Ze Pretinho, though more overtly disco-oriented. It's got all sorts of disco filagrees, but Ben is still very soulful and listenable. Interestingly enough, he seldom indulges in guitar solos, preferring to pump out awesome Muscle Shoals-y rhythm chords. Vocally, he's also in top form. Caetano Veloso duets on one track, "Ive Brussel," and unless I'm mistaken, at least some of the back-up chorus are the same gals who keen away on the classic "Xica Da Silva"... Recommended, though only sporadically in print.
Jorge Ben "Creole Girl" (Pablo, 1979) (LP)


Jorge Ben "Alo, Alo, Como Vai?" (Som Livre, 1980)



(Produced by Jorge Ben, Max Pierre & Lincoln Olivetti)
A hyperactive dance album -- disco-funk with horns for a rhythm section -- that only calms down a little towards the end. I'm sure it could have been a lot worse, but this is a fairly monotonous record, with only a few tracks that stand out. The playful "Cae Cae Caetano" is nice, and some of the slower tunes are easy on the ears.
Jorge Ben "Bem Vinda Amizade" (Som Livre, 1981)






<! LP B001DD5KEE > <! >

Jorge Ben "Dadiva" (Sigla, 1983)



Although he's still got the beat, the sound and feel of this album is a bit too irritating: synthy early '80s dance-pop, with Ben's trademark groove buried deep, deep under the surface. There is worse stuff out there, but there's still no reason to knock yourself out trying to find this disc. Soul singer Tim Maia duets on one track.

Jorge Ben "Sonsual" (Som Livre, 1984)



(Produced by Jorge Ben, Bene Alves & Max Pierre)
A vigorous late-vintage album with Ben drawing on his strengths and keeping the disco/synth stuff in the background. The opening track, "Senhora Dona La Casa," is solid Jorge Ben, with a sweeping, cosmic groove in the style of his early-'70s classics -- maybe not innovative, but sweet and sensuous, something that would fit into any samba-rock mix-tape. There's also a purposefully-goofy (but musically groovy) homage to the star of Flash Dance: "Irene, Cara Mia, and a number of elegant, funky samba pop songs. On the extended medley/jam "Hooked On Samba," Ben is backed by several samba schools, taking turns on each verse. Yeah, there are some tacky production touches, but little that overwhelms the music. All in all, this is a very good record, particularly for this period. Definitely worth a spin!

Jorge Ben "Ben Brasil" (Som Livre, 1986)

Jorge Ben "Sabor Tropical" (1986)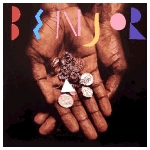 Jorge Ben Jor "Benjor" (Warner, 1989)


(Produced by Liminhas, Nando Reis & Vital Farias)
A credible "world music" studio album, with several longer grooves, anchored by a perky horn section. Not vigorous enough to get me personally all worked up, but not an absolute embarrassment, either.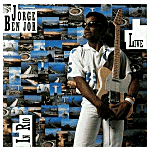 Jorge Ben Jor "Ao Vivo No Rio" (Warner, 1992)


JBJ plays live, and electric, reprising oldies and African-consciousness anthems. Stylistically on the commercial side of things, but certainly not a disservice to his music. Towards the middle of the disc he hits his stride and, despite the jittery pop-funk instrumentation, churns out some pleasantly hypnotic grooves.

Jorge Ben Jor "23" (Warner, 1993)



A surprisingly fun, vigourous album -- all the horn rock stuff he'd been klonking away with during the '80s gels quite nicely on this well-produced record. Definitely worth checking out; I think this is the sound he'd been trying to achieve, and here he finally gets it right. It's still yuppy-ish enough that you could look askance at it, but good enough you could give it a try. The major criticism is that the songs all start to sound the same, but still it's got a groove goin' on.


<! width=0 height=0 ??? >
Jorge Ben Jor "Ben Jor World Dance" (Warner, 1995)


Jorge Ben Jor "Homo Sapiens" (Sony Brasil, 1995)



It's dangerous listening to these later Jorge Ben albums... Why? Because I know I don't like the slick pop sound he had slid into so long ago, but they are still groovalicious and melodic enough for me to get into, in a guilty pleasure kind of way. It's a little like listening to a samba-powered Eddy Grant album -- engaging and even captivating, though I think I'd be a little embarrassed if someone caught me listening to it. Among other guests, this features a member of the rock/ska band, Skank, helping out on vocals. Not bad.
Jorge Ben Jor & Tim Maia "Ben Jor World Dancando A Noite Inteira" (Polygram, 1997)



Jorge Ben Jor "Musicas Para Tocar Em Elevador" (Sony/Epic, 1997)


(Produced by Ronaldo Viana)
Thankfully, Brazil's idea of "elevator music" is a bit livelier than ours: here Jorge Benjor teams up with a series of younger, funk-oriented artists, mostly taking the back seat as they roll through lavish versions of old songs from his Jorge Ben days. Guests include Fernanda Abreu, Carlinhos Brown, Skank, and Paralamas do Sucesso. The results are mostly pretty good -- a smooth pop/funk/reggae mix, with some of the best technical production of any of his recent albums. Standouts include collaborations with Skowa, and a frisky version of "Se Manda," featuring a reconstituted version of the '60s/'70s pop band, The Fevers, as well as a pair of solo tracks which round off the album. Worth checking out.
---


Jorge Ben Jor "Acustico MTV A: Admiral Jorge V" (Universal, 2002)


Jorge Ben Jor "Acustico MTV B: Banda Do Ze Pretinho" (Universal, 2002)


Like their North American counterparts, the artists performing on Brazilian MTV feel free to take a wide latitude with the concept of the "acoustic" show; in Jorge Ben's case, he brings a full-on Barry White-style string section and soul orchestra onto the soundstage with him, creating a fairly gigantic sound. These sleek presentations of his greatest career hits are a little too reserved for me -- it's professional and grandly realized, still sensual and slinky, but lacks any element of danger or chance, more a glorified nostalgia tour than an artistic effort. Still, these arrangements do sound a lot different than the original sambadelic funk recordings of the '60s and '70s, and it's kind of interesting to hear him re-imagine his own work in this manner. I'm not sure, but I'd guess that the DVD concert video is probably more interesting to watch than the CDs are to listen to.

Jorge Ben Jor "Reactivus Amor Est" (Universal, 2004)


(Produced by Jorlando Rollins & Max Pierre)
Can't say this album really did much for me. It's more of Benjor bashing away at his dance-party funk, but these days it's mostly just forward propulsion and precious little melody, sexiness or sway. My opinion grew slightly more charitable when I came back to listen to it again, but I still didn't find myself swept up or engaged on an emotional or visceral level -- this just seemed like he was going through the motions, and not terribly inspired. I'm sure if you were a fan and went to see him play these songs live, your booty would soon get shaking, but the record seems pretty flat and mechanistic. Oh, well.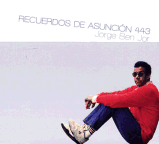 Jorge Ben "Recuerdos De Asuncion 443" (Som Livre, 2007)


(Produced by Guta Graca Mello)
This album is said to be odds 'n' ends from his pop-soul Som Livre years, back in the 1980s... It sounds like it could be, with a mellow, soulful sound that will lull you into his funky wavelength. I'm not entirely sure, though, since the liner notes and Ben's own website place it as a 2007 release, but don't mention earlier recording dates. Hard to tell. But until Jorge writes me himself to set me straight, I'll just call it a "new record by Jorge Ben." It's a pretty nice one, too!
---
Best-Ofs are reviewed on Page Two
---



---