<! MP3 09/12/08, 12/21/09 > <! update 09/12/08, 12/21/09 > <! pix 11/15/09 > <! icons 02/01/11 >

---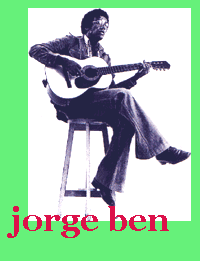 This is Page Two of an annotated discography of the work of Brazilian pop superstar Jorge Ben (now known as Jorge Ben Jor). This page reviews some of the best-of retrospectives of his work, as well as related records by other artists closely associated with Ben Jor, and links to other websites with information about his work. The first page of this discography reviews his individual albums.
---
Jorge Ben: Best-Ofs
---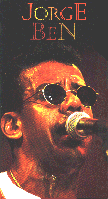 Jorge Ben "Serie Grandes Nomes" (PolyGram, 1995)
You'd be hard pressed to find anything as lavish or as wonderful as this 4-CD collection (pictured at the right...) This is Ben's best work from 1962 to 1976, and man, is it go-o-o-o-o-od! From the bouyant samba-pop of "Mas Que Nada" and "Chove Chuva" to the gorgeous Afro-tropical funk of "Xica da Silva" and "Umbabarauma," this collection is hella nice. All the best songs that get regularly anthologized are here, along with dozens of less well known "album tracks" off of his first dozen releases. Includes a few weak selections, as well as live versions instead of the original studio versions (in some cases, I wouldn't have minded hearing both...) Altogether, this makes a very, very strong case for Jorge Ben having been the coolest of the cool.
Jorge Ben "A Arte De Jorge Ben" (Fontana/Phonogram, 1975)


Absolutely killer! Once again, it's pretty hard to beat anything issued on the A Arte series. This stuff is all awesome, though be aware that the CD reissue has fewer tracks than the original double LP.
Jorge Ben "Ben Jor: Tropical Storm" (Warner, 1989)

Jorge Ben "Sucessos Jorge Ben" (Som Livre, 1991)

Jorge Ben "Que Maravilha - Grandes Sucessos De Jorge Ben Jor" (Globo/Polydor, 1993)

Jorge Ben "Mestres Da MPB, v.1" (Warner, 1996)

Jorge Ben "Mestres Da MPB, v.2" (Warner, 1996)


Ben's post-70s groove rock isn't the best music ever made, but this is a well-chosen representation of that material. Covering 1989-93, this is probably as good a selection as you'll be able to find, and certainly a lot cheaper than getting the individual albums themselves.
Jorge Ben "Grandes Mestres Da MPB" (Warner, 1997)

Jorge Ben "Minha Historia" (Mercury/Universal, 1998)

Jorge Ben "Millennium" (PolyGram, 1998)

Jorge Ben "Grandes Sucessos De Serie Gala" (Gala, 1999)


Jorge Ben "Puro Suingue" (Universal, 2000)



An awesome set of early tracks, leaning towards the acoustic side. Although this includes a couple of tracks off his 1963 debut, the bulk of the songs are from his peak years of 1969-75. It's all too short, but if you can't find reissues of the original albums, or the fab Serie Grandes Nomes listed above, then this is a pretty sweet option. Recommended.


<! 109 x 108 >

Jorge Ben "e-Collection: Sucessos + Raridades" (WEA, 2000)


2-CD set covering his Warner years. The second disc is made up of rarities and outtakes.
Jorge Ben "Enciclopedia Musical Brasileira" (Warner, 2000)


Jorge Ben "Brazilian Hits And Funky Classics" (Manteca, 2001)


A compact collection of his groove-laden late '70s/early '80s stint on the Globo label... There are aspects of this work that seem a bit leaden, but also plenty of deeply funky tunes, particularly songs like "Cade O Penalty" and "Berenice." This is a pretty classy disc; it'd be pretty hard to find a better overview of this period. Recommended!
Jorge Ben "The Unreleased Sessions" (WEA Latina, 2001)

Jorge Ben "Serie Sem Limite" (Universal, 2001)


Recommended. This series of affordable 2-CD sets is one of the best bargains to come out of Brazil in a long, long time. Gathers a bunch of his best material from the Philips years at a very reasonable price. Unexciting artwork, but really great music.

Jorge Ben "Serie Identidade" (EMI, 2002)


Cool! Apparently, this is a "compilation" that's mostly a straight reissue of the elusive 1967 O Bidu album, along with a few randomly chosen tracks from later in his career, tacked on for good measure. Anyway, this is a disc to snap up... as fast as you can!!

Jorge Ben "The Definitive Collection" (Wrasse, 2002)


This British-curated collection wastes no time hitting all the high points, starting off with early hits like "Mais Que Nada" and leaping into funky gems like "Xica Da Silva" and the notorious "Taj Mahal." It's all stuff from his Phillips years, so none of the later Warner or Sony material intrudes on the funky sensuousness of his early glory years. Of course, it omits the super-groovydelic material from the O Bidu album -- which no one currently seems to have the rights to -- which makes it slightly less than an ultimate best-of... But then again, nobody else has that out on CD, either, so this is one of the finer collections out there today. Pick it up if you get a chance!
Jorge Ben Jor "Football & Samba Groove Association" (Planet Rhythm, 2006)



"The artist's songs inspired by football..."
Jorge Ben "Original" (Universal-Japan, 2007)
Classic '60s/early '70s samba-soul recordings.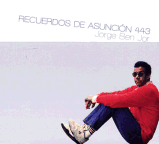 Jorge Ben "Recuerdos De Asuncion 443" (Som Livre, 2007)


(Produced by Guta Graca Mello)
This album is said to be odds 'n' ends from his pop-soul Som Livre years, back in the 1980s... It sounds like it could be from that era, with a mellow, soulful sound that will lull you into his funky wavelength. I'm not entirely sure, though, since the liner notes and Ben's own website place it as a 2007 release, but don't mention earlier recording dates. Hard to tell. But until Jorge writes me himself to set me straight, I'll just call it a "new record by Jorge Ben." It's a pretty nice one, too! It's funky and mellow, but relaxed in a way that his more aggressive pop and disco records sometimes are not. Worth checking out!
---
Related Records
---
Trio Mocoto "Muita Zorra" (Phonogram, 1971)


These fellows were Jorge Ben's back-up band in the late '60s , and worked with him on his 1969 Jorge Ben and 1970 Forca Bruta albums, during his funkiest years. They also branched out on their own during the early '70s, and currently have a website (listed below).
Trio Mocoto "De TM A JB" (Sinter, 1972)
This is a 4-song EP that -- as far as I can tell -- hasn't been included on any recent reissues.

Trio Mocoto "Trio Mocoto" (RGE, 1973)


I've only heard this on a rather expensive CD reissue... which I'm not entirely sure is worth the price of admission. At any rate, this album starts off at a gallop, with a Sly Stone-d funk number, but bit by bit loses its way, until it terminates with a goofy instrumental rendition of "Raindrops Keep Falling On My Head". Not awful in the classic Brazilian pop manner, but still a little muddled. Soul and acid jazz fans will definitely want to check this one out, but others may wish to tread carefully. If you've liked the other Trio Mocota album, this might also be worth a shot.
Trio Mocoto "Trio Mocoto" (Brasis/Movieplay, 1975/1999)


Same title, same era -- different album. These later recordings are simultaneously soulful and slightly goofy, with an easygoing mix of groove and easy listening -- jazzy guitars, samba percussion and a light string section, very typical of late '60s/early '70s Brazilian pop... It doesn't have the same grit and drive as their work with Ben, but it stops well short of being outright Muzak, and has a fair share of sly, soulful moments. It's not earth-shaking , but well worth checking out.
Trio Mocoto "Samba Rock" (Six Degrees, 2002)



These old guys have still got it... in fact, I'd even say this disc is stronger overall than their "classic" early work, reviewed above. Nice, chopsy funk and soul, with predictable, but delicious dips into rap and electronica. What's great about this album is the old-timer confidence that these guys exude throughout. Definitely worth checking out.
Trio Mocoto "Beleza! Beleza! Beleza!" (Crammed Disc, 2004)


Jorge Ben/Various Artists "Ben Jor's Children -- Love & Respect To Jorge Ben Jor" (Universal-Japan, 2007)
An homage to Jorge Ben, featuring remixes and cover tunes from the likes of Colour Girl, Grupo Batuque, Rhythm Syndicate, Salome De Bahia, and Sambasonics.
---
Links
---
---



---