<! MP3 09/12/08, 01/25/11 > <! update 09/12/08, 01/25/11 - found cheaper versions > <! pix 11/18/09 > <! icons 01/25/11 >

---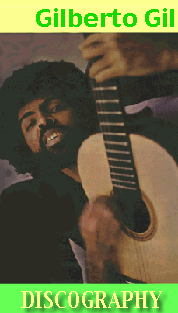 Remember back in the early 'Seventies, when Stevie Wonder could do no wrong? The guy was on fire, tossing off one sublime album after another, with an amazing mix of soul, funk and gospel that expressed a pop spirituality that had rarely been heard before. And then... somehow... he wound up singing "Ebony and Ivory" and "I Just Called To Say I Love You"...
Gilberto Gil is kind of like that. One of Brazil's most frustrating superstars, Gil also had an early burst of pop fame, and rapidly made his way into that musical state of grace where everything you do seems to shimmer magically. His early stuff is so great, so spellbindingly confident and melodic, that it's hard to reconcile it with the abysmal drekkiness of nearly everything he's done since the mid-1970s. More than any other of the tropicalistas, Gil wholeheartedly embraced mainstream pop -- of the disco and post-disco synthpop variety -- and unfortunately it makes his later music pretty hard to listen to. Recent albums have shown signs of renewed vigor, but the casual listener should still tread carefully.
Gil, along with Caetano Veloso, Maria Bethania, and Gal Costa, was one of the founding members of the revolutionary late-60's Tropicalia movement, which deliberately distorted and challenged the conventions of Brazilian popular culture. They pushed the envelope musically -- mixing American blues, funk, psychedelia and European kitsch to the already potent Brazilian brew of samba, choro, bossa nova and jazz.
In 1968, Gil and Veloso ran afoul of the dictatorship which had taken over Brazil in 1964 -- their music and their politics were too radical, and their popularity too threatening for the times. Accordingly, they were briefly imprisoned in 1969, and then exiled to Europe. Both artists returned to Brazil in 1972. Ultimately Gil got the best of his political foes. After the dissolution of the dictatorship in the '80s, Gil entered politics, enjoying a career as a councilman in the city of Salvador, and as an environmental activist. He still tours, and every once in a while he knocks off a brilliant album -- though from 1976 to 1990 or so, it's pretty rough going.
---
Discography: 1960s-'70s | 1980s-Present | Collections & Links
---

Gilberto Gil "Salvador: 1962-1963" (Warner, 2003)


An amazing treasure trove of Gilberto Gil's earliest work. Through television and radio appearances, Gil was famous several years before the advent of the "tropicalia" scene that he and Caetano Veloso masterminded. This archival set, assembled by Brazilian music scholar Marcelo Froes, collects several of Gil's earliest known recorded works, mainly robust, slightly clattersome samba tunes, old-fashioned material that shows him rooted in the Carnaval and samba-cancao styles of the pre-bossa era. The energy and enthusiam with which Gil tackles the material is impressive: while many singers of the time strove for a cool, relaxed style, Gil tears into the songs, pouring as much power and playfulness into each performance as he can. This disc is very short timewise -- little more that twenty minutes long -- and the songs were not originally recorded with great sound quality, but the historical value is immense, and Gil's fans will love hearing him so youthful and so passionate. Recommended... but maybe only after you've become familiar with his later, more classic work.
Gilberto Gil "Gilberto Gil - Sua Musica, Sua Interpretacao" (RCA, 1963)
A four-song EP, released along with a 7" single that same year.

Various Artists "EU VIM DE BAHIA" (RCA/BMG, 2002)


Each of the artists in the "group from Bahia" that Caetano Veloso and Gilberto Gil formed made their first recordings for the Brazilian wing of RCA (and each subsequently moved on to record for Philips). This CD collection, long overdue, gathers many of the early singles by Veloso, Gil, Gal Costa (then called Maria Gracia), Tom Ze and Veloso's sister, Maria Bethania. Of the group, Bethania and Gil were clearly the most confident -- he had several years of performing experience under his belt by the time of his 1965 recordings of "Roda" and "Procissao," and she was a rising star in the Brazilian theatre. Even so, Bethania's husky vocals, though powerful and distinctive, were slightly overwhelmed by the clattersome arrangements, particularly on her hit, "Cacara," and most of these tracks -- Gil's being the exception -- suffer from relatively poor engineering and musical accompaniment that was a hangover from the early '60s bossa-jazz scene. This 12-song collection is lamentably short, only covering their recordings from 1965, but it's an invaluable (and quite charming) glimpse at the earliest work from one of Brazil's most influential groups of musicians. If you see it anywhere, snap it up.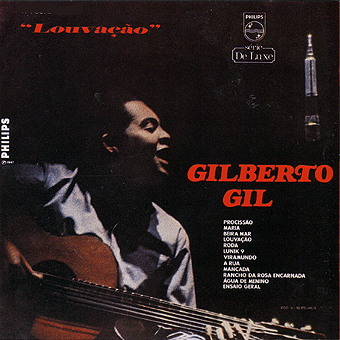 Gilberto Gil "Louvacao" (Philips, 1967)



Perhaps his most conventional, most bossa nova flavored, album, and also one of his dreamiest and best. Although many of these early songs were also recorded by reigning pop stars of the time (such as Elis Regina), Gil's versions are superior, and many of the songs on this album wind up on his various best-ofs. Gil's gentle voice and deft acoustic guitar work mesh well with the studio back-up -- strings, flute and percussion -- and his presence is so strongly felt that it's clear this is an artist who will rise above the musical conventions of his time. Although the liner notes aren't clear, I suspect that the accordeon on "Viramundo" is by the forro great, Dominguinhos... this one's a real winner.


<! old import - B00005A1FT >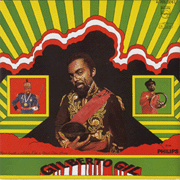 Gilberto Gil "Gilberto Gil" (PolyGram, 1968)


A pivotal album from the tropicalia years, with several great tunes and a few great flaws. The wacky rock band, Os Mutantes, back Gil up, adding a tasty '60s rock influence to tracks such as "Procissao" and "Coragem Pra Suportar." Beatles-y electric guitars converge with a zippy orchestra section and transmogrified samba rhythms, sometimes to wonderful effect. Much of this record has the goofy, rickety, absurdist character of the Mutantes own albums. As a result, some tracks meander, while others really rock. Recommended, although the digital mastering on the 1993 CD reissue seems somewhat sterile and flat, compared to the original LP.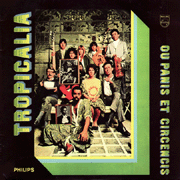 Various Artists: "TROPICALIA: OU PANIS ET CIRCENSIS" (Polygram, 1968)


(Produced by Rogerio Duprat)
A collaborative statement of purpose for the hippie-ish tropicalia movement, with contributions from Gilberto Gil, Os Mutantes, Nara Leao, Gal Costa and Caetano Veloso. Gil shines on this disc, coming off as a focussed, potent artist, particularly on his solo numbers. He co-wrote about almost half the songs on here, and takes part in several excellent cover tunes. Overall, this disc radiates youthfulness and a playful, experimental artistic zeal. Definitely recommended.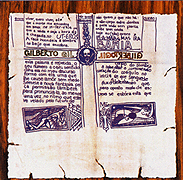 Gilberto Gil "Gilberto Gil" (Philips, 1969)


An excellent psychedelic rock album -- easily one of the best records of the tropicalia era. Occasionally drifts apart but mostly this album strikes an outstanding balance between Amazonian folk elements and the bluesy Summer of Love electric guitar freakouts. Includes several classic tracks such as "Aquele Abraco" and "Cerebro Eletronico," which are regularly anthologized, but there are other well-deserving tracks on here as well. HIGHLY recommended. (PS -- Like other Brazilian stars, Gil had trouble coming up with new album titles -- the cover art on this one is of a frayed parchment with some wacked-out Gil lyrics written on it...)


<! old import link - B00005A1FG >

Gilberto Gil "Gilberto Gil" (Philips, 1971)


While in European exile, both Caetano Veloso and Gilberto Gil made English-language albums; this one is the best of the two. Rather than mope and wax profound (like Veloso), Gil partied down. The title of one track, "Three Mushrooms," gives you some idea of where his head was at... ("The first mushroom/makes room for my mind/to get inside the magic room/of Dionysius' house...") A few tracks, such as "Nega," "Crazy Pop Rock," and "Volkswagen Blues" often show up on best-ofs, but in their electric forms... here they get a lovely, wacked-out, improvisational acoustic treatment. Also features a nice version of Steve Winwood's "Can't Find My Way Home," which tackles the exile issue elliptically rather than literally. Highly recommended -- one of Gil's best!


<! OOP import linked to by B00005A1FH B000P7V41M >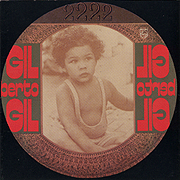 Gilberto Gil "Expresso 2222" (Philips, 1972)



Happy as a clam to be back in Brazil, Gilberto popped out this wonderful gem. Most tracks draw deeply from the jazz fusion sound of the times, especially with the bouncy keyboards and light touch on the electric guitars. However, Gil starts the album out the other end of the spectrum, reaffirming his love of indigenous Brazilian music with a short track featuring the folkloric band, Pifanes de Caruaru... Also, his breezy, scatting version of the old hit, "Chiclete Com Banana" helped bring the music of forro legend Jackson Do Pandeiro back into fashion. A few tracks on here may get a little grating, but basically this is a joyous, boisterous, classic album. Nice stuff!


<! OOP import linked to by B00004TT09 > <! Lanny Gordin on this album? >

Gilberto Gil & Caetano Veloso "Barra 69: Caetano e Gil Ao Vivo na Bahia" (Philips, 1972)



In 1968, the Brazilian dictatorship briefly imprisoned several artists, including Gilberto Gil and Caetano Veloso, in an effort to curb the popular influence of the tropicalistas. Once the singers got their warning and were released, Veloso and Gil promptly went off and staged several concerts, partly as an act of political defiance, and partly as a fundraiser to pay for their eminent and inevitable European exile. This CD is a document of two shows in July, 1969 -- spirited and adventurous pop-psychedelic rock, but with terrible sound quality. The guitars come in okay, though a bit muffled, and the vocals are completely overmodulated. A tantalizing glimpse at Brazilian pop-psych in glorious full swing, and an important historical document, but after a while the disc is unlistenable.

Caetano Veloso/Gal Costa/Gilberto Gil "Temporada De Verao Ao Vivo Na Bahia" (Philips, 1974)


A servicable concert album with occasionally irritating, middle-of-the-road '70s instrumentation. Of the three, Gil puts the most into his performance, scatting and maniacally improvising his vocals for four peppy tunes, which are enjoyable despite cheesy keyboards. On the flip side, Caetano seems a bit too cool and detached to be much fun, and Costa's two tracks are a bit too lounge lizard-y for my tastes. Not a bad album, but not overly engaging, either.

Gilberto Gil "Ao Vivo" (Mercury/PolyGram, 1974)


An entrancing live album with several lengthy, dreamy, slightly fusion-y tracks. Gil scats along with the electric guitar, it gets slightly George Bensonesque, but it's still sweet. Gentle, subtle accompaniment from a small band, while Gil just goes wild with rapturous vocalization. The only problem is that it ends so soon. Highly recommended.


<! import ASIN- B00005A1FJ >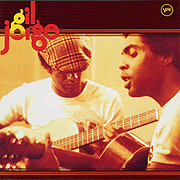 Gilberto Gil & Jorge Ben "Gil E Jorge (Ogum Xango)" (Verve/Polygram, 1975)



An extended acoustic jam session between Bahian samba-funk pioneer Jorge Ben and Gilberto Gil, who apparently just sat down together and cranked it out. It sounds like it, too... full of bouyant, energetic improvisations and vocalizations, but it also seems a bit too loose and formless. It doesn't have enough of a musical core or a relaxed, persistent groove to really slip into it fully. Lots of folks absolutely love this album, though, so you might want to check it out for yourself... Apparently the original Brazilian issue was a double LP set; I'm not sure if there were more tracks on that edition.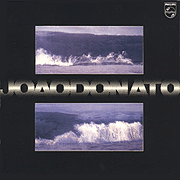 Joao Donato "Lugar Comun" (Philips, 1975)


An eye-opening collaboration between MPB star Gilberto Gil, who co-wrote most of these songs, and Braz-jazz pianist Joao Donato. It's a brisk, playful jazz-fusion lovefest, with gliding, glitzy riffs and a sense of silliness that helps draw you in. If you really loathe fusion music -- and many people do -- then avoid this album at all costs. But if the funkier end of '70s fusion captures your imagination, then this disc can be considered a stone-cold classic. For me, it's a guilty pleasure: I listened to it several times and marveled at its groovy richness... Then my wife came in and complained about the crap I was listening to... It's that kind of record. At any rate, this is a landmark album for Brazilian MPB, and it's strange that it is so rarely mentioned in relation to Gil's career; he is a major collaborator and this is something of a "lost" album from his peak creative years... Defintely worth checking out!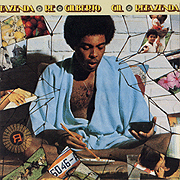 Gilberto Gil "Refazenda" (Warner-Brasil, 1975)



Gil's last great album of the decade, this beautifully arranged masterpiece is a multicultural mix-and-match along the lines of Jorge Ben's self-titled 1969 album: it starts off with Jerry Reed-style twangy guitar, and swiftly moves on to intertwine graceful string arrangements, forro informed accordion, subtle pop rock guitar and Gil's drifting falsetto. A very mellow, reflective album, with a folkish tint -- I wouldn't be at all surprised to learn that Gil had been listening to a lot of Joni Mitchell at the time. A shame and a bafflement that he went downhill so rapidly after making such a skillful, lavishly produced album as this -- for whatever reason he had attained a moment of grace, then stepped swiftly away. This is the first of Gil's "Trilogy Re" albums on Warner Brothers, and one of his last listenable solo albums for a long, long time to come. Highly recommended!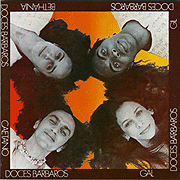 Maria Bethania/Gal Costa/Gilberto Gil/Caetano Veloso "Os Doces Barbaros (The Sweet Barbarians)" (Philips, 1976)



A live reunion of "the group from Bahia"... the leading lights of the tropicalia movement. This is an upbeat, though manic, performance, deeply influenced by contemporary jazz-funk fusion, but with a distinctive Brazilian flavor.. The vocals are charged with enthusiasm and joyfulness, but are still raggedy and at times a bit grating, particularly Costa and Bethania. Not surprisingly, the calmest, most compelling moments are Veloso and Gil's -- but everyone's so edgy you can't help but wonder if all four were on something that night. (Anything's possible, I suppose...) Underneath it, though, is a powerful musical vigor -- the band is tight, the funky arrangements are sharp and inventive, and in many ways this can be seen as the last blast from the peak years of Tropicalia's immense impact on Brazilian culture. Definitely worth checking out, though a little hard to listen to recreationally.


<! 144 x 144 >

Gilberto Gil & Rita Lee "Refestanca" (EMI, 1977)


(Produced by Guto Graca Mello)
Ex-Mutantes vocalist Rita Lee and tropicalist Gil perform together live, mixing their two bands and their material with interesting results. At first blush, this pairing might seem like a mismatch, but makes sense when you consider the poppy direction Gil was already headed in with his new Warner Records contract. Rita Lee's cowbell-and-guitar-solo Northamericano stadium rock is kind of jarring and silly but fascinating nonetheless. It's a side of mid-'70s Brazilian pop that doesn't get a lot of exposure, and this is probably about as good as the style gets. Might be a little embarrassing if you were caught really rocking out to it, though.


<! 144 x 144 >

Gilberto Gil "Refavela" (Warner Brasil, 1977)



In 1977 Gil and Caetano Veloso travelled to the Negro Festival of Art and Culture in Lagos, Nigeria, where their exposure to West African music had a strong impact on them both. Veloso recorded his own percussion-heavy album, "Bicho," this album is Gil's response. For the most part it's too lite pop for me; perhaps the first of Gil's bad records. Not entirely unlistenable, but you really have to struggle to get into it. The highlife-flavored "Balafon" is one of the most identifiably African songs on the album; other tracks follow in the soft-pop style which Gil was already headed.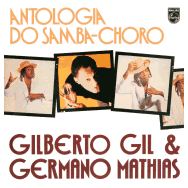 Gilberto Gil/Germano Mathias "Antologia Do Samba-Choro" (Philips, 1978)


(Produced by Roberto Santana & Paulo Sergio)
While arguably at the peak of his fame, superstar Gilberto Gil dips into nostalgia, honoring '50s samba singer Germano Mathias, who was a master of the dynamic, swinging "samba de breque" style. This is an odd album in that the tracks alternate between classic tracks recorded by Mathias in 1958 and contemporary recordings made twenty years later by Gil with his funky, mid-'70s MPB sound. He's backed by a slick studio crew that included several veteran studio musicians of the "radio singer" era, such as sax players Aurino and Ze Bodega, baiao legend Jackson do Pandeiro and notable younger players such as drummer Paulinho Braga. The archival Germano Mathias tracks sizzle with energy and good cheer, and for an oldies fan like myself, they dominate this album, though Gil's sleek reinterpretations of Mathias's old hits are also quite nice. This is Gil at the cusp, playing electrified pop that still has soulfulness and joy -- it's a good band, and while the production flirts with synthy overproduction, the perfromances sound vital and fresh. A very good record and one of Gil's best nods towards the past... It's a pity more of Mathias's old, original recordings aren't available -- still...!!! -- for fans who were excited by what they heard here.


<! F‹ de Germano, Gilberto Gil gravou em 1978 o ‡lbum "Antologia do Samba-Choro", que traz tambŽm algumas gravaŤ›es originais do sambista nascido na Rua Santa Rita, no bairro paulistano do Pari. 01 - Acertei no milhar (Geraldo Pereira-Wilson Batista) - Gil 02 - Falso rebolado (Ven‰ncio-Jorge da Costa) - Germano 03 - Escurinho (Geraldo Pereira) - Gil 04 - Minha pretinha (Jair GonŤalves-Edison Borges) - Germano 05 - Senhor delegado (Jaś-Antoninho Lopes) - Germano 06 - Senhor delegado (Jaś-Antoninho Lopes) - Gil 07 - Minha nega na janela (Firmo Jord‹o-Germano Mathias) - Gil 08 - N‹o volto para casa (Oswaldo Guilherme-Denis Brean) - Germano 09 - A situaŤ‹o do Escurinho (Padeirinho-Aldacyr Louro) - Gil 10 - Rua (Jair GonŤalves) - Germano 11 - Samba rubro-negro (Jorge de Castro-Wilson Batista) - Gil Arranged by: Ant™nio Perna Fr—es and Gilberto Gil (1,7) Gilberto Gil and J.T.Meirelles (3,6,9,11) (1,3,6,7,9,11) Gilberto Gil - acoustic guitar, guitar Jackson do Pandeiro - pandeiro Paulinho Braga - drums Rub‹o Sabino - electric bass Cidinho Teixeira - piano Aurino Ferreira de Oliveira - tenor sax, baritono sax JosŽ Barreto Sobrinho - trumpet Maur'lio da Silva Santos - trumpet Wagner Nagele - trumpet Celso Woltzenlogel - flute Jorginho da Flauta - flute Netinho - clarinet ZŽ Bodega - clarinet, tenor sax Jo‹o Gomes - tamborim Walter Batista Azevedo - trombone Geraldo Gomes - agog™ Melqu'ades Cavalcanti - maracas Germano Mathias (2,4,5,8,10), original records from 1958 >

Gilberto Gil "Ao Vivo: Montreaux International Jazz Festival" (Elektra, 1978)



A two record set with Gilberto rocking out to "Batmacumba," "Chuckberry Fields Forever," "Ela," "Procissao," and others. It's quite nice: another cool look at Gil's live sound at the peak of his powers.

Gilberto Gil "Realce" (Warner Brasil, 1979)



His first headlong dive into glossy, North American-style pop. Disco tinged, and for the most part off-putting. But of all his mainstream pop albums, this is one of the better produced and least drekky -- at least it sounds like there are human beings playing the instruments, and not some Axel F wannabees. Contains a fairly silly bilingual version of Bob Marley's "No Woman No Cry," as well as a couple of tracks Gil has reworked over the years. Not my cup of tea, but I can see the appeal.

Gilberto Gil "Nightingale" (Elektra, 1979)


A decidedly fluffy pop album, produced by Sergio Mendes and recorded in Los Angeles with several North American studio cats in tow. Considering that this came out at the peak of the disco scene, it's not nearly as bad as it could have been, but it also ain't great. Gil sings in English on most of the tracks, which lends it an air of kitschiness.
---
1980s-Present | Best-Ofs, Tributes and Links!
---



---