<! MP3 09/12/08, 12/05/09, 01/23/11 > <! update 09/12/08, 01/23/11 > <! pix 12/05/09 > <! icons 01/23/11 >

---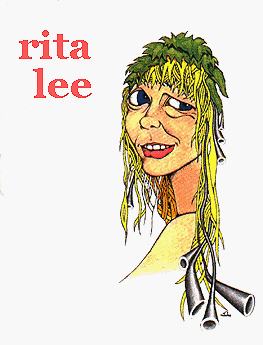 Brazil's official '70s rocker chick... their version, perhaps, of Grace Slick or Linda McCartney. Rita Lee started out her rock career as a teenage member of the psychedelic/tropicalia cult-favorites Os Mutantes, though she left the band in 1973. Her solo career was far more successful commercially than the Mutantes, who degenerated into a marginal prog-pop outfit after several brilliant early albums. Later stuff by Rita Lee may be less appealing to folks who are expecting the wild stuff of days gone by... but she certainly proves herself capable of pulling some surprising rabbits out of her hat from time to time.
---
Discography
---
With Os Mutantes: See the Slipcue Mutantes Discography
---
Rita Ree Solo Albums
---

Rita Lee "Build Up" (Philips, 1970)


(Produced by Arnaldo Baptista & Rogerio Duprat)
I'd be stretching things a bit to say that this is a great album, but it certainly is interesting, and it's definitely diverse. Lee veers away from the raucous -- and the folksy -- feel of the early Mutantes albums, and aims instead for an album which showcases her as a non-rock vocalist, in a variety of styles. Most of the Mutantes crowd pitches in, including Sergio Dias and Arnaldo Baptista (who co-wrote several songs and acted as music director, along with Rogerio Duprat, the Phil Spector of tropicalia). Stylistically, this is all over the map, starting off with a brisk (and mildly irritating) romp into showtune territory ("Sucesso, Aqui Vou Eu"), then moves into demi-cowboy pop, a Euro-mod take on Georges Moustaki's "Joseph," and a horrid Beatles cover ("And I Love Her"...) The best track on here is "Hulla-Hulla," a brilliant tropicalia melange of calypso, rock and Hawaiian music, co-written with Elcio Decario. But, as I say, this is not a brilliant album -- a lot of it is simply iffy, taxing early '70s experimentalism. If you're a Mutantes fan, this is worth checking out, but don't say I didn't warn you.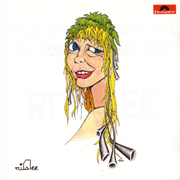 Rita Lee "Hoje E Primero Dia Do Resto De Sua Vida" (Philips, 1972)


(Produced by Arnaldo Baptista)
A very solid album, and really, for all intents and purposes, an Os Mutantes record. Sergio and Arnaldo both perform on here, as does fill-in member Arnolpho Lima (aka Liminha). The approach is very Mutantes-ish, though, really this is way better than most of the band's official albums. Sure, it's just as goofy and clunky, but the ideas and mood are more sustained from track to track, and as an album it hangs together much better. Prescient parodies of lounge music and lumpen boogie rock seek a detente with some seriously artsy/psychedelic efforts, including music concrete and cute tape loop effects... very similar in tone to Caetano Veloso's album, Araca Azul, from the same year. I dunno if this is something you'd put on for visiting company, but if you've come this far with the whole Tropicalia thing, then you should certainly check this one out.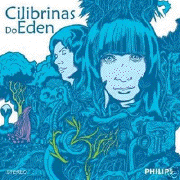 Cilibrinas Do Eden "Cilibrinas Do Eden" (Philips, 1973)


A stunning psychedelic-rock reissue from the vaults of the Brazilian tropicalia scene... This is cool acid rock album from Lee, singing semi-solo along with her friend Lucia Turnbull and (as was common in her early solo career) some help from her buddies in Os Mutantes. Turnbull is a cipher to me -- outside of this album, I know very little about her -- but this album is a real dazzler, one of Lee's grittiest and most impressive rock records, better than pretty much anything she did with her '70s solo band, Tutti Frutti. It features Brazilian cult classics like "Ainda Bem (Bad Trip)" and some of the wickedest electric guitar work of her career. This album was built around an electrifying performance at the 7th International Song Festival, in 1972 -- a live concert single (also included here) led to a studio recording, all of which is pretty striking. The album's original liner notes make nods towards Alice Cooper and the subversive hard rock of the era, and unlike the 1970s Mutantes and Tutti Frutti albums, this disc doesn't tilt as heavily towards a commercialized, stadium-rock sound, sticking instead to the more piercing, disturbing end of the glam/hard-rock/psychedelic spectrum. It's pretty cool, if not entirely the kind of record you'd want to relax to at home. If you can track it down, this is definitely worth snapping up.


<! Rita Lee & Lúcia Turnbull Cilibrinas do Éden Autor: Ricardo Lerner (ricler2005); recebida em: 26/03/2006. Consegui finalmente ouvir na íntegra o álbum Cilibrinas do Éden, gravado entre o final de 1973 e início de 1974, mas nunca lanćado comercialmente pela Phillips que guardou as fitas da gravaćčo, segundo diziam esse álbum era anti-progressivo e seria uma forma de protesto da Rita que nčo concordava com os rumos que o Mutantes estava comećando a trilhar tornado-se um banda de Rock Progressivo, dizia-se que esse álbum seguiria uma linha acústica voltado as raízes do rock sem sintetizadores e efeitos de estúdio. As 4 primeiras faixas sčo rocks para agitar o barraco e danćar muito, incluindo os futuros hits, Mamče Natureza e Gente Fina É Outra Coisa além de uma cover da conhecida Minha Fama de Mau da Jovem Guarda e um rock básico chamado E Vocź Ainda Duvida. A partir da 5Ľ faixa a coisa muda de figura, as faixas comećam acústicas e em alguns momentos passam a usar sintetizadores, guitarras elétricas e fuzz e alguns efeitos interessantes, opa, o álbum nčo era para ser acústico? Porque a mudanća de rumo no meio das gravaćões? Uma característica muito legal é que os vocais nčo sčo só da Rita Lee, ela alterna essa funćčo com a Lúcia Turnbull, muitas vezes com elas cantando em dueto ou alternando o vocal principal. No geral um álbum bem produzido com um estilo bem diferente do que a Tia Rita fez posteriormente, é um álbum de transićčo em que a Rita Lee fica em dúvida sobre qual caminho seguir após sua saída dos Mutantes e os problemas pessoais advindos disso. Cabe destacar a faixa 10 - Cilibrinas do Éden, extremamente experimental em que a Rita Lee e a Lúcia Turnbull distorcem sua voz com efeitos de estúdio e sintetizadores banhados com muitos efeitos estranhos e psicodélicos. Uma faixa totalmente anti-comercial e no mínimo curiosa. Se quiserem baixar o álbum cliquem aqui. Vale a pena conhecer, mesmo que seja, por pura curiosidade. >

Rita Lee "Atras Do Porto Tem Uma Cidade" (Philips, 1974)



(Produced by Mazolla)
Now officially no longer a member of Os Mutantes, Lee pursues a fairly similar musical direction - proggish boogie rock which they hope will pass as glam. Her new band, Tutti Frutti, dress like Gary Glitter clones, but they play fairly belabored, sometimes math-y, guitar rock... the most interesting touch is a frequently-used rising synth riff, lifted straight out of the Zombies' "Hung Up On A Dream." This is still borderline noteworthy, but (in all honesty) still a bit hard to take. If you were able to hang with the later Mutantes albums, then this might also work for you.

Rita Lee "Fruto Prohibido" (EMI, 1975)


(Produced by Andy Mills)
Another hard-edged boogie rock album, with the band now known as Tutti Frutti. This was Rita Lee's first big commerical success; decades later, it's pretty hard to get into. Dutifully banging away at the hard rock riffs of the day, she's pretty much in the swing of things for the times... But since I don't normally sit around listening to old Mountain albums, or Gentle Giant, this doesn't totally bowl me over. Good for what it is, and if you have a hankering to track down all the significant Brazilian rock from the '70s, probably worth checking out.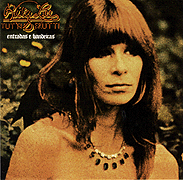 Rita Lee "Entradas E Bandeiras" (EMI, 1976)


(Produced by Peninha Schmidt)
Straight-ahead '70s rock, with plenty of goofy electric keyboard riffs (lifted directly from Keith Emerson...) and crisp guitar riffs. This is as good as most of the English-language commercial rock coming out around the same time... Which is to say, some folks will find it awful, and others will find it cool. Interesting to hear stadium rock being made at this high a level in mid-'70s Brazil -- it sounds kind of like latter-day Pretty Things, only sung in Portuguese, and by a gal. At least she hadn't gone disco yet! Worth checking out.

Rita Lee & Gilberto Gil "Refestanca" (EMI, 1977)


(Produced by Guto Graca Mello)
Ex-Mutantes vocalist Rita Lee and tropicalia legend Gilberto Gil perform together live, mixing their two bands and their material with interesting results. At first blush, this pairing might seem like a mismatch, but makes sense when you consider the poppy direction Gil was already headed in with his new Warner Records contract. Rita Lee's cowbell-and-guitar-solo nordeamericano stadium rock is kind jarring and silly but fascinating nonetheless. It's a side of mid-'70s Brazilian pop that doesn't get a lot of exposure, and this is probably about as good as the style gets. Might be a little embarrassing if your friends caught you really rocking out to it, though.

Rita Lee "Babilonia" (EMI, 1978)


(Produced by Guto Graca Mello)
In musical terms, this is the beginning of the end for Lee... Oh, sure, she made plenty of well-written and meaningful songs in years to come after this, but once that disco tinge started to creep into the mix, the real pep went out of her work and she became just another slick MPB professional. This is still essentially a '70s rock album, but it lacks the frantic glimmers of her old sound, and isn't terribly exciting. I like the soft acoustic "Que Loucura," and the cat-related "Eu E Meu Gato" that follows, but really that's about it. Worth checking out, but hard to want to hang onto.
Rita Lee "Rita Lee" (EMI, 1979)


I had this one, briefly, and didn't care for it much... sort of jittery late-'70s AOR, with a creeping disco undertone. By the way, of the many albums entitled "Rita Lee," this is the one that has the following tracks: "Chega Mais," "Papai, Me Empresta O Carro," "Doce Vampiro," "Corre-Corre," "Mania de Voce," "Elvira Paga," "Maria Mole" and "Arrombou a Festa II." Now you know.


<! 1 Chega mais Ouvir (Roberto de Carvalho, Rita Lee) 2 Papai me empresta o carro Ouvir (Roberto de Carvalho, Rita Lee) 3 Doce vampiro Ouvir (Rita Lee) 4 Corre-corre Ouvir (Roberto de Carvalho, Rita Lee) 5 Mania de vocź Ouvir (Roberto de Carvalho, Rita Lee) 6 Elvira Pagč Ouvir (Roberto de Carvalho, Rita Lee) 7 Maria mole Ouvir (Guto Graća Mello, Rita Lee) 8 Arrombou a festa II Ouvir (Paulo Coelho, Rita Lee) >

Rita Lee "Rita Lee" (Som Livre, 1980)





<! 1 Lanća perfume (Roberto de Carvalho, Rita Lee) 2 Bem-me-quer (Roberto de Carvalho, Rita Lee) 3 Baila comigo (Rita Lee) 4 Shangrilá (Roberto de Carvalho, Rita Lee) 5 Caso sério (Roberto de Carvalho, Rita Lee) 6 Nem luxo nem lixo (Roberto de Carvalho, Rita Lee) 7 Jočo Ninguém (Roberto de Carvalho, Rita Lee) 8 Ôrra meu (Rita Lee) >

Rita Lee & Roberto Carvalho "Suade" (Som Livre, 1981)


Rita Lee & Roberto Carvalho "Rita Lee E Roberto De Carvalho" (Som Livre, 1982)


Mostly terrible, kind of embarassing post-disco pop, with a few glimmers of '50s retro kitsch. Her voice is nice, but the music just doesn't hold up. There is a lovely duet, though -- an acoustic version of "Brazil Com S" -- that is pretty darn nice.


<! 1 Flagra Ouvir (Roberto de Carvalho, Rita Lee) 2 Barriga da mamče Ouvir (Roberto de Carvalho, Rita Lee) 3 Barata tonta Ouvir (Roberto de Carvalho, Rita Lee) 4 Frou-frou Ouvir (Roberto de Carvalho, Rita Lee) 5 Vote em mim Ouvir (Roberto de Carvalho, Ezequiel Neves, Rita Lee) 6 Só de vocź Ouvir (Roberto de Carvalho, Rita Lee) 7 Brazil com S Ouvir (Roberto de Carvalho, Rita Lee) 8 Cor-de-rosa choque Ouvir (Roberto de Carvalho, Rita Lee) 9 Pirata cigano Ouvir (Roberto de Carvalho, Rita Lee) 10 O circo Ouvir (Roberto de Carvalho, Rita Lee) >

Rita Lee & Roberto Carvalho "Bombom" (Sigla/Som Livre, 1983)


Not content to make cheesy '80s pop at home, Rita and Roberto cruise up to LA, and enlist the aid of studio cats like Steve Lukather and Mike Porcaro to lend the authentic North American stamp of blandness to the procedings. Not as interesting as her Brazilian-produced albums, but also not that different. Barely-Brazilified percussion is provided by Paulinho DaCosta and others -- the guitarist Tuca (who died in 1978) gets a shout-out on the liner notes, but no actual performance credits... Not sure what that was about...
Rita Lee & Roberto Carvalho "Rita E Roberto" (Sigla/RCA, 1985)
More embarassingly Eighties-ed out synthpop, but actually much more tolerable than you'd expect. It's not really my cup of tea, but I could almost see this one as a guilty pleasure of sorts. Guest musicians include ex-Mutantes Sergio Dias and Liminha on a few cuts, as well as Paulinho da Costa another reference to guitarist Tuca... (Is this a different artist that the female singer-composer? Or what? Anyone know for sure?)
Rita Lee "Flerta Fatal" (1987)

Rita Lee "Zona Zen" (1988) (LP)

Rita Lee & Roberto Carvalho "Rita E Roberto Carvalho" (1990)

Rita Lee "Bossa 'N' Roll" (1991)


Rita Lee "Rita Lee" (Som Livre, 1993)
A solidly produced rock album, but pretty damn cheesy and silly. Of course, a lot of the goofiness is intentional; Lee projects a worldly, cosmopolitan vibe, but once you factor out the pop culture irony, you still have to deal with the cheesiness. While this isn't totally my cup of tea, I'd have to say it's much more listenable than a lot of other Brazilian pop, and there are some graceful moments. The highlight is a clever intertwining Carlos Lyra's classic, "Maria Ninguem" and the ever-cutesy Beatles tune, "Do You Want To Know A Secret."
Rita Lee "A Marca Da Zorra -- Ao Vivo" (Abril, 1995)


Live album.
Rita Lee "Santa Rita De Sampa" (Polygram, 1997)


Reissued on Mercury's U.S. "A to Z" series.

Rita Lee "Acustico MTV" (Mercury-PolyGram, 1998)


Better than you might imagine, but ultimately a bit icky. One of Lee's big problems has, of course, been the endless string of dorky, jittery pop arrangements on her various albums, starting back in the disco era... So it's nice to hear her in a more relaxed, less forced atmosphere, where her voice (which is still quite nice) and her melodies can come out in full relief. However, like everyone else who's done one of these post-Clapton "acoustic" concert albums, Lee and her partner Roberto Carvalho fudge things a bit, with string sections and electric keyboards... It's pretty stripped down and lacks the horrid disco-isms of their last 20 years or so, but it's still a bit overdone. Several tracks are rather pleasant, though many are quite annoying, and ultimately I just couldn't hang with it. Still, nothing here is as irritating as on her studio albums, and this could certainly be of interest to Mutantes scholars, or the merely Lee/Carvalho-curious.

Rita Lee "Releeda" (EMI, 2000)


O. My. Gawd. This is soooooo awful I can hardly believe it. A remixes album of hits old and new which sounds so dated it's hard to imagine how it was produced in the first place. The first four or five tracks are unadulterated "I Got The Power"-era house music, of a style which hasn't boomed forth audibly in my neck of the woods since around 1987... This relentless and alarming assault is one of those things where you can't quite make up your mind whether she's being hip and ironic, or whether she's just hopelessly out of touch. The record relents midway, and moves onto some marginally more interesting terrain, but by then it's way too late. I haven't heard of any of the Brazilian mixmasters involved in this project -- Embrio, Meme, Alessandro Tausz, and others -- but I can't help but think I haven't been missing much, and that these certainly can't be the best that Brazilian electronica has to offer. Believe me -- you can skip this one.

Rita Lee "3001" (Universal, 2000)



(Produced by Roberto De Carvalho)
A straightahead slam-bang rockerfest (despite the icky disco-y opening number)... This is one of her strongest later works, solidly produced, aggressive and clearly focused. It's not entirely my cup of tea, but for Rita, it's pretty good. A recommended starting place for anyone curious about her post-'70s material.

Rita Lee "Aqui, Ali, Em Cualquer Lugar" (Universal, 2001)


Rita Lee "Bossa 'N' Beatles" (Lideres, 2002)


(Produced by Roberto De Carvalho & Joao Augusto)
Yes indeed, it's Rita Lee's album-length tribute to the Beatles, with fourteen Lennon-McCartney oldies, covered in either English or Portuguese.... And I gotta say, this is much better than I expected! The first half of the album, in particular, is kinda sweet, and the arrangements are surprisingly restrained, often recasting Beatles oldies as bossa nova ballads (and "Michelle" as a French chanson), with rock and electronic filagrees woven throughout. Lee alternates between English and Portuguese lyrics, and while I by far find the Portuguese lyrics more captivating and new-sounding, when she sings in English, you can definitely hear the Marianne Faithfull-like raspiness that's crept into her voice. Some of these songs are quite beautiful, and Lee's affection for the Fab Four helps animate this creative, heartfelt, homage. On the second half, the album starts to fall apart a little -- the arrangements become louder and blunter and more typically Rita-like -- but on the whole, this is a decent record. Certainly worth checking out.
Rita Lee & Roberto Carvalho "Balacobaco" (Som Livre, 2003)

Rita Lee "Pedro E O Lobo" (EMI, 2004)

Rita Lee "Ao Vivo" (EMI, 2005)

Rita Lee "Multishow Ao Vivo" (Biscoito Fino, 2009)

---
Best-Ofs
---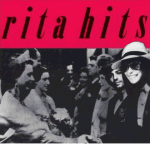 Rita Lee "Rita Hits" (EMI, 1984)



Less an actual "hits" package, than a "popourri" medley album, with shortened versions of familiar songs. Probably not as satisfying as either tracking down the original albums, or trying a different "best-of..."
Rita Lee "Lanca Perfume E Outras Manias: The Greatest Hits Of Rita Lee" (EMI, 1992)

Rita Lee "Meus Momentos" (EMI)


A 2-CD set...
---
Tributes
---
Na Ozzetti "LoveLeeRita: Cancoes De Rita Lee Desde Os Mutantes" (Dabliu, 1996)


Ms. Ozzetti may be Rita Lee's number one fan -- this album of cover songs sure would be a strong indicator. But, like her idol, Ozzetti's music is plagued by goofy, mainstream pop production -- she's a little less over-the-top than Lee, but this stuff still doesn't float my boat.
Various Artists "ELES CANTAM RITA LEE" (GPA, 1996)

---
Links
---
Rita Lee's website is kind of a kick... Written in Portuguese and a bit garish, but with all her album art and audio portions of many songs posted for the world to check out. She also has a section about the first five Os Mutantes albums (which she performed on).
The New York Times ran an excellent article on Os Mutantes in April, 2001... bascially an interview with Rita Lee, it also provides some good information about her and the band and fills in a few blanks hitherto unknown...
All Brazilian Music, as usual, has a good biographical sketch and discography page... Recommended website!
---



---