<! cd = 01/01/00 > <! MP3 10/22/12 > <! pix 10/22/12 > <! icons 10/22/12 > <! UPDATES: 10/22/12 - updated after years of neglect! embarrassing! could add to this list later... this was just triage >

---
A suave, romantic style which started in the 1950s, bossa nova supplanted samba as the national music during much of the following decade. Typically, bossa nova (which means "new way" in Portuguese) is very mellow and laid-back, and very, very cool. The style was introduced to Brazilians through the stunning early work of guitarist Joao Gilberto, and to the rest of the world through the French film, Black Orpheus. In the early 1960s, bossa nova rhythms sparked a musical craze, led by jazz musicians in the U.S. and Europe. Still one of the dominant musical styles in Brazil, bossa nova remains one of the world's great musical treasures.
---
Major Bossa Nova Stars
---
---
Recommended Records
---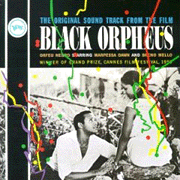 Antonio Carlos Jobim/Luis Bonfa "BLACK ORPHEUS" (Soundtrack) (Fontana, 1959)



The soundtrack to the winner of the 1959 Cannes Festival, this record was the first major incursion of bossa nova into the minds and hearts of North America and Europe. Apparently Brazilians didn't care much for cultural imperialism inherent in the romanticized French view of life in the favela slums, but this album did put Jobim and Bonfa in the global spotlight, along with Vinicius de Moraes, who wrote the original play that this was based on. Although the album is largely made up of samba de enredo percussive tracks, Jobim's non-Joao Gilberto bossa and Luis Bonfa's acoustic guitar work made quite a splash. Bonfa's "Manha de Carnaval" was an big international hit, and although the bossa nova sound is still a little unformed here, it makes for lovely listening.

Luiz Bonfa "Plays And Sings Bossa Nova" (Verve, 1963)



An outstanding early record which almost (but not quite) makes up for all the crap he recorded later. Seriously, though, this record has some of the most solid and emotionally resonant bossa nova playing Bonfa ever laid down on wax. The original LP was divided in two parts -- Side One was basically Bonfa playing a stripped down, richly melodic acoustic set; Side Two featured larger orchestral arrangements, but even these are pretty nice. Credit goes, in no small part, to Verve producer Creed Taylor, who oversaw many of the best early jazz-bossa crossover albums.

Gal Costa & Caetano Veloso "Domingo" (Polygram, 1967)


On their dual debut, these future tropicalia rebels pay homage to beautiful bossa nova balladry, clearly under the spell of Joao Gilberto. Even though the style was a bit dated already, this album is still quite lovely, with gentle percussion, lush strings and breezy flutes. Considering her later more brazen style, Costa's blase Astrud Gilberto-ish vocals stand out as a tame anomaly, though they are completely enjoyable. Veloso sounds tentative and unsure, not yet possessed of the cool confidence which pervades his later work. A lovely glimpse at their early personas, and a very sweet record.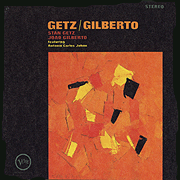 Stan Getz/Joao Gilberto/Astrud Gilberto "Getz/Gilberto" (Verve, 1963)



THE classic jazz-bossa nova crossover album, against which all others are measured. Almost shockingly intimate, with every tremble of the saxophone reed intact, this collaboration between Stan Getz and Joao Gilberto contains complete take of the #1 hit, "The Girl from Ipanema," which is the version most folks in the States are familiar with, and which helped make Astrud Gilberto a household name worldwide. Her hubby Joao's guitar work and whispery vocals are the ultimate in melodic cool. Tom Jobim plays piano, in one of his sweetest performances, and percussion by Milton Banana is a study in economy. There are zillions of pressings and reissues of this album; the latest CD version, from 1997, features 20-bit mastering and sounds pretty damn nice.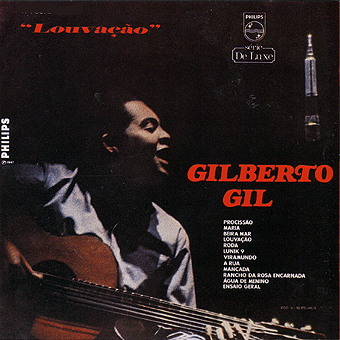 Gilberto Gil "Louvacao" (Philips, 1967)



Perhaps his most conventional, most bossa nova flavored, album, and also one of his dreamiest and best. Although many of these early songs were also recorded by reigning pop stars of the time (such as Elis Regina), Gil's versions are superior, and many of the songs on this album wind up on his various best-ofs. Gil's gentle voice and deft acoustic guitar work mesh well with the studio back-up -- strings, flute and percussion -- and his presence is so strongly felt that it's clear this is an artist who will rise above the musical conventions of his time. Although the liner notes aren't clear, I suspect that the accordeon on "Viramundo" is by the forro great, Dominguinhos... this one's a real winner.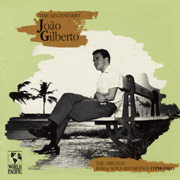 Joao Gilberto "The Legendary Joao Gilberto" (Capitol/World Pacific, 1990)


GOOD LORD! Why is this CD out of print?? This is the Holy Grail of bossa nova, containing Gilberto's first EPs, including his historic recording of "Chega de Saudade", the Jobim song that started it all. The domestic U.S. version of the incredible O Mito retrospective, this single CD collection is just plain stunning. It's unfathomable why Capitol has allowed this to lapse out of print, but if you want to check out Joao Gilberto, this disc is the place to start. Currently the only version of this in print would appear to be the French edition, called 38 Titres De Bossa Nova. Write your Senators to complain.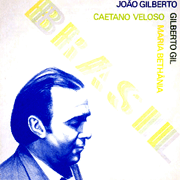 Joao Gilberto/Caetano Veloso/Gilberto Gil/Maria Bethania "Brasil" (Philips, 1981)


MPB luminaries Caetano Veloso, Gilberto Gil, Maria Bethania pitch in on this rapturously reserved bossa nova album, which marked Gilberto's return to Brazil after several years abroad. Very listenable and highly recommended. It's much to his credit that Gilberto was able to calm these tropicalia stars down and get such fine, understated performances out of them at a time when MPB in general was becoming overwrought and either cheesily or frantically overproduced.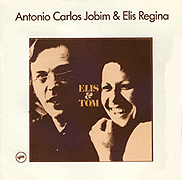 Antonio Carlos Jobim & Elis Regina "Elis E Tom" (Philips/Verve, 1974)



A stunning collaboration between Jobim and legendary MPB-jazz vocalist, Elis Regina. Features the definitive version of Jobim's "Aguas de Marco", and some of the nicest, most tasteful music of his career. One of those sublime, perfect, magic albums that has a life of its own; for my money, it's the best album either one of them recorded. Why couldn't more of his albums approached this level of greatness?

Nara Leao "Dez Anos Depois" (Philips, 1971)


A 2-LP collection of the same-old bossa nova classics, EXCEPT that Leao manages somehow to place a very distinctive stamp on them all. Perhaps is has something to do with the sessions recorded in France -- a euro-chanson sensibility, perhaps? At any rate, the spare arrangements and distinctive acoustic guitar accompaniment by Tuca make this one of the best latter-day bossa nova records out there. If perhaps you've ever wearied of hearing the same damn Jobim songs over and over, give this album a try... it may make the classics seems fresh again!
<! 118 x 115 >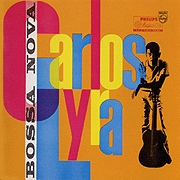 Carlos Lyra "Carlos Lyra" (Philips, 1960)
Carlos Lyra "Bossa Nova" (Philips, 1961)


Early on, the whispery, suave singer-songwriter Carlos Lyra gave Joao Gilberto a run for his money in the cool department. The production on these albms may have been cornier than it needed to be -- Lyra's coolness tends to get lost on the poppier and more ornate numbers, but not always. Some touches, like the woodwinds and reeds, are distracting, though not disasterous. Lyra sounds a lot like the young Chico Buarque (or is that putting the cart before the horse?) -- cool, reserved, but intimate and kinda sexy. These two albums have been reissued in Japan on a single CD -- Bossa Nova is my favorite, with similar terrain but a little more accomplished and relaxed, and less corny. Includes plenty of great Lyra compositions, especially "Coisa Mais Linda," "Voce E Eu," "Caminho do Adeus," "Maria Niguem," and "O Bem do Amor". Quite nice.

Carlos Lyra & Paul Winter "The Sound Of Ipanema" (Columbia, 1964)


Great album! Yankee jazzman Paul Winter's saxophone accompaniment here is understated, though a bit staid. What makes this record so sweet, though, is Lyra's gorgeous guitar and intimate vocals, as well as all the great songs he wrote. Sergio Mendes and Milton Banana sit in on piano and drums, respectively, and though Winter is slightly less swinging than the "authentic" bossa musicians, this is quite a nice little record. Sadly, it's also out of print, except as a super-pricey Japanese import.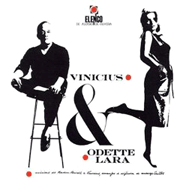 Vinicius De Moraes & Odette Lara "Vinicius + Odette Lara" (Elenco, 1963)



Bossa nova with a playful edge. Poet/songwriter Vinicius de Moraes, sort of a bossa Beatnik, is teamed up with actress Odette Lara, who acquits herself quite well in the role of Brazil's Brigitte Bardot. Vinicius' vocals are whisper-y, conversational and penetrating, and Lara's are appropriately lush and sultry -- on duets, their voices don't always mesh, but since they mostly trade off on the songs, it doesn't matter much. Features the tune, "Berimbau", which is credited with helping re-popularize the twangy folk instrument of the same name. Strong arrangements and solid delivery make this one worth checking out.
---
Links
---
100 Links has a pretty nice list of bossa nova links page, with artist sites, general sites, interviews and articles online. Cool beans!
---



Other Brazilian Styles
Main Brazil Index


---