<! MP3 09/12/08, 12/20/09 > <! update 09/12/08 > <! pix 11/15/09 > <! icons 02/01/11 >

---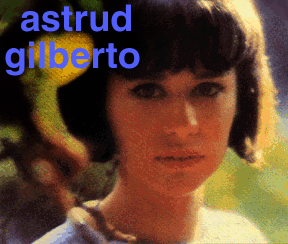 Once upon a time, she was the wife of guitarist Joao Gilberto and one of the most famous vocalists of the bossa nova era... Astrud Gilberto's blase, lilting vocals are featured on the legendary 1963 Stan Getz version of "The Girl From Ipanema." After scoring big with this #1 hit, Astrud Gilberto went on to record numerous albums on the Verve label, as much in the jazz-standards realm as in the Brazilian style.
---
Discography
---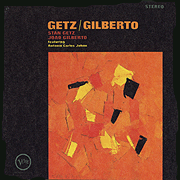 Stan Getz/Joao Gilberto/Astrud Gilberto "Getz/Gilberto" (Verve, 1963)



THE classic jazz-bossa nova crossover album, against which all others are measured. Almost shockingly intimate, with every tremble of the saxophone reed intact, this 1963 collaboration with Stan Getz and Joao Gilberto contains the #1 hit version of "The Girl from Ipanema" which is the one most folks in the States are familiar with, and which helped make Astrud Gilberto a household name in America. Her hubby Joao's guitar work and whispery vocals are the ultimate in melodic cool. Tom Jobim plays piano, in one of his sweetest performances, and percussion by Milton Banana is a study in economy. Highly, highly recommended.
Astrud Gilberto & Stan Getz "Getz Au-Go-Go" (Verve, 1964)


Astrud Gilberto "The Astrud Gilberto Album" (Verve, 1965)


Astrud Gilberto "The Shadow Of Your Smile" (Verve, 1965)



Astrud Gilberto "Look To The Rainbow" (Verve, 1966)



A remarkable jazz-tinged collaboration which definitely proved that Astrud's success with the Getz-Gilberto ensemble was no mere fluke. Arranger Gil Evans -- one of the architects of Miles Davis's "cool jazz" atonality -- here applies his pallette to the Brazilian canon, with rather amazing results. Even decades later, these remain some of the most creative, challenging reinterpretations of various well-trod bossa nova themes -- standards such as "Felicidade," "Berimbau," "Bim Bom" and "Ela Carioca" are variously slowed to a crawl, inverted, bent sideways and chromatically flattened, in that odd, mathematical-yet-soulful way that Evans had. Best of all, though, is the fact that Gilberto is the perfect foil for this style of jazz, with her blase, unemotive vocals matching and complementing the cool tone of Evans's arrangements. This disc makes one of the best cases for Astrud's reputation as a singer, her voice chiming in as another instrument at Evans' command. This album definitely rises above the horizons of most '60s soft-pop and loungecore, into a subtle, original new sound. Worth checking out... one of Astrud Gilberto's best!

Astrud Gilberto & Walter Wanderley "A Certain Smile, A Certain Sadness" (Verve, 1967)



Astrud teams up with loungecore organist Walter Wanderley for this mellow bossa-pop outing. The songs are mainly bossa standards, translated into English and sung with a charmingly awkward flatness by the ever-blase Gilberto. Wanderley's roller-rinky organ toot-tootles along, a little at odds with her delivery, but pleasant and compelling in its own way. Nice for the translated lyrics, and the cheerful summery vibe.
Astrud Gilberto "Beach Samba" (Verve, 1967)


Astrud Gilberto "Windy" (Verve, 1967)


Astrud Gilberto "September 17, 1969" (Verve, 1969)

Astrud Gilberto "I Haven't Got Anything Better To Do" (Verve, 1970)





<! All-English album. >

Astrud Gilberto & Stanley Turrentine "Gilberto With Stanley Turrentine" (Verve, 1971)


Astrud Gilberto "Astrud Gilberto Now" (1972)



Astrud Gilberto "...Plus The James Last Orchestra" (Verve, 1987)


Musically, this one is no great shakes... I mean, this is okay for what it is -- it's probably a real winner if you like smooth-jazz mellowness and have an ear for lush, somewhat directionless orchestrations. I don't. At least not to this degree... But what is noteworthy here are the Brazilian collaborators Gilberto has on board... Paulo Jobim, for one, as well as guitarist Romero Lubambo and drummer Duduka Fonseca. Jobim plays guitar on three tracks, all of which he co-wrote with lyricist Ronaldo Bastos... This disc may be a bit lavish and louche, but it did cast a spotlight on some major talent, including a few up-and-coming artists.
---
Best-Ofs
---

Astrud Gilberto "The Silver Collection" (Verve, 1987)



Icy-cool vocals and lovely lush arrangements. Nice selection, including several tracks sung in English. It does mysteriously omit "Girl From Ipanema," but you can't have everything, can you? A swell best-of set!
Astrud Gilberto "Verve Jazz Masters" (Verve, 1994)


Astrud Gilberto "Jazz 'Round Midnight: Astrud Gilberto" (Verve, 1996)


Astrud Gilberto "The Girl From Ipanema" (Prime Cuts, 1997)

Astrud Gilberto "Talkin' Verve" (Verve, 1998)


Astrud Gilberto "Astrud Gilberto's Finest Hour" (Verve, 2001)


Astrud Gilberto "Astrud For Lovers" (Verve, 2004)


Astrud Gilberto "Gold" (Verve, 2008)


---
Links
---
---



---