<! MP3 09/12/08 > <! update 09/12/08 > <! pix 11/24/09 > <! icons 01/20/11 >

---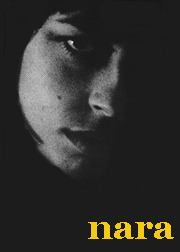 One of my all-time favorite Brazilian singers. The cliche about Nara Leao (1942-1989) was that she was "the muse of bossa nova." As a teenager in the late 'Fifties, she opened up her parents house as a salon for the movers and shakers of the early bossa nova scene -- Jobim, Joao Gilberto, Roberto Menescal, Vinicius, Carlos Lyra and others -- to hang out in. Rising to stardom in the early '60s, she became one of Brazil's sweetest, most delectable singers, recording political songs which were critical of the military dictatorship, as well as many beautiful pop and bossa standards. Though hard to find, Leao's records are well worth checking out.
---
Discography
---

Nara Leao "Nara" (box set) (Polygram, 2002)


Wow. Let's start here... If you're a Leao fan (or a potential fan) you might want to consider picking up this amazing 15-CD box set, which collects Leao's first fourteen albums (reviewed below), along with an additional CD's worth of rarities. Each disc also includes a rare track or two, such as Nara singing in Spanish or French, and reproductions of the original liner notes, along with new production notes. These records have been nearly impossible to find for decades, and their re-release is a wonderful blessing for fans of Leao and modern Brazilian pop. Great sound quality, handsome packging, and amazingly, thoroughly beautiful music. The albums reissued include: "Nara" (1964), "Opinao De Lara" (1964), "O Show Do Opinao - Ao Vivo" (1965), "O Canto Livre De Nara" (1965), "5 Na Bossa" (with Edu Lobo/Tamba Trio, 1965), "Nara Pede Passagem" (1966), "Manha De Liberdade" (1966), "Vento De Maio" (1967), "Nara" (1967), "Nara Leao" (from 1968), "Coisas Do Mundo" (1969), "10 Anos Depois" (1971), "Nara" (1971), "Meu Primeiro Amor" (1975), and the "Raridades" disc, which includes some of the tracks from the 1972 show album, "Quando O Carnaval Chegar." This is an unbelievable treasure trove, filled with elusive material that stands the test of time. Beautiful stuff.
Nara Leao "Leao" (box set) (Polygram, 2003)


This second cube-shaped box set picks up where the last left off, tracking Leao's career from 1975 to her passing in 1989. Generally speaking, the music is less arresting and more cloying than her earlier, classic work, but there is still great depth and soulful brilliance on many of the albums. The records reissued include: "Os Meus Amigos Sao Um Barato" (1977), "Debaixo Dos Caracois Dos Seus Cabelos" (1978), "Com Azucar Com Afeto" (1980), "Romance Popular" (1981), "Nasci Para Bailar" (1982), "Meu Samba Encabulado" (1983), "Abracos E Beijinhos E Carinhos Sem Ter Fim" (1984), "Um Cantinho, Um Violao" (1985), "Meus Sonhos Dourados" (1987), "Onde E Quando" (from 1989), "My Foolish Heart" (1989), "Garota De Ipanema" (1989), and a second "Raridades" disc. All albums reviewed below.
---

Nara Leao "Nara" (Philips, 1964)



Her debut... an absolutely beautiful album, originally recorded for the Elenco label. Smart, warm arrangements, and Leao's budding voice is in top form. This album came out just before the military coup in Brazil, and during a time when the budding bossa nova scene was starting to splinter and factionalize... For her part, Leao chose to delve into the music of the favelas, recording sambas de morro by the likes of Ze Keti, Nelson Cavaquinho and Cartola, as well as newer material by bossa songwriters Carlos Lyra and Edu Lobo, as well as a bunch of stuff by Vinicius de Moraes and Baden Powell. Highly recommended!

Nara Leao "Opinao De Lara" (Philips, 1964)


A studio recording based on the politcally-slanted stage production that brought Leao to national prominence. For some reason, the elegance and magicality of her debut album seems absent here -- the arrangements are stiff and blocky, and Leao's phrasing seems a bit rigid as well. Of course, with material by Joao Do Vale, Edu Lobo and others, this is packed with classic songs, but for some reason I found this album strangely unmoving. I'm sure it will improve with repeated auditions, and if so, I'll be sure to let you know. Apparently it didn't make the military junta that took power in '64 all that happy, either.


<! 130 x 130 >

Nara Leao "O Canto Livre De Nara" (Philips, 1965)


Leao quickly regained her footing on this moody, sensuous album, which features multi-textured arrangements by the Tamba Trio's Luiz Eca. Eca plays piano throughout, accompanied by Dori Caymmi on guitar, bassist Bebeto, and other early braz-jazz stars. There's plenty of stylistic variety, and a creative, expansive approach to the jazzy, cabaret-based arrangements. The album is in turns playful and sultry, perfectly suited to Leao's vocals, and really a stunner from start to finish. Great album; highly recommended. (The CD reissue includes two tracks from a Spanish-language single, the standout being "Nao Me Diga Adeus," which has a great acoustic guitar line that sounds very similar to Jorge Ben's work.)


<! also: B000N3SVVE > <! 131 x 130 >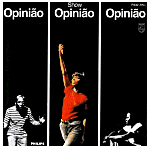 Nara Leao "O Show Do Opinao - Ao Vivo" (Philips, 1965)


An actual cast recording of the famed political theatre show, Opinao, which made first Leao, then Maria Bethania, famous. This disc includes the original stage dialog along with songs by Ze Keti, Joao Do Vale, Sergio Ricardo and others, as well as ironic renditions of "Guantanamera" and Brazil's national anthem. The show was a broadside at the military junta that took power in 1964 (and stayed in power until the 1980s), and was the first volley in a long war between Brazil's artistic Left and the government censors who would hound various musicians, authors and filmmakers in years to come. Both Do Vale and Keti perform on here, along with Leao, and the rapport and good humor they share with their audience are readily apparent. One mild complaint: as with many of these live "show" recordings, this CD reissue is programmed as one long track, rather than being indexed so that you can select individual songs. Oh, well. Maybe not the most pretty of Leao's albums, but still a very cool cultural document.

Nara Leao/Edu Lobo/Tamba Trio "5 Na Bossa" (Philips, 1965)
The collaborations with Luiz Eca's Tamba Trio continue on this concert performance album, where Leao, the instrumental trio and composer Edu Lobo take turns in the spotlight in Sao Paulo's Paramount Theatre. It's an interesting opportunity to hear Nara in a less controlled, live setting, as well as relegated to a support role rather than as a featured performer. She sounds just fine, though perhaps less incandescent than usual, and Lobo is confident and compelling as well. Much as I hate to say it, though, the Tamba Trio fail to dazzle, as they often do on their "classic" '60s recordings. They are particularly forgetable on the faster jazz numbers, where they lack the subtlety and stylistic mastery of their North American idols, galloping to the finish line rather than finding a real cool groove. Still, this is an album worth searching for, since these are better live performances than many of similar vintage, and it's always nice to hear Nara croon.
Nara Leao "Nara Pede Passagem" (Philips, 1966)


Nara's most samba-heavy album, this disc is drenched in the Carnaval rhythms of samba enredo and samba cancaoes of Paulinho da Viola, Noel Rosa and Nelson Cavaquinho, although she also uses their sound to frame new songs by Chico Buarque and Sidney Miller. It's a different style for Leao, closer to the early albums of Martinho da Vila than anything else, but it works for me! A nice change of pace, and a lovely album.

Nara Leao "Manha De Liberdade" (Philips, 1966)


An exciting, artsy, experimental album featuring some nutty musical direction by pianist Jenny Marcondes, the art director of the Opinao show who cast Maria Bethania -- over many loud objections -- when Nara Leao left the starring role. Listening to this album, it's clear that Marcondes should rank up there with Rogerio Duprat and Edu Lobo as a pioneering force in pushing the boundaries of Brazilian pop, yet nary a word is heard about her, other than on this disc. The album opens with a version of Chico Buarque's marcha- based anthem, "A Banda," which was a controversial hit, having caused an scandal at a 1966 song competition. The judges wouldn't allow Buarque and Leao to perform it in its fully orchestrated version, and he had to improvise an acoustic rendition instead -- the original version is heard on this album. "A Banda" only sets the tone for the rest of the album -- Marcondes' forcefully playful arrangements may seem like they're a bit much, but she soon wins you over, with unusual instrumentation and hey-look-at-me soundscaping. The odd, wandering percussion and marimba riffs are slightly cloying, but certainly creative, and definitely ahead of the curve, anticipating the benre-bending efforts of the tropicalistas by a good year or two. Interesting record; definitely worth checking out. (The 2002 CD reissue includes one live and one French-language bonus track, both of which are quite nice.) (PS - here is a nice obituary written about Marcondes, who passed away in 2002.)

Nara Leao "Vento De Maio" (Philips, 1967)


Despite the bland cover art, this is one of Nara's best albums. Maestro Gaya's arrangements are sleek and sensuous, and Leao's vocals seem increrasingly relaxed and serene. Nara flexes her muscle as a song stylist, promoting several up-and-coming songwriterscovers several early Chico Buarque songs (he had just recorded his first few albums), including "Noite Dos Mascarados," a duet sung with the then-unknown Gilberto Gil. She also sings one of Gil's early songs, the title track "Vento Do Maio," and a couple more by Sidney Miller. This album has consistently found its way back into print, and is certainly worth tracking down. Lovely.

Nara Leao "Nara" (Philips, 1967)


A gorgeous, supremely graceful album, produced by the venerable Aloysio De Oliveira, and arranged by Oscar Castro Neves. The string scores are some of the most compelling I've ever heard in any genre, really quite lovely. Nara's vocals are also at their peak here -- fluid, confident, alluring. A mildly hyperactive version of Joao Do Barro's "Lancha Nova" is the only jarring moment on here, otherwise it's smooth sailing, with beautiful song after beautiful song. Leao covers two songs by newcomer Edu Lobo, as well as a duet with the young songwriter, on Dori Caymmi's "De Onde Vens." It's odd that this album languished of print for so long; it really is one of ber best.

Nara Leao "Nara Leao" (Philips, 1968)


Officially, this is her "tropicalia" album, though it isn't nearly as out there or as engaging as anything the for-real tropicalistas were doing as the time (or her earlier Manha De Liberdade album, from a couple of years earlier). This includes several early Caetano Veloso compositions, but it's still musically rather standard fare. Musical director Rogerio Duprat (who soon after would work on Gal Costa's most crazy psychedelic albums) seems a bit at a loss for how to tackle this one, and sticks to chanson-style arrangements. Mostly, the band seems a bit stale and sometimes drowns out or slightly overshadows Leao's vocals, which otherwise are quite lovely. This album is not "bad" by a longshot, but I found it oddly unengaging.

Nara Leao "Coisas Do Mundo" (Philips, 1969)


This is one of Leao's more difficult albums, largely due to the overly-stylized arrangements, which feature mutated marching band motifs and jazzy flourishes throughout. The brass is too intrusive, the tinkling percussion and minor-key organ riffs too clever and too artsy. Her vocals are sweet, but this attempt to stretch the boundaries of her art is simply too strained to command your attention. You can see why, with all the changes going on at the time, she tried something like this, but it's a bit of a noble failure. One interesting note: she covers Malvina Reynolds's anti-suburbia anthem, "Little Boxes," em portuguese. I imagine the lyrics, about little boxes on a hillside, had a much different impact in Rio, where, unlike practically anywhere else in the world, the slums of the morro are up on the surrounding mountains, rather than down in the flatlands, or the surrounding suburban rings. At any rate, this album is probably of interest to folks looking for weirdness and artistic experimentation in Brazilian pop, but might still get on your nerves...

Nara Leao "Dez Anos Depois" (Philips, 1971)


Beautiful. On the face of it, this 2-LP collection is just all the same-old, same-old bossa nova classics, EXCEPT that Leao manages to place a very distinctive stamp on each song, and make them sound bright, fresh and new. Perhaps is has something to do with the sessions recorded in France -- a euro-chanson sensibility, perhaps? At any rate, the spare arrangements and distinctive acoustic accompaniment by guitarist Tuca make this one of the best latter-day bossa nova records out there. If perhaps you've ever wearied of hearing the same damn Jobim songs over and over, give this album a try... it may make the classics seems fresh again!


<! 118 x 115 >

Nara Leao "Nara" (Philips, 1971)





Chico Buarque/Nara Leao/Maria Bethania "Quando O Carnaval Chegar" (Phillips, 1972)



The soundtrack to an early film by Carlos Diegues. Nara solos on two tracks, "Mais Uma Estrela" and "Soneto."
---
Nara Leao Discography - Part Two
---
Links
---
The SomBras site includes a complete Nara Leao discography. Although it's mostly pictures-only, it includes not only information about her albums, but also about CD reissues, and her various guest appearances and best-ofs. The rest of the site is pretty informative, as well.
MPB Net has a nice, short entry on Nara, which includes lyrics to about two dozen of her songs. (In Portuguese.)
All Brazilian Music has a very good, detailed biography and complete discography. (In English and Portuguese.)
---



---