<! cd= 07/15/04> <! MP3 09/12/08, 01/26/11 > <! update 09/12/08 > <! pix 11/18/09 > <! icons 01/26/11 >

---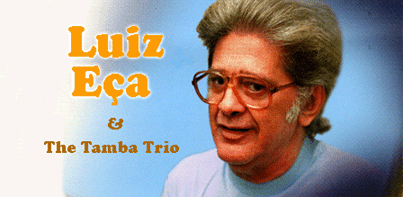 Pianist Luiz Eca (1936-1992) his Tamba Trio were key figures in the flood of bossa nova-jazz "trios" of the early 1960s; Eca later branched out into a freer jazz style, and became known for his record producing and arranging skills... I'm not, actually, a huge fan of his work, but he is a major figure on the Brazilian jazz scene... So here is a quick look at his career...
---
Discography
---
Luiz Eca "Uma Noite No Plaza" (Discos Radio, 1955)

Luizinho E Seu Piano "Sambas Da Saudade" (Columbia, 1956)


Luiz Eca & Astor "Cada Qual Melhor" (Odeon, 1961)


(Artistic director: Ismael Correa)
Pianist Luiz Eca, paired up with bandleader/trombonist Astor Silva, puts his chops on display, running through what I imagine must have been his standard nightclub set at the time. The opening tracks display a remarkable dynamism and innovation -- Eca really digs into the ivories on "E Luxo So" and "Yesterdays." The set swiftly devolves into tedium, though, with by-the-numbers, slightly bossa-fied versions of American standards such as " 'S Wonderful," "Cheek To Cheek" and "Moonglow," as well as Brazilian chestnuts like Ary Barroso's "Aquarela Do Brasil" and a few more contemporary tunes. Like I said, it's clearly a nightclub set, put on wax inside a studio setting... Eca stands out on a few tunes, but Astor's mellow, well-rounded brass arrangements are unremarkable and unmoving. A very professional record, but nothing to get too excited about.


<! CD reissue says Lyrio Panicali, Milton Miranda artistic directors, but LP liner says Correa > <! sold on Amazon - 06/11 >

Tamba Trio "Tamba Trio" (Phillips, 1962)


Tamba Trio "Avanco" (Philips, 1963)


(Produced by Armando Pittigliani; arranged by Luiz Eca)
This Rio De Janeiro pop-jazz trio is one of the most popular and frequently cited of the early '60s bossa-nova jazz acts. Pianist Luiz Eca was the compositional genius behind the group, composing and arranging tunes with a harmonically rich, lush romanticism. Percussionist Helcio Millito and flautist/multi-instrumentalist Adalberto Castilho (aka Bebeto) rounded out the sound. On this outing, their second album, the Trio add MPB-4-ish vocals into the mix, while tackling well-known hits such as "Girl From Ipanema" and Jorge Ben's "Mais Que Nada." This would appear to be an overt nod towards commercialism (gasp!) but it doesn't get in the way of a swinging beat. For an authentic Brazilian loungecore sound, this is hard to beat. Breezy, but fun.


Joao Mello "A Bossa Do Balanco" (Philips, 1963)
(Produced by Luiz Eca)
A delicious set of classy, restrained bossa nova songs from Joao Mello, a prolific composer who also went on to become one of the major session producers of the classic bossa nova and MPB years. Backing this crooner, the Tamba Trio gives one of their most crisp and understated performances. There's a sweet lilt and danceable bounce to this album, also a pleasant air of imperfection and imprecision -- this could have easily been an overproduced, over-orchestrated pop set, instead, it's a lovely record of small-scale, small-ensemble bossa, a model of economy. Nice to hear such a famous studio producer performing as a frontman for once: sounds great. Features several songs written by Mello, as well as by Tito Madi, Chico Feitosa, Rildo Hora and others.

Tamba Trio "Tempo" (Philips, 1964)


(Produced by Armando Pittigliani; arranged by Luiz Eca)
Shifting back to an all-instrumental style, this album highlights Luiz Eca's increasingly dense compositional style. While not yet as baroque as his later work with the Trio or with Edu Lobo, this is still richer and more more complex than most of the music by their Braz-jazz contemporaries, such as the Jongo Trio, etc. Interesting, lulling, mildly soporific, but certainly worth checking out.

Nara Leao "O Canto Livre De Nara" (Philips, 1965)


Bossa diva Nara Leao hit her stride on this moody, sensuous album, which features multi-textured arrangements by Luiz Eca. Eca plays piano throughout, accompanied by Dori Caymmi on guitar, bassist Bebeto, and other early braz-jazz stars. There's plenty of stylistic variety, and a creative, expansive approach to the jazzy, cabaret-based arrangements. The album is in turns playful and sultry, perfectly suited to Leao's vocals, and really a stunner from start to finish. Great album; highly recommended. (The CD reissue includes two tracks from a Spanish-language single, the standout being "Nao Me Diga Adeus," which has a great acoustic guitar line that sounds very similar to Jorge Ben's work.)

Tamba Trio/Nara Leao/Edu Lobo "5 Na Bossa" (Philips, 1965)
Leao's collaborations with Luiz Eca's Tamba Trio continue on this concert performance album, where Leao, the instrumental trio and newcomer Edu Lobo take turns in the spotlight in Sao Paulo's Paramount Theatre. It's an interesting opportunity to hear Nara in a less controlled, live setting, as well as relegated to a support role rather than as a featured performer. She sounds just fine, though perhaps less incandescent than usual, and Lobo is confident and compelling as well. Much as I hate to say it, though, the Tamba Trio fail to dazzle, as they often do on their "classic" '60s recordings. They are particularly forgetable on the faster jazz numbers, where they lack the subtlety and stylistic mastery of their North American idols, galloping to the finish line rather than finding a real cool groove. Still, this is an album worth searching for, since these are better live performances than many of similar vintage, and it's always nice to hear Nara croon.
Tamba Trio "Tamba Trio" (Phillips, 1966)

Tamba Trio/Edu Lobo/Quinteto Villa-Lobos/Sylvia Telles "Reencontro" (Elenco, 1966)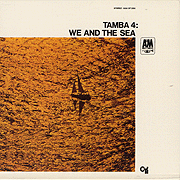 Tamba 4 "We And The Sea" (CTI/A&M, 1967)



(Produced by Creed Taylor)
One of the definitive albums by pianist Luiz Eca's much-vaunted Braz-jazz ensemble. This set was recorded in the United States, under the auspices of American jazz producer Creed Taylor. The album opens with a fairly annoying, modernist take on Antonio Carlos Jobim's "O Morro," with the tempo taken at a brisk gallop. Other tracks are more lyrical, with a breezy easiness that should satisfy the lounge-y crowd. Not entirely my cup of tea, but worth checking out.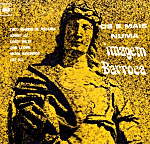 Luiz Eca & Radames Gnatalli "Os 6 Mais Numa Imagem Barroca" (CBS, 1968)
(Produced by Helcio Milito)
An unusual album, with Eca leading sort of a chamber-jazz ensemble, with Radames Gnattali soloing (and often getting quite funky!) on the cravo (or harpsichord)... Not sure who the rest of the band includes, but they play some pretty groovy, modal arrangements, with more than a hint of Miles Davis and Gil Evans in the mix, covering pieces by Johnny Alf, Chico Buarque, Sidney Miller, Milton Nascimento, Dori Caymmi, and a couple by Eca himself. It's not totally my cup of tea, but it's a nice change of pace from Eca's often-rushed trio work of this era. Certainly worth checking out.


<! This is Luiz Eca e Radames Gnattali - Os 6 Mais numa Imagem Barroca (1968), for CBS, probably another Luizinho Eca LP unknown for many friends. This record is really inquisitive, on a first sight I tought it was recorded live in Minas Gerais, just taking in consideration the cover reproduction. However, we have a studio album here, with Luiz Eca and Radames Gnattali playing cravo on top of a popular repertoire by Chico Buarque, Jonny Alf, Dori Caymmi, Sidney Miller and Milton Nascimento. 01 - Carolina (Chico Buarque) 02 - Eu e a Brisa (Johnny Alf) 03 - Morena dos Olhos D'água (Chico Buarque) 04 - Realejo (Chico Buarque) 05 - Travessia (Milton Nascimento / Fernando Brant) 06 - Oferenda (Luis Eća / Lenita Eća) 07 - O Circo (Sidney Miller) 08 - Com Aćúcar Com Afeto (Chico Buarque) 09 - O Cantador (Dori Caymmi / Nelson Motta) 10 - Imagem (Luis Eća / Aloysio de Oliveira) 11 - Lua Cheia (Chico Buarque / Toquinho) 12 - A Praća (Sidney Miller) >

Tamba Trio "Tamba Trio" (Phillips, 1968)

Tamba 4 "Samba Blim" (CTI/A&M, 1968)


Tamba 4 "Tamba Trio" (1969)

Luiz Eca "Pianos E Cordas" (Elenco, 1970)

Luiz Eca "Pianos E Cordas, v.2" (Elenco, 1970)


Luiz Eca "Brazil 70" (Philips, 1970)


(Produced by Roberto Menescal) <! ? >
An even split between groovy and goofy, mostly a serious jazz album with plenty of modal Miles Davis/Gil Evans-style coolth and an equal infusion of tunes that are straight-up easy listening (such as the blithe "Andanca," or his jingly cover of Jorge Ben's "Pais Tropical...") Overall, this is more challenging, I'd say, than his Tamba Trio albums to date, a mostly-serious jazz album with lapses into pure kitsch, and packed with instrumental covers of MPB anthems of the time. It's one of Eca's stronger early works -- certainly worth checking out, although it might be too muzak-y for many listeners to give more than a passing glance.


<! listed as Elenco ? (picture shows Philips) >

Luiz Eca & Sagrada Familia "Onda Nova Do Brasil" (EMI, 1971)


Here's a real find! This wild set which was recorded in Mexico with a who's-who list of younger Brazilian jazz players, is a radical departure from the straight jazz'n'bossa of his Tamba Trio work, a psychedelic jazz-rock outing that blends some of the "sunshine" pop of the times with heavier acid blues riffs and punchy jazz charts, even a bit of Nuyorican-style salsa. Clearly influenced by the tropicalia scene in Brazil, it's an album that is very much of its time, a document of hippie-era musical excess which holds up well next to other classic albums that are better known. Performing with Eca are Nelson Angelo, Joyce, Claudio Roditi, Wilson Simonal, Nana Vasconcelos and numerous others, including a battery of female vocalists working in the whole Quarteto Em Cy/Brazil '66/Brazuco mode, which is mostly pretty shrill and irritating, but still evokes a nostalgic feeling. Joyce has a few softer, lyrical moments (I think that's her singing on the closing track...) and while she apparently doesn't play guitar on here, it's still a nice document of some of her earliest work. (Reissued on Inca Rock Records, 2003, and on Vampi Soul in 2005.)

Luiz Eca & Quinteto Villa-Lobos "Vanguarda" (Odeon, 1972)
Jazzman Luiz Eca teams up with the arty classical/avant ensemble, Quinteto Villa-Lobos, for a sort of a coy, deconstructionist tour of the then-current crop of MPB standards, songs such as Milton Nascimento's "Travessia," Chico Buarque's "Construcao," "Viola Enluarada" from Marcos Valles... stuff like that. The music is both innovative and precious, a mix of Miles Davis with Debussy and a faint whiff of Martin Denny. The album opens on a slightly too-manic note, with a kooky Raymond Scott-like flutter, and while later tracks gather more gravity, that jokey opener is hard to shake off. Still, there's some serious playing here as well -- their slinky version of "Reflexos" is cool; if you want a truly different take on both Brazilian pop and Brazilian jazz, this album is certainly worth checking out. It's different.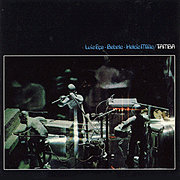 Tamba Trio "Tamba" (RCA, 1974)


(Produced by Raymundo Bittencourt)
While this starts out on an iffy note (with the rock-fusion electric guitar on "Se E Questao De Adeus Ate Logo" and the glossy, lightweight fluff of "Nao Tem Perdao"), it soon turns out to be one of the more interesting albums by this lounge-y soft-jazz ensemble. Gradually they shift into more challenging territory, at first into some cheesy electronic kitsch, and finally into spacier, percussion-based avant-jazz, material which would have made Hermeto Pascoal proud. If you'd to find out what these fellows had to offer other than cheery easy listening, then this would be a good album to check out -- it makes the best case for their consideration as a serious jazz band of any record of their that I've heard. Worth checking out!

Tamba Trio "Tamba Trio" (RCA, 1975)


(Produced by Raymundo Bittencourt)
A fine return to form, with the group getting all breezy and facile again. Not really very challenging, but easy on the ears and not overly saccharine. Worth checking out, though it didn't really wow me. Danilo Caymmi, Toninho Horta, Ivan Lins and Joao Bosco (all on their way up in the world) pitch in on various tracks.
Luiz Eca "Antologia Do Piano" (Som Livre, 1976) (LP)


(Quarteto) Lacos "Concerto Show -- Gravado Ao Vivo" (Som Livre, 1976) (LP)


A wide-ranging, energetic live show, featuring Luiz Eca on piano, and a sharp-edged, alert jazz ensemble, backing vocalist Claudia Versiani. The repertoire is mainly composed of solid, mid-'70s MPB, but with a distinct jazz edge to the performances, ranging in tone from near-free jazz and fusion to a pleasantly updated version of the uptempo style practiced in the bossa days. Marcos Paulo (apparently a popular Brazilian actor?) also contributes some dramatic spoken word pieces atop brooding musical backing, poems by Ruy Guerra and others -- the musical elements are more compelling, but the poetry is a nice change of pace. In some ways this is a slightly odd album, but overall it's rather strong; a good indicator of the vibrancy and power of the 1970s Brazilian music scene.


<! with Claudio Caribe, Helio Delmiro, Luizao and Marcio Montarroyos, aka Quarteto Lacos. >

Tamba Trio "20 Anos Do Sucesso" (RCA, 1982)

Luiz Eca "Luiz Eca" (Carmo, 1984)

Triangulo "Triangulo" (Carmo, 1985)
Luiz Eca with Robertinho Silva on drums and Luiz Alves on bass.
Luiz Eca & Pery Ribeiro "Pra Tanto Viver" (Continental, 1986) (LP)

Luiz Eca & Jerzy Milewski "Duas Suites Instrumentais" (Independente, 1988) (LP)

Luiz Eca & Maria Petersen "Encontro Marcado" (Line Records, 1992)

Luiz Eca & Victor Assis Brasil "Brazil No Museu De Arte Moderna" (Imagem, 1993)

Luiz Eca "Luiz Eca Trio" (Velas, 1995)

Luiz Eca & Victor Assis Brasil "Ao Vivo No Mam" (El Dorado, 1997)


Posthumously released, this album was originally recorded in the late 1970s...
Luiz Eca & Bill Evans "Piano Four Hands: Live In Rio 1979" (2009)

---
Best-Ofs
---

Luiz Eca "Serie Bis" (EMI, 2001)


A collection of early '60s work by the leader of the much-vaunted Tamba Trio... Apparently these sessions were taken off albums done outside of the Tamba lineup. It's kinda standard-issue lounge-y Brazilian bossa-jazz, centering around Eca's deft piano work. On some tracks he goes a bit overboard and gets all tinkle-happy. For the most part, though, this is pretty mild stuff -- no nutty, over-the-top saccharine arrangements, no great jazz breakthroughs, and no real surprises, either. Tamba Trio fans will love this... I wasn't really all that impressed.
Tamba Trio "Novo Millennium" (Universal, 2005)


Tamba Trio "Pure Bossa Nova" (Verve, 2006)


---
Other Resources
---
"Bossa Nova: The Story Of The Brazilian Music That Seduced The World"
By Ruy Castro
(A Capella Books, 2000)
Eca and the Tamba Trio appear in the sidelines of this charming and authoritative history of Brazilian popular music, which documents the rise of bossa nova, tracking the careers of Joao Gilberto, Antonio Carlos Jobim, Vinicius De Moraes, Nara Leao and others in a gossipy, informal narrative that's a delight to read. Castro brings the mythic figures of Brazil back down to human scale, poking fun at their humanity, their foibles and years of obscurity, while also pointing out their sheer brilliance, and the adoration that Brazilians feel for their music. The chatty, informal tone adds a nice hometown touch that lets you feel as if you were standing on the corner yourself when that gal from Ipanema walked by, cracking jokes with the rest of the fellas. This book is also notable for its emphasis on the now-neglected figures of the great "radio singers" who ruled the public heart in the decades before bossa hit - legendary figures such as Lucio Alves, Aloysio Oliveira, Orlando Silva, Dick Farney and Sylvia Telles whose stars have faded, but are compelling nonetheless. Castro has complete command of his subject, but doesn't feel stuffy or preachy at all. An outstanding book, and required reading for anyone looking for a deeper knowledge of Brazilian culture.



---
Links
---
---



---