<! MP3 09/12/08, 12/28/09, 04/08/12, 11/17/12 - some adds! > <! pix 11/24/09, 12/28/09 > <! icons 01/20/11 > <! UPDATES: 09/12/08, 12/28/09 - producers, 04/08/12 >

---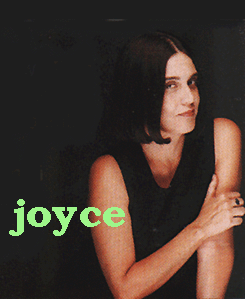 Guitarist/vocalist Joyce came up through the ranks in the late '60s, and toured with bossa nova legend Vinicius de Moraes during the mid-'70s. Her own albums consistently nudged MPB in the direction of the booming U.S. jazz fusion scene, and helped expand the Brazilian jazz vocabulary. Although a lot of her work is pretty cheesy, at her best Joyce is one of Brazil's most calmly assured and soulful performers. To be honest, I'm not entirely a convinced fan, but I'm getting there.
---
Discography
---

<! In 1964, while she was sixteen, Joyce participated for the first time in a studio recording at the invitation of Roberto Menescal. The disc was by the vocal group Sambacana, with songs by Pac'fico Mascarenhas. From then on, always at Menescal's invitation, she began recording jingles that he produced. Around that time she began to compose, although she did it for fun, and a professional career was merely a distant dream. She graduated from PUC-Rio in 1970 and joined the musical group Sagrada Fam'lia. Led by Luiz EŤa, the group had a two-month engagement at the Hotel Camino Real in Mexico City. Following the tour, Joyce married the composer Nelson Angelo, also a member of the group. Between 1970 and 1971 she, Nelson Angelo, Novelli, Toninho Horta, and Nan‡ Vasconcelos made up the vocal and instrumental group A Tribo, recording several tracks on the disc PosiŤ›es, released by Odeon. The same label also released a solo EP by Joyce. >

Joyce "Joyce" (Phillips, 1968)


(Produced by Armando Pittigliani)
Joyce's first solo album from 1968 found her emerging from her apprenticeship with bossa nova legend Vinicius De Moraes, and becoming poised to articulate a new Brazilian jazz that would transcend the clattersome Vegas-y cabaret affectations that typified much of the pre-tropicalia bossa acts. Even so, this album is still stuck in many of the musical habits of the time, framing her as just another richly-toned "girl" vocalist, cooing over some mildly intrusive orchestral arrangements, courtesy of Mestre Gaya and Dori Caymmi. They seemed to be aiming at sort of a lush LA-sunshine pop/Claudine Longet style orchestral backdrop. Joyce's guitar playing is, sadly, not much in evidence here, although her strengths as a songwriter and singer come through loud and clear. About half the tracks on here are her own compositions -- other material comes courtesy of Vinicius, Marcos Valle, Caetano Veloso, and Paulinho Da Viola, as well as an early track by Toninho Horta, who would later become one of her frequent collaborators. Definitely worth checking out, although in retrospect perhaps a bit underwhelming.

Joyce "Encontro Marcado" (Phillips, 1969)


(Produced by Nelson Motta)
Still fresh-faced, baby-cheeked and looking for a sound to call her own, Joyce attempts to break out into wider territory on this rather explosive, wildly orchestrated MPB effort. Tamba Trio pianist Luiz Eca provides the arrangements and, if truth be told, they are a bit too frenetic and spasmodic overall. Still, it's a lively record, spunky and challenging in its own way. It may come as a bit of a surprise to listeners who are familiar with her smoother, more subdued later work.
Joyce/Various Artists "Veu De Noiva" (Soundtrack) (Philips, 1969)


Joyce contributes to most of the tracks on this soundtrack album, along with Luiz Eca, Roberto Menescal. Wilson Das Neves and others. Includes a riotous version of Caetano Veloso's "Irene," sung by jazz diva Elis Regina.


<! really 1969? >

Luiz Eca & Sagrada Familia "Onda Nova Do Brasil" (EMI, 1971)


Here's a real find! This wild set which was recorded in Mexico with a who's-who list of younger Brazilian jazz players, is a radical departure from the straight jazz'n'bossa of Luiz Eca's Tamba Trio work, a psychedelic jazz-rock outing that blends some of the "sunshine" pop of the times with heavier acid blues riffs and punchy jazz charts, even a bit of Nuyorican-style salsa. Clearly influenced by the tropicalia scene in Brazil, it's an album that is very much of its time, a document of hippie-era musical excess which holds up well next to other classic albums that are better known. Performing with Eca are Nelson Angelo, Joyce, Claudio Roditi, Wilson Simonal, Nana Vasconcelos and numerous others, including a battery of female vocalists working in the whole Quarteto Em Cy/Brazil '66/Brazuco mode, which is mostly pretty shrill and irritating, but still evokes a nostalgic feeling. Joyce has a few softer, lyrical moments (I think that's her singing on the closing track...) and while she apparently doesn't play guitar on here, it's still a nice document of some of her earliest work. (Reissued on Inca Rock Records, 2003, and on Vampi Soul in 2005.)


<! >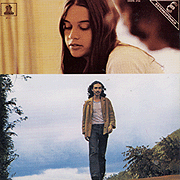 Joyce & Nelson Angelo "Nelson Angelo E Joyce" (Odeon, 1972)



A spacy, psychedelic-tinged acoustic album combining the talents of these two young guitarists... This is very similar in tone and style to Milton Nascimento's famous Clube Da Esquina album - full of drifting, open-ended improvs. It's a little too amorphous for my tastes, but holds up to a few good listens. The comparison holds up, especially since Angelo had one of his songs included on Clube Da Esquina... Joyce, of course, also had a lovely voice, although the emphasis here is mainly on the instruments. Worth checking out!
Joyce/Mauricio Maestro/Nana Vasconcelos "Visions Of Dawn" (Far Out, 1976/2009)



A "lost album" of spacy jazz-folk recorded by three members of the Sagrada Familia collective...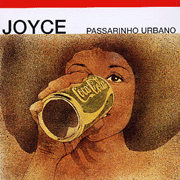 Joyce "Passarinho Urbano" (WEA/Continental, 1976)



(Produced by Sergio Bardotti)
A delightful early album, recorded in 1975 when Joyce was on tour in Italy as a member of Vinicius De Moraes and Toquinho's concert show. The sound is compact and more traditional-sounding than many of her more jazz-oriented albums, with a distinctive samba flair throughout... Joyce borrows a couple of percussionists from Toquinho's band, as well as an Brazilian expatriate living in Rome (Marcia Guimaraes) to help with the vocals. The producer is Italy's Sergio Bardotti, who had worked on albums-in-exile by Chico Buarque and Vinicius -- here, he mostly seems to have stayed of the way, letting Joyce lay down one of her simplest albums to date... The songs include a number of well-known songs that were censored by the Brazilian military junta -- songs by Chico Buarque, Caetano Veloso, Sidney Miller, Ze Keti and others, as well as historical samba numbers, notably Donga's "Pelo Telefone" (a prime candidate for the Ur samba song) and a lovely version of Geraldo Figueiredo's "A Historia Do Samba," as well as, at album's end, a lone original composition by Joyce, "Passarinho." Although in some ways this could be seen as a less adventurous album, it is also quite lovely, one of the most accessible and pleasant records of her career. Definitely worth checking out!


<! 11/12: link to B0080MYFG0 MP3 album looks pretty FBN >

Joyce "Feminina" (Odeon, 1980)



(Produced by Joyce & Mariozinho Rocha)
A solid, although slightly cheesy album that's more in pop mode than jazz terrain. Deft, tasteful string arrangements and cool vocals; all the songs were writen by Joyce. The disc doesn't sizzle, but it might steam up your glasses. It also doesn't have any of the egregious production excesses that dragged down so much Brazilian music of the time. Worth checking out.
Joyce "Agua E Luz" (EMI, 1981)


Joyce "Tardes Cariocas" (Far Out, 1983)

Joyce "Saudade Do Futuro" (RCA/Pointer, 1985) (LP)





<! is this soundtrack the same? B00005QLI8 - 04/12 : no - AM has pic of her album up >

Joyce "Negro Demais No Coracao" (CBS, 1987) (LP)


A tribute to bossa nova pioneer Vinicius de Moraes.



<! ALSO: Joyce "Sings Jobim With WDR Bigband: The Cologne Broadcasts" (Omagatoki Japan, 2009) B0026A5U3E different album? >

Joyce "Chante Antonio Carlos Jobim & Vinicius De Moraes" (Iris Musique, 1988)


Nice. This bossa nova tribute album has keyboards with that terrible lite jazz tone which may make your hackles rise (as you wonder "will Whitney Houston be on this album...?"), but Joyce's vocals are quite lovely. It's mainly a vocal effort -- her guitar work is non-existant on this disc. But, really, this does highlight her voice quite well, as well as her subtly jazzy inflection. A duet with Maria Bethania ("Tarde Em Itapoan") is particularly nice.


<! B00000DXJT >

Joyce "Joyce Ao Vivo" (EMI-Odeon, 1989)


Joyce "Music Inside" (Verve, 1990)


(Produced by Joyce & Brian Bacchus)
A poppy, uneven album, which opens with a glitzy Flora Purim/Tania Maria-style pop-jazz number, then slides into more relaxed, prettier terrain with "Bird Of Brazil", then gets cheesy again. She sings in both English and Portuguese (I prefer the Portuguese-language songs) and is joined by longtime collaborator Toninho Horta, as well as several North American jazz players, who are, simply put, way too slick. There are some nice tunes on here, to be sure, but mostly it's too sugary and professional... A disasterous version of the Beatles' "Help" is balanced by a more inttriguing translation of Tracy Chapman's "Talkin' Bout A Revolution," which may be the album's highlight. Worth checking out, though ultimately too glossy for my tastes.

Joyce "Language And Love" (Verve, 1991)


Recorded within the mainstream jazz confines of New York City, Joyce drifts in and out of overly-lush modern jazz terrain. Opening with the dreamy deleria of "Caymmis," she shifts into a stronger scat style, bopping away on the English-language "Taxi Driver," which appropriately enough features Jon Hendricks, of Lambert Hendricks & Ross fame. It's kinda downhill from there -- there's a momentary hint of a Joni Mitchell-esque cool, which is too-swiftly engulfed in a wave of overwrought, bombastically clean-sounding pop-jazz froth. She catches her breath, briefly, on the softly acoustic "Chica-Chica Boom-Chic," but then explodes again into slick, unalluringly busy material with the full band wailing away in a multi-tracked frenzy. I like the quiet stuff, but when you get down to it, this disc just ain't quiet enough. Tutty Moreno and pianist Haroldo Mauro anchor this in Brazilian-ness; unfortunately, Mauro's sugary piano riffs are a weak point.

Joyce "Revendo Amigos" (EMI-Odeon, 1994)


(Produced by Joyce & Roberto Menescal)
A nice guest star-laden set, recorded in honor of her 25th anniversary in show biz. Guest artists lean towards the pop end of things, with Boca Livre, Chico Buarque, Beth Carvalho, Gilberto Gil, Fatima Guedes, Ney Matogrosso, Emilio Santiago and others pitching in. One highlight is a surprisingly pretty duet with Sandra De Sa... Although this may be a bit on the slick side and too glossy for some, it's a pretty strong effort overall. Worth checking out.
Joyce "Delirios De Orfeu" (NEC, 1994)


Cellist/arranger Jacques Morelenbaum makes major contributions on this album...
Joyce/Sivuca/Tutty Moreno/Celia Vaz "Brasil" (Soul Jazz, 1994)

Joyce "Live At The Mojo Club" (Motor Music, 1995)


Joyce & Toninho Horta "Sem Voce" (Omagatoki/Discmedi, 1995)


(Produced by Joyce, Toninho Horta & Kazuo Yoshida)
A very nice, very mellow collaboration with Brazilian jazz guitarist Toninho Horta. He sings on a couple of tunes, and plays acoustic throughout, she sings on the rest of the album, and she plays acoustic lead on a couple of tracks as well. It's a another de facto Jobim tribute album, with one standard after another. This duo definitely put their personal stamp on these songs, though, and their gentle collaborative vibe is quite pleasant to tune into. Recommended!
Joyce "Ilha Brasil" (Blue Note/World Pacific, 1996)


Another collaboration with cellist/arranger Jacques Morelenbaum...

Joyce "Astronauta: Songs Of Elis" (Blue Jackel, 1998)



(Produced by Rodolfo Stroeter & Kazuo Yoshida)
A longtime devotee of Elis Regina, jazz chantuese Joyce finally went whole-hog and put out a tribute album. Firmly in the "dinner-jazz" camp, this ensemble features contemporary jazz sidemen such as Joe Lovano, Renee Rosnes and Mulgrew Miller, as well several Brazilian cohorts. The material is drawn from songs that are closely identified with Regina, including compositions by Ary Barroso, Milton Nascimento, and even Joyce herself, who co-wrote one of Elis' later hits, "Essa Mulher". Since Elis Regina was one of Brazil's definitive vocal stylists, you gotta give Joyce credit for taking such radically different melodic and harmonic directions on most of these standards, even when the results can be iffy. (This is especially on such strongly defined, hook-laden songs such as Aldir Blanc's "Querelas do Brasil," or Edu Lobo's super-perky "Upa Neguinho," which Joyce slows to a crawl... ) Other arrangements work wonderfully, such as the tabla-and-classical guitar setup on Gilberto Gil's "Oriente", or her vocal duet with Dori Caymmi on Antonio Carlos Jobim's "Aguas de Marco". A bit on the slick side, but well worth checking out.

Joyce "Hard Bossa" (Far Out, 1999)



Several Slipcue readers had suggested I try this one out... and so I did. Thanks for the tip! It's a nice, low-key effort, acoustically based, with sweet, pleasantly restrained vocals. I admit, it took me a couple of listens to warm up to this, but now I think it's some of the best background music I've got laying around the house. Almost sappy enough to qualify as a guilty pleasure, but it grows on you.
Joyce "Tudo Bonito" (Sony, 2000)


Joyce "Gafieira Moderna" (Biscoito Fino, 2001)



This one is pretty similar in tone to the Hard Bossa album on Far Out, which is to say, it's a solid, quite enjoyable MPB-jazz outing, with some questionable guilty-pleasure-ish undertones... My anti-cheesy-music girlfriend can't stand it, but I thought it was pleasant and pretty cohesive. Joyce sounds a lot like mid-'70s Gal Costa, with a smidge of Alcione-style samba bounciness thrown in on top; both her voice and guitar work remain in top form. If you like her other stuff, this album will not disappoint you. (Also available on the British Far Out label.)
Joyce & Banda Maluca "Just A Little Bit Crazy" (Far Out, 2003)


Joyce/Various Artists "Bossa Duets" (Sony Brasil, 2003)


Joyce & Dori Caymmi "Rio Bahia" (Far Out, 2005)



(Produced by Rodolfo Stroeter)
(Arrangements by Dori Caymmi & Joyce)
A solid set of cheerful, breezy, latter-day bossa tunes... Joyce brings out more grit in Caymmi than his own recent records have shown, and she, likewise, seems invigorated and energized by their collaboration. Caymmi and Joyce trade off on vocals and acoustic guitar, with solid backing that includes Rodolfo Stroeter on bass, and Tutty Moreno on drums. It's all a little too light and airy for me, personally, but for smooth jazz fans who tip towards Brazilian and Latin jazz, this album will be an aural lovefest. For the style, it doesn't get much better than this. If this kind of music is your cup of tea, you'll definitely want to check this out. I think it was a special album for both of these artists, and their enjoyment of the musicmaking comes through loud and clear on every tune.
Joyce & Tutty Moreno "Samba Jazz & Outras Bossas" (Far Out, 2007)






<! same as earlier album? >

Joao Donato & Joyce "Aquarius" (Far Out, 2009)



A collaboration with Braz-jazz elder Joao Donato...
Joyce "...Sings Jobim With WDR Bigband: The Cologne Broadcasts" (Omagatoki Japan, 2009)





<! ALSO: different from 1987 Jobim album? >

Joyce Moreno "Slow Music" (Wrasse, 2012)


Joyce Moreno "Rio De Janeiro" (Far Out, 2012)


---
Best-Ofs
---

Joyce "Essential Joyce: 1970-1996" (Mr. Bongo, 1997)


Y'know, I can't say as I was terribly taken by this anthology disc. It's too heavy on her lite fusion leanings, and doesn't do enough to highlight her vocal strengths. I know a lot of folks who have only heard this disc, and thought, "oh, so that's what she sounds like..." But it's deceptive: if you were turned off by this collection, you might try digging a little deeper and see if things get more interesting...
Joyce "The Essential Joyce" (EMI, 1997)


Joyce "Performance" (EMI-Brasil, 1997)


Joyce "Meus Momentos" (EMI, 1999)


This 2-CD set covers much of Joyce's earlier recordings, as well as later stuff in the 1980s, and it's a pretty good deal considering the budget line price. The first disc is very strong, emphasizing her vocals and more delicate acoustic guitar work; the second disc, however, veers into super-goopy production, and more overtly fusion-y material. Still, it's a nice introduction to her work, and the first disc does a good job placing her into the greater MPB framework. Worth a shot.
Joyce "Serie Bis Bossa Nova" (EMI-Brasil, 2000)


A healthy 2-CD budget-line best-of... I haven't actually heard this collection, but other releases in this series have been uniformly first-rate.



<! B0009XCDEY DVD >

Joyce "Curriculum" (Discobertas, 2011) <! Microservice Brasil >





<! 1 - Olhos feiticeiros com sambacana ; 2 - Voce por telegrama ; 3 - A vez e a voz da paz ; 4 - Dia de vitoria ; 5 - Andanca com momemto 4uatro ; 6 - Sem mais luanda ; 7 - Cavaleiro andante com eduardo conde ; 8 - Andrea ; 9 - Copacabana velha de guerra ; 10 - Please garcon ; 11 - Bachiana brasileiras no 5 ; 12 - Sei la com a tribo ; 13 - Onoceonekoto ; 14 - Kyrie com a tribo ; 15 - Tapinha ; 16 - Peba e pobo ; 17 - Caqui ; 18 - Adeus maria fulo ; 19 - Nada sera como antes ; 20 - Pessoas >

---
Related Records
---
Yoko Kanno "Wolf's Rain" (Bandai, 2004)


Joyce apparently contributes several songs to this album, a soundtrack to a popular Japanese anime series... When I get the chance to track it down and check it out, I'll letcha all know what I think.
---
Links
---
Joyce Moreno's website is packed with great information!
Brazzil magazine has an excellent interview posted on their website. I can't send you directly there, but if you use their site's internal search engine, and type in "Joyce", you should be able to find it, no problem. The article also has a bunch of Joyce-related links which are not posted here. Several seem to have expired, but others are up and running.
---



---