<! MP3 09/12/08, 12/03/09 > <! update 09/12/08 > <! pix 12/03/09 > <! icons 01/22/11 >

---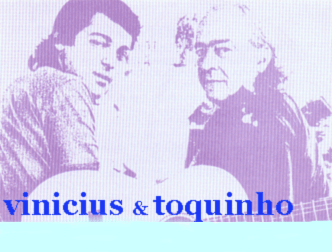 Poet and lyricist Vinicius de Moraes (1913-1980) was one of the original bossa nova scenesters. and wrote dozens of songs which have since become MPB standards. Already an established artist and intellectual figure when the Bossa Nova scene burst out, DeMoraes hung out with Antonio Carlos Jobim and Joao Gilberto, adding an air of respectability to their efforts in the early days, when the style was still struggling to establish itself. Vinicius was Jobim's songwriting partner for several years, and co-created the famous play Orfeu Negro (Black Orpheus), which was later adapted into a Cannes-winning film. Later, Jobim and Vinicus co-wrote the song, "Chega de Saudade", which became the first bossa nova hit, after guitarist Joao Gilberto was enlisted to record it. A poet and former Brazilian diplomat, De Moraes cultivated an image as an artsy beatnik poet, and would often plug a recitation into his songs. During the 1970s his main partner was the acoustic guitarist named Toquinho, a much younger artist who eventually went off on his own.
Toquinho supplied some of Vinicius' most compelling accompaniment, recording several excellent albums with him, and touring extensively. His classical guitar perfectly captured the cosmopolitan bossa nova vibe. Sadly, his later solo recordings (several of which are reviewed below) tend to be pretty saccharine, although he is a flawless musician.
---
Discography - Albums
---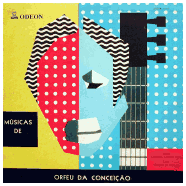 Vinicius De Moraes "Musicas De Orfeu Da Conceicao" (Odeon, 1956)



A brief EP that documents the historic stage show of the Orfeu play... it's a pretty rough mix of stagey orchestral themes, De Moraes intoning sections of the libretto, and a somewhat shrill chorus singing a few songs... Some of the melodies will be familiar to fans of the Black Orpheus soundtrack (listed below), but these early versions are rather crude in comparison to the later studio recordings. It's also a very brief disc -- less than twenty minutes long. An important relic of the growth of bossa nova, but not a very satisfying or compelling record. Apparently guitarist Luiz Bonfa plays on this album -- and added material as a composer -- although his performances are obscured in the murky sound mix.
Vinicius De Moraes "Poesias, v.2" (1957)

Vinicius De Moraes "Cancao Do Amor Demais" (1958)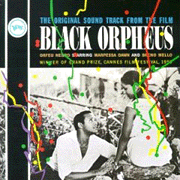 Various Artists "BLACK ORPHEUS" (Soundtrack) (Fontana, 1959)



The first major incursion of bossa nova into the minds and hearts of North America and Europe. Actually the album is largely made up of samba de enredo percussive tracks, although Jobim's non-Joao Gilberto bossa and Luiz Bonfa's acoustic guitar work made quite a splash. Internationally, Bonfa's "Manha de Carnaval" was an big hit, and although the bossa nova sound is still a little unformed here, it makes for lovely listening. Vinicius' "Felicidade," a collaboration with Antonio Carlos Jobim, is included, in a disjointed version, where the mellow melody is juxtoposed with the sounds of children at play and ambient sounds of Rio.
Vinicius De Moraes & Antonio Carlos Jobim "Brasilia: Sinfonia Da Alvorada" (1961)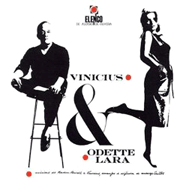 Vinicius De Moraes & Odette Lara "Vinicius + Odette Lara" (Elenco, 1963)



Bossa nova with a playful edge. Poet/songwriter Vinicius De Moraes, sort of a bossa Beatnik, is teamed up with actress Odette Lara, who acquits herself quite well in the role of Brazil's Brigitte Bardot. Vinicius' vocals are whisper-y, conversational and penetrating, and Lara's are appropriately lush and sultry -- on duets, their voices don't always mesh, but since they mostly trade off on the songs, it doesn't matter much. Features the tune, "Berimbau", which is credited with helping re-popularize the twangy folk instrument of the same name. Strong arrangements and solid delivery make this one well worth checking out.
Vinicius De Moraes "Vinicius: Poesia E Cancao, v.1" (Forma, 1966)
An often grandiose bossa nova extravaganza, with several of the biggest up-and-coming names in the bubbling MPB scene accompanying Vinicius. The sound quality is very poor, but the performances are, one supposes, historic. Six of one, half dozen of the other.
Vinicius De Moraes "Vinicius: Poesia E Cancao, v.2" (Forma, 1966)
Pretty much the same deal as the first volume. Among the notable performers is a young Edu Lobo... And again, the sound quality is pretty bad. As far as I can tell, it's the original recording thats at fault, not just the current transfer.

Baden Powell & Vinicius De Moraes "Os Afro-Sambas" (Forma, 1966)


Unquestionably one of the greatest and most magical Brazilian albums ever recorded, this disc has mysteriously remained largely out of print for decades. Well, now that I've finally shelled out the big bucks for a pricey Japanese import, I'm sure cheap copies will soon flood the market. At any rate, this collaboration between guitarist Baden Powell and bossa poet Vinicius De Moraes is incandescent and timeless; the music leaps out at you, as vibrant now as it was all those years ago. It's also probably the career highpoint for the female vocal group, Quarteto Em Cy, who later became overly polished and bland, but here sound youthful and even a bit unruly -- like a mob of teenage girls dragged in to sing for an after-school choir. The mix of moody, unsettling bossa nova melodies and somewhat abrupt African rhythms was wisely left a bit rough around the edges, and as a result retains an eerie, haunting strength. Powell rerecorded this album twenty-five years later (albeit without Vinicius' help; De Moraes had been dead for over a decade...), and while that version has its moments, it is nowhere near as transcendent as the original. If you can track this album down, it's a classic.
Dorival Caymmi & Vinicius De Moraes "Caymmi No Zum Zum" (Elenco, 1967)



A collaboration with bossa nova poet Vinicius De Moraes, samba composer Dorival Caymmi, the Quarteto Em Cy vocal group and the Oscar Castro-Neves band.
Vinicius De Moraes/Sergio Endrigo/Guiseppe Ungaretti "La Vita, Amico E L'Arte Dell'Incontro" (1969)


Vinicius De Moraes & Amalia Rodrigues "Vinicius/Amalia" (EMI/Valentim De Carvalho, 1970)


Late in 1968, Vinicius made a journey to Portugal where, as one of the most renowned modern poets of the Portuguese language, he was duly feted as the guest of Amalia Rodrigues, the world's greatest fado singer. This is a recording of a performance/party at her place, with De Moraes and other poets intoning solomnly and Amalia taking a few turns crooning in the stately style she had perfected years earlier. I didn't actually find this album that much fun to listen to, but it is an important document of the acclaim that the new Brazilian art scene aroused back in the mother country. Worth checking out.
Vinicius De Moraes & Toquinho "Sao Demais Os Perigos Desda Vida" (RGE, 1971)


Vinicius De Moraes/Toquinho/Maria Bethania "La Fusa" (EMI, 1971)



A bossa nova lovefest, with all concerned at the height of their powers. It's mostly Vinicius' show: Bethania sings an only about half the tracks, which is a pity since she compliments his voice so well. I believe this album was an adaptation of a live show, originally staged with Maria Crueza as the female vocalist. Highly recommended!


<! alternate version, "En Mar De Plata" MP3 edition B000QQXFMS >

Vinicius De Moraes/Toquinho/Maria Bethania "En Mar Del Plata" (EMI, 1971)


This is, I believe, pretty much the same record as La Fusa. Regardless, it's all simply gorgeous. A highpoint for all three artists.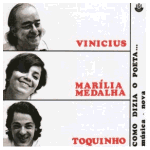 Vinicius De Moraes/Toquinho/Marilia Medalha "Como Dizia O Poeta" (RGE, 1971)



A classic bossa/MPB album featuring bossa poet Vinicius De Moraes and his touring partner Toquinho, along with vocalist Marilia Medalha, who was a replacement for divas Maria Creuza and Maria Bethania, who had previously sang the lead in the Vinicius-Toquinho stage show, "La Fusa." Medalha may have been a second-stringer, but she sounds quite nice (and quite youthful) here: this was her shining moment, and she made the most of it.
Vinicius & Toquinho "Toquinho E Vinicius" (RGE, 1972)
A great album, which is typical of tropicalia-era bossa albums, which tried to keep up with the vigorous new style. This features bright, present production and punchy, effective string arrangements which are succinct and avoid sounding syrupy. Recommended!
Vinicius De Moraes & Marilia Medalha "Encontro E Reencontro" (RGE, 1972)

Vinicius De Moraes "Canta Nossa Filha Gabriela" (Polydor, 1972)
The soundtrack to a soap opera on TV Tupi...
Vinicius De Moraes/Maria Creuza/Toquinho "O Bem Amado" (Soundtrack) (Som Livre, 1973)
Soundtrack album.
Vinicius De Moraes & Toquinho "Vinicius & Toquinho - Toquinho & Vinicius" (Phonogram, 1974)


Vinicius De Moraes/Maria Bethania/Toquinho "Days In Mar Del Plata" (Circular Moves, 2002)


MPB diva Maria Bethania was brought in to take Creuza's place in the La Fusa show, and the difference between their styles is instructive. Where Creuza was all sweetness and light, the archetypal bossa nova songbird, Bethania was, well -- Bethania. Her husky, powerful vocals don't merely compliment Vinicius and Toquinho's compositions, they match them and push them further, bringing a new level of immediacy to the performance. Don't get me wrong: Creuza's vocals were pretty and pleasant, but Bethania's seem somehow momentous. Both versions of the show are worth having, though this one may send shivers down your spine. Recommended!
Vinicius De Moraes & Toquinho "Vinicius/Toquinho" (Phonogram, 1975)


Vinicius & Toquinho "O Poeta E O Violao" (RGE, 1975)
A sweet, super-informal album that they apparently whipped out in about four hours one day in the studio. The two brainstorm their songlist while the tape is running, and go through an impressive set of bossa nova standards such as "Tristeza," "Chega De Saudade" and "Berimbau..." as well as a cute English-language rendition of the old Nat King Cole hit, "Nature Boy." Not breaking any new ground, but it does show how tight their act was, and how thoroughly in synch they were as a duet.

Vinicius De Moraes/Maria Creuza/Toquinho "Vinicius De Moraes Grabado En Buenos Aires" (Eldorado)


A tasty reissue of the first classic, early '70s collaborations between Vinicius and Toquinho, whom he met while working in Argentina. This is also known as La Fusa, which gets a little confusing since Maria Bethania later replaced Creuza as the trio's "girl" singer, and an album under the same title was also released with Bethania as the featured vocalist. In fact, the discography of all these albums is hard to keep straight because there are so many different editions and variant releases out there, on an equally dizzying variety of labels. I'll do my best... but the real thing to keep in mind is that all the versions are quite nice, reflecting some of the finest blends of bossa nova and modern MPB. Recommended... all of 'em!

Vinicius De Moraes/Maria Creuza/Toquinho "Live In Buenos Aires" (Circular Moves, 2002)


The same classic, early '70s collaborations of the time of the "La Fusa" show, with all three artists playing at their peak. Creuza, who later became pretty chesesy and commercialized, is wonderful to hear on these early performances. This US reissue has great sound quality, and it definitely worth tracking down!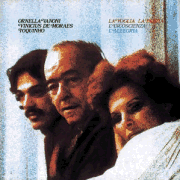 Vinicius De Moraes/Toquinho/Ornella Vanoni "La Voglia La Pazzia L'Incoscienza L'Allegria" (Warner Europe, 1976)


Cool Italian bossa nova... a surprisingly strong album! Italian pop singer Vanoni isn't ideal in the Astrud Gilberto role, but she doesn't suck, either. (It's just that lackluster Italian pop thing.) Still, she gets it better than you'd imagine, and this is a fascinating album, with Italian lyrics in place of the standard Portuguese. As usual, Vinicius and Toquinho turn in a solid performance -- it'd be difficult to imagine this sounding as groovy as it does had she gotten anyone else to back her up. Unusual and worth tracking down.

Vinicius De Moraes & Edu Lobo "Deus Ihe Pague" (Soundtrack) (1976)
An interesting collaboration in which poet De Moraes provides the libretto and MPB composer Lobo the music for this musical stage play. Lobo's score has plenty of punchy musical Broadway-isms, liberally laced with Brazilian samba rhythms; some of it's interesting and original, some of it feels old hat. The oddest thing about this recording is the exclusive use of the stage actors as vocalists and the absence of big-name MPB stars... Thus, folks like Neuza Borges, Margot Britto, Walmor Chagas, Nadinho Da Ilha, Sidney Marques, Marilia Pera and Ronaldo Reseda shoulder the singing chores, and their style is more typical of the show-tunes belters than the smooth bossa-jazz of Brazilian musical royalty. Not sure if it's "better," but it is a different sound... An unusual album, with some creative, inventive work from all involved.
Vinicius De Moraes "Antologia Poetica" (Phonogram, 1977)


Vinicius De Moraes/Toquinho/Miucha/Tom Jobim "Gravado Ao Vivo No Canecao" (Som Livre, 1977)


(Produced by Aloysio de Oliveira)
Cool concert album, conducted by legendary producer Aloysio de Oliveira. Lively but also a bit shrill, this gives a nice glimpse at some of Brazil's most charismatic performers... For Jobim, in particular, this is a nice look behind the veil of his uber-artsy persona.
Vinicius De Moraes & Toquinho "Um Pouco Do Ilusao" (Ariola, 1980)

Vinicius De Moraes "A Arca Do Noe" (Ariola, 1980)

Vinicius De Moraes "A Arca Do Noe, v.2" (Ariola, 1981)

Vinicius De Moraes/Toquinho/Quarteto Em Cy "En Sao Paulo" (Alfa Records, 1990)
A totally fab recording of a 1974 concert held in Sao Paulo's Teatro Tuca. The theme is a tribute to "the three Pablos" Picasso, Casals and Neruda (who all three died in 1973.) Since my Portuguese is... ahem... a bit rusty, I have no idea what the spoken intros and poems are about, but the performances throughout are captivating. Vinicius does his best to project his oddball artist image, Toquinho jams tirelessly on the guitar and the Quarteto provide quite tasteful vocal accompaniment. Only when Quarteto Em Cy are let loose on their standard a capella Chico Buarque medley do they become a little irritating. The sound quality of this CD leaves a lot to be desired, but the performances are compelling.
---
Toquinho Solo | Best-Ofs, Tributes & Links
---



---