<! MP3 09/12/08, 12/06/09, 04/13/12 > <! pix 12/06/09, 04/13/12 > <! icons 01/22/11 > <! UPDATES: 09/12/08 04/13/12 - some adds, new review, pix >

---
Guitarist Toquinho started his professional career working with MPB composer Chico Buarque as well as songwriter Paulo Vanzolini, although he is probably best known for his long partnership with bossa nova poet Vinicius De Moraes, a partnership which spanned the 1970s, with Toquinho supplying some of the most compelling accompaniment of Vinicius's career. His deft classical guitar work perfectly captured the cosmopolitan bossa nova vibe, and added a soulfulness which matched De Moraes's often mournful lyrics. Sadly, Toquinho's later solo recordings tend to be pretty saccharine, although he is a technically flawless musician. For more in-depth reviews of albums made with De Moraes, see my Vinicius De Moraes discography.
---
Discography
---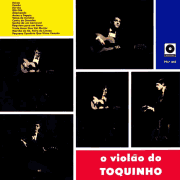 Toquinho "O Violao De Toquinho" (RGE, 1966)



A nice mellow bossa-instrumental set, focussed on Toquinho's sleek guitar work, with demure accompaniment from a modest ensemble. The organ accompaniment, by Ely Arcoverde, is a little bit silly at times, and detracts from an otherwise elegant performance, but for the most part this is a nice little record. It's interesting to hear Toquinho's work from before his long, fruitful partnership with Vinicius De Moraes -- much of the solemnity and deliberation of his later work is already present; I guess it wasn't all generated by Vinicius after all! Also released as A Bossa Do Toquinho, with different cover art but all the same songs.


<! Toquinho (violao) Ely Arcoverde (organ) Thommas Lee (flute) Jose Roberto, Marco Antonio (drums) the organ accompaniment is a little bit silly, and detracts from an otherwise elegant performance. >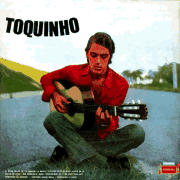 Toquinho "Toquinho" (RGE/Fermata, 1970)


(Produced by Joao Araujo)
A delicious, delightful album, with "samba-rock" classics such as "Que Maravilha" and "Carolina Carol Bela" (both duets with Jorge Ben) and "Zana," as well as several calmer classical/bossa guitar showcases, including a duet with Toquinho's teacher, Paulinho Nogueira, playing on a flowery version of Villa-Lobos' "Bachianinha #1." A couple of tracks have overly gooey orchestrations, but overall this disc is a delight. Highly recommended!


<! We can listen Toquinho vocals on 3 songs, Agua Negra de Lagoa, Zana e Dobrando a Esquina, Jorge Ben duets with Toquinho on the legendary song Que Maravilha and Carolina, Carol Bela. Paulinho Nogueira is also here on Bachianinha #1 playing guitar with Toquinho. >

Toquinho/Maria Bethania/Vinicius De Moraes "La Fusa" (EMI, 1971)



A bossa nova lovefest, with all concerned at the height of their powers. It's mostly Vinicius' show: Bethania sings an only about half the tracks, which is a pity since she compliments his voice so well. I believe this album was an adaptation of a live show, originally staged with Maria Crueza as the female vocalist. Highly recommended, and now available on CD.


<! alternate version, MP3 edition B000QQXFMS >

Toquinho/Maria Bethania/Vinicius De Moraes "En Mar Del Plata" (EMI, 1971)


This is, I believe, pretty much the same record as La Fusa. Regardless, it's all simply gorgeous. A highpoint for all three artists.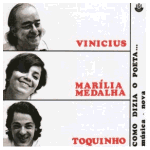 Toquinho/Vinicius De Moraes/Marilia Medalha "Como Dizia O Poeta" (RGE, 1971)



A classic bossa/MPB album featuring bossa poet Vinicius De Moraes and his touring partner Toquinho, along with vocalist Marilia Medalha, who was a replacement for divas Maria Creuza and Maria Bethania, who had previously sang the lead in the Vinicius-Toquinho stage show, "La Fusa." Medalha may have been a second-stringer, but she sounds quite nice (and quite youthful) here: this was her shining moment, and she made the most of it.
Toquinho & Vinicius De Moraes "Sao Demais Os Perigos Desta Vida" (RGE, 1971)

Toquinho & Vinicius De Moraes "Toquinho E Vinicius" (RGE, 1971)





<! 1. Essa Menena (Esa PequeĖa) 2. Maria Vai Com as Outras (María Va Con Las Otras) 3. Testamento 4. O Poeta Aprendiz (El Poeta Aprendiz) 5. Eu Nčo Tenho Nada a Ver Com Isso (No Tengo Nada Que Ver Con Eso) 6. Terra Prometida (La Tierra Prometida) 7. Sei lá... a Vida Tem Sempre Razčo (Que Sé You... La Vida Siempre Tiene 8. O Velho E a Flor ( el Viejo y La Flor) 9. O Canto de Oxum (El Canto de Oxum) 10. Rosa Desfolhada (La Rosa Deshojada) 11. Flor Da Noite (La Flor de La Noche) 12. Blues Para Emmett (El Negrito Norteamericano Que Osó Silbar a una Mujer >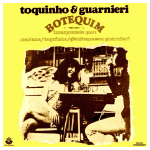 Toquinho/Marlene/Gianfrancesco Guarnieri "O Botequim" (RGE, 1973) (LP)

Another sweet bossa-flavored album, with typically great guitar work by Toquinho, and actor Gianfrancesco Guarnieri taking on the role normally filled by Vinicius. Marlene's vocals are very much in Elis Regina's style though perhaps not as stellar. Overall, another lovely record.
Vinicius De Moraes/Maria Creuza/Toquinho "O Bem Amado" (Soundtrack) (Som Livre, 1973)


Soundtrack album.
Toquinho & Vinicius De Moraes "Toquinho E Vinicius" (Phonogram, 1974)





<! 1. Como E Duro Trabalhar 2. Samba Da Volta 3. Carta Que Nao Foi Mandada 4. Triste Sertao 5. Carta Ao Tom 74 6. Canto E Contraponto 7. Samba Pra Vinicius 8. Sem Medo 9. Samba Do Jato 10. As Cores De Abril 11. Tudo Na Mais Santa Paz >

Toquinho "Boca Da Noite" (RGE, 1974)



A nice solo album, with lots of fascinating contending influences. Plenty of flamenco and classical-based explorations, along with all the groovy bossa ballads. Some tracks hint at the syrupy horror that would plague his later work, but mostly this stays on a pretty even keel. At times his approach is reminiscent of British acoustic folk revivalists such as John Renbourn, most obviously on the blues-based "Lembrando Josh White" (but also more subtly on other numbers).




Toquinho & Vinicius De Moraes "Vinicius/Toquinho" (Phonogram, 1975)
(Produced by Fernando Fado)



<! weird grasping claws cover art >

Vinicius & Toquinho "O Poeta E O Violao" (RGE, 1975)


A sweet, super-informal album that they apparently whipped out in about four hours one day in the studio. The two brainstorm their songlist while the tape is running, and go through an impressive set of bossa nova standards such as "Tristeza", "Chega De Saudade" and "Berimbau"... as well as a cute English-language rendition of the old Nat King Cole hit, "Nature Boy." Not breaking any new ground, but it does show what a tight their act was, and how thoroughly in synch they were as a duet.


<! newer edition B000WMGC12 >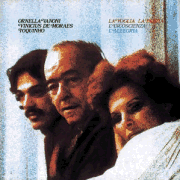 Vinicius De Moraes/Toquinho/Ornella Vanoni "La Voglia La Pazzia L'Incoscienza L'Allegria" (Warner Europe, 1976)


Cool Italian bossa nova... a surprisingly strong album! Italian pop singer Vanoni isn't ideal in the Astrud Gilberto role, but she doesn't suck, either. (It's just that lackluster Italian pop thing.) Still, she gets it better than you'd imagine, and this is a fascinating album, with Italian lyrics in place of the standard Portuguese. As usual, Vinicius and Toquinho turn in a solid performance -- it'd be difficult to imagine this sounding as groovy as it does had she gotten anyone else to back her up. Unusual and worth tracking down.

Vinicius De Moraes/Toquinho/Miucha/Tom Jobim "Gravado Ao Vivo No Canecao" (Som Livre, 1977)


(Produced by Aloysio de Oliveira)
Cool concert album, conducted by legendary producer Aloysio de Oliveira. Lively but also a bit shrill, this gives a nice glimpse at some of Brazil's most charismatic performers... For Jobim, in particular, this is a nice look behind the veil of his uber-artsy persona.
Toquinho "Il Brasil Nella Chitarra Strumentale" (Arlequim, 1976)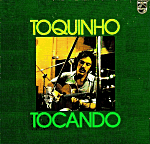 Toquinho "Toquinho Tocando" (Phonogram, 1977)
Classic Toquinho. A mix of samba, choro, flamenco and a bit of jazz. Mostly he plays solo, sometimes with Dino Sete Cordas as a second guitar, and on a couple of tracks there's a full band, including Paulo Moura, among others. Perhaps the most original-sounding of these tunes is the dynamic "Caro Raul," which opens the album; his homage/collaboration "Choro Chorado Pra Paulinho Nogueira," is also quite nice. Only a couple of sogs are too gooey -- but only just slightly -- on the whole, this is a very solid and enjoyable record. Recommended.


<! Toquinho Tocando (1977), for Philips, featuring Toquinho playing instrumental music, such like his debut album for RGE. If you know Toquinho only by his collaborations with Vinicius de Moraes, it is time to get in touch with Toquinho as an acoustic guitar virtuoso surrounded by renowned musicians, such as: Dino Sete Cordas, Paulo Moura, Azeitona, Jorginho, among others. Tracks include. 01 - Caro Raul (Toquinho) 02 - O Bem-amado (Toquinho / Vinicius de Moraes) 03 - Regra Trźs (Toquinho / Vinicius de Moraes) 04 - Implorando (Toquinho) 05 - Suíte Argentina (Toquinho) 06 - Samba do Ausente (Toquinho / Tenório Júnior) 07 - Tarde Em Itapoč (Toquinho / Vinicius de Moraes) 08 - Camisa Molhada (Toquinho / Carlinhos Vergueiro) 09 - Choro Chorado Pra Paulinho Nogueira (Toquinho / Vinicius de Moraes / Paulinho Nogueira) 10 - Diálogo (Toquinho / Vinicius de Moraes) 11 - Turbilhčo (Toquinho) >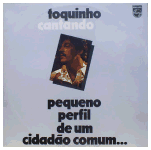 Toquinho "Pequeno Perfil De Um Cidade Comum" (Philips, 1978)
If you were going to go for anything by him, post-Vinicius, this is one of your better options. What's most immediately surprising is that his voice isn't that great; not quite as froggy as Chico Buarque's, but in that general range. Still, this album balances MPB's cheesiness against its more classy tendencies, and holds up to extensive listening.
Toquinho & Vinicius De Moraes "Um Pouco De Ilusao" (Ariola, 1980)

Toquinho "Doce Vita" (Ariola, 1981)
(Produced by Mazzola)
This album is also pretty good -- one of his better solo records. With the exception of one (only mildly horrifying) disco-tinged tune, this is straight-up bossa nova pop, along the lines of the stuff that Chico Buarque made in the mid-to-late '60s, just before the tropicalia boom. The album's producer? The ever-mystifying Mazzola, who was also making all those scary-bad Gilberto Gil albums around the same time. Go figure.

Toquinho "Ao Vivo Em Montreux" (Ariola, 1982)
A nice live set, alternating between delicacy and forcefulness. Mostly it's quite nice; restrained as you might imagine, but also a bit aggressive on a tune or two -- too much so for me, but it's still nice to hear a change of pace in Toquinho's work. A strong, tasteful album... Definitely worth checking out.


<! Toquinho (violao) Azeitona (bass) Mutinho (drums) Djalma Correa, Papete (percussion) Roberto Sion (sax, flute) -- this is particularly nice! >

Toquinho "Aquarela" (Ariola, 1983)





Toquinho/Various Artists "Casa De Brinquendos" (Ariola, 1983)


Performances with many guest stars -- Chico Buarque, Baby Consuelo, Moraes Moreira, MPB4, Lucinha Lins, Simone and others...
Toquinho "Sonho Dourado" (Barclay/Ariola, 1984)

Toquinho "Bella La Vita" (CGD/Maracana, 1984)
Yuck-ola! Capitalizing on his popularity in Europe, Toquinho cut this Italian-language pop album which is quite horrible, but is also in keeping with the inexplicable Italian taste for quite horrible pop music. Glossy and icky. Avoid.
Toquinho "A Luz Do Solo" (PolyGram/Barclay, 1985)

Toquinho "Coisas Do Coracao" (PolyGram/Barclay, 1986)
A dreadful album with only a few glimmers of hope. Mostly super-drekky pop, with two pleasant samba tunes, and a couple of Gipsy Kings-ish instrumentals to show off his guitar chops. Toquinho wrote or co-wrote all the songs on here, but that's not entirely to his credit.
Toquinho "Cancao De Todas As Criancas" (Polygram, 1987)


A children's album, recorded with lyrics from Elifas Andreato

Toquinho & Sadao Watanabe "Made In Coracao" (Elektra, 1988)


A pretty goopy set, due in large part to Watanabe's choice of instruments: I personally find the soprano (and alto) sax to lend itself all too-easily to syrupy tones. Maybe that's just my own failing, but there you have it. Anyway, I didn't like this one. A lot.
Toquinho "A Sombra De Um Jatoba" (BMG-Ariola, 1989)

Toquinho "Toquinho Instrumental" (BMG-Ariola, 1990)

Toquinho "O Viajante Do Sonho" (BMG-Ariola, 1992)

Toquinho "Trinta Anos De Musica" (BMG-Ariola, 1995)

Toquinho "...E Suas Cancoes Preferidas" (Paradoxx, 1996)

Toquinho/Various Artists "Vivendo Vinicius Ao Vivo" (BMG, 1999)
A tribute to Vinicius de Moraes which includes live performances by Baden Powell, Carlos Lyra and Miucha.
Toquinho "Italiano" (Movieplay/Ovacao, 1999)


Toquinho & Paulinho Nogueira "Sempre Amigos" (BMG-Ovacao, 1999)



Toquinho & Paulinho Da Viola "Sinal Aberto -- Gravado Ao Vivo" (BMG, 1999)



A fine live 2-CD live set which unites two of Brazil's classiest acoustic musicians in front of a warmly appreciative audience at Rio De Janeiro's Teatro Joao Caetano. The tracks are evenly split between duet and solo performances, all of which slip by in a honied, melodic haze. The first disc is the sweetest, and glides past smoothly, seeming much shorter than it actually is. The second disc is a little more cluttered and climactic, but still quite nice. A class act -- definitely recommended.
Toquinho "Musicalatinoamericana" (DV More, 2001)

Toquinho "Cancao Dos Direitos Da Crianca" (Ovacao, 2002)



A set of children's music, with numerous guest performers.
Toquinho "So Tenho Tempo Pra Ser Feliz" (Ovacao, 2003)






<! Só Tenho Tempo Pra Ser Feliz DVD B000BYAD8E >

Toquinho "Mosaico" (Tratore, 2007)


Toquinho "Bossa Nova Forever" (Buena Suerte, 2009)

---
Best-Ofs
---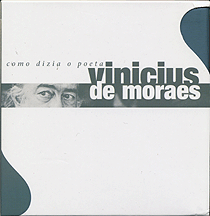 Vinicius De Moraes "Como Dizia O Poeta" (Universal, 2001)


All of Toquinho's collaborations with Vinicius De Moraes are included on this dense 27-CD box set... Yes, that's right: twenty-seven CDs of Vinicius de Moraes and his ouvre... (More details about this collection can be found on the Vinicius De Moraes discography.)
Toquinho & Vinicius De Moraes "Personalidade" (Verve, 1992)


Toquinho & Vinicius De Moraes "10 Anos: O Melhor De Vinicius & Toquinho" (Philips)



Mainly a bunch of "potpourri" medleys of their many and considerable hits, with a couple of straight songs put in as bookends.
Toquinho & Vinicius De Moraes "20 Preferidas: Toquinho, Vinicius & Amigos" (RGE, 1997)
An excellent retrospective. Includes a hefty chunk of songs with guest stars on them, especially vocalist Marilia Medalha, whose voice is quite sweet.
Vinicius De Moraes/Maria Creuza/Toquinho "O Grande Encontro De..." (Som Livre)


Speaking of the old stuff, this is a nice collection of classic, early '70s material from the original Vinicius-Toquinho partnership, including some of the best vocals of Maria Creuza's career.
Toquinho "Focus: O Essencial De Toquinho" (BMG, 1999)


Although his solo work is generally too poppy for me, and really not my cup of tea, this collection is a pretty good representation of Toquinho's work. A handful of songs are nice; many more sound just dreadful. But if you want to check him out, this set may be enough to do the trick. Covers 1980 to 1994.
Toquinho "Millennium" (Mercury-Universal, 1999)



For the most part, this is absolutely dreadful. A heavy emphasis on the most godawful cloying, saccharine, wimpy pop he recorded in his later years sadly overshadows the more innocent, interesting material he recorded early on for the RGE label. There are three songs included from that early period, and seventeen others from his work on BMG and various other labels. It's mostly pretty terrible.
---
Other Media
---
Toquinho/Miucha/Tom Jobim/Vinicius De Moraes "Musicalmente Dallo Studio 3" (1978?) (DVD)


An hour-long, all-star concert filmed for Italian TV in the late '70s (October 18, 1978, to be precise, for an appreciative audience in Lugano, Switzerland...) The show was held in honor of songwriter Vinicius De Moraes, who acts as emcee, cigarette and bourbon both firmly in hand. The entire affair is a bit low-key and sedate, in part becuase of the demure studio audience, but also because Vinicius seems a bit detatched and diminished, not really cutting loose until the final medley. To his credit, Toquinho injects a fair amount of life into the show, even though Jobim and Miucha also both seem a bit uncomfortable and reserved. Still, what a great chance to see all this bossa-MPB heavyweights in action, and to hear them address the crowd in Italian, no less. Worth checking out, but don't get your hopes up too high. (On DVD, with subtitles in English, Spanish and Portuguese.)


<! width=101 height=144 - look it up >
Toquinho/Various Artists "Toquinho" (DVD) (Biscoito Fino, 2001)


A beautiful historical portrait of acoustic bossa guitarist, Toquinho, performing in concert and in informal sessions along with his own band, and with several of MPB's biggest stars. Cameos by Paulinho Nogueira, Gilberto Gil, Chico Buarque, Jorge Ben -- and an uncredited Antonio Carlos Jobim -- light up the screen, all aided by Toquinho's graceful, sympathetic accompaniment. The glimpses of him working with Vinicius in the early 1970s are tantalizing and all-too-brief... Is there some other film out there that has more footage of their long, grand collabortation? A nice portrait of one of Brazilian music's most solid and professional performers... Recommended viewing!
Toquinho "No Mundo Da Crianca" (DVD) (Biscoito Fino, 2008)


A set of children's music, with lots of guest performers on hand as well.
---
Links
---
Louis Briand's website has an extensive essay on the album and play, La Fusa, with particular attention paid to Maria Creuza... (In French.)
---



---