---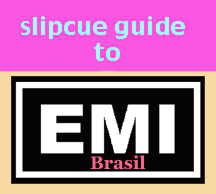 EMI-Brasil is heir to several important reserves of Brazilian popular culture. Many of the earliest and most pivotal popular recordings were made on the Copacabana and Odeon labels; recently EMI-Brasil has launched on an impressive reissue campaign that's bringing back some of the best Brazilian oldies. Here's a quick peek at some of their fabs reissues.
First up is the Cantores Do Radio series, which focuses on the stars of the pre-bossa nova era, when regional and national radio broadcasts were Brazil's main source of popular music. These singers mostly specialized in bouncy, Carnaval-flavored samba cancao tunes, but also excelled at Tin Pan Alley-style crooning as well as romantic ballads and boleros familiar to the rest of Latin America.
EMI-Brasil has also recently reissued several dozen volumes of teenybopper rock'n'roll from the Jovem Guarda scene, which are profiled in a separate section...
---
Cantores Do Radio Series
---
Various Artists "CANTORES DO RADIO v.1" (EMI-Brasil, 2000)
Starting off the series are these two double-CD collections, which (yay!) are not simply samplers of the rest of the series... These compilations actually feature dozens of artists that aren't profiled in separate retrospectives. This first volume covers the 1920s, '30s and '40s, with folks like Joao do Barro, Aracy de Almeida, Noel Rosa and Carmen Miranda featured on some of their best material. Gorgeous stuff!
Various Artists "CANTORES DO RADIO v.2" (EMI-Brasil, 2000)
The tracks on this volume are of later vintage - a handful of songs from the 1930s, and a few tilting into the 1970s. More great stuff, featuring artists who aren't included in the other retrospectives, such as the Trio Do Ouro, Os Guaranis, Odette Amaral and even Cauby Peixoto (who is credited as being the first Brazilian vocalist to record a rock'n'roll tune). Off the beaten track & recommended!
---
Francisco Alves "Serie Bis - Cantores Do Radio" (EMI-Brasil, 2000)
Classic material from one of the most beloved singers of the golden era of samba cancao. An early recording star in the 1920s, Francisco Alves was also one of the biggest names in Brazilian radio during the 1930s and '40s, hosting his own program, and popularizing songs by writers such as Cartola and Ismael Silva. This 2-CD set covers a wide variety of styles, from clattering, bouncy Carnaval sambas to swank, Hollywood-tinged "sweet" big band and pop vocals material, including many songs that have become MPB standards. The musicianship is top-flight throughout, as are Alves' warm, inviting, pleasantly corny vocals. An excellent collection -- highly recommended!
Gilberto Alves "Serie Bis - Cantores Do Radio" (EMI-Brasil, 2000)
Now a lesser-known star of Brazil's radio days, Gilberto Alves recorded extensively in the late 1930s and '40s, and was one of the best-beloved singers of his generation. His style encompassed big band crooning as well as straightforward samba cancao, all delivered in a fresh-sounding, friendly voice. Not as studiously suave as his contemporaries such as Orlando Silva or Francisco Alves, Gilberto is in a sense a more inviting, less moderated singer -- this is one of the best collections in this series, particularly if you are looking for the old stuff!
Carlos Augusto "Serie Bis - Cantores Do Radio" (EMI-Brasil, 2000)
A syrupy singer specializing in the classic Latin American bolero, Carlos Augusto eschewed the hometown rhythm of the samba in favor of the lush romanticism of the ballroom sound. These Portuguese-language dance tunes seem to have been written mainly by Brazilians, although the style is definitely an import from el mundo espanol. Still, his vocals aren't overly corny, and the early '60s arrangements are also forceful but demure. A nice example of Brazil's participation in the wider Latin America culture.
Dyrcinha Batista "Serie Bis - Cantores Do Radio" (EMI-Brasil, 2000)
This disc opens on shaky ground, technically speaking, as the first track, her 1937 version of Lupicinio Rodrigues' "Nunca", warbles and buckles a bit under the weight of time. That's how you know, though, that this is a collection that includes actual radio performances, along with film appearances and numerous studio recordings. It's worth sticking it out, though, as Dyrcinha turns out to be one of the finest Depression-era singers in the Brazilian constellation. A confident vocalist with a warm, delicate trill and cheerful delivery that's reminiscent of Carmen Miranda, Batista also covered similar terrain, excelling in a brace of cheerful samba cancao tunes. This collection tracks her career through the late thirties into the wartime era and onto the early '50s... Highly recommended set by one of an early great whose best work is little-remembered nowadays.
Sylvio Caldas "Serie Bis - Cantores Do Radio" (EMI-Brasil, 2000)
Although Caldas' career extended well into the 1950s and '60s, this set is a delight because it sticks strictly to his recordings of the 1930s, during the Depression-era golden years of Brazil's radio performers. A genteel, relaxed vocalist with the smoothness of Russ Columbo (but not the stylized panache of Bing Crosby), Caldas has a pleasant, calm delivery and all these antique-sounding classic samba cancao arrangements frame first-rate material. This is one of the gems of this series -- highly recommended!
Augusto Calheiros "Serie Bis - Cantores Do Radio" (EMI-Brasil, 2000)


One of the first major stars to hail from Brazil's rural-identifed Northeast, Calheiros was originally in the 1920s group known as Turunas da Mauriceia, along with Luperce Miranda (later a mainstay of Carmen Miranda's band). His nordeste roots may partly account for the comparative roughness of Calheiros' vocals, as opposed to the smoother Carioca and Paulista singers of the '30s and '40s. He was also a bit older than many of his contemporaries - this collection tracks his career from the mid-1930s up to the 1955, just before he passed away in '56. The arrangements are a little stiff, but still this is nice stuff, with a slightly different flavor than many of the other collections in this series.
Hebe Camargo "Serie Bis - Cantores Do Radio" (EMI-Brasil, 2000)


Movie actress and TV personality Hebe Camargo came in at the tail end of the pre-bossa nova pop era, and a couple of things set this collection apart from the others in this serie. One is the sound quality - the work on here dates from 1952-67, and in general has bright, clean punchy production. Then there's the material, which more overtly tilts towards North American sensibilities, in particular towards big band and straight pop vocals -- for example, the first disc starts off with a brassy cover of Bob Merill's "Mambo Italiano", and other latin dance tracks pepper the set list. She also dips into rock-tinged girl-group-ish trills, yet with a reserved classiness typical of "grown up" pop vocals of the era. Camargo has a nice voice, too -- clear, confident and full of good humor. Worth checking out!
Elizete Cardoso "Serie Bis - Cantores Do Radio" (EMI-Brasil, 2000)
Considered one of the seminal interpreters of Antonio Carlos Jobim's work in the early bossa nova era, Cardoso's vocals have long left me cold as a listener. Maybe that's because I had only tried her "classic" work from the 1960s. Now that I've got a chance to hear more of her later material -- when the pressure was off and the hype was reduced -- a bit more of her charm comes through. This collection is heavy on later material... true, it includes some of her late '50s/early '60s material, but not a whole lot, and as it turns out Cardoso became a more disciplined snger as time went by. Paradoxically, she also became looser and a bit more playful. This 2-CD set still has its overwrought moments, but it provides a more varied, nuanced look at her career than other collections which focus in on the bossa related material. I'm still not completely on board with the Elizeth cult, but I'm getting closer.
Carmen Costa "Serie Bis - Cantores Do Radio" (EMI-Brasil, 2000)


A soft-edged sambista whose career spans back to the late 1930s, when she worked as Francisco Alves' housekeeper, and eventually found her way onto his radio programs and into a career as a solo singer in the 1940s. Costa was one of the earliest interpreters of the great forro composer, Luiz Gonzaga, whose work she first recorded in 1942. Costa later moved to the United States and recorded straight jazz along with the likes of Ramsay Lewis and Dizzy Gillespie... The recordings on this 2-CD set are mostly of later vintage, from the mid-1950s, but they still capture Costa's gentle, winsome charm. A little slushy, but worth checking out!
Ivon Curi "Serie Bis - Cantores Do Radio" (EMI-Brasil, 2000)


Pretty corny stuff from a Mina Gerais native who specialized in Franco-European material in the 1940s, and turned to nordeste roots towards the end of the '50s. His blend of bouncy forro rhythms and chanson showiness probably won't capture your fancy, but then again, who knows? I found this to be negligible, although I guess it's an interesting footnote to the development of forro as a mainstream style.
Dalva De Andrade "Serie Bis - Cantores Do Radio" (EMI-Brasil, 2000)


One of the more syrupy and overwrought singers in this series, Dalva De Andrade had a more typically "pop" style than many of the Brazilian radio singers, closely informed by North American jazz influences. So far I haven't found this 2-CD set to be that riveting, but if I modify my opinion, I'll be sure to let you know.
Francisco Egydio "Serie Bis - Cantores Do Radio" (EMI-Brasil, 2000)


I guess somebody had to become Brazil's answer to Johnny Ray and Robert Goulet, and all the rest of those scary '50s/'60s male pop vocalists whose orphaned albums once haunted our thrift store bins. This particular brand of corn doesn't move me, but if you're into exploring the kitschier side of Brazilian pop, these Lawrence Welk-worthy oldies could certainly be of interest. Plenty of cover tunes, including a version of Conway Twitty's "Only Make Believe," which came out around the same time as the original...
Gastao Formenti "Serie Bis - Cantores Do Radio" (EMI-Brasil, 2000)


Some of the most antique recordings in this series - nearly half the tracks are from the 1920s, and most of the others are of 'Thirties vintage. Although there's some samba influence, these tracks tilt towards acoustic ballads and romantic interpretations along the lines of Cuba's Antonio Machin and Miguel Matamoros rather than dance tunes. It's a nice slice of old-world Brazilian pop that's unfamiliar to modern ears... nice stuff! Highly recommended.
Carlos Galhardo "Serie Bis - Cantores Do Radio" (EMI-Brasil, 2000)


One of the most overtly corny vocalists featured here, Galhardo recorded a bit in the 1930s, but the bulk of this collection comes from later albums recorded between 1973-78, and that material is less than riveting. Sure, the old samba cancao tunes are fun, but they are few in number and don't balance out the later, flaccid post-bossa pop. If you're really into it, this might be worth checking out, but I found the other Cantores collections much more exciting.
Isaura Garcia "Serie Bis - Cantores Do Radio" (EMI-Brasil, 2000)


The archaic, roller-rinky poppiness of these recordings will doubtless seem very foreign to present-day listeners, who are accustomed to the sleek, jazz-tinged stylings of modern MPB. If the toot-toot-toodlin' electric organ sounds familiar, it ought to: Isaura was one of the most important early collaborators with Walter Wanderley, of "Popcorn" fame, who also happened to be her husband. The material on these two discs is pretty old-fashioned, but it might grow on you.
Alcides Gerardi "Serie Bis - Cantores Do Radio" (EMI-Brasil, 2000)
Another gem in this series. Gerardi specialized in swooping romantic ballads, with more than a hint of Argentine tangos and French musette... Schmaltzy but delightful, this 2-CD set kicks off with a few galloping, lounge-y swing tunes and settles into calmer, cornier material. It's all really good... recommended!
Tito Madi "Serie Bis - Cantores Do Radio" (EMI/Copacabana, 2000)
Brazil's pre-bossa nova pop crooners are largely forgotten nowadays, since the newfangled music was so sexy, and also because much of the pre-bossa stuff was not necessarily top-flight. This 2-CD retrospective is an eye-opener: Tito Madi was a straight-ahead Sinatra-tinged pop crooner who later eased into a bossa tune or two. Fans of Dick Farney may find a kindred spirit in Madi. Plus, the bulk of these songs -- recorded in the 1960s and early '70s -- are quite nice. Madi's voice is even and unabrasive, he never slips into florid or sappy stylizations; likewise, the arrangements are understated and compelling. Definitely worth checking out.
Angela Maria "Serie Bis - Cantores Do Radio" (EMI-Brasil, 2000)
One of the best-beloved and technically capable female singers of the 1950s, Angela Maria had a not-quite-brassy heft to her voice that may remind modern listeners of Maria Bethania - the Tropicalia generation surely must have admired her work. This 2-CD set leans heavily on her later work, with a handful of tracks from the early '50s, but the bulk coming from the '60s and '70s. Only a couple of songs from the early 'Eighties are really iffy; otherwise this is a nice look at one of Brazil's now-neglected legends.
Marlene "Serie Bis - Cantores Do Radio" (EMI-Brasil, 2000)
Nice stuff! These are later recordings from one of the radio era's most notable singers. Mainly drawn from albums she did on Odeon between 1958-'60, these songs have a bright, almost girl-grouplike feel to them, which compliments Marlene's girlish voice. Marlene's real heyday was in the late '40s and early '50s, when she starred as a cabaret singer and national radio personality; she still retained a powerful artistic presence well into the modern MPB era. Also included on here are a handful of songs taken from her 1974 live album, Te Pego Pela Palavra -- although the arrangements are sometimes fluffy, her performances are remarkable, especially considering that she'd just turned fifty when these songs were recorded. It also shows the breadth of her interests -- not only did Marlene cover material by modern composers such as Joao Bosco, Milton Nascimento and Gonzaguinha, she actually seemed to have a better sense of how to bridge the gap between their modernistic jazz aspirations and the rough and tumble world of cabaret singing than many of their contemporaries. She certainly compares favorably to the upstart Elis Regina, who was a more daring but less solid performer. Definitely worth checking out, especially for folks who are into the jazz-torchsong side of Brazilian pop.
Maysa "Serie Bis - Cantores Do Radio" (EMI-Brasil, 2000)
Maysa Matarozzo was one of the most famous female vocalists in Brazil during the 1950s; in the bossa nova era she became the conduit for pianist Roberto Menescal's explorations of the new style, and was an important early interpreter of Antonio Carlos Jobim's work. Personally, I've never been a fan of Maysa's vocals -- she strikes me as too overwrought and slushy, and generally I don't care for her arrangements. That being said, this 2-CD set is the best retrospective of her work that I've heard. It's well-programmed and engaging, covering a wide swath of her career, from 1960 to her death in the 1970s. It omits her early work on the RGE label (which is not part of the EMI empire...) yet gives a pretty complete picture of her style and inclinations. If you want to check Maysa out, this is where I'd recommend you start. (For more information about her career, check out Ruy Castro's charming book, Bossa Nova, which is reviewed in my World Music book reviews section.)
Morgana "Serie Bis - Cantores Do Radio" (EMI-Brasil, 2000)
Lavish, lachrymose pop material, complete with swirling string arrangements and Cuban-flavored percussion. These Brazilian boleros date from 1958-64, and are in keeping with the times, but their appeal these days is probably mainly as kitsch. Atypical for Brazil, just about average for the rest of Latin America.
Orlando Silva "Serie Bis - Cantores Do Radio" (EMI-Brasil, 2000)
One of the giants of the radio era, Orlando Silva (1915-1978) was a real crooner, as befitted an artist whose heyday was in the late 1930s and '40s. He was one of the golden voices of Brazil's Radio Nacional, and one of the few rivals on par with the great Francisco Alves; however he fell prey to substance abuse in the early '40s, and lost much of his career momentum early on. This is a swinging collection which starts a little late in the game (1943) -- after his fall from grace -- and continues on until the late 1960s. Even though these were not his glory years, this is still a great collection which dips only lightly into pop vocals territory. Mostly it's great stuff -- if you're only familiar with Silva's early work, this 2-CD set is also worth checking out. You might be surprised by how charming and effective his later recordings are.
Roberto Silva "Serie Bis - Cantores Do Radio" (EMI-Brasil, 2000)
Although he comes along late in the game (the late 1950s), samba balladeer Roberto Silva is still a pretty enjoyable artist. He's best known for a four-album series of albums recorded in honor of the Brazilian slums (favelas), called Descendo O Morro, which are sampled on this 2-CD set, along with other later material. While his arrangements are a bit reserved in comparison to most of the normally-boisterous old-school samba, the songs still chug along with plenty of catchy pep, and Silva has a really pleasant voice. This is a first-rate collection of his work, and may be really all you need in order to check him out.
---
Other EMI Reissues
---
Dorival Caymmi "Caymmi - Amor E Mar" (EMI, 2001)
Sambista Dorival Caymmi was in a class of his own... At least that's what EMI-Brasil thinks! This sweeping 7-CD set is the Caymmi motherload, reissuing twelve Caymmi albums in their entirety - starting in the mid-'50s, and working up to his early '70s material with his children. An additional album's worth of cover tunes is also included, with versions of Caymmi's best-known material recorded by artists such as Joao Donato, Dick Farney, Elza Soares, Orlando Silva, and Clara Nunes. It's a pretty awesome collection, full of bonus tracks as well as a fab booklet filled with great info and several cool archival photos... check out my Caymmi profile page for more details. Recommended!
The 1999 Raizes Do Samba series is another trove of great archival material, profiling many of the greatest samba artists of the 20th Century... Reviews of a few albums are sprinkled throughout the Slipcue site.
EMI's back catalog of Jovem Guarda teenybopper bands has also fared well in an extensive recent reissue series. Reviews of some of these albums are included in my Brazilian rock section.
---
Links
---
Clique Music posted a nice review of this series on its site... This link is to the Portuguese version of the article.
The EMI-Brasil website is being redesigned, but when it's up and running, I'll let y'all know...
If you enjoy pre-bossa nova material similar to the records in this series, you might also want to check out the outstanding albums on the Revivendo label, which are also reviewed throughout this website.
---



Main Brazil Index
World Music Index



---