---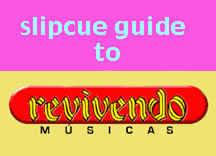 Revivendo Musicas is an amazing resource for anyone seeking to discover the joys of Brazil's pre-bossa nova past... Their catalog includes over a 150 albums worth of archival material, some of the best classic Brazilian samba cancao, choroes, valsas, and forro available. Many of the artists on Revivendo are legendary, but little-known outside of Brazil... Here's a brief sample of this incredible music; I hope to add more reviews as time permits... But trust me, this is the motherlode!!
---
Recommended Records
---
Ataulfo Alves/Various Artists "Vol. 1: Vida De Minha Vida" (Revivendo)
Ataulfo Alves/Various Artists "Vol. 2: A Voce" (Revivendo)


Outstanding collections of work written by one of the great early stars of samba cancao. each disc has a healthy dose of recordings by Alves himself; other artist include Carmen Miranda, her sister Aurora, Aracy de Almeida, Sylvio Caldas and some very early recordings by Elizete Cardoso. There's a wide stylistic range, though all these songs are marked by a strong melodic catchiness... Of the two, I prefer the second volume which includes some jazzier, big band-influenced numbers which are quite striking. Highly recommended!
Francisco Alves "Francisco Alves" (Revivendo)
A first-rate collection of early '30s crooning tunes by one of Brazil's greatest "radio singers." It's telling that this disc was chosen to be the first CD put out on the Revivendo label... they have their favorites, and make no effort to conceal their love of Alves' work. He was a marvellously schmaltzy singer, with tips of the hat towards Russ Columbo, Bing Crosby and the like... He was also a notable early samba cancao star, and this collection includes songs written by Ary Barroso and Carlos Gardel, as well as several written by Alves himself, along with his longtime collaborator Orestes Barbosa. This is music from the heart and soul of Brazil's early music industry... Highly recommended!
Francisco Alves "O Rei Da Voz" (Revivendo)
More stellar material from the "King Of The Voice," including several older songs from his late 1920s recordings on the Odeon label, and several tracks from the 1940s as well.
Waldyr Azevedo/Jacob Do Bandolim/Ademilde Fonseca "Ve Se Gostas" (Revivendo)
Prime choro tracks by three stars of the choro genre. These 1942-1955 recordings feature bandolim master Jacob Do Bandolim, cavaquinho whiz Waldyr Azevedo, and vocalist Ademilde Fonseca performing in separate recordings, and all in their prime. Her voice may be a little operatic at times, but every track on here is a delight... highly recommended!
Sylvio Caldas "Sylvio Caldas" (Revivendo)
More great, schmaltzy romantic material, mostly from the 1930s... Sounds a lot like Orlando Silva, though Caldas is perhaps less forceful of a singer. Nice stuff, though!
Cartola/Various Artists "CARTOLA: O SOL NASCERA" (Revivendo, 1998)
An awesome set of antique samba recordings, written by the legendary sambista, Cartola and recorded by a host of artists. Most of these tracks are from the early 1930s, although the collection also spans into the early '80s. If you enjoy old Carmen Miranda records, then this disc full of nostalgically-remembered singers such as Sylvio Caldas, Arnaldo Amaral and Francisco Alves should be a real treat. Also includes a sprinkling of Cartola's own rare recordings -- which are quite lovely. A few tracks towards the end are a bit goopy, and the "medley" at the end is clumsily edited, but these are only minor imperfections in an otherwise stunning historical record.
Cascatinha & Inhana "Volume 1: India" (Revivendo)
Cascatinha & Inhana "Volume 2: Meu Primeiro Amor" (Revivendo)
Cascatinha & Inhana "Volume 3: A Saudade E Demais" (Revivendo)
This nordeste duo was recommended to me by the folks at Revivendo, and I have to say, the music is quite charming. It's slower, sweeter material than much of the contemporary samba cancao material, well suited to these singer's delicate voices. There's a strong stylistic similarity to Mexican ranchera ballads, although these recordings are a lot smoother than that comparison suggests. At any rate, I like it. I don't know if this style is for everyone, but it certainly is different than the Brazilian pop most folks are familiar with... and certainly worth checking out.
Vicente Celestino "Vincente Celestino" (Revivendo)
One of Brazil's earliest recording stars, Celestino made his first record in 1916, although he was mainly known as a song stylist until decades later, when he started to write his own material. He remained popular throughout his life, and near the time of his death in 1968, he was honored in a tribute concert by no less than tropicalia firebrands Gilberto Gil and Caetano Veloso. (Caetano later recorded Celestino's "Coracao Materno," which is included here in its 1937 version...) This disc collects some of his best 1930s material on the RCA label -- corny, romantic and really appealing. Nice stuff, but more in the operatic tango and bolero camp than the samba-centric material of the time.
Joao De Barro/Various Artists "Nasce Um Compositor" (Revivendo)
Beautiful music! One of the early samba cancao greats, Joao De Barro (aka Carlos Braga, or Braguinha, as he was also nicknamed) formed the Banda Dos Tangaras with fellow composer Noel Rosa, and together they pioneered the new popular style. Braguinha had a gorgeous voice, best highlighted on the opening tracks of this album... Also quite striking is the shimmering guitar accompaniment, which has a haunting similarity to Portuguese fados or the mornas of Cape Verde. The style shifts quickly into rollicking music hall singalongs and more ornate sambas, all of which is quite captivating. This CD features many artists of the 1930s, including Francisco Alves and Alvinho, but also has several recordings featuring Braguinha by himself, and as part of Banda Dos Tangaras. His most famous tune, "Carinhoso," isn't on here, but you'd hardly notice with all the other great songs that are included. Great stuff -- highly recommended!
Joao De Barro/Various Artists "CARNAVAL - SUA HISTORIA, SUA GLORIA, v.19" (Revivendo)
More great music from composer Joao De Barro... This disc starts off a bit more riotously than the Nasce Um Compositor collection, but continues past the golden years of the 'Thirties up through the tropicalia and MPB years, with versions of De Barro's work by young'uns such as Maria Bethania, Gal Costa, and Caetano Veloso. Nice stuff... but does PolyGram know about this?? Well, now at least you do!
Dick Farney "Copacabana" (Revivendo, 2000)
An absolute delight! With a recording career spanning back to 1939, moon-June crooner Dick Farney openly emulated the stylings of North American pop vocalists such as Frank Sinatra, and pioneered Brazil's non-samba pop scene. He was widely revered by the postwar generation, but despite his immense pre-bossa popularity, his earliest music remained hard to track down... until now, that is! This is an outstanding glimpse at Farney during his golden years, from 1946-1952, and it goes a long way to explain Farney's enduring mystique. Although his connection with the Brazilian branch of the Frank Sinatra Fan Club is the stuff of affectionate myth, on this chronologically-arranged disc you can trace his transition from a Bing Crosby devotee into a Sinatra-esque stylist. Both modes are a delight. This album is highly recommended -- another one of Revivendo's real gems!
Chiquinha Gonzaga "A Maestrina" (Revivendo)
An impressive 2-CD set of EARLY recordings by one of the towering figures of Brazilian popular music, Rio's legendary Francisca Edwiges Neves Gonzaga, familiarly known as Chiquinha. Born in 1847, Gonzaga was one of the pioneering composers of samba cancao, as well as an innovator of the jazz-ish choro style. She was also an integral part of the lowbrow salon scene that spawned the choro genre and the first samba escolas... This collection features some of the earliest popular recordings made in Brazil, the oldest dating back to 1902 (!), and the latest being from 1932, a few years before Gonzaga passed away. A fair chunk of these recordings feature Chiquinha herself, although most are interpretations of her work made by radio stars such as Francisco Alves and Gastao Formenti. There's a wide variety of styles -- she seems to have tried her hand at just about every thing, from homegrown toadas and samba cancao, to various foreign styles such as tangos, waltzes, polkas, Cuban-flavored habaneras, Portuguese fados, and even comedic sketches. The sound quality is pretty good, considering the antiquity of these recordings, and the fact that modern electric recording processes were not introduced in Brazil until 1927. A remarkable and indespensible musical document -- and a must-have for anyone intent on delving deep into Brazil's musical past.
Luiz Gonzaga "Eta Cabra Danado De Bom" (Revivendo/RCA, 1998)
Collecting early works by one of the founders of the northeastern forro style, this disc includes archival recordings from 1941-1946, made as he was developing the irresistable melodies and infectious rhythm of the style. Gonzaga is still tinkering with the form; at this point it still sounds like a cross between hyperactive polkas and Mexican ranchera music. This particular CD might be better for its historical value rather than as entertainment. Many of the tracks on here are instrumentals, and after a while start to sound a lot alike, and it does not include either of his seminal hits, "Baiao," or "Asa Branca". Fascinating, but monochromatic... Revivendo has several other early Gonzaga collections available.
Antonio Carlos Jobim/Various Artists "TOM JOBIM: RAROS COMPASSOS" (Revivendo, 2000)
To really get a feel for how revolutionary Jobim's compositions were, just look at what a tough time his contemporaries had when they tried to take on the new style Jobim pioneered. This phenomenal 3-CD set collects dozens of rarities from the mid-1950s and early '60s (along with a handful of later recordings) and lays bare the stylistic limitations of the Brazilian pop establishment at the time when bossa nova became king. This collection includes many songs written well before the "official" start of the bossa nova, with performances by artists as diverse as Vicente Celestino, Albertinho Fortuna, Isaura Garcia, Sylvia Telles, Dick Farney, Claudete Soares, and others - some who have faded from history's glance, and others who are still well-known. By now, these melodies are etched in our minds, mainly through the effortless style of performers such as Joao and Astrud Gilberto, and the suave bossa performers that came in their wake. It's instructive, then, to hear the relatively awkward fashion with which the pre-bossa crowd tackled this material, and the surprising stiffness of their performances. Hammy baritones, barbershop-ish vocal groups, chirpy, operatic European-styled female singers populated the landscape, and while they were drawn to the new music, they could not summon the graceful elan that the bossa crowd possessed. Jobim, along with contemporaries such as Carlos Lyra and Vinicius de Moraes, liberated Brazil from the bland anglophilia that had taken root in the postwar era, eradicating the attraction of tepid, safe Edmundo Ros-style pop with one gentle, samba-tinged sweep of bossa's magic wand.
Antonio Carlos Jobim/Various Artists "MEUS PRIMEIROS PASSOS E COMPASSOS" (Revivendo, 2000)
More of Jobim's earliest work, including the extravagant "Sinfonia de Rio De Janeiro" and "Teresa Da Praia" by Dick Farney and Lucio Alves, one of Jobim's earliest commercial successes. The pop style of the times -- post samba, pre-bossa -- is a little grating at times, but this is, indisputably, where it all began. For an intimate look at the transition into the new Brazilian music, these rare recordings are invaluable.
Marlene "Marlene, Meu Bem" (Revivendo)
At first blush, Marlene may seem merely like a samba-singing Carmen Miranda wannabee and, to be sure, she was definitely molded in Carmen's likeness, even covering many of Miranda's old hits from the 1930s. But there's an extra, undefinable little bounce to Marlene's vocals -- in retrospect, a precursor to her later jazzy-cabaret vocals. She also seems to have covered a fair number of nordeste material, baiaos and rancheira numbers, including some of Luiz Gonzaga's earliest composititions. Kind of an interesting choice for a Paulista of Italian descent... but hey, whatever works!! This disc covers her early work from 1946-59, even dipping lightly into the early Tom Jobim songbook... It's a great CD, one of the most accessible and readily enjoyable in the reviendo catalog!
Carmen Miranda - see artist discography.
Cyro Monteiro/Aracy De Almeida "Sambistas De Fato" (Revivendo)


A delightful collection of prime oldies by two great romantic vocalists. Evenly split between the two of them, with ten tracks apiece, this disc covers the years 1935-1948, and is chock full of wonderfully melodic choro tinged sambas. Monteiro's 1945 novelty hit, "Boogie Woogie Na Favela," is a nice crossover tune, although the rest of the album is packed with straight-ahead samba. Great stuff -- highly recommended!
Bob Nelson "Vaqueiro Alegre" (Revivendo)
Great stuff! I'd heard that Brazil has a homegrown country scene, and here's an early forerunner from the 1940s ... Naturally, little traces of samba creep in around the edges, but sure enough this ten-gallon hatted "happy cowboy" has genuine hillbilly fiddle, accordion, and banjo pickin' to spare, and yodels like there's no tomorrow. This is decidedly nutty, goofy, frivolous material... but the musicianship is also quite good! It's kind of like when Gene Autry or Roy Rogers did some Latin-American-tinged, polka-flavored number, except that this is coming at it from the opposite direction. Anyway, if this sounds interesting, but you're not quite sure, take my word for it: this is fun stuff!
Pixinguinha "No Tempo Dos Oito Batutas" (Revivendo)
Some of the earliest and most influential recordings by Alfredo Da Rocha Viana Filho -- better known as Pixinguinha -- the great pioneer of choro music. These rare, archival recordings from his renowned 1920s ensemble, Os Oito Batutas, feature several compositions of the legendary pianist/flautist. It's intricate, unrelentingly perky material, and even with the tinny antique sound quality, the addictive appeal of this mostly-instrumental style should become plain quite soon. Great stuff!
Pixinguinha/Various Artists "NAQUELE TEMPO: CHOROS E VALSAS" (Revivendo)
Postwar recordings featuring duets with Pixinguinha and flautist Benedito Lacerda, as well as other choro and valsa stars,
Deo Rian "Gotas De Ouro" (Revivendo)
Recordings of a much later vintage than most in the Revivendo catalog, although still drawing on the same classic era of early popular music. This CD collects material from two latter-day choro albums recorded by master bandolim player Deo Rian in 1970 and '76, working through compositions by Pixinguinha, Ernesto Nazareth, Jacob Do Bandolim and a more modern tune by Paulinho Da Viola. These tracks feature light orchestration, along with Rian's masterful playing -- it's rather genteel music, not unlike a chamber quartet, and you have to be in the right frame of mind to appreciate it... Rian's playing is more expressive and varied than some other performers I've heard doing similar material. For choro enthusiasts, this should be quite a treat!
Orlando Silva "Orlando Silva" (Revivendo)
Magestically schmaltzy, tango-tinged romantic ballads, with just a touch of samba to balance things out. Silva was one of Brazil's true greats, on a par with Cuban and South American bolero singers such as Carlos Gardel and Antonio Machin. This CD collects some of his best work from his peak years -- it only scratches the surface, but that's why we can be thankful that Revivendo has a bazillion other Silva albums to check out as well. Recommended!
Orlando Silva "Cancao Do Amor Que Eu Ihe Dou" (Revivendo)
Later recordings, mainly from the 1960s.
Osny Silva "Bandolins Ao Luar" (Revivendo)
Remarkably corny pop vocals from the 1950s and early '60s, heavy on tangos and waltzes, and slow, syrupy vocals. Not, of course, to be confused with Orlando Silva, the great crooner whose heyday was a decade or two earlier. Osny also was a radio singer during the early 'Forties, but recorded very little until a 1953 contract with Odeon (where many of these songs are drawn from). Even for me, this is a bit much... if you have a high enough cheese tolerance, then these recordings might be of historical interest, but I found them slow going.
Sinho/Various Artists "Volume 1: O Pe De Anjo" (Revivendo, 1998)
The first of several extraordinary volumes collecting the recorded work of one of the earliest samba cancao composers, Jose Barbosa de Silva, best known by the nom de plume Sinho. These are rather antique recordings, dating from 1920-1930, and include some of the earliest work by legendary singers such as Francisco Alves and Carmen Miranda. It's musically antique as well, with numerous songs that are built on the ricketty hulls of old waltzes, and German oompah rhythms. But it grows on you... oh my, how it grows on you!
Trio De Ouro "Trio De Ouro" (Revivendo)
One of the many many vocal groups of the "radio singer" era, the Trio went through three different lineups, all led by composer Herivelto Martins. Martins was one of the great WWII-era pop composers, with many of his works associated with the Estacio samba school. This disc collects twenty-two tracks, spanning from 1941-1957, and includes versions of several of his best-knon songs, such as "Negro Telefone" and "Ave-Maria No Morro," a controversial song which conflated Catholicism and contemporary politics. These tunes mostly have fairly standard arrangements, although on a few songs the female part drifts into a high-pitched, Yma Sumac-y trill which you may find a bit irritating. Mostly though, this is nice old stuff.
---
Compilation Albums
---
Various Artists "No Tempo Do Fox v.1-2" (Revivendo)
Holy cow! These albums are exactly what I was hoping to find in my explorations of Depression-era Brazilian pop: a groovy collection of Tin Pan Alley-style pop-jazz, done Hollywood style, but with the vocals em Portuguese. These variations on the "fox trot" (sort of a catch-all phrase for early popular dance music) seem to be mostly composed by Brazilian artists, but very much in the North American way. One team, in particular, seems to have excelled at the style: Roberto Martins and Mario Rossi have songwriting credits on several tracks. The artists are mainly big-name folks -- Francisco Alves, Orlando Silva, et. al. Grrrrrrrrreat stuff, especially if you're already a fan of old-fashioned pre-swing "sweet" dance music. HIGHLY recommended!!!
Various Artists "PORTUGAL CANTA" (Revivendo/Again)
Highly recommended! An enticingly diverse collection of long-lost Portuguese oldies, including a hefty dose of fado rarities, as well as some fascinating examples of Hollywood-style, Tin Pan Alley-flavored jazz-pop tunes from old Portuguese films from the 1930s. This is a very dynamic and varied set of music, and the fado material is quite nice, as are the bilingual liner notes. This album comes to us courtesy of Revivendo's Again imprint, which also has an intriguing variety of South and North American oldies collections. (For more information about fados, check out my Portuguese language music section.)
---
Links
---
Revivendo's website can be a little hard to navigate, but is well worth the effort. Some pages are in English, but mostly the information is in Portuguese... Complete listings and mailorder info for their 150+ Brazilian titles, other archival series, and select oldie from other labels... A truly astonishing cultural resource.

EMI-Brasil has recently embarked on an ambitious reissue program of its pre-bossa nova catalog, notably with the Cantores Do Radio series which features excellent retrospectives of some of the biggest early stars in Brazilian popular music...
---



Main Brazil Index
World Music Index



---