<! MP3 09/12/08, 08/21/10 > <! update 09/12/08 > <! pix > <! icons 01/23/11 > <! Rino Vernizzi "...Plays Pixinguinha" >

---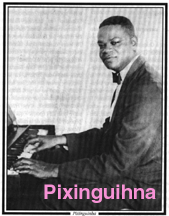 One of the great architects of Brazilian popular music, Alfredo Da Rocha Viana Filho, better known as Pixinguinha (1897-1973), was a vituoso flautist and pianist who helped define the improvisational choro style of the early 20th Century. Pixinguinha was something like the Brazilian equivalent of Louis Armstrong, a multitalented performer who both helped define and later embodied an entire musical genre. His career continued on into the late 1960s, when he recorded with Clementina de Jesus on her first album. Although Pixinguinha's original recordings are hard to come by, saxophonist Paulo Moura recently paid tribute to him on a concert album made up entirely of Pixinguinha compositions.
---
Recommended Records
---
Pixinguinha "O Jovem Pixinguinha: Gravacoes De 1919-1920" (Serie Choro Grandes Solistas) (EMI, 2003)


Highly recommended. These are foundational choro recordings from 1919 and 1920, with many now-classic themes being explored for the first time on wax... Pixinguinha's nimble, gently exploratory style comes through on every track, and if you think the flute work is fun, give a good listen to the banjo that's playing behind him... Although the engineering on the original sessions was pretty rudimentary, and the sound is quite distorted and garbled, you can still make out the chord changes and mentally fill in a few blanks to hear the astounding chromatic work going on with the fretwork... Any bluegrass fans worth their salt will want to get ahold of these old recordings and have their little minds blown by the plunking that was going on down in Brazil, back when Dock Boggs was still wearing knee pants! This music is both really pleasant to listen to, and technically amazing... I own many of these recordings on several different releases, and this is probably the best-mastered edition to date. Pity about the copy control, but it's still great music.

Pixinguinha "No Tempo Dos Oito Batutas" (Revivendo)


More early, archival recordings from Pixinguinga's classic 1920s ensemble, Os Oito Batutas... it's all great stuff, although the surviving recordings are pretty lo-fi, and you have to strain a bit to really get into the fire and zip of these old, classic peformances.
Pixinguinha/Various Artists "NAQUELE TEMPO: CHOROS E VALSAS" (Revivendo)


Wartime and postwar recordings featuring duets with Pixinguinha and flautist Benedito Lacerda, as well as other choro and valsa stars, such as Custodio Mesquita and the legendary pre-bossa nova guitarist, Garoto. A great deal of the old-world gentility of the style is preserved in these recordings, which were made well after the style's real heyday in the 1920s, with the delicate society band fragility of the music fully intact. It's also easier to parse the music out, as these later renditions have superior sound quality to the rollicking originals... Also of interest is the Hawaiian-style slide guitar employed by Garoto on several tracks made in the mid-'40s. Great stuff... Highly recommended!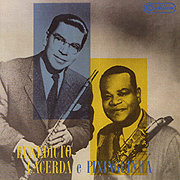 Pixinguinha & Benedicto Lacerda "Benedicto Lacerda E Pixinguinha" (RCA Camden, 1966)



Some of the finest and most dazzlingly pure choro instrumentals by two masters of the genre, Pixinguinha and his longtime collaborator, flautist Benedicto Lacerda. This album of vintage recordings was first compiled in 1966, reviving classic melodies such as "1 x 0," "Naquele Tempo" and "Andre De Zapato Novo" for a generation that had since moved on to the charms of bossa nova and the pop-jazz hybrids of MPB. The original allure of these zippy tunes comes through loud and clear, though -- these tracks were recorded between 1946-50 (though many of the compositions are much older) and feature both performers at the peak of their powers. There's plenty of overlap between this disc and other Pixinguinha retrospectives, but there's something nice about hearing the music as it was first revisited by the Brazilians of the bossa nova era. Also, this is a very strong presentation, with a lean, compact selection of songs that wastes no time bringing out the best music the style has to offer. Highly recommended!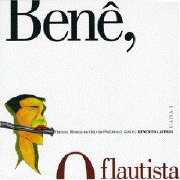 Benedito Lacerdo/Various Artists "Bene, O Flautista" (Maritaca, 2008)



A stunning 4-CD set covering the career of fabled Brazilian flautist Benedito Lacerda (1900-1958), who is best known for his work with saxophonist and choro pioneer Pixinguinha, but who also recorded profilically with many of the greatest samba stars of the 1930s and '40s. This collection includes many of his most famous recordings, including a flurry of dazzling duets recordings from the 1940s that included lively, definitive versions of instrumental duets with Pixinguinha, as well as classic samba-cancao tracks from Francisco Alves, Silvio Caldas, Carlos Galhardo, Carmen Miranda, Mario Reis and other stars of the 1930s, as well as numerous recordings of Lacerda's own bands, Grupo Gente Do Morro and Velha Guarda de Almirante. Some of the greatest treasures come from the Grupo Gente recordings (an entire disc's worth!) that often feature Lacerda singing, as well as taking the lead on his flute. The sound of his pixielike piping laces through all these recordings, and is remarkably familiar to anyone who has delved into the music of this era -- nice to finally put a name to the face, as it were! There is significant overlap between this set and other recent reissues -- notably the CD reissue of RCA's old Lacerda-Pixinguinha LP -- but you'd be hard pressed to find any music fans who will complain about the duplication. Personally, I could listen to this stuff for days on end. Just start off with the jaw-dropping "1 x 0," perhaps the best-known Pixinguinha tune, and you will be in awe of Lacerda's technical skill and soulfulness. This beautiful, compact box set includes a capacious, chatty, authoritative booklet that gives background on all the songs, steers you towards more modern versions, and provides much-welcome biographical sketches of dozens of Lacerda's collaborators -- bandleaders, composers, guitarists, percussionists, singers -- that will help fill in a lot of gaps in ones general knowledge of the early 20th Century Brazilian music scene. A great, great box set -- highly recommended!

Pixinguinha/Clementina De Jesus/Joao Da Bahiana "Gente Da Antiga" (EMI, 1968)


Wonderful! Old-fashioned choros and sambas performed by two elderly master musicians, and Clementina, an unknown singer who, out-of-the-blue, became a national star in the 1960s. Her style of "samba antigua" is just gorgeous, especially when blended in with modernized touches, such as the large melodic choruses, as well as Pixinguinha's outstanding, virtuoso playing. (Reissued on CD in 1992, along with Clementina's Marinheiro So album, as part of EMI's "2 em 1" series.)
Pixinguinha "Som Pixinguinha" (EMI, 1971)


A weird album, sometimes wonderful, sometimes wretched, in which the creator of the choro style collides with some of the new Brazilian styles. The opening tracks are the most intriguing, with his signature tune "I x O" recast with electric guitars, and other songs taking similarly tweaky turns. Then it gets goopy, even with lush, lacrymose orchestral arrangements, sounds that are completely unlike the first half of the album. It's a little disconcerting, to tell the truth... But some of the experimentation is really cool, some of the brightest, most original reworkings of Pixinguinha's work ever made. A mixed bag, but certainly worth checking out.

Pixinguinha "100 Anos" (BMG-Brasil, 1997)


A killer 2-CD collection spanning his career, from 1928 to 1959, stopping just short of his collaborations with Clementina De Jesus in the late '60s. Disc One has the most variety, including vocal tracks by Carmen Miranda and Orlando Silva, as well as the bouncy, glissando instrumentals. Disc Two focuses almost solely on instrumental numbers, and after a while it all starts to sound the same... But still, WOW. What an awesome flautist and saxophone player... There's a strong parallel to be made with Louis Armstrong, both in the historic stature of the musicians and the warmth of the music; this collection is indispensible for anyone looking into the roots of Brazilian popular music, and it's a treasure trove for the devoted choro fiend.

Pixinguinha "Serie Raizes Do Samba" (EMI, 2000)


Part of a great recent historical series, this disc drawns heavily on the Gente da Antiga album listed above. Recommended!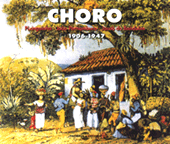 Various Artists "BRESIL -- CHORO - SAMBA - FREVO: 1914-1945" (Fremeaux & Associates/France, 1998)


Colossal. Enthralling. Essential. Legendary figures from the dawn of samba such as Pixinguinha, Noel Rosa, Sinho and Ary Barroso may seem distant and antique, but this excellent French compilation brings their music back with resounding immediacy. Two CDs worth of catchy, classy, crazy, playful creativity with an old-timey, jazzy feel. A lot of this would work well alongside old big band tunes, or Django Reinhardt records. HIGHLY recommended. Also check out the similar "BRESIL: SAMBA" collection.
---
Tributes
---
Camerata Carioca (with Joel Nascimento & Radames Gnattali) "Vivaldi & Pixinguinha" (Atracao, 2000)


Elizeth Cardoso "Um Roso Para Pixinguinha" (Funarte, 1983)
Live recording with arrangements by Radames Gnattali.

Altamiro Carrilho & Carlos Poyares "Pixinguinha De Novo" (Discos Marus Pereira/EMI, 1975)


A pretty-sounding, mellowed-out modern interpretation of classic Pixinguinha material. Flautists Carrilho and Poyares appear to trade off as soloists, although the liner notes don't make clear which one is playing where, or on which songs. The backing is simple, elegant, standard-issue choro fare: guitar, bandolim and percussion, though all are well in the background, leaving the spotlight on the flute work, which is uniformly trilling and sweet. Maybe a bit too tame, but mostly quite lovely.
Henrique Cazes "Pixinguinha, Hermeto & CIA" (Kuarup, 1998)

Henrique Cazes & Marcello Goncalves "Pixinguinha De Poche" (Kuarup, 2000)


Paulo Moura & Clara Sverner "Vou Vivendo" (CBS, 1988) (LP)


Saxophonist/clarenetist Paulo Moura in a lovely album of duets arranged for the piano and clarinet; many of the songs come from Pixinguinha's repertoire.

Paulo Moura & Raphael Rabello "Dois Irmaos" (Caju/Milestone, 1992)



Beautiful! Highly recommended. Although there is only one song by Pixinguinha on here ("1 X 0"), this can be seen as a warmup for Moura's lauded Pixinguinha album of 1998 (see below). This is choro music at its best -- and at its warmest. These duets are much less rigorously arrranged than on the '98 album; Moura's clarinet work is sensitive and nuanced, with a wide dynamic range. He slides from mournful to majestic, constantly urged on by Raphael Rabello's elegant guitar work, which is dead-on perfect throughout. It's a very nice record, maybe a little hard to find these days, but well worth looking for.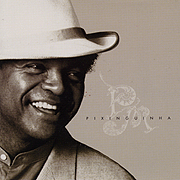 Paulo Moura & Os Batutas "Pixinguinha" (Blue Jackel, 1998)



A beautiful live tribute to the great choro/samba master. Multi-instrumentalist Moura, who is known for his work in jazz as well as traditional styles, skillfully recreates sixteen classic compositions of the pre-bossa nova years. With the advantage of modern fidelity, these recordings bring out the full complexity of the compositions. The melodic interplay between Moura on clarinet or alto sax, and the mandolin, ukelele and guitar work of the rest of the band is a technical -- and soulful -- tour de force. Admittedly, there is not much stylistic variation here, and your attention may wander after a dozen tracks or so, but chances are you'll be whistling the tunes later that day. HIGHLY RECOMMENDED.
Orquestra Brasilia "Pixinguinha" (Kuarup, 1999)



Marcelo Vianna "Teu Nome, Pixinguinha" (Biscoito Fino, 2002)


An unusual update on the music of choro pioneer Pixinguinha... The old master's spritely instrumental tunes are given new lyrics, written by the likes of Gastao Vianna, Paulo Cesar Pinheiro and Vinicius De Moraes; some of the lyrics are of an earlier vintage, collaborations between Pixinguinha and contemporaries like Joao de Barro and Cicero de Almeida. Youthful vocalist Vianna approaches this collection of tunes through the filter of slick, modern MPB, turning the old bouncy choroes into ornate pop ballads. Some tracks retain the upbeat feel of the originals, but others are much slower and more reflective. Definitely a different take on this old material, but fans along both sides of the spectrum will probably be won over by this disc.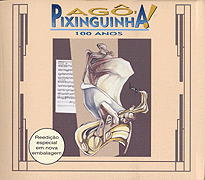 Various Artists "AGO PIXINGUINHA: 100 ANOS" (Som Livre, 1997)


This is a very nice, very classy, very well-programmed and listenable 2-CD that gathers together classic performances of MPB stars such as Maria Bethania, Joao Bosco, Chico Buarque, Nana Caymmi, Paulinho Da Viola, Tom Jobim, Simone, Caetano Veloso and others, assembled by producer Herminio Bello De Carvalho, who worked with Pixinguinha in his twilight years, and who remembers him fondly in an essay included in a thick set of liner notes. There's also a long interview with Pixinguinha, and nice archival photos, as well as vintage choro recordings by Jacob Do Bandolim and Pixinguinha himself. A great introduction to his work, with plenty of information and memorabilia to back up the sweet-sounding music. Recommended!
Various Artists "BOCATO: TRIBUTO A PIXINGUINHA" (Mix House, 1998)


Various Artists "Pixinguinha '70" (Funarte/Rob Digital, 1968/1996)


In 1968, the State of Rio de Janeiro commissioned pianist Radames Gnattali, Jacob do Bandolim and others to produce this concert tribute to Pixinguingha, in honor of the choro master's 70th birthday. Parts of the performance are a little too prissy and restrained (ie with a classicist's sensibility) and don't capture the spunky fervor of the old recordings... but it's still lovely stuff! Several orchestral tracks at the end of the album are kind of cool, though, again, the overall feel of the album is a bit sleepy.
---
Links
---
Brazzil.Com has a long article written by Bruce Gilman, which also includes a more extensive discography. For more hardcore information on the artist, check this site out.
The Center for Black Music Research, of Columbia College in Chicago, hosts a more academic site which discusses Pixinguinha's musical theory and development in great detail, and also provides an extensive, track-by-track discography. Very nice!
Viva Brazil has a nice, succinct biographical essay that's also worth checking out ( ...and also has a great graphic!)
---



---