<! cd=04/01/03> <! MP3 09/12/08, 12/04/09 > <! update 09/12/08, 12/04/09 > <! pix 12/04/09 > <! icons 01/23/11 >

---
Tenor saxophonist/multi-instrumentalist Paulo Moura has followed the complete arc of Brazilian jazz, starting his career in the 1950s, playing straight North American-style jazz, well before the bossa nova craze that broke at the decade's end. Along with many of his contemporaries, Moura took advantage of the global bossa craze of the 1960s, finding work in North America with some of preeminent bossa-jazz players such as Herbie Mann, Cannonball Adderley and Sergio Mendes. More recently, Moura has devoted himself to exploring the historical legacy of native Brazilan jazz pioneers, such as choro bandleader Pixinguinha, and other, older styles of Brazilian improvisational music. Here's a quick look at some of Moura's work.
---
Recommended Records
---
Paulo Moura "Paulo Moura E Sua Orquestra Para Bailes" (1957)

Paulo Moura "Interprete Radames Gnattali" (Continental, 1959)
In his early years, Moura worked in many orchestras and bands, and was in the orbit of the great maestro, Radames Gnattali, touring extensively with the Gnattali bands. On this album, Gnattali composed an entire album's worth of music specifically with Moura in mind... Nice, melodically rich jazz material, in a lyrical, romantic mode, with rounded tones from the Lester Young/Benny Carter school of sax playing. Although not particularly "Brazilian," this is a nice contrast to the punchy, dance-oriented, big band-meets-samba gafieira of the 1950s, or the aggressive jazz trios of the bossa nova era Plus, it's interesting to hear Moura's straight-up jazz roots -- a tad conservative, perhaps, but classy. Backing Moura is a trio that included Baden Powell on guitar. Perhaps not super-distinctive in relation to the wider jazz world up North, but a nice slice of Brazilian musical history.


<! Trinca - bateria, Paulo ou Vidal, baixo >

Paulo Moura "Tangos E Boleros" (1960)





Os Cobras "O LP" (RCA, 1964)


An all-star Brazilian jazz band, featuring hot-shot players such as Paulo Moura, Milton Banana, Tenorio, Jr., Raul De Souza, and J.T. Meireles. Like many of the Brazilian jazz albums that actually are jazz albums, this is more jazz than "Brazilian"... With the exception of a cover of Clifford Brown's "Blues Walk" (which was a favorite standard in Brazil), these songs are all homegrown compositions... yet they sound like straight-up hard jazz from the 'Fifties, early 'Sixties era. This album is notable both for the calibre of talent in the band, but also for the weight of their playing -- this still isn't my cup of tea, but I like it better than the tinkly, hyperactive cabaret style which predominated in the bossa nova years.

Paulo Moura Quarteto "Paulo Moura Quarteto" (Equipe, 1968)



Tenor saxophonist Paulo Moura, fresh from stints playing with North American jazzmen such as Herbie Mann and Cannonball Adderley, returned home to join forces with pianist Wagner Tiso, drummer Paschoal Meirelles and bassist Luiz Carlos, laying down this mellow set of West Coast-ish jazz, including reworkings of Brazilian/bossa standards into a more North American style. This isn't the most earthshaking album, but it is quite pleasant, and clearly shows that Moura had a stronger, more focused grounding in jazz traditions than many of his Brazilian contemporaries. As seen below, Moura's collaborations with Tiso continued on into the early 1970s, helping provide the basis for the jazz-MPB explorations of Milton Nascimento and his crowd, which formed an independent wing of the Brazilian popular music scene. [Reissued on the Whatmusic label.]

Paulo Moura "Hepteto" (Equipe, 1968)



Swanky, straightforwardly jazz versions of Brazilian tunes written by the likes of Tom Jobim, Luiz Bonfa and Marcos Valle. The stylish arrangements include piano work by Wagner Tiso (some of his best work, as far as I can tell...) This could uncharitably be derided as "dinner jazz," but for the terrain, and the time, this is very solid material, taking its cues from the cool tones of Miles Davis and Thelonious Monk, with an overlay of Severinsen showiness. Not particularly "Brazilian," but definitely "jazz..." Also notable for the abundance of Milton Nascimento material, five songs total, which are among the earliest recorded versions of Nascimento's work.


<! 06/12: link to Pascoal Meirelles page when ready? check liner notes >

Os Pilantrocratas "Pilantrocracia" (Equipe, 1969)



Moura, Tiso, Meirelles and others regroup for this sprightly, groove-laden EZ freakout album, recalling some of the bright, perky bounciness of Brazilian soul-pop pioneer Wilson Simonal. The psychedelic art collage and glowing liner notes (both from the original release and the modern reissue) seek to link the Pilantocratas (Portuguese for "pirates") to the ethos of cultural "cannibalism" extolled by the rock-oriented tropicalia movement. However, this goofy, lighthearted set is hardly as challenging or "out there" as the artwork implies. In fact, the album's breezy melodic motifs will seem pretty familiar to aficianados of West Coast "sunshine pop" and instrumental easy listening, albiet with a slightly stronger jazz foundation. But for easy listening/loungecore fans, this disc is definitely a real find. Also of note is the presence of saxophonist Oderdan Margalhes, later a founding member of the disco-y Banda Black Rio, one of the best-known bands in the "Black Rio" soul scene.

Paulo Moura Hepteto "Fibra" (Equipe, 1971)



Moura, frankly, is a bit in the background on this sedate, reserved set which further demonstrates the shift in Brazilian jazz from the straightahead, bop-tinged outings of the old '60s bossa trios era to the denser compositional style of MPB stylists such as Wagner Tiso and Milton Nascimento. Three of Nascimento's songs are covered on here, including "Cravo e Canela" and "Tema dos Deuses," and Milton plays piano on one of the tracks. Tiso is the other major force on this album, offering an equal number of tunes, and providing the arrangements for most of the other songs, often in conjunction with Nascimento. The slow, deliberate pace of the disc may make it hard to really sink your teeth into this record, but the attention to harmonics and altered tempo makes this album a clear missing link in the growth of the expansive, cerebral ouvre of the Club Do Esquina crowd that surrounded Nascimento and his pals, a warm-up, if you will, for gems such as the Club Do Esquina and Milagre Dos Peixes albums that followed.

Paulo Moura "Confusao Urbana, Suburbana E Rural" (RCA, 1976)


Paulo Moura/Elomar/Arthur Moreira Lima/Heraldo Do Monte "ConSertao" (Kuarup, 1982)


Paulo Moura "Mistura E Manda" (Kuarup, 1983)

Paulo Moura & Clara Sverner "Paulo Moura & Clara Sverner" (EMI-Angel, 1986)

Paulo Moura "Gafeira, Etc & Tal" (Kuarup, 1986)

Paulo Moura & Clara Sverner "Vou Vivendo" (CBS, 1988)
An earlier album of duets arranged for the piano and clarinet.

Paulo Moura & Clara Sverner "Interpretam Pixinguinha" (CBS, 1988)
(Produced by Mauricio Quadrio)
Wow! A beautiful, very striking set of piano-clarinet duets which slyly interweaves Pixinguinha oldies with North American Tin Pan Alley standards. Clara Sverner has a brisk, decisive, Gershwinesque flair, and she and Moura are clearly very much in synch. Delightfully playful, lively takes on these old, familiar themes. Certainly one of the most enjoyable choro albums I've ever heard, neither saccharine nor severe. Features arrangements by Paulo Moura, Alberto Arantes, Cristovao Bastos and Laercio De Freitas. Highly recommended.
Paulo Moura & Ociladoce "Interpretam Dorival Caymmi" (Som Livre, 1991)



(Reissued on the Biscoito Fino label in 2007.)

Paulo Moura & Raphael Rabello "Dois Irmaos" (Caju/Milestone, 1992)



Beautiful! Highly recommended. Although there is only one song by Pixinguinha on here ("1 X 0"), this can be seen as a warmup for Moura's lauded Pixinguinha album of 1998 (see above). This is choro music at its warmest (although, admittedly, a bit flowery and romantic... These duets are much less rigorously arrranged than on the '98 album; Moura's clarinet work is sensitive and nuanced, with a wide dynamic range. He slides from mournful to majestic, constantly urged on by Raphael Rabello's guitar work, which is dead-on perfect throughout. It's a very nice record, possibly a little hard to find these days, but well worth looking for.
Paulo Moura "Rio Nocturnes" (Messidor, 1992)


Soft, lite jazz instrumentals, in the commercialized terrain of Dave Sanborn and his ilk... This album, recorded in Berlin with several German jazz cats, yields its modest Brazilian-ness pretty late in the game, and only after several nondescript muzak-y tunes have set the tone... Not really my cup of tea.
Paulo Moura & Nivaldo Ornellas "Instrumental No CCBB" (Tom Brasil, 1993)

Paulo Moura & Wagner Tiso "Brasil Musical - Live" (Tom Brasil, 1996)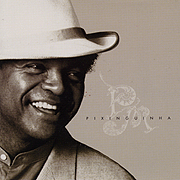 Paulo Moura & Os Batutas "Pixinguinha" (Blue Jackel, 1998)



(Produced by Denilson Campos)
A beautiful, award-winning live tribute to the great choro/samba master. Multi-instrumentalist Moura, who is known for his work in jazz as well as traditional styles, skillfully recreates sixteen classic compositions of the pre-pre-bossa nova years. With the advantage of modern fidelity, these recordings bring out the full complexity of the compositions. The melodic interplay between Moura on clarinet or alto sax, the bandolim of Joel Nascimento, and the ukelele and guitar work of the rest of the band is a technical -- and soulful -- tour de force. Admittedly, there is not much stylistic variation here, and your attention may wander after a dozen tracks or so, but chances are you'll be whistling the tunes later that day. Highly recommended!
Paulo Moura & Cliff Korman "Mood Ingenuo: Pixinguinha Meets Duke Ellington" (Jazzheads, 1999)


Paulo Moura "Visita Gershwin & Jobim" (Pau Brasil, 2000)
(Re-released in 2008 on Biscoito Fino)
Paulo Moura "K-Ximblues" (Rob, 2002)

Paulo Moura "Estacao Leopoldina" (MEC, 2003)


Paulo Moura & Yamandu Costa "Negro Del Blanco" (Biscoito Fino, 2004)


Paulo Moura/Various Artists "Um Sopro Do Brasil" (2006)

Paulo Moura & Armandinho "Afro Bossa Nova" (Biscoito Fino, 2005)


Joao Donato & Paulo Moura "Dois Panos Para Manga" (Biscoito Fino, 2006)


Paulo Moura "Pra Ca E Pra La: Paulo Moura Trilha Jobim E Gershwin" (Biscoito Fino, 2008)


(Originally issued in 2008 on the Pau Brasil label.)
Paulo Moura & Cliff Korman "Gafieira Jazz" (Rob Digital, 2009)


Paulo Moura & Josildo Sa "Samba De Latada" (Rob Digital, 2009)


Paulo Moura "Alento" (Biscoito Fino, 2010)






<! 1 - Abertura ; 2 - Road movie ; 3 - Mulatas e etc ; 4 - Mantra do rio ; 5 - O portador do sogredo ; 6 - Oju oba ; 7 - Dia de festa ; 8 - Troca de olhares ; 9 - De volta a alexandria >

---
Best-Ofs
---
Paulo Moura "Alma Rio" (Varese Sarabande/Fuel, 2000)

---
Links
---
All Brazilian Music/Clique Musique has a nice entry on Moura and his work, including information on many of his side-projects and jazz bands. (In Portuguese and English.)
---



---