---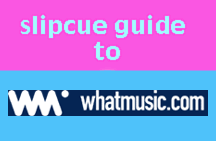 Whatmusic is a British-based reissue label that has done an astonishing job unearthing some of the lost classics of early 1960s Brazilian jazz, the "soul samba" scene, and '70s jazz fusion. The Whatmusic reissue series draws heavily on the catalogs of second-string Brazilian labels such as Equipe, Mocambo and Musidisc, whose output was generally buried under the better-promoted and more widely distributed major labels, such as Odeon, Philips and RCA. But for a glimpse into the club scenes bubbling under the surface of the glossier worlds of MPB and bossa nova, these records are an invaluable resource. Reviews will be added as I get the chance to hear more of these albums.
NOTE: In addition to the Amazon links next to these albums reviews, all the titles listed below are also available on the Whatmusic website.



---
Recommended Records
---
Jorge Autuori Trio "Jorge Autuori Trio v.1" (Mocambo, 196?)

Rubens Bassini E Os 11 Magnificos "Ritmo Fantastico"
An early solo effort by Sergio Mendes' longtime early '60s percussionist.
Bebeto "Bebeto"

Waltel Branco "Mancini Tambem E Samba" (Mocambo, 1966)
with pianist Dom Salvador and saxophonist J.T. Meirelles
Copa 7 "O Som Do Copa 7" (Top Tape, 1979)
One of the sleeker bands from the "Black Rio" soul movement, Copa 7 were looser than the better-known Banda Black Rio and funkier than most of the soul singers that dominated the '70s scene. They were also more identifiably building from a samba background, but layering it with tight horn and keyboard arrangements, similar to Earth Wind and Fire or KC & The Sunshine Band. The Copa 7 took their name from an earlier jazz band led by J.T. Meirelles, although as far as I know there were no direct links between the two groups. Either way, this is a pretty cool record!
Copa 7 "O Som Do Copa 7, v.2" (Top Tape, 1980)
A fine follow-up to their first album, maybe a bit tougher and more muscular, but still drenched in solid, funky rhythms and sharp, American-style funk and R&B. These guys really were several steps ahead of most of their competition. Recommended!
D'Angelo "D'Angelo" (Equipe, 196?)
Includes five early Tim Maia songs.
Orlann Divo "A Chave Do Sucesso" (Musidisc, 1962)
With Ed Lincoln, Waltel Blanco
Orlann Divo "Orlann Divo" (Musidisc, 1963)

Carlos Lee "Bossa Maximus" (Musidisc, 1962?)

Ed Lincoln "Ed Lincoln" (De Savoya, 196?)
Self-released, with Orlandivo, Tony Tornado, Claudio Roditi, and Durval Ferreira
Edson E Tita Lobo "Novidade De Vida" (1981)
Edson Machado with Joao Donato, Paulo Jobim, Toninho Horta, Claudio Roditi, Oberdan, Danilo Caymmi, Edson Maciel, Mauricio Einhorn
Quarteto Edison Machado "Obras" (?)

Ana Mazzotti "Ana Mazzotti" (1974)
Mazzotti's first album, with musical backing by members of Azymuth
Marisa "Marisa" (Equipe, 1971)
Backed by her then-husband, Cesar Camargo Mariano's band, Som Tres.
Meireles E Os Copa 7 "Tropical" (London)
With saxophonist J.T. Meirelles, the bandleader on several early Jorge Ben albums. Dom Salvador: Piano, Chico Batera: Percussion
Dom Mita "O Som Do Black Rio" (Transmita/Whatmusic, 2001)
A Black Rio revivalist album, this features soul singer and percussionist Dom Mita along with a slew of his old pals, including members of Banda Black Rio and vocalist Carlos Dafe (who guests on one song). The album is dedicated to the late Tim Maia, and is definitely true to his spirit. There's an odd, familiar mix of disco-ish production and legitimately funky rhythms -- this modern disc is well-produced and tightly arranged. It might not be your bag, but if it is, I'm sure you'll be pretty happy with it.
Ed Motta "Dwitza" (Whatmusic, 2002)


Post-millennial recordings by Tim Maia's nephew.
Paulo Moura Quarteto "Paulo Moura Quarteto" (Equipe, 1968)
Tenor saxophonist Paulo Moura, fresh from stints playing with North American jazzmen such as Herbie Mann and Cannonball Adderley, returned home to join forces with pianist Wagner Tiso, drummer, Pascoal Meirelles and bassist Luiz Carlos, laying down this mellow set of West Coast-ish jazz, including reworkings of Brazilian/bossa standards into a more North American style. This isn't the most earthshaking album, but it is quite pleasant, and clearly shows that Moura had a stronger, more focused grounding in jazz traditions than many of his Brazilian contemporaries. As seen below, Moura's collaborations with Tiso continued on into the early 1970s, helping provide the basis for the jazz-MPB explorations of Milton Nascimento and his crowd, which formed an independent wing of the Brazilian popular music scene.
Paulo Moura Hepteto "Fibra" (Equipe, 1971)
Moura, frankly, is a bit in the background on this sedate, reserved set which further demonstrates the shift in Brazilian jazz from the straightahead, bop-tinged outings of the old '60s bossa trios era to the denser compositional style of MPB stylists such as Wagner Tiso and Milton Nascimento. Three of Nascimento's songs are covered on here, including "Cravo e Canela" and "Tema dos Deuses," and Milton plays piano on one of the tracks. Tiso is the other major force on this album, offering an equal number of tunes, and providing the arrangements for most of the other songs, often in conjunction with Nascimento. The slow, deliberate pace of the disc may make it hard to really sink your teeth into this record, but the attention to harmonics and altered tempo makes this album a clear missing link in the growth of the expansive, cerebral ouvre of the Club Do Esquina crowd that surrounded Nascimento and his pals, a warm-up, if you will, for gems such as the Club Do Esquina and Milagre Dos Peixes albums that followed.
Luciano Perrone E Seus Ritmistas Brasileiros "Batucada Fantastica v.3" (Musidisc, 1972)

Os Pilantrocratas "Pilantrocracia" (Equipe, 1969)
[Reissued on Whatmusic.]
Paulo Moura, Wagner Tiso, Pascoal Meirelles and other jazzers regroup for this sprightly, groove-laden EZ groover, which recalls some of the bright, perky bounciness of Brazilian soul-pop pioneer Wilson Simonal. The psychedelic art collage and glowing liner notes (both from the original release and the modern reissue) seek to link the Pilantocratas (Portuguese for "pirates") to the ethos of cultural "cannibalism" extolled by the rock-oriented tropicalia movement. However, this goofy, lighthearted set is hardly as challenging or "out there" as these indicators imply. In fact, the album's breezy melodic motifs will seem pretty familiar to aficianados of West Coast "sunshine pop" and instrumental easy listening, albiet with a slightly stronger jazz foundation. But for easy listening/loungecore fans, this disc is definitely a real find. Also of note is the presence of saxophonist Oderdan Margalhes, later a founding member of the disco-y Banda Black Rio, one of the best-known bands in the "Black Rio" soul scene.
Primo 7 "Pinta O Sete" (Musidisc, 196?)

Primo Trio "Sambossa" (?)
w/ pianist Primo, Jr.
Raulzinho & Impacto 8 "International Hot" (Equipe, 1968)
w/ Raul Da Souza
Salvador Trio "Tristeza" (Mocambo, 1966)
Throughout the 1960s, Sao Paulo pianist Dom Salvador (aka Salvador da Silva Filho) worked in a series of bossa-samba jazz combos, and professionally backed top-name artists such as Elis Regina, Jorge Ben and Edu Lobo. In the early '60s he jammed with Paul Winter when the West Coast jazzman made his fabled Brazilian pilgrimage, and later formed this outfit, which was a pretty swinging, compact jazz trio. This album is a fine example of Salvador's lyrical leanings, and his ability to stand above the crowd in Brazil's somewhat clattersome bossa-jazz scene. As on his earlier albums, Salvador excels on slower, more romantic numbers, and several good ones are collected here, as well as some sleek Latin jazz numbers. Edison Machado fills in on drums, and his work is also pretty solid... much better than most of their contemporaries! Includes a few original tunes, as well as covers of early Joao Donato and Chico Buarque tunes. Later on, Salvador's band became a key breeding ground for the burgeoning Rio de Janeiro soul scene.
Breno Sauer "4 Na Bossa" (Musidisc, 1965)

Semuta "Semuta" (Lee Lambert Records, 1978)
A UK-based fusion band that specialized in Brazilian-flavored grooves.
Som Brasil "Tudo Joia"

Tema 3 "Madrugada 1:30" (1969)

Guilherme Vergueiro "Naturalmente" (1980)

Vox Populi "Vox Populi" (Musidisc, 1969)
Cool stuff! Swinging samba-pop, very much in the same mode as Sergio Mendes and his various bands. And the connection isn't just stylistic: Vox Populi's female singer Gracinho Leporace, who used to be in Grupo Manifesto, later married Mendes, and lived with him in the States. This is bouncy, giddy, goofy, and pretty enjoyable pop, with big, bright vocal choruses and sweeping, lush melodies. Loungecore and MPB fans alike should enjoy this album.
Zumba Cinco "Zumba Cinco" (Musicdisc, 1964)

---
Links
---
Whatmusic does most of its sales online, and has a well-laid out site, packed with plenty of extra infomation about all their releaes, including extensive interviews with many of the artists. Definitely worth checking out.

Dusty Groove mailorder is also a pretty reliable source for many of the Whatmusic releases.
---



Main Brazil Index
World Music Index



---