<! MP3 01/28/10 > <! update 00/00/00 > <! pix > <! icons 00/00/00 > <! Di Paulo BARNEY KESSEL "Bossa Nova" 60s US Reprise Gene Ammons - Bad! Bossa Nova - Prestige SEXTETO DO BECO 1980 - indie GEORGE SHEARING Bossa Nova CAPITOL >

---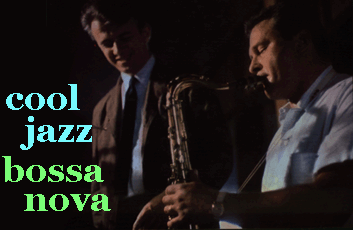 For anyone born after, say, 1963, Brazilian-flavored jazz is a sublimnal part of the musical landscape -- a cliche, even. But back in the early '60s, bossa nova was a revelation for North American and European audiences, and it caught on like wildfire. Inevitably there were dozens, if not hundreds, of tacky "bossa nova" knockoffs, but at the center of the craze are many very fine albums. Here's a short, somewhat randomly assembled, list of recommendations. This list includes albums by both Brazilian artists and jazz musicians outside of Brazil whose work combines jazz and Brazilian elements; these reviews are mostly of older, more "classic" albums, though I suppose as time goes on, I'll add comments on more recent records. Anyway, I hope this is useful... Dig in!!
---
Brazilian Jazz: A | B | C | D | E | F | G | H | I | J | K | L | M | N | O | P | Q | R | S | T | U | V | W | X, Y & Z | Jazz Compilations | Other Brazilian Styles
---
Cannonball Adderley "Cannonball's Bossa Nova" (Riverside, 1962)


Cannonball Adderley & Sergio Mendes "Quiet Nights" (Capitol, 1963)

Antonio Adolfo - see artist profile
Airto - see: Airto Moreira

Paulo Alencar "The Best Of Bossa Nova Jazz" (Castle Pie, 2001)


I'm normally pretty resistant to '60s pop kitsch, but these swanky pop-jazz recordings are pretty swinging, especially the backbeat-heavy "Ziriguidum," which is as perky and cheerful a loungecore classic as you could ever hope for. Alencar was a Rio native who moved to LA and did session work with Neil Diamond and others, and made a few albums for stateside labels such as Atco and Kapp. This CD appears to be a near-exact reissue of a 1963 Atco album, Jazza Nova, with two extra songs of indeterminate origin... There are a few tepid tracks, but mostly it's fun stuff, a notch or two above the standard-issue bossa-jazz ensembles of the time. The downside of this British import is there are no liner notes -- none -- making it kinda difficult to find out when these recordings are from, or who played on these "all-star" sessions. (In particular, who was the adorable female vocalist on "Ziriguidum"?) Still, it's definitely worth checking out, especially if you're looking for fun early '60s fare.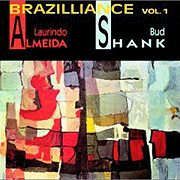 Laurindo Almeida & Bud Shank "Brazilliance v.1" (Pacific Jazz, 1953)



Hailed as the first great Braz-Jazz crossover, this anticipated many of the relaxed, timeless qualities of Joao Gilberto's original bossa nova recordings, although ultimately it lacked the fluidity of either the early bossa or the seminal '60s Braz-Jazz crossovers. Almeida's guitar playing is gorgeous, though heavily classical-derived, and Shank's cool jazz sax work is appealing, but he had nowhere near the depth of tone and maturity of style that Stan Getz would bring to the table a decade later. Part of it is circumstance: this was a bold and innovative record for the time, yet the West Coast scene was still developing at the the time, and hadn't quite hit on the Brubeckian standards of super-cool that we now look back on so fondly. Part of it, too, is the difficulty of what they were trying to achieve -- no one had tried to meld jazz, choro and samba to this extent before, and while Almeida brought some choice material to the sessions (Pixinguinha, Ary Barroso, Radanes Gnattali... even Luiz Gonzaga), it was inevitable that the character of the compositions would be overshadowed by the disparate tendencies of players. On the whole, this is a very pleasant, very North American, very West Coast-y album, with a "Brazilian-ness" that may need to be prized out through a bit of active listening.
Laurindo Almeida & Bud Shank "Brazilliance v.2" (Pacific Jazz)

Laurindo Almeida & Bud Shank "Brazilliance v.3" (Pacific Jazz)

Gene Ammons "Bad! Bossa Nova" (Prestige, 1962)



Saxophonist Gene Ammons with guitarists Kenny Burrell and Bucky Pizzarelli, and pianist Hank Jones. It's mellow, melodic pop-oriented soul-jazz; not sure how much they really "got" the bossa vibe, although apparently Burrell at least spent some time down in Brazil learning how to play the real stuff and jamming with a few authentic Brazilian jazz cats.


<! with Kenny Burrell and Bucky Pizzarelli >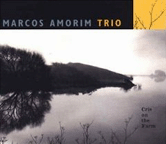 Marcos Amorim Trio "Cris On The Farm" (Adventure Music, 2003)



A mellow set of jazz/acoustic guitar work, which ranges from moments of Pat Metheny-ish echo to bouncier, Baden Powell-esque romps and quieter, more exploratatory moods. It's pretty nice. Amorim is joined by bassist Ney Conceicao and the ever-ubiquitous Robertinho Silva on percussion... A quiet, compact trio that lets the guitar stay front and center.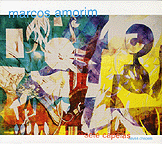 Marcos Amorim "Sete Capelas" (Adventure Music, 2006)



As a rule, I'm not a big fan of modern soft jazz, but this is quite a lovely record. Brazilian guitarist Marcos Amorim is consistently inventive and engaging on this pretty-sounding, melodically based album, crafting mellow space-out music that never lapses into pure gooeyness or by-the-numbers smooth jazz conventions. Only toward the end of the disc do a few songs get too gooey for me, but on the whole this was a very nice record to have on... Mainstream jazz fans, New Agers and new acoustic listeners will all find something to love about this album; possibly neo-folkies will as well. Worth checking out!
Leny Andrade - see artist discography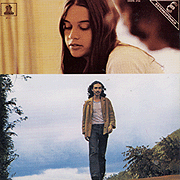 Nelson Angelo & Joyce "Nelson Angelo E Joyce" (Odeon, 1972)



A spacy, psychedelic-tinged acoustic album combining the talents of these two young guitarists... This is very similar in tone and style to Milton Nascimento's famous Clube Da Esquina album - full of drifting, open-ended improvs. It's a little too amorphous for my tastes, but holds up to a few good listens. The comparison holds up, especially since Angelo had one of his songs, "Fazenda," included on Clube Da Esquina... Joyce, of course, also had a lovely voice, although the emphasis here is mainly on the instruments. Worth checking out!
Nelson Angelo, Nana Vasconcelos & Novelli "Nana Vasconcelos, Nelson Angelo & Novelli" (Saravah, 1974)

Nelson Angelo "Violao E Outras Coisas" (Eldorado, 1988)

Nelson Angelo "A Vida Leva" (Velas, 1994)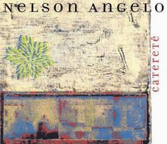 Nelson Angelo "Caterete" (Combo/Adventure Music, 2000)



Veteran '70s fusioneer Nelson Angelo stays very, very true to his roots, which is to say that this record, despite some pretty-sounding lyrical passages, is wa-a-a-a-ayyyy too noodly for me. However, if you like noodly, soft jazz with a bossa nova twist, you might really enjoy this album. It got on my nerves really quickly, though.
Nelson Angelo "Mar De Mineiro: Parcerias Com Cacaso" (Lua, 2002)


Severino Araujo "...E Sua Orquestra Tabajara: Warner 25 Anos" (Warner-Brasil, 2001)


Bandleader/composer/arranger Severino Araujo started his career in the 1930s, playing in regional bands and composing choro music... By the 1940s he fell under the sway of American big band music, and became a pioneer of the Brazilian jazz hybrid known as gafieira, bringing bright, punchy swing arrangements to the samba-cancao scene, and later, into the early bossa nova sound. This is a great set of rockin' instrumentals, including several original Araujo compositions and radical reinterpretations of classics by Ary Barroso, Dorival Caymmi and Tom Jobim... The liner notes place these recordings as from 1969-84, but I think most tracks are actually from the band's late 1950s/early '60s tenure on the Continental label, which was later acquired by Warner. Regardless, it's really fun stuff! Highly recommended.
Marcos Ariel - see artist discography

Jorge Autuori Trio "Ovalo" (RCA, 1969)


Most "classic" Brazilian jazz from the 1960s leaves me pretty cold, but this is a noteworthy record. The "jazz trio" scene of the early part of the decade permitted great mediocrity and endlessly clattersome performances, all the more remarkable since many of these musicians were also key players in the breathtaking subtlety of the bossa nova sound. Anyway, this is drummer Jorge Autouri's third album and his first for the RCA label, and on it he covers some of the coolest, slickest new music to be found, including songs by Jorge Ben, Roberto Carlos, Gilberto Gil and Caetano Veloso, as well as medleys of classic samba cancao songs from decades gone by. It's not surprising that he also performs a string of songs written by Martinho Da Vila, since Da Vila's longtime producer, samba-jazz swinger Rildo Hora plays the guitar on this album. Now, to be honest, like most of the Brazilian jazz of the era, I don't think this album is really all that great -- the playing still seems rushed and heavy-handed -- but it's certainly a notch or two above many similar albums. Autuori invests more emotion and nuance into the style than many of his contemporaries, and occasionally hits a moment of grace... The one standout track turns out to be the album's only original composition, a sweet tune called "Canto Azul," which was cowritten with bassist Edson Bastos... It's on this brief, incandescent number that pianist Edson Frederico finally slows down and plays expressively, and the haunting notes that close the album out make you turn your head and wonder: why didn't they play like that on the rest of the record??
Leny Andrade - see artist discography
---
Brazilian Jazz - Letter "B"
---



Other Brazilian Styles
Main Brazil Index


---