<! MP3 01/31/10 > <! update 00/00/00 > <! pix > <! icons 00/00/00 >

---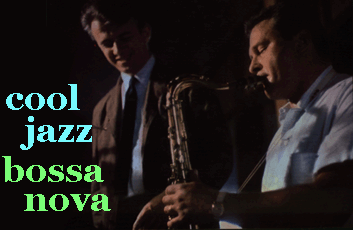 Throughout the 20th Century, Brazilian music and jazz were intimately entwined, particularly during the bossa nova boom of the late 1950s and early 1960s. Here's an overview of Brazilian and Brazilian-flavored jazz, with artists new and old...
This page covers the Letter "T"
---
Brazilian Jazz: A | B | C | D | E | F | G | H | I | J | K | L | M | N | O | P | Q | R | S | T | U | V | W | X, Y & Z | Jazz Compilations | Other Brazilian Styles
---
Tamba Trio - see artist discography

Sebastiao Tapajos "Violao & Amigos" (RCA-Victor, 1979)
Acoustic guitarist Sebastiao Tapajos with a slew of guest performers, most from the jazz world, including Mauricio Einhorn, Paulo Moura, Hermeto Pascoal, Chiquinho do Acordeon and others... The solo acoustic numbers are nice, often played with a flamenco/classical guitar tinge that brings to mind old stuff by Luiz Bonfa or even Andres Segovia. There's also a regional flair, as on his cover of "Asa Branca," and a bit of choro flashiness. This alternates with more ornate tracks, with full soft-jazz backing, which tend, sadly, to be a bit syrupy and overripe. All in all, not really my cup of tea, although there is plenty of high-quality, world-class guitar playing on here.


<! 01 - Tristeza (Haroldo Lobo / Niltinho Tristeza) 02 - Chorinho Em Ré (Sebastičo Tapajós) 03 - Sorriso da Tristeza (Sebastičo Tapajós / Maurício Einhorn) 04 - Estudo Afro Samba (Sebastičo Tapajós) 05 - Jongo (Jočo Pernambuco) 06 - Belém (Sebastičo Tapajós) 07 - Bem Estar (Sebastičo Tapajós / Maurício Einhorn) 08 - Pai Jočo (Sebastičo Tapajós / L. Carlos de Souza) 09 - Luar de Santarém (Sebastičo Tapajós) 10 - Asa Branca (Luis Gonzaga / Humberto Teixeira) 11 - Lo Que Vendras (Astor Piazzolla) 12 - Tudo Bem (Geraldo Vespar) >

Sebastiao Tapajos & Jane Duboc "Da Minha Terra" (Jam Music, 1998)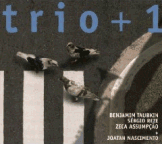 Benjamin Taubkin "Trio +1" (Adventure Music, 2009)


(Produced by Benjamin Taubkin)
Fairly straightforward jazz, led by Brazilian pianist Benjamin Taubkin, along with Zeca Assumpcao (bass), Sergio Reze (drums and gongs) and their "plus one," trumpet player Joatan Nascimento, who contributes one of the album's original compositions. There are Brazilian elements, in some songs more than others, but mostly I'd say this is a contemplative, mainstream jazz album, with a penchant for longer tracks (three that clock in at 6-plus minutes and two that are twice that length...) It's okay, not really my bag, but mellow and good for the genre, without getting saccharine or gooey. Worth a spin if you like serious contemporary jazz that's a little on the sweet side.
Benjamin Taubkin "MPBaby: Chico Buarque" (MCD, 2008)

Daniel Taubkin "BRAzSIL" (Blue Jackel, 1998)


Daniel Taubkin & Uandi Uandi "A Picture Of Your Life" (Blue Jackel, 2002)


Daniel Taubkin "Uma Beleza Estranha" (Tratore, 2004)


Daniel Taubkin "Cinema Na Rua" (Tratore, 2005)


Daniel Taubkin "Sertao Negro" (Tratore, 2009)



Claudia Telles "Por Causa De Voce: Dedicado A Sylvinha Telles" (DiscMedi, 1997)



A fairly swanky jazz-pop tribute to her mother, Sylvia Telles, one of the earliest and most important interpreters of the bossa nova compositions of Antonio Carlos Jobim. Claudia was the daughter of the glamorous Sylvinha, who was the queen of Brazilian pop in the pre-bossa 1950s. The two vocalists once performed together as a mother-daughter act, ala Miucha and Bebel Gilberto. Claudia eventually went solo in the mid-'70s, but here she gives a nod to her roots. This is a little slick for my tastes, but folks whose taste runs to the more lavish-sounding and modern end of Brazilian pop will probably love this album. Sylvinha herself "duets" on the album's opening number; her voice sounds remarkably pure and mellow, probably because the younger Ms. Telles is singing along to old recordings made back in the '50s... Hmmmmm....
Claudia Telles "Chega De Saudade - Tributo A Vinicius De Moraes" (CID, 1999)


Claudia Telles "Interpreta Nelson Cavaquinho E Cartola" (CID, 1999)



Claudia Telles "Sambas & Bossas" (CID, 2002)


Elegant, understated ballads drawing on material from several decades of Brazilian pop... Drummer Wilson Das Neves anchors the five-piece band, while heavyweight guest performers abound, including singers Johnny Alf, Tito Madi and old-school sambista Nelson Sargento. It's a sleek, swank affair, and fans of traditional jazz-flavored modern MPB will probably enjoy it quite a bit... (Although I have to confess there's something about Telles' vocal tone, her voice itself, that rubs me the wrong way... I recognize that this is a perfectly fine album, but it still grates on me a little...)


<! B00108W3LU - only one song listed on MP3 link? 09/08 >

Claudia Telles "Tributo A Tom Jobim" (CID, 2005)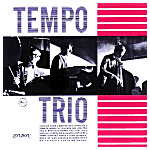 Tempo Trio "Tempo Trio" (Odeon, 1965)
A short-lived jazz trio, featuring bassist Paulo Horta, drummer Pascoal Meirelles, and pianist Helvius Vilela...

Tenorio, Jr. "Embalo" (RGE, 1964)


Most of the early Brazilian jazz album I've heard don't do much for me... Groups like the Tamba Trio and Zimbo Trio seemed as incapable of "getting" the groove of American jazz as the Yankees were of "getting" the subtlety of bossa nova... This album is a standout, though. Light bop, with a fairly gritty feel, and more than a hint of Thelonious Monk's melodic style. And, what goes 'round comes 'round -- one of the standout tracks is Bud Shank's "Sambinha", originally recorded on his Brasamba album. (Tenorio had previously backed Shank up on a tour through South America...) Players include Milton Banana (percussion) and both Paulo Moura and J. T. Meirelles on saxophones, with pianist Francisco Tenorio Cerqueira, Jr.
Wagner Tiso - see artist discography

Cal Tjader & Charlie Byrd "Tambu" (Fantasy, 1974)


(Produced by Orrin Keepnews)
An all-instrumental fusion-era collaboration that features several Brazilian compositions -- a couple by Airto Moreira, something by Jobim, and a few North American tunes as well, including a languid version of Stevie Wonder's "My Cherie Amor." Perhaps the album highlight is the closing song, a playful version of Bento Di Paula's "Violao Nao Se Empresa A Ninguem" ("Don't Lend Your Guitar To Anyone"), which is the track that's most free of the glossy trappings of '70s production. Not a great record, really, but it has its moments.
Toquinho - see artist discography
tRIO "After The Carnaval" (Stunt Records, 2009)



A jazzy set by a threesome going by the name of tRIO, pianist Thomas Clausen, flautist Carlos Malta and singer/guitarist Celia Malheiros... Elegant and sugary, but not saccharine or false. Certainly worth a spin if you like the mellower stuff...
Trio 202 "Ao Vivo: New York And Sao Paulo" (Azul Music, 2008)


A modern jazz/choro trio featuring Nelson Ayres, Toninho Ferragutti and Ulisses Rocha...

Trio 3D "Tema 3D" (RCA, 1964)


Trio 3D, featuring teenaged pianist Antonio Adolfo and Argentinian bassist Cacho, apparently backed bossa nova songwriter Carlos Lyra on some of his early songs, and worked the Sao Paulo club circuit in the early 1960s. Although the reissue liner notes proclaim this to be one of the most important albums to come out on RCA-Brasil, it's a bit difficult to see why that would be so. Other than the swank, Dick Farney-esque vocals by bassist Cacho, there isn't much to distinguish this group from the whole host of similar-minded would-be jazzcats that swarmed about in the wake of the bossa nova revolution. Like Luiz Eca, the Zimbo Trio and Milton Banana, Trio 3D rushed the tempo and were weak on harmonic and rhythmic subtlety. This album is kind of cute in a retro-lounge-y kinda way, but it didn't do much for me. It's worth noting, though, that percussionist Dom Um Romao performs on about half these tracks, and you can tell when it's him playing, as the level of technical competence jumps dramatically. (See also: Conjunto 3D)

Trovadores Urbanos "Copacabana" (Dabliu, 2002)



Soft, nostalgic group vocals which hearken back to the pre-bossa "radio singers" era, covering songs by Dorival Caymmi, Joao De Barro, Lupicinio Rodrigues, et. al. The lite jazz arrangements and super-smooth, old-fashioned four-part vocals are a little too gooey for me, but if you like the Quarteto Em Cy or MPB4, this modern quartet might catch your fancy...
---
Brazilian Jazz - Letter "U"
---



Other Brazilian Styles
Main Brazil Index


---