<! MP3 01/31/10 > <! update 00/00/00 > <! pix > <! icons 00/00/00 >

---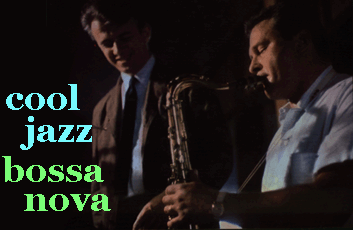 Throughout the 20th Century, Brazilian music and jazz were intimately entwined, particularly during the bossa nova boom of the late 1950s and early 1960s. Here's an overview of Brazilian and Brazilian-flavored jazz, with artists new and old...
This page covers the Letter "P"
---
Brazilian Jazz: A | B | C | D | E | F | G | H | I | J | K | L | M | N | O | P | Q | R | S | T | U | V | W | X, Y & Z | Jazz Compilations | Other Brazilian Styles
---
Hermeto Pascoal - see artist discography
Rosa Passos - see artist discography

Pau Brasil "Babel" (Blue Jackel, 1995)


On old-fashioned jazz-fusion group, featuring bassist Rodolfo Stroeder and vocalist Marlui Miranda. Sounds a LOT like old Chick Corea, Return To Forever, etc. Distinctively Brazilian elements include compositions based on indigenous tribal music -- a theme which is explored better on Miranda's solo albums. My aversion to the soprano saxophone is one of the reasons I found this hard to get into.
Pau Brasil "2005: 25 Anos Do Melhor Jazz Brasileiro" (Pau Brasil, 2005)





<! celebrating the band's25th year > <! 25th aniversary album... others w/out ASINs??... Formed by legends of brasilian instrumental contemporary musics, Nelson Ayres ,piano /teclados (eletric keys) ,returning to give the concept a bit more "traditional sonances" than Lźlo Nazário's piano/teclados on previous incarnations of this long-standing aggregation...Lźlo's more for the explorations, Nelson for exhortations. (but BOTH incredible technicians as well as mastr improvisors.) Rodolfo Stroeter (Divina Increnca, Grupo Um, two of brasil's "free jazz" outfits) on bass. Keeps the time with the same elastic feeling as known baixistas from Brasil can do! The inclusion of violčo/guitarra elétrica of Paulo Bellinati, who revisits Pau Brasil, last heard on the "Os Tribos" recording ~~ very nice, he is in a long line of 1st call músicos for many sessions and underappreciated (EXCEPT in Braz!) Teco Cardoso on sassofones/winds,he is an incredibly melodic and intriguing improvisor, and also plays with much humor and genial cheer. >

Pau Brasil "Pau Brasil" (2007)


Pe De Boi "Power Samba Band" (Arkadia, 1998)


The lone album by this long-lived New York City samba-jazz band, formed in 1980 by percussionist Guilherme Franco, a veteran of the McCoy Tyner band... Plenty of guest performers on here, notably Cyro Baptista, Jorge Dalto, and a whole slew of Franco's friends in New York's Brazilian expatriate community. A skillful, well-realized and substantive mix of samba, modern jazz fusion, and a dash of NY-style salsa... It's too far into the "jazz" camp for my tastes, but I can definitely recognize that it's a high-quality performance, and that Franco didn't really sacrifice anything from any of the elements he's drawn on: the composition and playing is solid throughout.

Marco Pereira & Cristovao Bastos "Bons Encontros" (Caju/Milestone, 1992)


Guitarist Pereira and pianist Bastos dance through a nice set of instrumental duets, exploring the compositions of Dorival Caymmi and Noel Rosa. It's a little on the lite-jazz side, but basically it's pretty engaging. Good for the genre, at any rate. They have light accompaniment on a few tunes, but mostly this is just the two of them together and they seem to have a lot of chemistry in their playing. Worth checking out.
Marco Pereira "Elegia: Virtuoso Guitar Music From Brasil" (Channel Classics, 1994)


Marco Pereira "Cameristico" (Biscoito Fino, 2007)






<! numerous other CDs listed 10/08 >

Dave Pike "Carnavals" (Fantasy/Prestige, 2000)


This CD collects two albums made in 1962 by vibrophonist Dave Pike, who was a veteran of Paul Bely and Herbie Mann's bands. The first album, Bossa Nova Carnival, was inspired by Mann's 1961 trip to Brazil, and exclusively features music by Joao Donato. The vibrophone is already such a mellow instrument that in trying to match the subtlety of bossa nova, Pike takes a lot of his own natural bounce out of the sound. On his subsequent Prestige release, Limbo Carnival, Pike took on Carribean themes and has a much looser, more buoyant feel. Clark Terry and Kenny Burrell played on the bossa set; Jimmy Raney and Ray Baretto are among the guests on the Limbo album. Breezy, but fun.

Os Pilantrocratas "Pilantrocracia" (Equipe, 1969)



Jazzmen Paulo Moura, Wagner Tiso, J. T. Meirelles and others collaborate on this sprightly, groove-laden, hippie-era EZ freakout album, recalling some of the bright, perky bounciness of Brazilian soul-pop pioneer Wilson Simonal. The psychedelic art collage and glowing liner notes (both from the original release and the modern reissue) seek to link the Pilantocratas (Portuguese for "pirates") to the ethos of cultural "cannibalism" extolled by the rock-oriented tropicalia movement. However, this goofy, lighthearted set is hardly as challenging or "out there" as the artwork implies. In fact, the album's breezy melodic motifs will seem pretty familiar to aficianados of West Coast "sunshine pop" and instrumental easy listening, albiet with a slightly stronger jazz foundation. But for easy listening/loungecore fans, this disc is definitely a real find. Also of note is the presence of saxophonist Oderdan Margalhes, later a founding member of the disco-y Banda Black Rio, one of the best-known bands in the "Black Rio" soul scene.
Pixinguinha - see artist discography
Baden Powell - see artist discography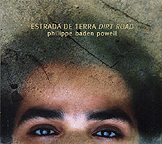 Philippe Baden Powell "Estrada De Terra (Dirt Road)" (Adventure Music, 2006)



The son of famed bossa nova guitarist Baden Powell, Brazilian pianist Phillipe Baden Powell is more or less a straight jazz player -- this is a fast, forceful set that largely eschews the subtlety of his father's work. But it also establishes an energetic newcomer that jazz fans may look forward to hearing more of in years to come. Not my cup of tea (not "Brazilian" enough), but others may dig it...
Flora Purim - see artist discography
---
Brazilian Jazz - Letter "Q"
---



Other Brazilian Styles
Main Brazil Index


---