<! MP3 01/29/10 > <! update 01/29/10 > <! pix > <! icons 00/00/00 >

---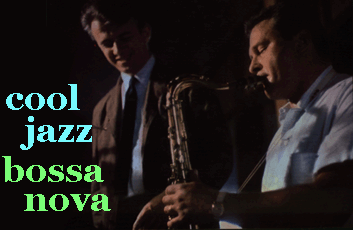 Throughout the 20th Century, Brazilian music and jazz were intimately entwined, particularly during the bossa nova boom of the late 1950s and early 1960s. Here's an overview of Brazilian and Brazilian-flavored jazz, with artists new and old...
This page covers the Letter "G"
---
Brazilian Jazz: A | B | C | D | E | F | G | H | I | J | K | L | M | N | O | P | Q | R | S | T | U | V | W | X, Y & Z | Jazz Compilations | Other Brazilian Styles
---
Al Gafa "Leblon Beach" (Pablo, 1976) (LP) <! DATE..??? >


A fairly understated contemporary jazz set from this Italian-American guitarist, with some Latin and fusion elements. Not really all that "Brazilian," although he does do a smooth version of Ivan Lins' "Abre Alas," along with his own composition, "Barcelona." Pianist Kenny Barron provides the main counterpoint in this compact quintet; Gafa also accompanied Dizzy Gillespie on his 1974 excursion to Brazil (see below) and backed him on the studio set that came out of that trip...


<! Kenny Barron (p) Al Gafa (el-g) Ben Brown (b) Al Foster (d) Azzedin "Niles" Weston (per) >

Os Gatos "Os Gatos" (Philips, 1964)


Os Gatos "Aquele Som Dos Gatos" (PolyGram, 1966)


An all-star schlockfest... String-laden easy listening, arranged by Eumir Deodato and produced by Dorival Caymmi's son, Dori. Mostly slow, tacky instrumental versions of bossa nova standards, featuring the tragically squandered talent of Paulo Moura, as well as EZ-fusion flautist, Meirelles. One point of interest, though: could the "Betty" Carvalho listed as a backup singer actually be future samba star, Beth Carvalho? Anyone know for sure?


<! 130 x 130? >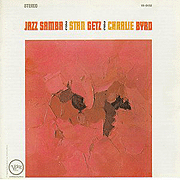 Stan Getz & Charlie Byrd "Jazz Samba" (Verve, 1962)



A landmark. Mainstream United States' first dose of bossa nova, as interpreted by guitarist Byrd and cool-jazz saxophonist Getz, this disc went to the top of the American pop charts, largely on the strength of the single version of Antonio Carlos Jobim's "Desafinado." Although Byrd was the driving force behind this album, Getz stole his thunder in 1963 when the Getz/Gilberto album came out, and made bossa nova a household word. (As his jazz contemporaries were fond of saying, "Whatever Stan wants, Stan gets...") Afterwards, Byrd made many more bossa-themed albums, but none got the same level of acclaim. Very sweet and well worth checking out.

Stan Getz & Gary McFarland "Big Band Bossa Nova" (Verve, 1962)



Far less brassy than suggested by the "big band" allusion, this is a solid, smooth cool jazz album, chock full of slick reworkings of early bossa standards. Acoustic guitarist Jim Hall, who worked so sympathetically with Getz and Paul Desmond, though mostly buried in the background here, shines on "Bim Bom." And though there are a couple of Brazilian percussionists, this is mainly a project full of North American jazz players such as Clark Terry, Doc Severinsen, and the like. Easy on the ears.

Stan Getz & Luiz Bonfa "Jazz Samba Encore" (Verve, 1963)



Jazz guitarist Charlie Byrd was one of the first American artists in the early 'Sixties to get the bossa nova bug... He turned saxophonist Stan Gets onto the style and after they collaborated on and album of jazz-bossa crossovers, Getz shamelessly stole Byrd's concept, substituting Byrd with real live Brazilian, Luiz Bonfa, as guitarist. This is very much on the softer, lighter side, mostly featuring compositions by Bonfa. Antonio Carlos Jobim chips in on piano for one track ("Insensatiz") and plays guitar on several others; singer Maria Toledo scats a little... but Getz is still looking for the right combination... and would eventually strike gold with the Getz-Gilberto album that really brought Brazil to the jazz world. Still, this disc is worth checking out -- Bonfa doesn't click with Getz as well as Joao Gilberto did, but it's nice music nonetheless.
Stan Getz & Laurindo Almeida "Stan Getz With Laurindo Almeida" (Verve, 1963)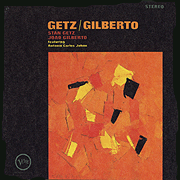 Stan Getz/Joao Gilberto/Astrud Gilberto "Getz/Gilberto" (Verve, 1963)



THE classic jazz-bossa nova crossover album, against which all others are measured. Almost shockingly intimate, with every tremble of the saxophone reed intact, this 1963 collaboration with Stan Getz and Joao Gilberto contains the #1 hit version of "The Girl from Ipanema" which is the one most folks in the States are familiar with, and which helped make Astrud Gilberto a household name in America. Her hubby Joao's guitar work and whispery vocals are the ultimate in melodic cool. Tom Jobim plays piano, in one of his sweetest performances, and percussion by Milton Banana is a study in economy. There are zillions of pressings and reissues of this album; the latest CD version, from 1997, features 20-bit mastering and sounds pretty damn nice.

Stan Getz & Joao Gilberto "Getz/Gilberto 2: Recorded Live At Carnegie Hall" (Verve, 1966)



The obligatory follow-up to their #1 hit record. Side One is just Stan Getz with a quartet which features a young Gary Burton on vibes. Getz isn't playing in a bossa style on this one, but Joao -- who fills Side Two -- is. And that, of course, is heaven.

Stan Getz/Joao Gilberto/Miucha "Best Of Two Worlds" (Columbia, 1976)



Standard-issue light jazz, combined with Gilberto's stunning soulfulness. Joao's second wife, vocalist Miucha, sings on a couple of tracks, and her contributions are -- frankly -- negligible. (Although her own solo work can be quite lovely...) Getz, too, isn't exactly electrifying. But when Gilberto sings and plays guitar, this album lights up. Frequently overlooked and well worth checking out.
Dizzy Gillespie "Bahiana" (Pablo, 1976)



Several of the songs rehearsed on the Trio Mocoto sessions wound up this album -- Mike Longo's "Samba" and "The Truth," as well as Al Gafa's "Behind The Moonbeam," and some Brazilianness slinks in, with Paulinho da Costa adding a few licks. This album is considered a highpoint of Gillespie's work in the 1970s, though mostly just it sounds like more jazz to me.
Dizzy Gillespie "En Brasil Con Trio Mocoto" (Biscoito Fino/Random Records, 2011)


These 1974 sessions, recorded in Sao Paulo with Gillespie and three of his '70s stalwarts -- drummer Mickey Roker, bassist Earl May and guitarist Al Gafa -- also features the funk-samba band Trio Mocoto, who helped superstar Jorge Ben shape his groovalicious sound of the early '70s. The sessions were a dry run for Gillespie's album, Bahiana, which wound up being recorded in LA with Paulinho da Costa pitching in on percussion, but not the Trio Mocoto dudes. Just as well: they don't quite mesh with Gillespie and his crew, who were in a kind of a blues jam-meets-cool jazz mode, but also eager to absorb some local-flavor Brazilian-ocity... The Mocoto band provides fairly demure percussive backing, but the never really cut loose or hit a real groove with the jazz cats; it's all very polite and Latin-jazzy, but I guess Dizzy just wasn't quite able to wrap himself around the samba rhythm. Even on a track like "Rocking With Mocoto," where the Trio burst into a sizzling, fast-paced samba, Gillespie and Gafa quickly fall back into Afro-Cuban mode, and Dizzy decides to cut loose with some old-fashioned bebop solos... It's not that anyone is playing anything "wrong," it's just that the groovy Brazilian vibe seems to elude them, sort of like knowing how to speak Spanish and being flummoxed by Portuguese, I guess. Anyway, this is historically interesting, but it didn't totally wow me.
Egberto Gismonti - see artist discography
Radames Gnattali - see artist discography
Vince Guaraldi "Jazz Impressions Of Black Orpheus" (Fantasy, 1962)



Vince Guaraldi & Bola Sete "Vince & Bola" (Fantasy, 2000)



Another generous twofer, reissuing the albums Vince Guaraldi, Bola Sete & Friends and Live At El Matador (both from 1966)... Pairing Sete up with the playful pop-piano hipster Vince Guaraldi was fairly inspired. Guaraldi is perhaps best known for the sugary instrumental, "Cast Your Fate To The Wind," and for the ever-delightlful tune, "Linus And Lucy," taken from the first "Charlie Brown Christmas" Peanuts TV special. Guaraldi's love of buoyant melody matches Sete's deft bounciness... The first few tracks (from their first album) are fairly breezy fare, as apparently Vince & Bola were still getting their footing as a duo, but by the time of the live tracks on their third album, the sound was moodier and more fully formed... Nice stuff! (Also see: Bola Sete)
Vince Guaraldi/Bola Sete/Paul Winter "Jazz Casual: Jazz On The West" (Koch, 2001)


Live performances from the mellow West Coast Jazz scene in its early '60s heyday... The Paul Winter performances are separate from the Sete/Guaraldi set.
Vince Guaraldi & Bola Sete "From All Sides" (Fantasy, 1964)



Guinga "Suite Leopoldina" (Velas, 2000)


A mixed bag, which ranges from over-sugary contributions by the likes of Toots Thielemans to solid, soulful old-time baiaos and choros approached with the same deft classicism as heard on Paulo Moura's tribute to Pixinguinha... This tribute to the traditions of Rio also includes contributions from Chico Buarque, Ivan Lins and novo-rocker Lenine... Some songs I had to skip past -- such as soul singer Ed Motta's scatting on "Par Constante" -- but other tracks I thought were quite lovely. Definitely worth checking out.

Guinga "Cine Baronesa" (Velas, 2001)


His previous album struck a fair balance between goopy and engaging... This time around, it just plain goopy. Really, really goopy. Too ornate and flowery for my tastes.
---
Brazilian Jazz - Letter "H"
---



Other Brazilian Styles
Main Brazil Index


---