<! MP3 01/30/10 > <! update 00/00/00 > <! pix > <! icons 00/00/00 >

---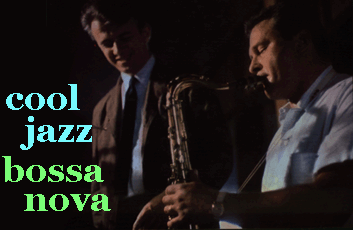 Throughout the 20th Century, Brazilian music and jazz were intimately entwined, particularly during the bossa nova boom of the late 1950s and early 1960s. Here's an overview of Brazilian and Brazilian-flavored jazz, with artists new and old...
This page covers the Letter "N"
---
Brazilian Jazz: A | B | C | D | E | F | G | H | I | J | K | L | M | N | O | P | Q | R | S | T | U | V | W | X, Y & Z | Jazz Compilations | Other Brazilian Styles
---
Joel Nascimento - see artist discography
Milton Nascimento - see artist discography

Jovino Santos Neto "Caboclo" (Liquid City, 1997)


The first solo album by multi-instrumentalist Jovino Santos Neto, a longtime veteran of Hermeto Pascoal's band. Light, breezy jazz, mainly built around tight piano-flute duets, with sympathetic accompaniment from a small jazz combo, and in large part a tribute to his mentor. Not really my cup of tea, but pretty solid for the style. I could certainly see how folks into the whole "dinner jazz" sound might like this. (For more information about Neto and his career, check out his website.)

Jovino Santos Neto & Richard Boukas "Balaio" (Malandro, 2001)


Mellow and accomplished acoustic jazz featuring original compositions by New-York based guitarist Richard Boukas and Brazilian pianist, Jovino Santos Neto. There are also a trio of tunes by Braz-jazz legend Hermeto Pascoal, whose band Jovino Santos Neto performed in for much of the 1990s... The vibe is kind of a cross between John McLaughlin and Milton Nascimento -- Boukas scats in a very Milton-like fashion, although with more restraint and precision. These tunes are generally very sprightly; overall this isn't my cup of tea, but it's very nice for the style, and if you like acoustic jazz, you might enjoy this disc...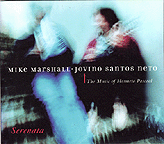 Jovino Santos Neto & Mike Marshall "Serenata: The Music Of Hermeto Pascoal" (Adventure Music, 2003)



Delving deeper into his love of choro, and of Brazilian jazz, Marshall explores the work of avantnik multi-instrumentalist Hermeto Pascoal, one of the most original and more challenging modern Brazilian jazz players. On the whole, I would say this set is far less "out there" than most of Pascoal's own albums, but the interplay between mandolinist Marshall and pianist Jovino Santos Neto reveals a strong intuitive link, both between the performers and the music they're tackling. Interesting album with some remarkable moments. Pascoal himself adds a flute solo to one track, giving the album that extra bit of authenticity...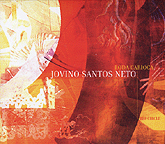 Jovino Santos Neto "Roda Carioca" (Adventure Music, 2006)


A straightforward, all-instrumental smooth jazz set, with a solid Brazilian bossamba foundation... Pianist Jovino Santos Neto leads this lively set, with a top-flight cast of Brazilian jazz players behind him. A lot of this is too jazzy for me, but there are flourishes that stand out, such as Hamilton Da Holanda's swinging, choro mandolin riffs on "Gente Boa," and Joyce's guest vocals on the song, "Nana." Brazil's leading avant jazz artist, Hermeto Pascoal, also plays on one track (playing a chewing gum wrapper and a glass of water, among other things!) Mainly this is a showcase for Santos Neto's brisk piano work, which at some times if quite lyrical and at others is a little too rat-a-tat-tat for me. Most soft jazz fans will probably like this, though... Worth checking out, if modern Braz-jazz is your bag.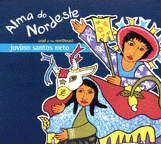 Jovino Santos Neto "Alma Do Nordeste: Soul Of The Northwest" (Adventure Music, 2008)


Jazz pianist Jovino Santos Neto delves into the music of Brazil's Northeastern region, home to frenetic styles such as forro music and the baiao. If you've ever wanted to hear the accordion as a lead instrument in a jazz context, then this disc will give you goosepimples of delight: in the album's first half, accordionist Toninho Ferragutti cuts loose with some fine improvisational flights, supported by the rest of Santos Neto's elastic, energetic band. The second half of the album gets into too much of a mainstream jazz mode for me, but the more "Brazilian" material is pretty exciting. Fans of either style -- forro or modern jazz -- will find a lot to appreciate here.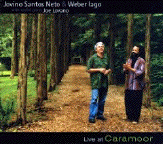 Jovino Santos Neto & Weber Iago "Live At Caramoor" (Adventure Music, 2008)


(Produced by Jim Luce & Richard Zirinsky, Jr)
Brazilian pianists Jovino Santos Neto and Weber Iago combine their talents for these crisp live recordings, both as solo performers and together, with accompaniment by saxophonist Joe Lovano. They cover the work of Braz-jazz touchstones such as Antonio Carlos Jobim, Hermeto Pascoal and Pixinguinha, as well as some of their own compositions.. What marks this disc, though, is its departure from the bedrock conventions of Brazilian bossa nova-ism; this is much more of a classical-meets-avant jazz recording, arch and erudite, with less appeal to the smooth-jazz set, and more to fans of Pascoal and the more challenging brand of Brazilian jazz. Worth checking out if you're into "serious" jazz.
Wilson Das Neves - see Letter "D"

Nouvelle Cuisine "e-Collection: Sucessos E Raridades" (WEA, 2001)



A rather odd, fish-out-of-water band... These guys are jazz-standards revivalists, sort of like a down-tempo, Brazilian Manhattan Transfer, playing material by Harold Arlen, Duke Ellington, Johnny Mercer, George & Ira Gershwin, et. al., alongside homegrown Brazilian composers such as Dorival Caymmi, Carlos Lyra, Gilberto Gil, Caetano Veloso, Djavan, etc., placing them all into a compact, though rather goofy , small-ensemble acoustic setting. Personally, I find it all far too precious and overly clever -- while not as acrobatic as the Brazilian vocal group Quarteto Em Cy, there's a similar willingness to draw attention to the group's technique and to their coy re-arrangements of well-known songs. I'm not fond of the mix, either: Guga Stroeter's vibraphone is far too dominant; the clarinet seems tacked on at times, and the band's lone vocalist, Carlos Fernando, seems singularly underwhelming, particularly when he sings in English, which is most of the time. Nonetheless, they were apparently quite popular in Brazil during the late 1980s, and there also seems to have been some connection with Marisa Monte... Personally, I don't get the attraction, but I wasn;t there at the time, either... Maybe their shows were a lot of fun, or something.
---
Brazilian Jazz - Letter "O"
---



Other Brazilian Styles
Main Brazil Index


---