<! MP3 01/28/10 > <! update 00/00/00 > <! pix > <! icons 00/00/00 > <! Roy Budd "Buddin' Bossa" (Pye, 1970) - English bandleader? jazz? CHET BAKER AND THE BOTO BRAZILIAN QUARTET >

---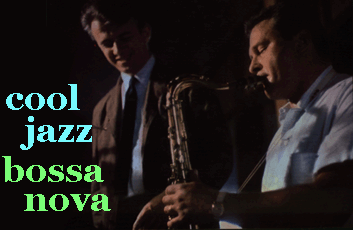 Throughout the 20th Century, Brazilian music and jazz were intimately entwined, particularly during the bossa nova boom of the late 1950s and early 1960s. Here's an overview of Brazilian and Brazilian-flavored jazz, with artists new and old...
This page covers the Letter "B"
---
Brazilian Jazz: A | B | C | D | E | F | G | H | I | J | K | L | M | N | O | P | Q | R | S | T | U | V | W | X, Y & Z | Jazz Compilations | Other Brazilian Styles
---
Milton Banana - see artist profile

Banda Mantiqueira "Aldeia" (Pau Brasil/Blue Jackel, 1996)



A smooth Braz-jazz album, heavy on the brass section. This all-instrumental album takes a few nods at choro legend, Pixinguinha, as well as towards the smooth bossa nova sounds of the early '60s... This all by way of a peppy Doc Severinsen style latter-day big band style. This was a little too smooth for me, but it's not overly glitzy by any means, and may be something you'd like, if you're looking for something in a mellow jazz mode.

Banda Mantiqueira "Bixiga" (Blue Jackel/Pau Brasil, 2002)


Pretty cool! Anyone intrigued by the mix of Brazilian and big band motifs on Banda Mantiqueira's 1996 album, Aldeia, will be delighted by this latter-day gafieira outing, in which the swanky jazz elements are punched up and perfected. This is the kind of dynamic crosscultural mix that Stan Kenton and his peers were searching for in their mid-'50s explorations of Cuban and Latin-American melodies... pretty engaging and seldom overplayed, and less mellow than earlier Mantiqueira recordings. Nice lingering hints of the Dixieland-ish choro style of dimly-remembered Brazilian artists such as Sinho and Pixinguinga. Includes radically reimagined arrangements of songs by Joao Bosco and old-school sambista, Cartola. Definitely worth checking out!
Cyro Baptista - see artist profile

Bebeto "Bebeto" (Whatmusic, 2005)



A lost album from Bebeto, the bassist for the bossa-jazz band, Tamba Trio. (Not to be confused with the samba-funk singer-songwriter, whose records are listed elsewhere...) See also: Tamba Trio, Luiz Eca.
Bola Sete - see artist discography
Bossa Tres/b> - see artist discography

Richard Boukas & Jovino Santos Neto "Balaio" (Malandro, 2001)


Mellow and accomplished acoustic jazz featuring original compositions by this New-York based guitarist and Brazilian pianist. There are also a trio of tunes by Braz-jazz legend Hermeto Pascoal, whose band Jovino Santos Neto performed in for much of the 1990s... The vibe is kind of a cross between John McLaughlin and Milton Nascimento -- Boukas scats in a very Milton-like fashion, although with more restraint and precision. These tunes are generally very sprightly; overall this isn't my cup of tea, but it's very nice for the style, and if you like acoustic jazz, you might enjoy this disc...
Waltel Branco - see artist profile

Brasil & Company "Brasil & Company" (Cathexis, 2000)



Vocalist Vera Mara and guitarist Paul Meyers front this jazz-oriented New Jersey ensemble. Mara ably fills the role of samba-jazz chantuese, particularly on a sprightly version of the Carmen Miranda hit, "Tico-Tico No Fuba." Other songs include a pair of relatively obscure Jobim tunes, several luso-tinged jazz tunes by the likes of Wayne Shorter and Hermeto Pascoal, and a cover of Pixinguinha's instrumental classic, "1x0". Fairly lite overall, but a much stronger album than I expected on an independent jazz release. (You can contact the band directly through Jazz Corners.)


<! Joao Carlos Assis Brasil -- pianist. many many albums >

Victor Assis Brasil "Desenhos" (Forma, 1966)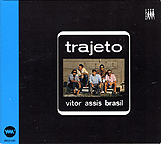 Vitor Assis Brasil "Trajeto" (Equipe, 1968)



On his second album as a bandleader, saxophonist Vitor Assis Brasil proved himself one of Brazil's most capabale jazz players... These sessions, drenched in the moody, textured post-bop of composers such as Charles Mingus and Thelonious Monk, are miles apart from the rushed, clattersome drag-racing of the jazz trios associated with the bossa nova scene of the late 'Fifties and early 'Sixties. There's much greater subtlety and depth, and a more cohesive, controlled feel overall. That being said, I myself am not a huge fan of straight jazz to begin with, so this isn't something that I'd recommend, per se and perhaps it's a bit out of my line of expertise to say just how good a jazz set this is... But compared to all those damn trios, it's quite a nice change of pace. Among the side players accompanying Brasil are Edson Maciel on trombone, bassist Sergio Barroso and Claudio Roditi, as well as Paulo Moura, who plays alto sax on one track. Worth checking out if jazz in Brazil is kinda your bag.
Victor Assis Brasil "Esperanto" (Tapecar, 1970)


Victor Assis Brasil "Jobim" (Quartin, 1970)



Saxophonist Victor Assis Brasil gets into some deep, spacey hard-jazz grooves, covering four classic bossa nova tunes -- "Wave," "So Tinha De Ser Com Voce," "Bonita" and "Dindi" -- written by the great Tom Jobim. Collaborating with him are pianist Dom Salvador, drummer Edison Machado, Helio Delmiro on guitar, and Edson Lobo on bass. Solos are mainly by Assis Brasil, although Salvador gets some nice improvisational passages, particularly on the fourteen-minute long version of "Wave," and Delmiro's solo on "So Tinha..." which is also pretty nice. This is the kind of jazz where the original, overt melody is often left far behind as the players stretch out and jam. Personally, I find the saxophone to be a mildly irritating solo instrument, especially on extended flights, so I might not be the right person to give a recommendation, pro or con, for this artist. Still, even a heathen like myself can recognize that this is a pretty serious jazz album, particularly given the stylistic limitations of Brazilian jazz in the previous decade. Worth checking out, if you're a dedicated jazzhound.
Victor Assis Brasil "Ao Vivo" (Magic Music, 1974)

Victor Assis Brasil Quinteto "Victor Assis Brasil Quinteto" (EMI-Odeon, 1979)

Victor Assis Brasil Quarteto "Pedrinho" (EMI-Odeon, 1980)


The last studio album before his untimely death in 1981.
Victor Assis Brasil "Ao Vivo No Museu De Arte Moderna" (Imagem, 1993)


This posthumous release is a live concert recording with fellow Braz-Jazz pioneer, pianist Luiz Eca.
Victor Assis Brasil "The Legacy" (Atracao, 1999)



The Brazil All-Stars "Rio Strut" (Fantasy, 2002)


A fairly slick collaborative effort featuring a host of Brazil's jazz-pop fusion elite... Joao Donato, Dom Um Romao and Eumir Deodato preside as the grand old men of this lavish project; a dozen other artists pitch in, including the songbirdish Ithamara Koorax, Claudio Roditi, Thuiago de Mello, Dino Rangel and others. For the most part this album is too glossy and fusion-y for my tastes, but there are several lovely ballads tucked away amid the many songs with larger arrangements. These moments of grace were enough to keep my attention...


<! different "Allstars" album: a comp? B00005LAMH >

Brazilian Octopus "Brazilian Octopus" (Som Livre/Fermata, 1970)

Amanda Brecker "Brazilian Passion" (2009)


A Brazilian-themed album from the daughter of jazz players Randy Brecker and Eliane Elias... Like her mother, Ms. Brecker plays piano and sings; she is joined here by Braz-jazz elders such as Oscar Castro Neves and Ivan Lins, as well as a host of younger musicians.


<! - Amanda / Vocals, Composition and Piano - Oscar Castro Neves / Acoustic guitars - Ivan Lins / Vocals - Andy Snitzer / Trumpets - Ross Traut / Electric Guitar - Randy Marchica / Drums - Rafael Barata / Percussion - Zeb Katz / Bass - David Matthews / Arrangements >

Randy Brecker & Eliane Elias "Amanda" (Passport, 1985)

Amanda Brecker "Randy In Brazil" (Mama Records, 2008)

Jose Briamonte - see artist discography

Dave Brubeck "Bossa Nova USA" (Columbia, 1963)


Dave Brubeck and his "West Coast Jazz" compatriots were credited (incorrectly, some say...) with having inspired the "cool" sound of Brazilian bossa nova... It's a shame, then, that Brubeck's own late entry into the jazz-bossa nova craze was so far off base. It's an adequate Brubeck album, but it isn't particularly Brazilian. For one thing, most of the tracks are his own original compositions --one wonders, though, if his version of "The Trolley Song" inspired Joao Gilberto's own early-'70s version... Not great bossa, but an okay Brubeck album.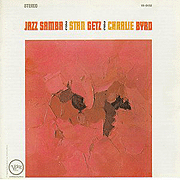 Charlie Byrd & Stan Getz "Jazz Samba" (Verve, 1962)



A landmark. Mainstream United States' first dose of bossa nova, as interpreted by guitarist Byrd and cool-jazz saxophonist Getz, this disc went to the top of the American pop charts, largely on the strength of the single version of Antonio Carlos Jobim's "Desafinado." Although Byrd was the driving force behind this album, Getz stole his thunder in 1963 when the Getz/Gilberto album came out, and made bossa nova a household word. (As his jazz contemporaries were fond of saying, "Whatever Stan wants, Stan gets...") Afterwards, Byrd made many more bossa-themed albums, but none got the same level of acclaim. Very sweet and well worth checking out.
Charlie Byrd "Bossa Nova Pelos Passaros" (Riverside, 1962)


Byrd stayed briefly ahead of the bossa nova bandwagon with this excellent follow-up to the Jazz Samba album. Cool, clean, stately yet energetic, this contains some of the crispest, most lively renditions of early bossa standards, and while the album didn't touch the same sublime heights as the Joao Gilberto (then again, who could?) it was certainly closer than most American artists would ever get... Byrd had a real sensitivity for this material; he really "got" the authentic bossa vibe more than most of his jazz contemporaries at the time... If you haven't checked him out until now, here's a fine opportunity.
Charlie Byrd "Brazilian Byrd" (Columbia, 1965)



As noted above, guitarist Charlie Byrd deserves a lot of the credit for helping bring the bossa nova to North American ears. However, this instrumental tribute to Antonio Carlos Jobim may not hold up that well for the casual listener. Byrd's playing is hard to fault, but the arrangements around him are often pretty garish and overblown. The opening tracks are intrusively orchestrated, although things settle down a bit by the third track, "That Look You Wear," after which Byrd's sleek, expressive guitar work is less at odds with the band. In the long run, this album is way too cheesy for me, although many folks consider it a classic. I suppose it mainly depends on your affinity for or tolerance towards '60s brass'n'strings pop arrangements.
---
Brazilian Jazz - Letter "C"
---



Other Brazilian Styles
Main Brazil Index


---