<! MP3 01/31/10 > <! update 00/00/00 > <! pix > <! icons 00/00/00 > <! Harvey Wainapel >

---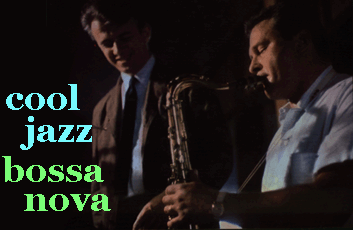 Throughout the 20th Century, Brazilian music and jazz were intimately entwined, particularly during the bossa nova boom of the late 1950s and early 1960s. Here's an overview of Brazilian and Brazilian-flavored jazz, with artists new and old...
This page covers the Letter "W"
---
Brazilian Jazz: A | B | C | D | E | F | G | H | I | J | K | L | M | N | O | P | Q | R | S | T | U | V | W | X, Y & Z | Jazz Compilations | Other Brazilian Styles
---
Harvey Wainapel & Carlos Oliveira "Brazilian Origins Featuring Harvey Wainapel" (Nucleus, 2002)


Harvey Wainapel "Amigos Brasileiros"





<! 1 Sambadalú (Marco Pereira) 2 Dando Risada (Sérgio Santos) 3 A Toada (Carlos Oliveira) 4 Procurando um Caminho (Magno Alexandre) 5 Pixinguinga (Ricardo Peixoto/Claudia Villela) 6 Baičo do Porčo (Filó Machado) 7 Sempre Voltando (Harvey Wainapel) 8 A Garota da Garoa (Harvey Wainapel) 9 Nem Mais um Pio (Guinga/Sérgio Natureza) 10 Árvore de Maćč (Itiberź Zwarg) 11 Vivo entre Valsas (André Mehmari) >

Harvey Wainapel & Paulo Bellinata "New Choros Of Brazil" (Proteus, 2005)


Walter Wanderley - see artist discography

Ernie Watts "Afoxe" (CTI, 1991)


A glossy collaboration between MPB superstar Gilberto Gil and North American jazz saxophonist Ernie Watts. Although on the whole this album is pretty overproduced and commercial, Gil's contributions actually include some of his better material for this time period. On the other hand, there's the overwrought soul vocals of Sharon Bryant, which fill about an equal amount of disc space. Iffy, but has its moments.

Paul Winter Sextet "Jazz Meets The Bossa Nova" (Columbia, 1962)


Saxophonist Paul Winter has devoted a sizeable chunk of his career to promoting and exploring Brazilian (and later, African) music. Although he gets points for flying his band down to Rio and getting in on the Brazil action early in the game, this is much more of a standard-issue jazz album than it is a bossa nova crossover. In fact, it's mainly latin-jazz, and commonplace stuff at that, although on a couple of tracks, the drummer musters up a pretty good samba beat.

Paul Winter & Carlos Lyra "The Sound Of Ipanema" (Columbia, 1964)


Now, this is more like it! His accompaniment here is understated, though a bit staid. What makes this record so sweet is Carlos Lyra's gorgeous guitar and intimate vocals, as well as all the great songs he wrote. Sergio Mendes and Milton Banana sit in on piano and drums, respectively, and though Winter is slightly less swinging than the "authentic" bossa musicians, this is quite a nice little record. Recommended!

Paul Winter "Rio" (Columbia, 1965)


Here, Winter's explorations into bossa nova continue. But even with the contributions of Luiz Eca, Roberto Menescal and Luis Bonfa, this album is merely soporific, having settled into soft jazz. It lacks the spark and sparkle of his earlier album, though it's still worth checking out.
---
Brazilian Jazz - Letter "X"
---



Other Brazilian Styles
Main Brazil Index


---