<! MP3 01/30/10 > <! update 00/00/00 > <! pix > <! icons 00/00/00 >

---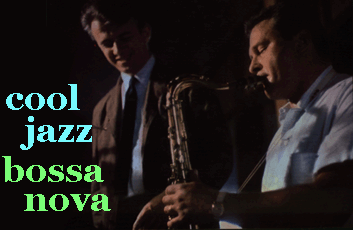 Throughout the 20th Century, Brazilian music and jazz were intimately entwined, particularly during the bossa nova boom of the late 1950s and early 1960s. Here's an overview of Brazilian and Brazilian-flavored jazz, with artists new and old...
This page covers the Letter "K"
---
Brazilian Jazz: A | B | C | D | E | F | G | H | I | J | K | L | M | N | O | P | Q | R | S | T | U | V | W | X, Y & Z | Jazz Compilations | Other Brazilian Styles
---
Stan Kenton "Artistry In Bossa Nova" (Capitol, 1963)


Ithamara Koorax "Ao Vivo" (JVC/Imagem, 1993)

Ithamara Koorax "Rio Vermelho/Red River" (Imagem, 1995)

Ithamara Koorax & Luiz Bonfa "Almost In Love" (Imagem, 1996)

Ithamara Koorax "Bossa Nova Meets Drum And Bass" (King, 1998)

Ithamara Koorax "Serenade In Blue" (Fantasy/Milestone, 2000)


Ithamara Koorax "Love Dance: The Ballad Album" (Fantasy/Jazz Station, 2003)


Songbirdish vocals with purposefully gooshy, goopy arrangements... A host of Brazilian and American heavyweight musicians play with Koorax on this one, including Luiz Bonfa, Marcos Valle, Mario Castro-Neves, John McLaughlin, Dom Um Romao and others. She sings in both English and Portuguese, tackling standards ranging from "April In Paris" to Tom Jobim's "Ligia." This album is definitely not for everyone -- I didn't really like it -- but if your tastes tilt towards jazz ballad singing, then this might be a delight.
Ithamara Koorax & Peter Scharli Trio "Obrigado Dom Um Romao" (TCB, 2008)



Ithamara Koorax & Juarez Moreira "Bim Bom: The Complete Joao Gilberto Songbook" (Motema, 2009)



(Produced by Arnaldo DeSouteiro)
Amazingly, no one has covered the Joao Gilberto songbook before... As far as his modest songwriting legacy goes, bossa nova legend Joao Gilberto only recorded twelve of his own compositions (mostly he was an interpreter of Antonio Carlos Jobim's work) and those twelve songs are spread out among his various albums. So, finally, we can consider him as a composer, with all of those light, wonderful tunes put together on one single album. Brazilian jazz vocalist Ithamara Koorax and guitarist Juarez Moreira collaborate on this disc; Moreira has a penchant for doing songbook albums, having previously covered Tom Jobim and Ary Barroso, and this record has a cohesive feel to it. It's a little too jazzy, and too formal, for my ears -- maybe I'm just too used to Gilberto's sublime, subtle originals, for me to be able to settle into these sleeker interpretations. It's like hearing covers of Beatles songs; the originals are magical, and it's hard to compete. Nonetheless, after hearing this album a few times, I warmed up to it -- Koorax is an appealing vocalist, and her heart is certainly in it. Jazz fans should be delighted.
Ithamara Koorax "The Best Of Ithamara Koorax" (2006)


---
Brazilian Jazz - Letter "L"
---



Other Brazilian Styles
Main Brazil Index


---