<! MP3 01/31/10 > <! update 00/00/00 > <! pix > <! icons 00/00/00 >

---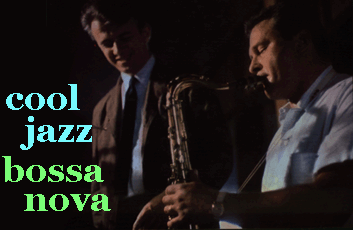 Throughout the 20th Century, Brazilian music and jazz were intimately entwined, particularly during the bossa nova boom of the late 1950s and early 1960s. Here's an overview of Brazilian and Brazilian-flavored jazz, with artists new and old...
This page covers the Letter "R"
---
Brazilian Jazz: A | B | C | D | E | F | G | H | I | J | K | L | M | N | O | P | Q | R | S | T | U | V | W | X, Y & Z | Jazz Compilations | Other Brazilian Styles
---
Raphael Rabello - see artist discography
Raulzinho - see De Souza, Raul

Mauro Refosco & Vinicius Cantuaria "Seven Waves" (M A Recordings, 1999)


Gentle Braz-jazz from the New York scene. Refosco has worked in David Byrne's band, as well as with John Lurie, who guests on the album along with Vinicius Cantuaria and others; Cantuaria wrote or co-wrote about half the tracks on here. This is mainly instrumental, and a bit too noodly and low-key for my tastes -- seems like NYC's downtown scene has veered towards out-and-out mellowness in the last couple of years... who woulda thunk it? Still, this is a nice, delicate jazz album, and might be just the thing you're looking for...
Elis Regina - see artist discography

Rio 3 "Valley Samba" (Whatmusic, 2004)


An accomplished jazz album, at least by the standards of mid-1960s Brazil. The opening numbers are bouncy and richly rounded, sounding much like Vince Guaraldi's poppy, melodic jazz work; midway through the band gets more aggressive and closer to the clattersome "trio" sound of the bossa-era jazz scene, then the album rounds out with some smoother material, closer in feel to the post-bop studio jazz up North. This short-lived group came out of the remnants of pianist Luiz Carlos Vinhas' Bossa Tres, and its larger incarnation, Gemini V, both popular cabaret acts. When Vinhas left the group, however, they had to come up with a new name, and opted for Rio 3, after recruiting Osmar Milito to fill in as pianist. After gathering some steam on the club scene, they were scooped up by the USA-bound Sergio Mendes, who incoprorated the trio into his band, Bossa Rio. Apparently these tapes, which were made in 1968, lingered in the vaults for three decades, until this belated reissue. It's okay material, more enjoyable than a lot of the bossa trio work that preceded it, though not as substantive as the North American jazz it often emulates. Worth checking out, if you're into the style.

Paula Robison "Brasileirinho" (Omega, 1993)


Classical flautist Paula Robison does a great job with choro oldies by Pixinguinha and Jacob Do Bandolim, as well as some Luiz Bonfa tunes and a couple of brief passages of Bach. Beautiful, deft, flowery melodic flourishes match the musical acrobatics of the original Brazilian recordings of the 1920s and '30s. Along with her are guitarists Romero Lubambo and Tiberio Nascimento, as well as Sergio Brandao on cavaquinho and percussionist Cyro Baptista. The best tracks are the openers, bouncy renditions of "1 X 0" and other choro standards; when Robison plays unaccompanied, the album loses some steam, despite her beautiful tone and restrained lyrical style. For a beautiful, clean sounding update of the old choro style, this is a pretty good record, worthy of comparision to Paul Moura's well-known Pixinguinha album.

Paula Robison "Rio Days Rio Nights" (Arabesque, 1998)



A more modern take on the Brazilian sound, with accompaniment by percussionist Cyro Baptista and guitarist Romero Lubambo...
Dom Um Romao "Dom Um Romao" (Muse, 1972)

Dom Um Romao "Spirit Of The Times" (Muse, 1973)


Dom Um Romao "Hotmosphere" (Fantasy/Prestige, 1976)


A wide-ranging, though very '70s-ed out jazz album, which highlights this veteran drummer at his best. The album opens with an impressive pair of batucada tunes that should get your attention. Things get more stereotypically jazzy from there, but even with the rambling fusion and post-bop meanders, this is a pretty strong album. Even old grumps like myself who don't have much use for '70s style jazz should recognize that this album is towards the top of the heap for the style. Romao is also notable as one of the all-too-rare Braz-jazzers who hang onto their Brazilianness, despite working up in the States. Guest musicians include pianist Dom Salvador, who was known for his role in the Black Rio soul scene. Worth checking out.
Dom Um Romao "Saudades" (Water Lily Acoustics, 1993)


Dom Um Romao "Rhythm Traveller" (Mr. Bongo, 1998)



Impressive recent recordings from this Braz-jazz oldtimer. Drummer Romao, who worked with Sergio Mendes in the '60s, and Weather Report in the '70s, has a lot of jazz cred behind him, and draws on it liberally. The highlights for me are the batucada and percussive workouts, but folks with a light jazz sweet tooth may like the breezier stuff as well. Very retro, but not bad for an old geezer.
Dom Um Romao "Lake Of Perseverance" (ITM, 2001)






<! Mr. Romao is the best Brazilian drummer/percussionist ever. A living legend, at 76 he is also becoming a dancefloor star in Europe, after many years doing famous USA jazz dates with Ron Carter, Cannonball Adderley, Yusef Lateef and countless others. Not to mention his playing on the landmark "Francis Albert Sinatra & Antonio Carlos Jobim" album. Oh, and he was also a member of Weather Report during their heyday! This new album features many young Brazilian talents such as Danilo Caymmi, Marcelo Salazar, Paula Faour, Jorge Pescara, Ithamara Koorax and Nani Palmeira. >

Dom Um Romao "The Complete Muse Recordings" (32 Jazz, 1999)


Collects music from two albums on the Muse label, Dom Um Romao (1972) and Spirit Of The Times, from 1973.
---
Brazilian Jazz - Letter "S"
---



Other Brazilian Styles
Main Brazil Index


---