<! MP3 01/31/10 > <! update 00/00/00 > <! pix > <! icons 00/00/00 >

---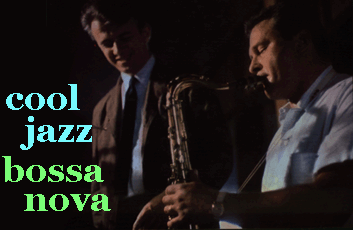 Throughout the 20th Century, Brazilian music and jazz were intimately entwined, particularly during the bossa nova boom of the late 1950s and early 1960s. Here's an overview of Brazilian and Brazilian-flavored jazz, with artists new and old...
This page covers the Letter "V"
---
Brazilian Jazz: A | B | C | D | E | F | G | H | I | J | K | L | M | N | O | P | Q | R | S | T | U | V | W | X, Y & Z | Jazz Compilations | Other Brazilian Styles
---
Nana Vasconcelos - see artist discography

Sarah Vaughan "Brazilian Romance" (CBS, 1987)


My appreciation of this album is hampered by a few small details: I'm not a big fan of Sarah Vaughan, or of Milton Nascimento (who duets with her one one track, and who wrote two others...) Nor am I a big fan of guitarist Dori Caymmi (who co-wrote half the tracks on here, and performs throughout...), or of Sergio Mendes (who produced the album), nor especially of the syrupy jazz-pop production style this is produced in. All that being said, if -- perhaps -- you are someone who does like listening to Kenny G-ish dinner jazz and does like Sarah Vaughan, and you're looking for a mellow, watered-down, English-language take on the Brazilian sound, this might actually be a good record for you to check out. No, really... you might like it.
Sarah Vaughan "I Love Brazil" (Pablo, 1987)

Vi Velasco & Zoot Sims "Cantanto Bossa Nova" (Colpix, 1962)

Claudia Villela "Supernova: Brazilian Jazz" (Jazzheads, 1998)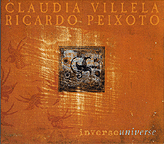 Claudia Villela & Ricardo Peixoto "Inverse Universe" (Adventure Music, 2003)



Vocalist Claudia Villela scats and croons her way through a fine set of glossy, '70s-fusion tinged tunes, very reminiscent of Flora Purim's work with Airto Moreira and their modern jazz clique. Multi-instrumentalist Ricardo Peixoto guides an able, retro-oriented band. Jazz elder Toots Thielemans plays his harmonica on a couple of tunes, lending an air of utter authenticity to the proceedings. This style isn't for everyone (I'm not fond of it), although the musicianship is of a high calibre; Villela is most striking on more focused, conventional melodies, although her uptempo scatting produces several dazzling passages, with lightning-fast phrasing that puts her at the top of the game. Several tunes are a bit meandering and tinny, but others have real lyrical depth. Fans of old-school fusion will be dazzled to hear the music alive and well in the new century; other listeners may want to tread more lightly. (For more information on these San Francisco-based Brazilian expatriates, check out their websites, www.claudiavillela.com and www.ricardopeixoto.com.)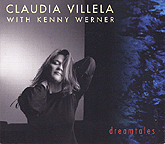 Claudia Villela & Kenny Werner "Dreamtales" (Adventure Music, 2004)



A strong set of rather challenging jazz vocal-piano duets, suffused with varying degrees of Brazilian-ness. It's a remarkably uncommercial set, with Brazilian expatriate going through some wide-ranging, wildly dynamic vocal explorations... It's certainly not for everyone, but for those who like their jazz hard, I imagine this is a set worth checking out.
Luis Carlos Vinhas/b> - see artist discography
---
Brazilian Jazz - Letter "W"
---



Other Brazilian Styles
Main Brazil Index


---