<! MP3 00/00/00 > <! update 00/00/00 > <! pix > <! icons 00/00/00 > <! Joe Harnell "Bossa Now!" (Columbia, 1966) >

---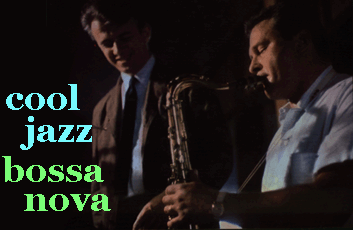 Throughout the 20th Century, Brazilian music and jazz were intimately entwined, particularly during the bossa nova boom of the late 1950s and early 1960s. Here's an overview of Brazilian and Brazilian-flavored jazz, with artists new and old...
This page covers the Letter "H"
---
Brazilian Jazz: A | B | C | D | E | F | G | H | I | J | K | L | M | N | O | P | Q | R | S | T | U | V | W | X, Y & Z | Jazz Compilations | Other Brazilian Styles
---
Eddie Harris "Bossa Nova" (Veejay, 1963)


Jon Hendricks "Salud! Joao Gilberto" (Reprise, 1961)



This is an album that was recommended by several Slipcue readers & is now thankfully back in print. Amid the flood of American and European bossa nova bandwagon albums of the early 1960s, this effort by the baritone lead of Lambert, Hendricks and Ross is kind of a standout. Hendricks concocted his own versions of these bossa standards, working on the lyric translations with Laurindo Almeida, and commissioning new arrangements by some of the Reprise label faithful. This disc is notable for the restraint Hendricks shows while trying to recapture Joao Gilberto's super-cool softness; although he brings his scat singing hepness to bear, Hendricks doesn't indulge in any of the flashy vocal displays he helped pioneer. It's also interesting to note how this low-key approach, with Hendricks coming close to Al Hibbler's low, sedate rumbling, perfectly anticipates the same style that Frank Sinatra would use when he tackled the same material a few years later. Sometimes the English translations and Hendricks's delivery sound a bit toungetied and halting, although I suspect that this was in part intentional. Worth checking out -- definitely a cut above many of its jazz-bossa contemporaries.


<! 132 x 130 >


Luiz Henrique - see artist discography




Leroy Holmes "The Sound Of Brazil: Samba/Bossa Nova" (United Artists)

Rildo Hora - see artist discography
Toninho Horta - see artist discography
---
Brazilian Jazz - Letter "I"
---



Other Brazilian Styles
Main Brazil Index


---