<! MP3 01/29/10 > <! update 00/00/00 > <! pix > <! icons 00/00/00 > <! Roy Eldridge "Bossa Nova" (1960) - song, or album? >

---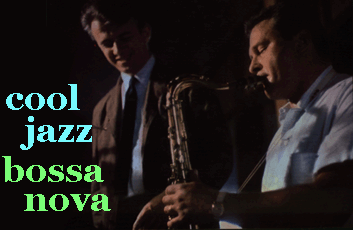 Throughout the 20th Century, Brazilian music and jazz were intimately entwined, particularly during the bossa nova boom of the late 1950s and early 1960s. Here's an overview of Brazilian and Brazilian-flavored jazz, with artists new and old...
This page covers the Letter "E"
---
Brazilian Jazz: A | B | C | D | E | F | G | H | I | J | K | L | M | N | O | P | Q | R | S | T | U | V | W | X, Y & Z | Jazz Compilations | Other Brazilian Styles
---





Luiz Eca - see artist discography




Billy Eckstine "Momento Brasileiro" (Som Livre, 1979)



<! MAURICIO EINHORN > <! ELAINE ELIAS Pianista de jazz, é considerada uma das melhores em sua área nos Estados Unidos, apesar de pouco conhecida no Brasil. Contratada pela tradicional gravadora Blue Note, despertou a atenćčo da crítica com sua mistura entre jazz tradicional e ritmos e harmonias tipicamente brasileiros. Paulistana, cresceu em um ambiente musical, onde se ouvia música clássica e jazz. Comećou a estudar piano cedo com a mče, pianista clássica, mas logo se interessou pela música de Bud Powell e Art Tatum, de quem transcrevia os solos aos 12 anos de idade. Estudou e foi professora no Clam -Centro Livre de Aprendizagem Musical, mantido pelo Zimbo Trio, em Sčo Paulo, e na Julliard School, em Nova York. Nos Estados Unidos consolidou sua carreira de pianista de jazz, tendo gravado mais de dez discos, um deles ao lado de Herbie Hancock e outro dedicado a músicas de Tom Jobim. Excursiona freqüentemente pela Europa, Japčo e Américas, tocando em trio com um baixista e baterista, sua formaćčo favorita. >

Eliane Elias "Eliane Elias Sings Jobim" (Blue Note/Somethin' Else, 1998)



(Produced by Elaine Elias & Oscar Castro-Neves)
An elegant, soulful homage to Antonio Carlos Jobim, with compact backing by Paulo Braga, Oscar Castro-Neves, Michael Brecker... With the heavyweight mainstream jazz line-up I wanted to get all up on my high horse and dismissive about it, but this album is pretty nice. The band keeps things understated and low-key, and Elias shoes away from the lush excesses that Jobim himself was noted for... At sixteen tracks, the set list is pretty generous, and includes a number of fairly less-well known compositions. Mostly sung in Portuguese, with her voice and piano work generating a breezy, mellow cool. If only all "smooth jazz" was this nice!

Eliane Elias "Dreamer" (BMG/Bluebird Jazz, 2004)



(Produced by Eliane Elias, Steve Rodby & Marc Johnson)
A beautiful, if somewhat conventional, jazz-standards session, with pianist-vocalist Elias fronting a full orchestra for the first time in her decades-long career. Along with her are accompanists Paulo Braga on percussion and guitarist Oscar Castro-Neves, who keep her solidly anchored to her bossa nova roots. The album opens with a marvellously restrained, torchy version of Tony Hatch's "Call Me," and moves into more standard Brazilian fare by composers Antonio Carlos Jobim, Marcos Valle and Dorival Caymmi, balanced by North American material by Johnny Mercer, Burt Bacharach, and others. Elias herself offers a couple of fine originals, including the gospel-tinged "Movin' Me On" and the more introspective "Time Alone." The music is quite glossy and commercial, not the kind of thing I normally go for, except that Elias's voice is just so pristine, calm and understated; she packs a lot of feeling into her performances, yet does it without any hint of showiness or strain. The tone -- both musical and emotional -- is always perfect. This is a very mellow, but very substantive, album, one that surprised my by its growing hold on my imagination. Recommended!

Eliane Elias "Bossa Nova Stories" (Blue Note, 2008)



Lushly arranged versions of various bossa nova classics and a few North American standards, sung in both English and Portuguese... As with much of her work, this is swank and occasionally a bit overripe, yet appealing throughout. For the "smooth jazz" set, this record will be a real treat.
Duke Ellington "Afro-Bossa" (Collectibles, 2005)

Bill Evans & Luiz Eca "Piano Four Hands: Live In Rio 1979" (2009)
---
Brazilian Jazz - Letter "F"
---



Other Brazilian Styles
Main Brazil Index


---