<! MP3 01/29/10 > <! update 01/29/10 > <! pix > <! icons 00/00/00 > <! Stan Fields Sextet "Bossa Nova: The New Swinging Samba" (Strand) (LP) B003KKY04O Strand SLS-1078 Bossa Nova Casanova The Lonely Gypsy Jumpin' Jellybeans Romantico El Morocco Pinata Party The Puerto Rican Pedlar Manhattan Lullaby Bossa Nova Bounce Isabella Chihuahua Tia Juana >

---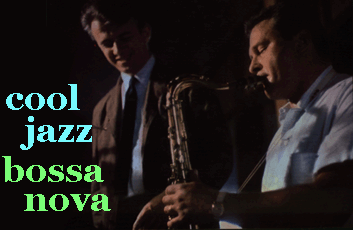 Throughout the 20th Century, Brazilian music and jazz were intimately entwined, particularly during the bossa nova boom of the late 1950s and early 1960s. Here's an overview of Brazilian and Brazilian-flavored jazz, with artists new and old...
This page covers the Letter "F"
---
Brazilian Jazz: A | B | C | D | E | F | G | H | I | J | K | L | M | N | O | P | Q | R | S | T | U | V | W | X, Y & Z | Jazz Compilations | Other Brazilian Styles
---
Dick Farney - see artist discography
Manfredo Fest - see artist discography

Ella Fitzgerald "Ella Abraca Jobim" (Pablo, 1981)



A soft-fusion jazz take on the works of composer Antonio Carlos Jobim... Originally issued as a double LP, this set is vintage early-'80s Fitzgerald, with Ella throwing herself into the songs wholeheartedly, despite the somewhat cloying and cluttered, too-smooth performances of the band. Jazz cats Alex Acuna, Oscar Castro Neves, Paulinho Da Costa, Clark Terry and Toots Thielemans are among the heavy-hitters who back her up... The album as a whole is a bit busy, but the English translations are kinda nice, as are Ella's game attempts at singing in Portuguese (she does alright, though her accent is irrevocably tempered by learning Spanish first...) Both Ella and Jobim have had better days, but this still has some nice moments, and even a few surprises.
---
Brazilian Jazz - Letter "G"
---



Other Brazilian Styles
Main Brazil Index


---